Hey there friends! Happy May Day!
I'm sharing a couple of family posts this week and wanted to share our recent trip to New Orleans. My sister and I headed down for Iris's third birthday party a couple of weekends ago and it was so fun. We didn't do any New Orleans sight seeing this trip, but it was a fun family filled weekend with the girls. They are always enjoyable and fun!
I wanted to share this pretty photo of Lauren and her family. She did a portrait shoot at a studio, just like the good ole' days and it turned out so cute. Aren't they a beautiful family?
These girls are precious and we love them dearly. They are sure growing fast!
Renee and I arrived mid afternoon and once we got the girls, they wanted to walk to the levee, which is really close to their house. They live on the South bank of Lake Pontchartrain and the levee is very walkable.
We took the girls there and let them climb on the rocks. I was a tomboy growing up and loved climbing like this, so I joined them.
Iris needed a little more hand holding than Parker did, but I tried to make sure she didn't get too far away.
They loved climbing on the rocks and it was fun to be out there on a breezy spring day.
We went to dinner that night at Deanie's a local seafood place I had been to before. My broiled shrimp was delicious!
We stopped at Cafe DuMonde (not the French Quarter location) and got beignets the first morning. I can't go to NOLA without getting these. Iced coffee was a great addition!
The next day my sister and I took Parker with us for the day and headed back to Covington, LA, across the bridge over Lake Ponchartrain. It's really pretty in Covington.
My sister showed me the lots that she and Bruce have just bought. They have been planning to retire to Louisiana after Bruce retires from his job at some point. It will be a few more years, I imagine and depends on what happens with our parents' health and all of that. Bruce's mom lives in Georgia now too not far from them, so he has one parent left. They wanted to get things started in preparation for retiring down there,so recently bought 2 lots on a lake in Covington, so Renee wanted to show me. I loved it so much! They are going to build a house on the lots and enjoy lake living in their retirement years. We will definitely be visiting them!
We did a little browsing in Covington and parked in front of this house. Someone told me this is a newly build home, but it has the look of an old plantation house. So pretty!
Parker is her mother's child and loves the tea room experience. We went back to the tea room in Covington, where we've been many times before. We'll have to try another spot one day too.
Me and my sis, Renee.
And Miss Parker enjoying her lunch.
Later that day the girls wanted me to take them back to the "wevee" as Iris calls it.
So we walked there again and climbed on the rocks. They didn't want to leave.
Those girls are so cute and I love being with them. I hope they remember me as the fun aunt.
I had to keep telling Parker to not get too close to the water. If she had fallen in, I would have been in trouble, but all was fine.
They climbed and played with sticks.
Iris and I sat and she played with rocks.
We also went to a nearby playground where they had fun sliding, swinging, and climbing on that.
The next day we met Philip's family (Lauren's husband) at the City Park for an egg hunt. It was super crowded, but fun. Lauren had bought tickets for us all to ride the rides there too.
It's a very cute amusement park. Their little cousin, Oscar, was in town with his dad (Philip's brother) and they all had fun together. Oscar is 4, so he's in between Parker and Iris and his mama is expecting a baby girl later this year.
Parker loved the Chick-Fil-A cow.
We rode the train around City Park, which is a great way to see the park. That's Philip's brother, Patrick behind him.
Lauren, Renee and I rode the ferris wheel and this was the view at the top, downtown New Orleans.
We had a late lunch at Liuzza's and it was delicious. They know a lot of great food spots in New Orleans, so I sure enjoy the food experience when I'm in town.
I got a sandwich that's similar to a muffalatta and it was delicious. I did not eat this in one sitting, but took home half for later.
The next day was Iris's birthday party and it was a beautiful breezy day, but perfect for an outdoor party. The party was at Lauren's in-laws house (Karen and Glen, who are delightful folks!). They have the perfect backyard for a party like this. Lauren really lucked out in the in-law department and has a wonderful other family that she gets to enjoy.
Lauren had planned to have farm animals come to the party. She found someone who brings them for parties and let's the kids interact with them. There were 4 bunnies, a baby goat, donkey, 2 little horses, turtle, duck, rooster and chicken.
Those kids sure enjoyed the animals and petting them.
Iris's little friends had so much fun at her party. Parker loves animals and bugs and is not afraid to touch anything. She even pets snakes. There weren't snakes here though, so a turtle had to do.
These two bunnies were so cute. The kids did really well with all the animals. They stayed about an hour and then they left with their owner.
Petting the duck.
And the turtle. Iris isn't quite as brave as Parker is with animals and bugs.
The little ones and the animals were so cute. They loved the party!
Iris and the bunnies.
Parker and Oscar brushing the ponies.
He had ribbons and accessories to decorate the ponies with.
Lauren and Philip even thought of the adults and had a Mexican food station set up, with hot delicious Mexican food for all the grown ups.
It was delicious! I tried it all and love Mexican food.
Parker and Iris with the baby goat. He was so cute.
Parker with the donkey.
That goat was just precious.
Iris and her little friends dancing around and having fun.
Once the animals left. Parker's in-laws have a blow up jumpy house for the kids to play with and that went up. It was a big hit too!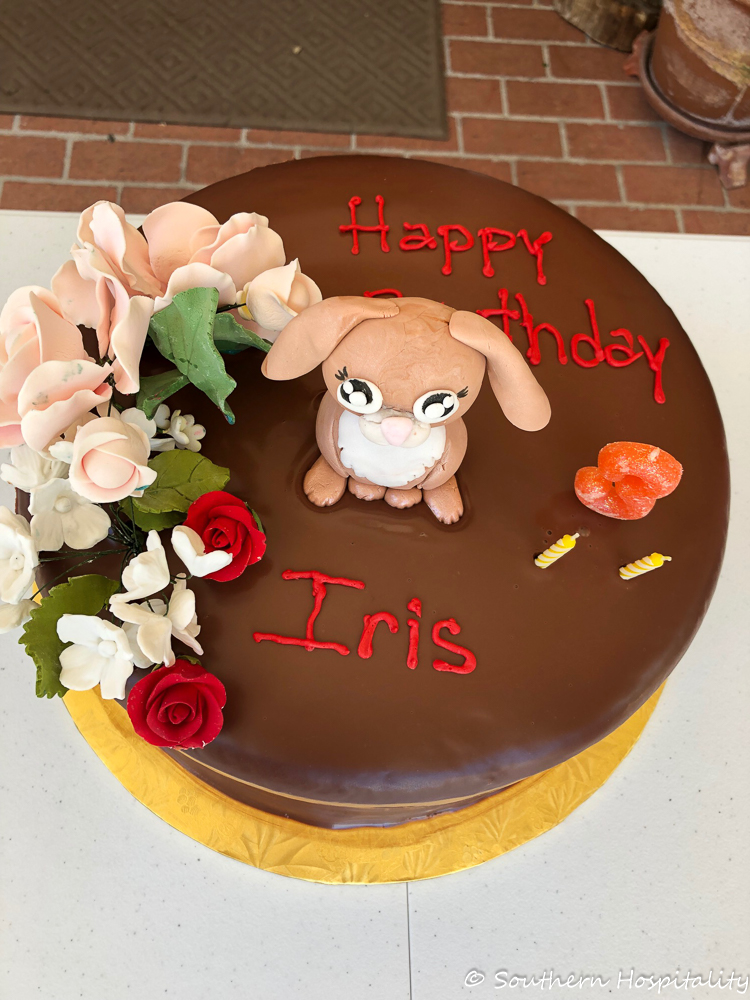 Birthday cake and ice cream was served and all was well.
Iris about to blow out the candles on her cake. She loved that part!
It was such a cute party and Lauren did a wonderful job with it all. I'm so glad we were able to go and be a part of the birthday girl's weekend. So much fun to watch these girlies grow up, they're both getting so big.
I hope y'all enjoyed seeing our short, but jam packed visit to New Orleans. It was a fun weekend and I'm so glad our schedules allow us to go on trips like this and get in on family activities.
Don't Miss a Post, join my list!