Hey there friends!  It's Thanksgiving week and I couldn't be more happy and content. We are really settled in our house this year and so feeling the nesting mode this time of year. We're excited for Thanksgiving this year, spending it with both our families.  I've been working around here getting ready for Christmas and have my decorating done just in time for this week's festivities with my family.  As I mentioned, we're headed to Bryson City today, a girls trip and can't wait to experience the Polar Express. I'll be sure and take pics to share with y'all too!
Today, I'm back with stop #3 of our New England trip, Falmouth, MA.  Every place we stayed was unique and pretty and Falmouth was no exception.  The pure beauty of Cape Cod comes through in every town we visited.  We stayed right on the sound in Falmouth at Inn on the Sound and it was a very comfortable place to lay our heads for a couple of nights.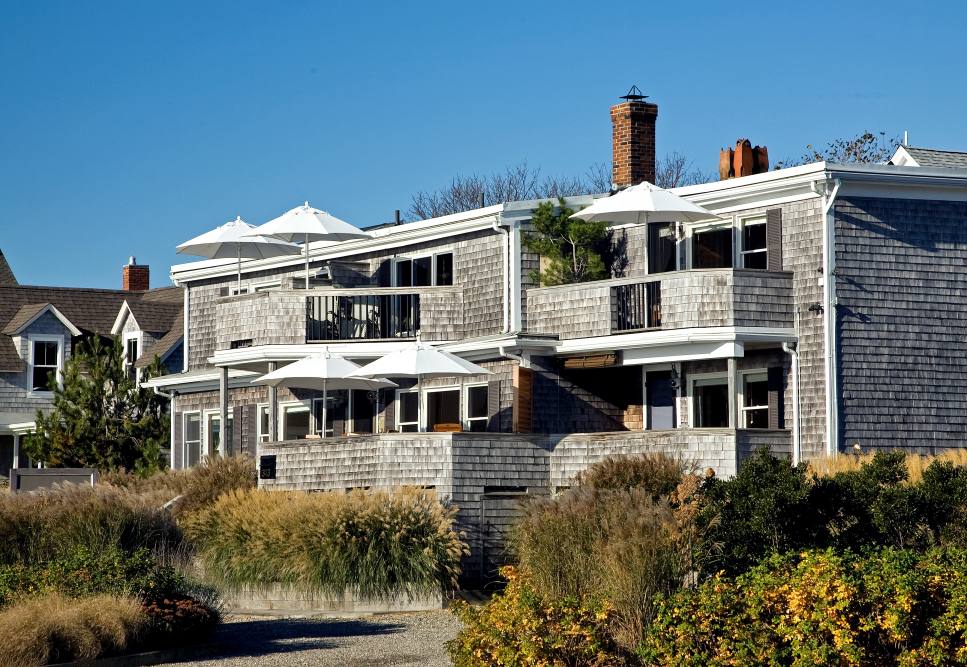 I completely forgot to take pics here, but here's a shot of the inn from their website.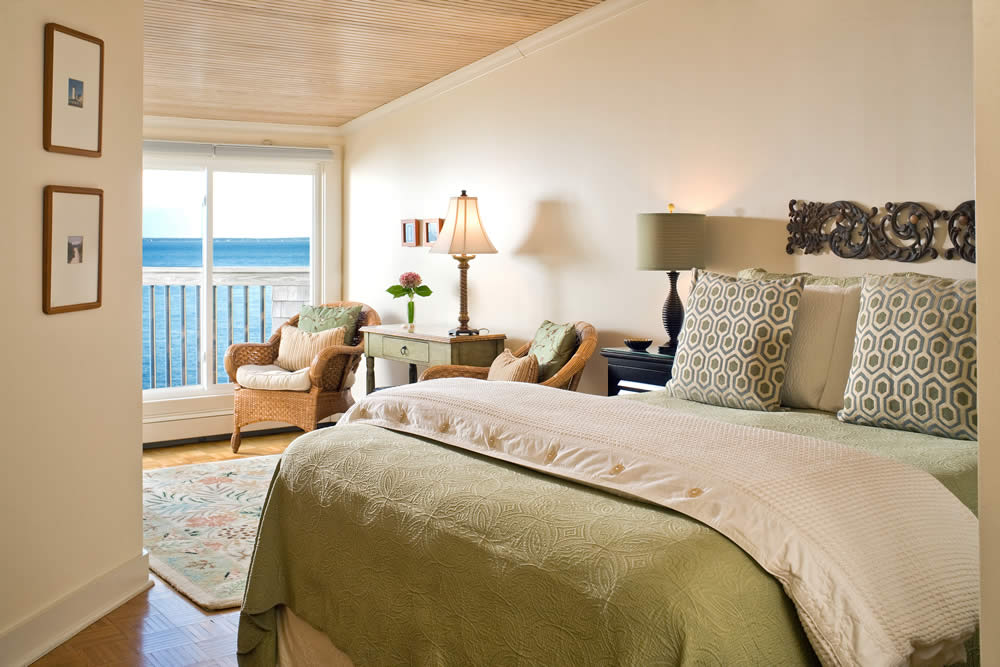 Our room faced the water with a little balcony that can be used in the summer months. It was definitely too chilly this trip, but we had some pretty good weather in Falmouth.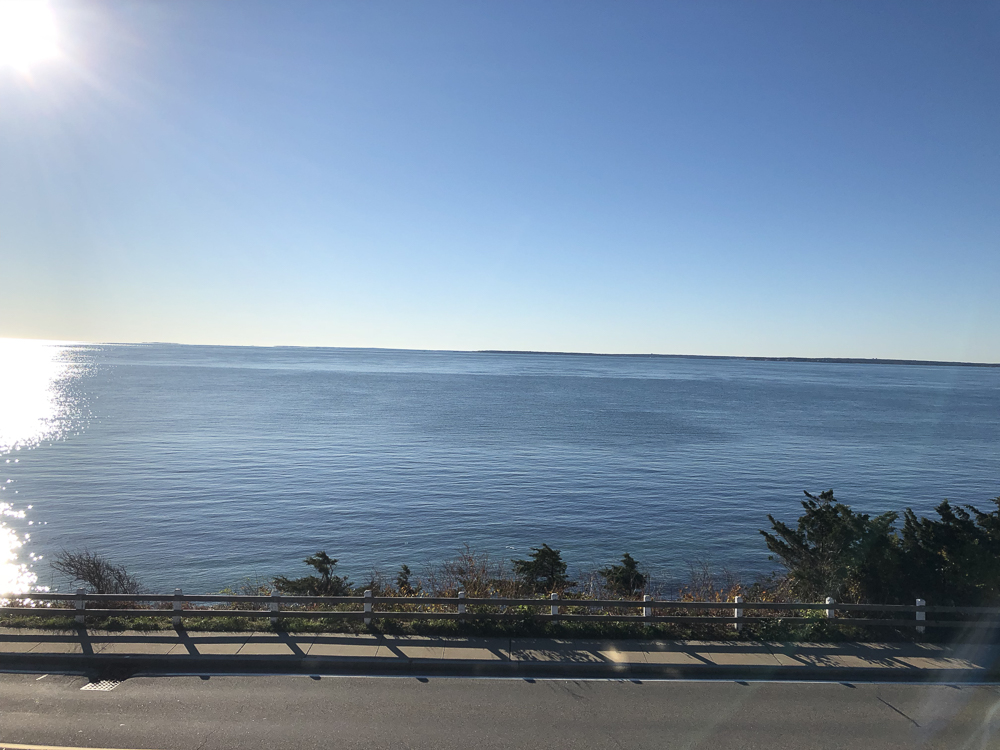 Pictures from our room.
The road follows the water and then goes back into town. What an enjoyable place to stay!
Breakfast was delicious, with fresh fruit and croissants, cereal, breads, orange juice and coffee, along with a hot entree each morning. This little quiche was very tasty and it was nice to have a fridge available filled with water and sodas to grab.
Downtown Falmouth is very charming and cute.  I shared this pic earlier, but it's worth sharing again.
We had another stellar lunch at the Quarterdeck in Falmouth, a place that Mark's been to before. He has fond memories of their lobster rolls and they did not disappoint.
This was my second lobster roll of the trip and it was fantastic too.  It's hard to pick a favorite one, they really were all delicious!
A church in Falmouth, looking very picturesque. Loved all the churches up there.
We stepped in a pretty decor shop in Falmouth and admired this large painting.
We saw plenty more gorgeous Fall color in Falmouth.  I hear they are having some snow up there now, so I think we went at just the right time to still see Fall color and it wasn't too cold.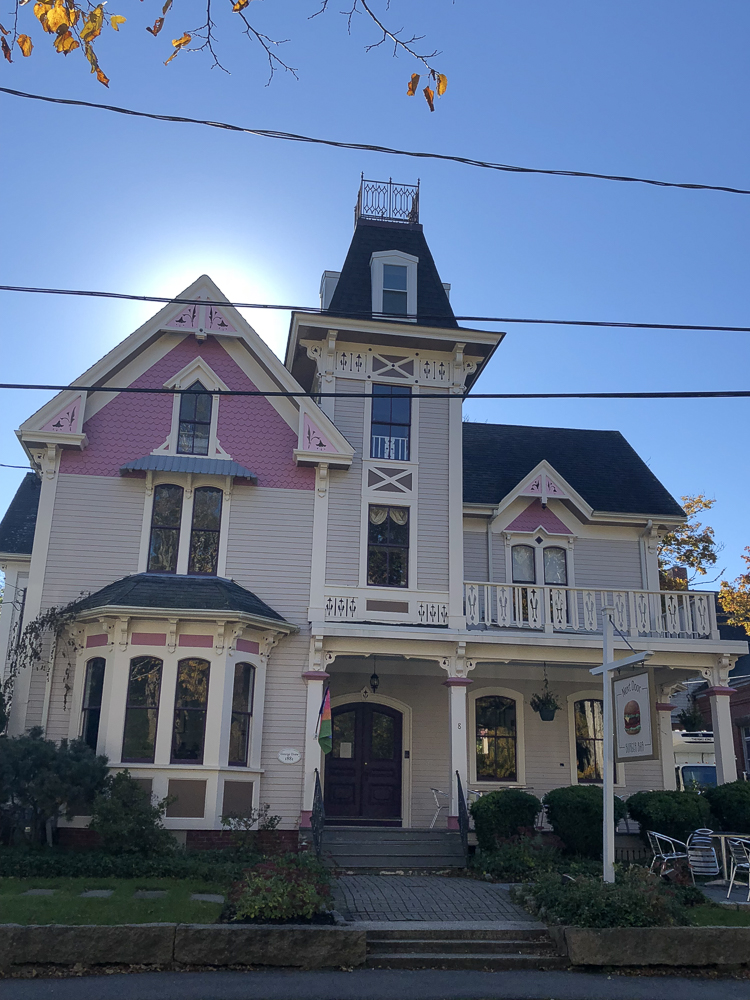 We headed to Sandwich one afternoon and just browsed around.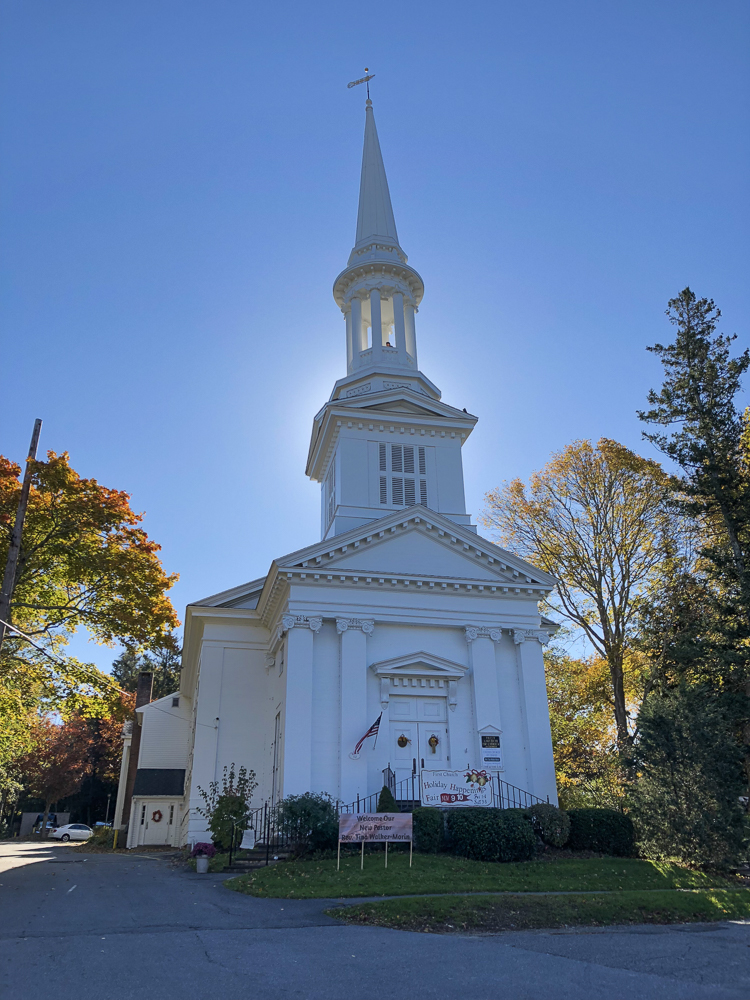 Loved this church too.  We stopped in a bakery there called Beth's and I got coffee and Mark got a pumpkin roll that was fabulous.
It's not a big town, so we just strolled around and looked at everything, including the Sandwich Glass shop.
Loved this unique glass.
I decided to buy a pretty hanging glass piece for our Christmas tree this year and it's already on the tree.
How about this gorgeous fixture in the lobby?  So unique.
Another pretty Cape Cod house in Sandwich. Love the color combination.
We got a kick out of these signs all over Cape Cod, Thickly Settled.  I guess it means there are lots of people in this area. So cute how different regions have different things like this. We saw these signs all over the cape.
The glorious Fall trees never get old, do they?
Another stop in Falmouth was to the Nobska Lighthouse.  So pretty and picturesque sitting up on a hill with the light keeper's cottage next door.
We sure don't have many of these in Georgia.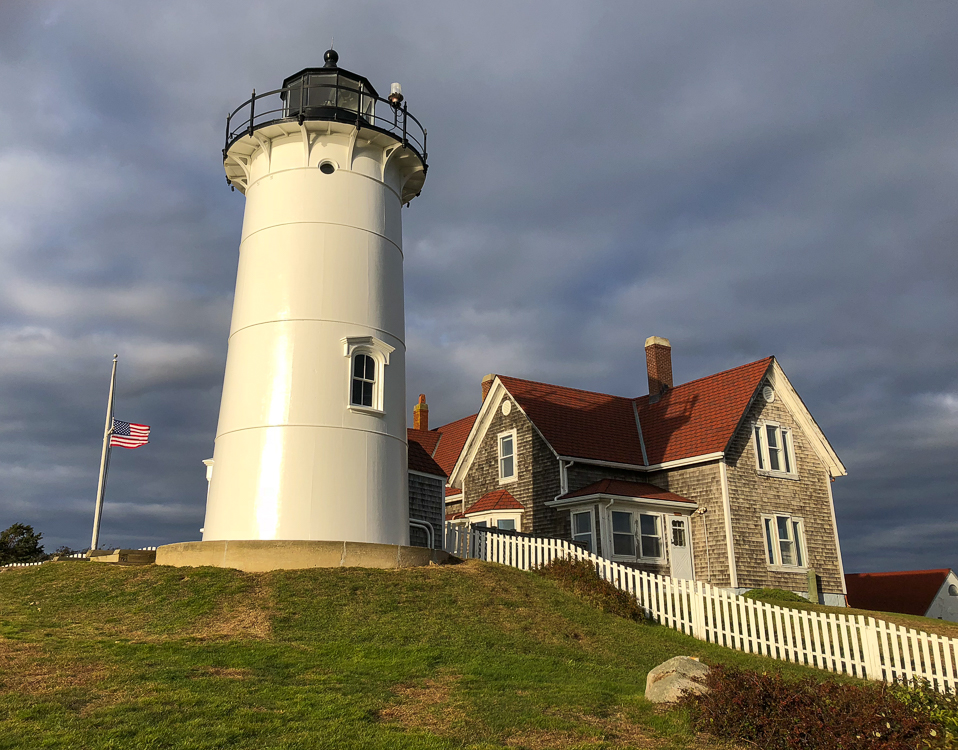 Lighthouses are always great photo opportunities.
So we took pics of the lighthouse and us in front of it too.
A selfie opportunity at Nobska.
Mark took this panorama shot of the water in front of the lighthouse.
We headed on over to Wood's Hole, not far from Falmouth to eat at Captain Kidd. We had heard good things about it and it was delicious.
We sat in a back area all glassed in with this beautiful view.
And as the sun was getting ready to go down for the night, we enjoyed the golden hour.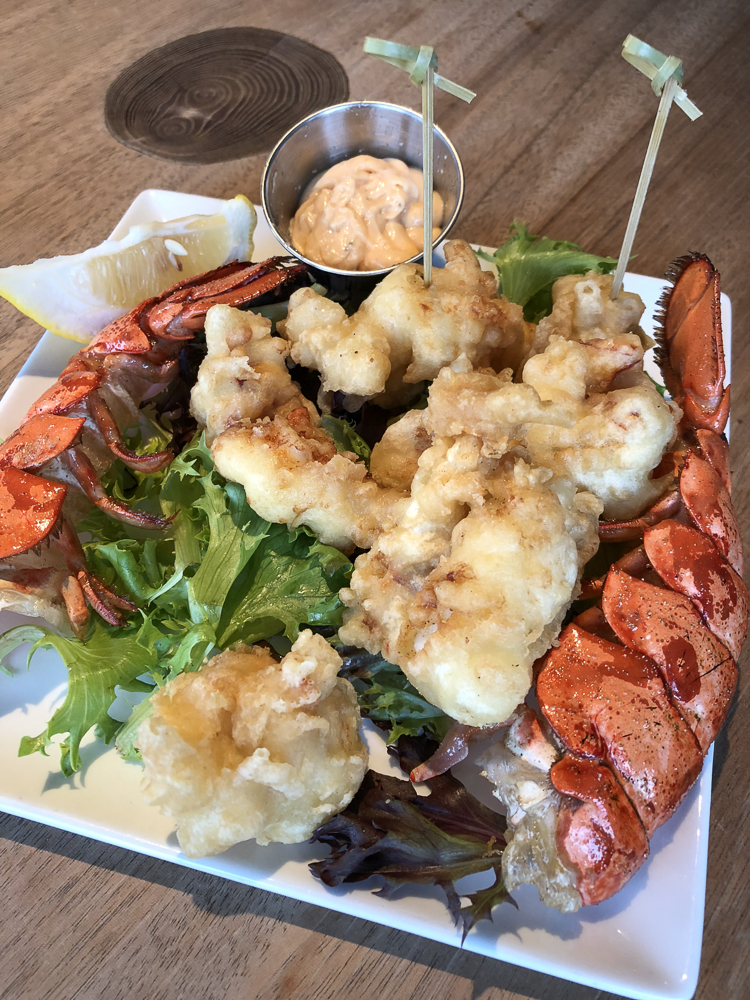 Mark got fried lobster and I had a bite. So good!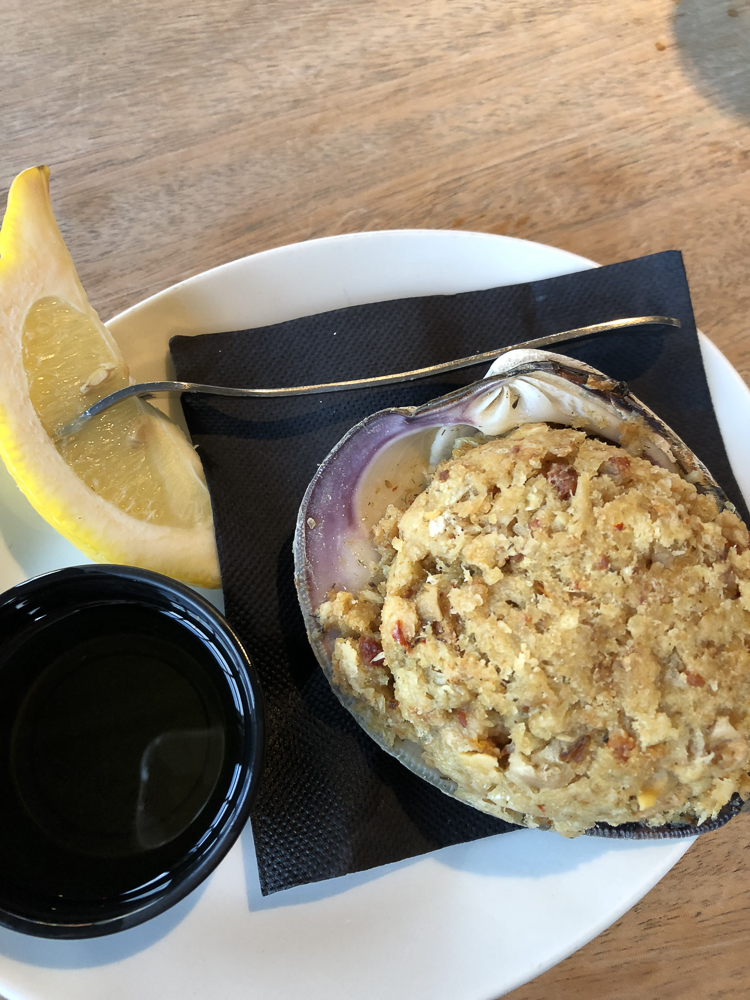 I got a crab appetizer and it was tasty too.
We ended up ordering a friend seafood platter and split it, but after eating this, we decided to slow down on the fried food from then on.  It was very good, but I didn't care for the fried clams.  They were just too squishy for me.
We left there just in time for this beautiful sunset over the Sound.  Gorgeous!
Sunsets are one of God's amazing gifts to us!
The colors over the water were breathtaking.
Someone on Instagram mentioned to me that we should go and do a little hike to a place called The Knob, so I looked it up and we went one afternoon.  I'm so glad we did!
The trail was well marked and started by the water, going through the woods and finally breaking to this path by the rocks and that's the Knob in the distance.  Just a rounded knob of land with vistas all around.
It was such a gorgeous view and we had a sunny afternoon so it made for a very pleasant walk. It was less than a mile out there from the parking lot.
I  loved the views so much.
There were a couple of guys out there and they offered to take a pic of us so I'm glad we got one.
Here's another panorama shot that Mark did of the view from The Knob.
It was definitely worth taking an hour or so to walk out to the Knob and look around.
Our second night in Falmouth, we decided to try a local Italian restaurant in town, La Cucina, and it was fantastic!  We both loved our meals.  We had a caprese salad appetizer.
Mark got lobster ravioli and I had a swordfish dish that was so tasty. We loved this place!
So, that's our recap of Falmouth and all we saw and did in the area. The good thing about Cape Cod is that you can stay in one place and drive for day trips all around.  It was fun staying in different bed and breakfasts though, so I'm glad we did that, as we moved around the Cape. I'm so happy you all are enjoy our trip recaps! It's been fun sharing it all.
Don't Miss a Post, join my list!