Over Memorial Day weekend, I got the pleasure of heading up to North Georgia and spending a couple of days at Lake Burton.  I've been in that area before, but it's been years.  I stayed with some new friends and really enjoyed seeing their cabin in the woods and getting to ride in a boat on Lake Burton. Lake Burton is definitely one of the prettiest lakes in Georgia and there are some celebrity sightings on this lake as well.
The North Georgia mountains are full of streams like this and they are always beautiful to see.
I grew up wading and playing  in mountain streams in North Carolina, so this always brings back good memories for me.
The cabin I stayed in was deep in the woods near Clayton, Georgia.  Such a picturesque spot in North Georgia, Clayton and Lake Burton has long been a get away destination for professionals in Atlanta who want to escape the city for the weekends.  Many escape to Lake Burton and enjoy their beautiful lake homes.  We'll get to that in a minute.
So, this couple named their cabin Chaqteau Crow (as in sounds like Chateau, but they consider it a shack-teau) and crow because there are many in the area, I think.  Sitting in the deep woods, we forded a small stream to get here.  This cabin is over 100 years old and was owned by Georgia Power at one time.  It has been renovated over the years to a charming destination for the family.  It sleeps a lot of people and was a cozy place to stay.
Yes, that is what you think it is, a rubber ducky ride from long ago, sitting on a tire. You never know what you'll see in the mountains.
A big front porch on the front is a great space to hang out.  It's quaint, cozy and very rustic cabin feel, but a great place to get away from it all.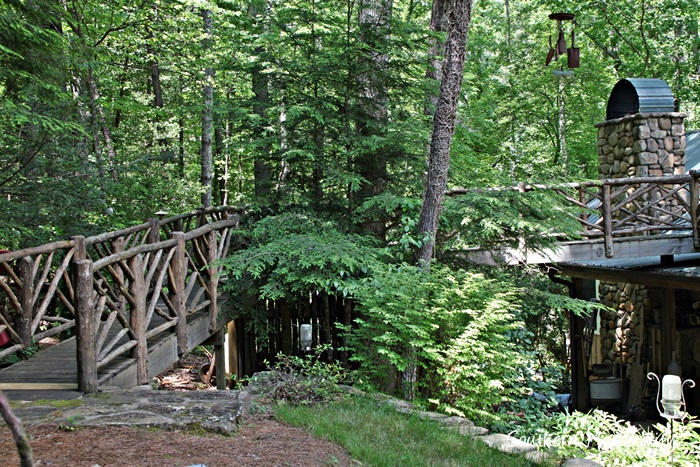 A walkway goes to the upstairs areas.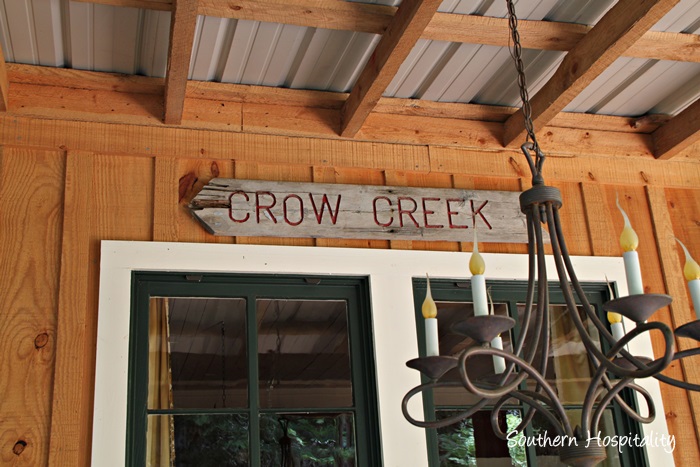 Crow Creek sign on the porch.
Lots of good spots for sitting.
The wife is a gardener and loves her garden art as well as planting and landscaping all around the house.
A pretty blue bottle tree arbor.
An old iron bed frame sits in the woods among the ferns.
Front yard stacked stone fountain is really pretty too. That is not a real blue bird on top. The sound of the water is so relaxing.
The mountain laurel was just starting to peak and I tried to capture the beauty of these magnificent flowers.
Soft, pink and fluffy blooms all over these mountain laurel.  So pretty!
They smell good too.
I had fun trying to capture their beauty, but not sure I completely did that. What a beautiful spot to stay!
Next, we took a nice leisurely boat ride on Lake Burton. It was a perfect blue sky day and crystal clear with moderate temperatures.  Plenty of people were out and about since it was the first major holiday of the summer.  Lake Burton is truly a gorgeous lake!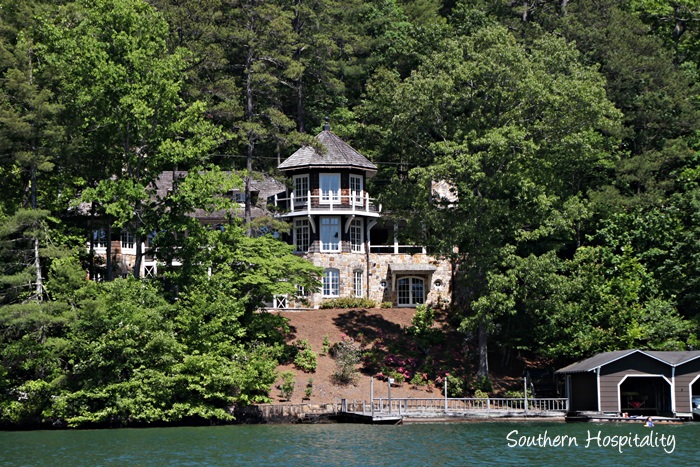 I took a zillion pics of all the magnificent houses on the lake, so enjoy.  I won't talk all the way through since there are so many pics to get through.
OK, so I think I could live in a boat house and be happy. These are pretty awesome, aren't they?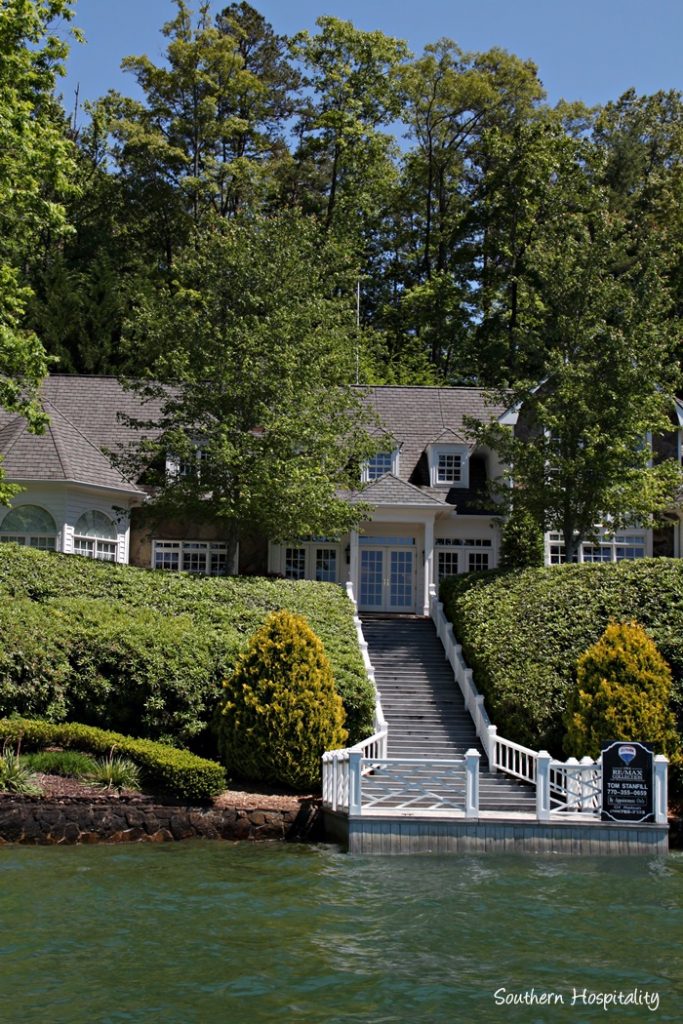 Every house had a matching boat house.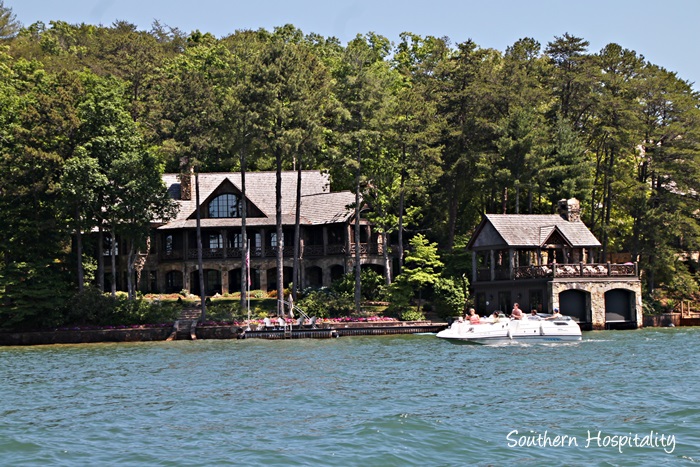 One exciting celebrity sighting house!  This is Nick Saban's house, the famous coach of the University of Alabama football team.  I'm a fan!  I shared this on my Facebook page and got SO many comments, some good and some bad.  It's a beautiful home.
And here's the boathouse, flag flying high.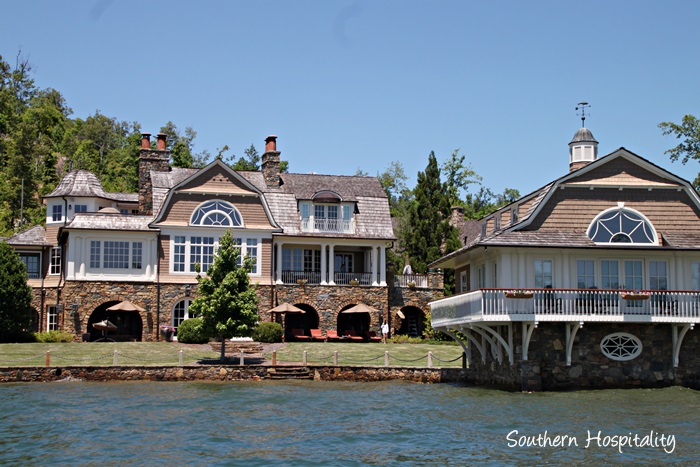 This was one of my favorite houses, it was more cottage-like and really pretty.
And of course, has a matching boat house.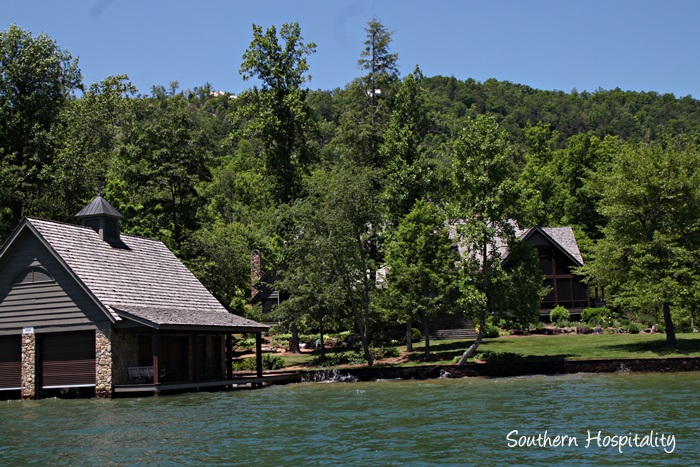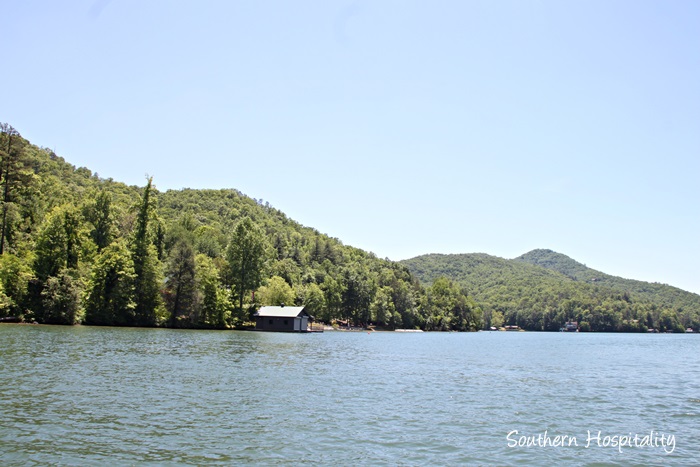 It was great fun touring Lake Burton and I hope you enjoyed this excursion with me!  It's a beautiful lake in North Georgia and the homes are just magnificent.  I hope to get the chance to visit again!
Don't Miss a Post, join my list!