Hey there friends!  I'm back today sharing our second stop on our Cape Cod adventure.  Are you still hanging with me?  I don't want to wear out my welcome and feel like the family you visit who pulls out the family photo album and all their vacation pics that they are so excited about, but you all have spurred me on in sharing more, so here I am!
We really only spent 24 hours in Nantucket, but as you'll see, we packed in a lot of pictures during that time. I was snapping left and right.  We took the high speed ferry over to Nantucket from Hyannis and used the Steamboat Authority, booked through our bed and breakfast.  It was a drizzly day that day, but the sun came out later.  Most of our time there was chilly and a little windy, but we made the most of it.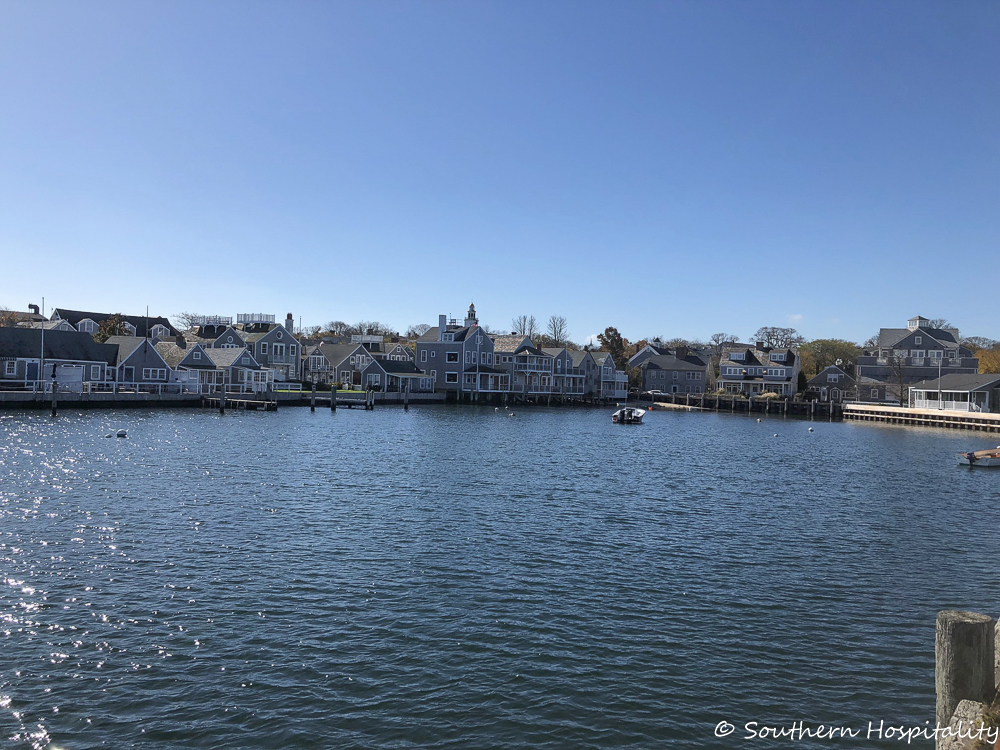 View from the ferry coming into the docks in Nantucket.  It was such a charming view!  If you've heard that Nantucket is a charming and quaint island, you heard right.  When we were deciding where to go, I really wanted to go to either Nantucket or Martha's Vineyard and since Nantucket is the smaller of the two and we weren't taking a car over, it made more sense to just do one night in Nantucket, so that's what we did.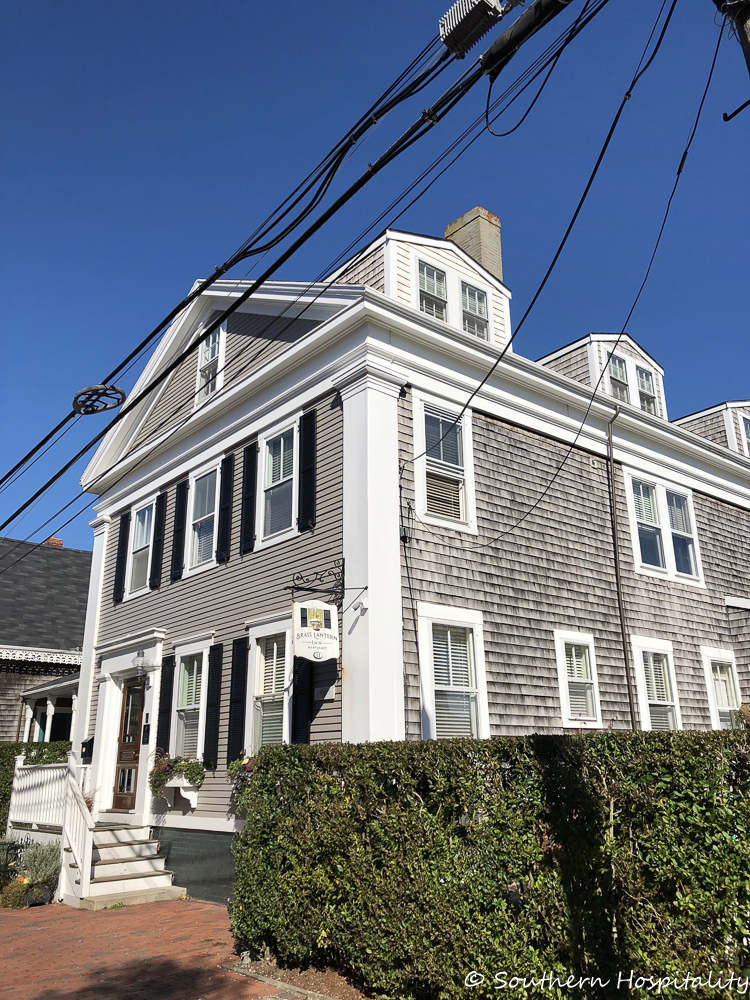 Our bed and breakfast was just a couple of blocks from the harbor and an easy stroll.  We packed just an overnight bag for both of us and left our luggage in our rental car in Hyannis and that worked out fine.  Our B&B is called The Brass Lantern, a former whaling captain's house.  Lots of whaling captains in the area!  It's a big stately gray shingled beauty and we enjoyed our stay way up on the top floor, one of the attic rooms.
Here's a peek at the room, up on the 3rd floor, we loved the slanted ceilings and it had lots of windows and light. We had a view of the water from our room.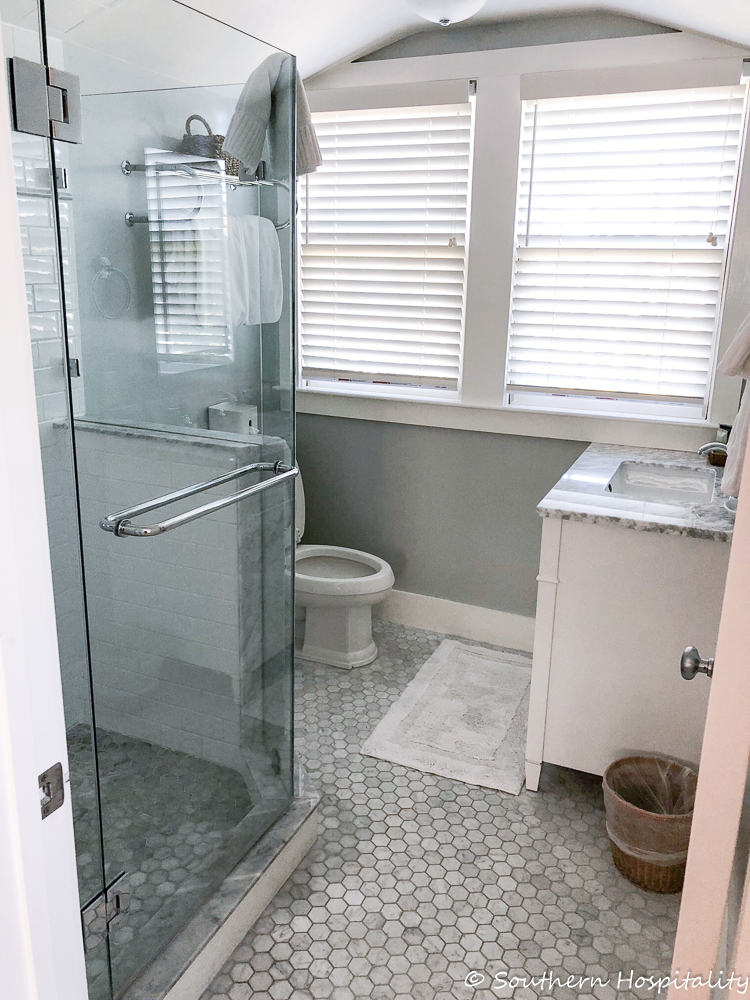 The bathroom was updated with beautiful marble tile.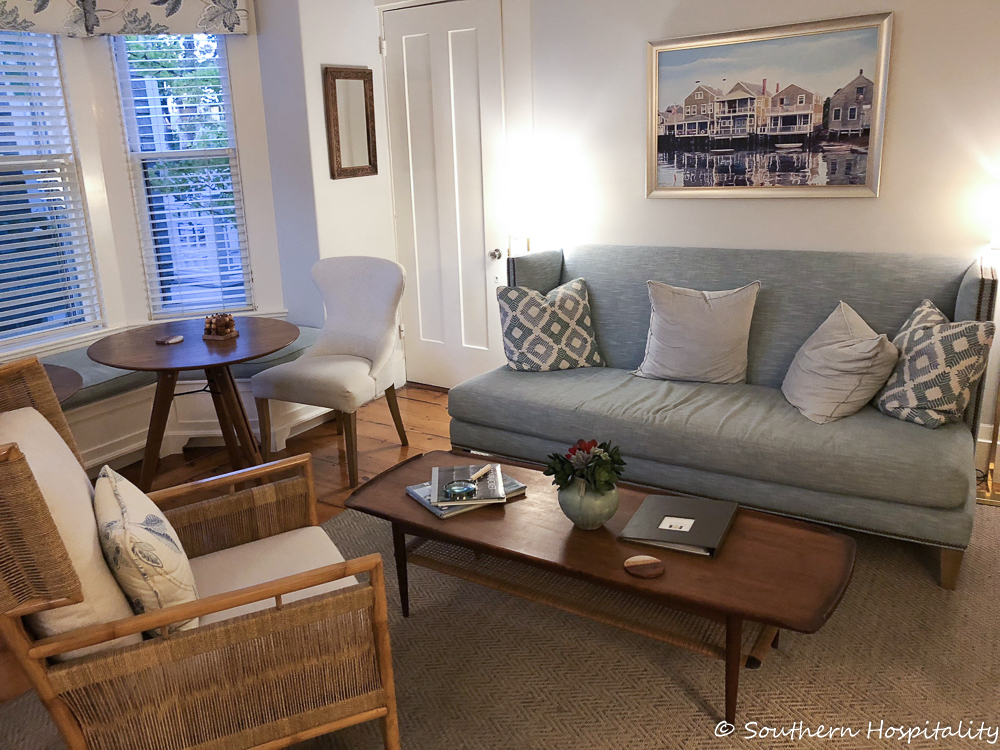 Downstairs, the living room was cozy and comfortable.  We didn't spend a lot of time inside, we had limited time to look around.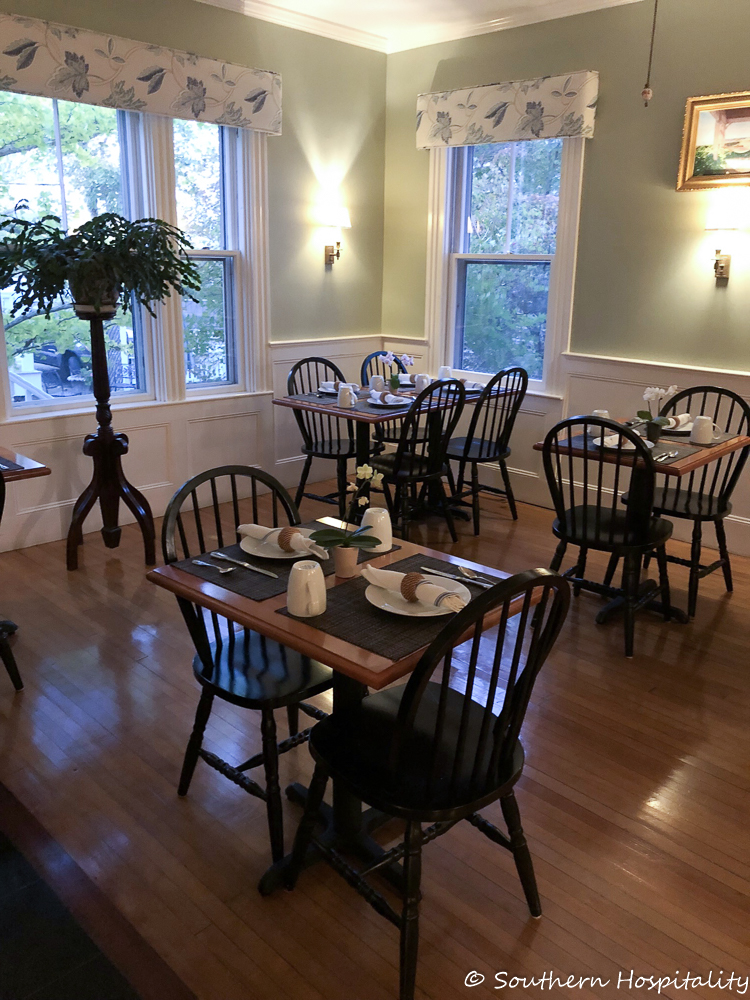 The breakfast room.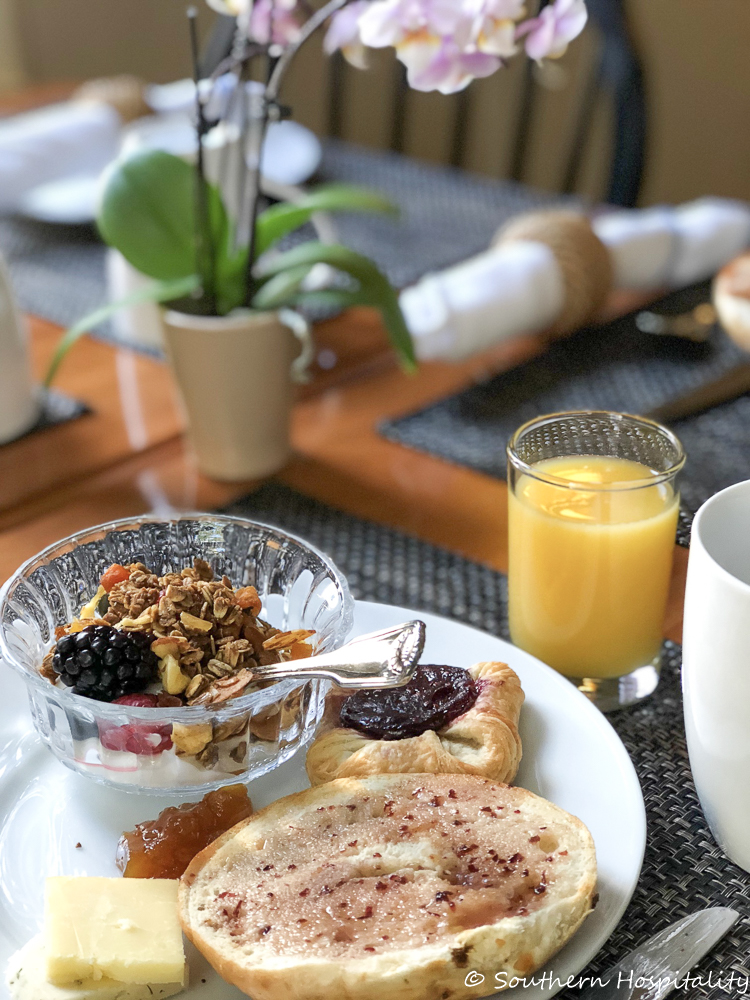 Breakfast was continental, but plenty filling and tasty. We enjoyed this one too. The Brass Lantern is very comfortable and nice place to stay and you can't beat the location so close to the ferry.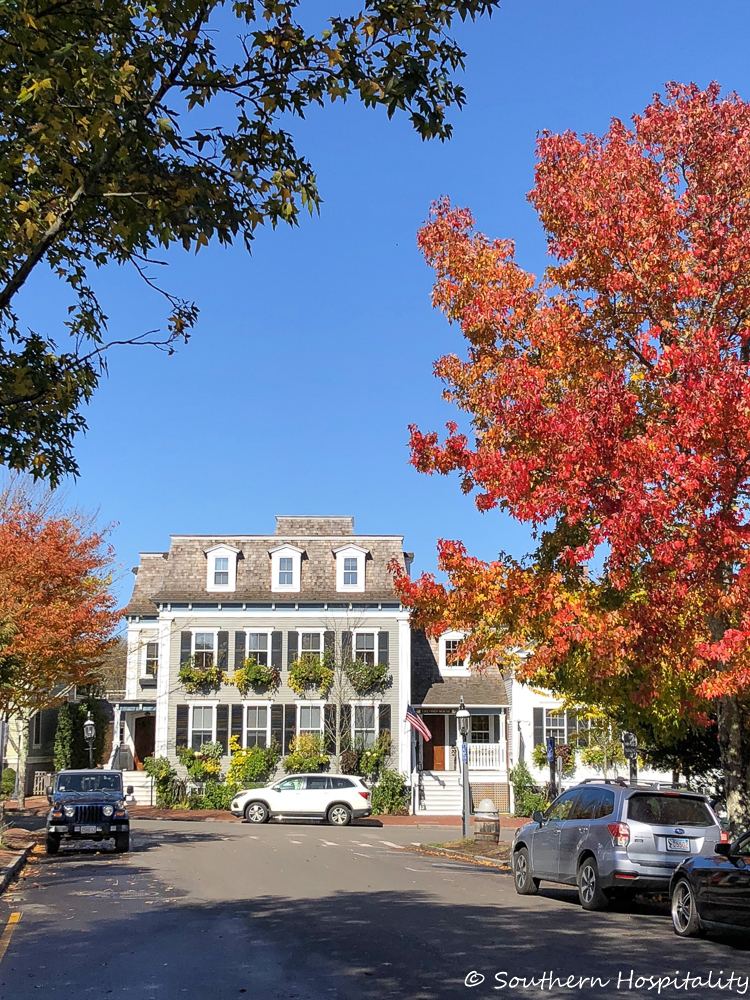 The first thing we did after checking in was head down to town to catch a bus tour right here on this beautiful street.  It was a local guy who ran the tour and drove us around the island, narrating along the way and telling us lots of local lore.
The tour is called Barrett's and our guide was Christian, a native of Nantucket, born and raised there and I think he said he was 5th generation or so.  We enjoyed his tour very much, very informative and the cost was $25 per person.  We were happy we did the tour so we could see the island and not just downtown.
This is a local landmark, a huge windmill.  He said it still grinds corn to this day.
Our guide pointed out celebrity homes along the way and now I can't remember who they were, but I am sure that there are plenty living there.
These photos are mostly behind glass so bear with me, but we saw some pretty scenery.  We decided that summer is definitely the best time to be in Nantucket.  It wasn't real busy when we were there and we didn't have a car, so walking around the downtown area was all we really did other than the bus tour.  I'm glad we took the bus tour, to see the island. It's only 3-5 miles wide by almost 15 miles long, so not really big at all.
We saw some pretty areas around the island and I imagine this place is hopping during summer months. We heard that it is teeming with summer visitors, taking advantage of the sun and sand.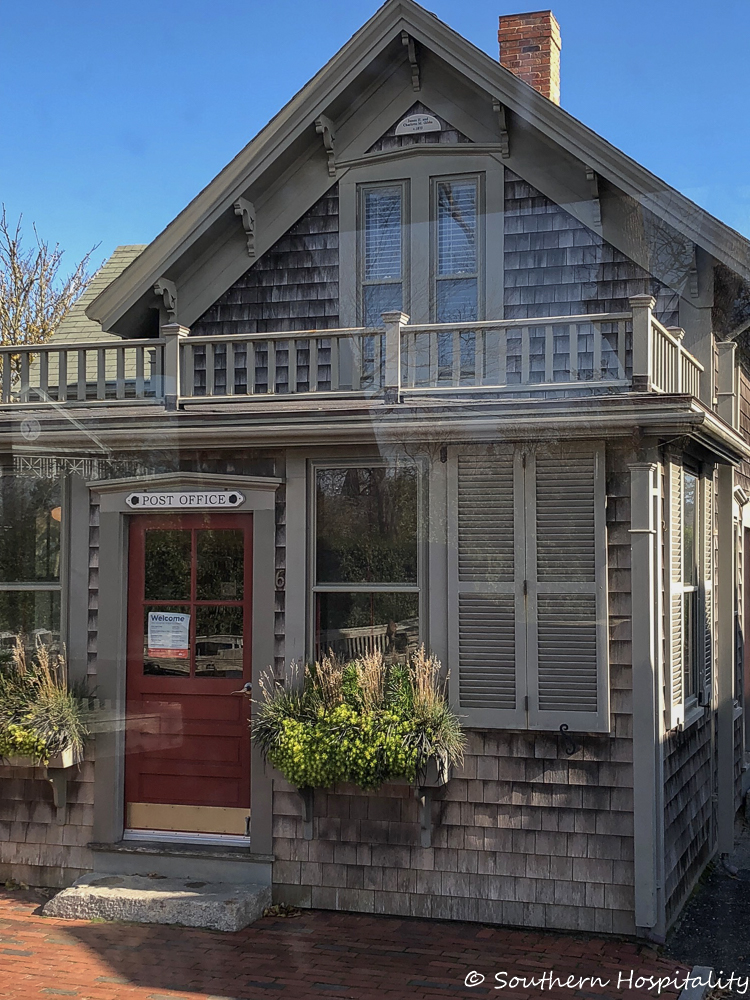 Even the Post Office stations are cute!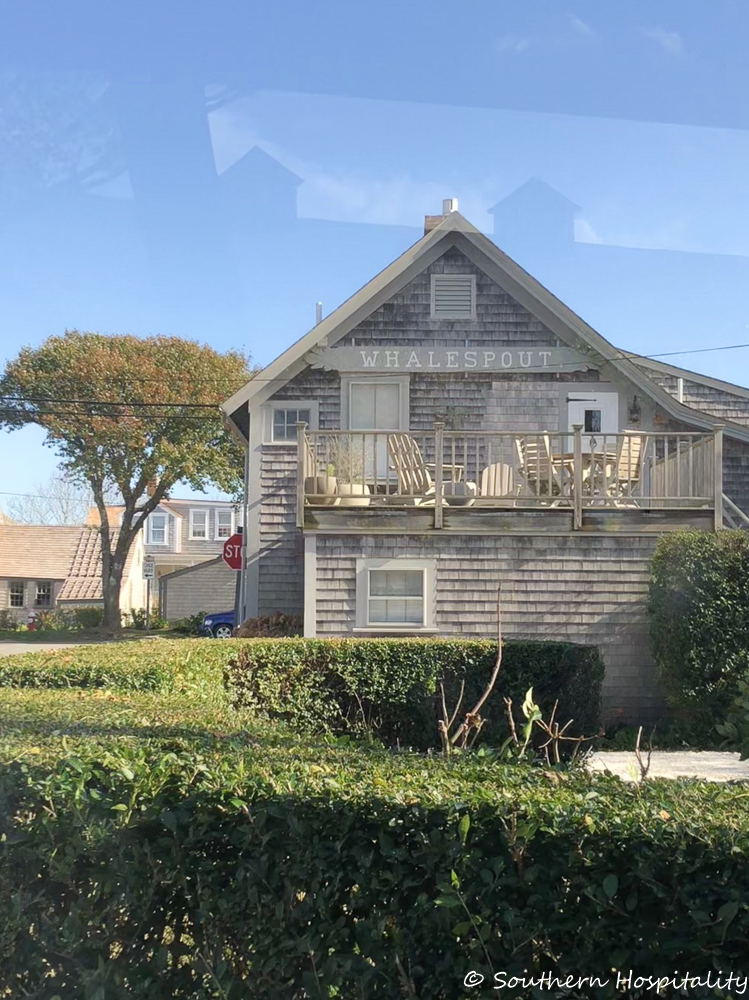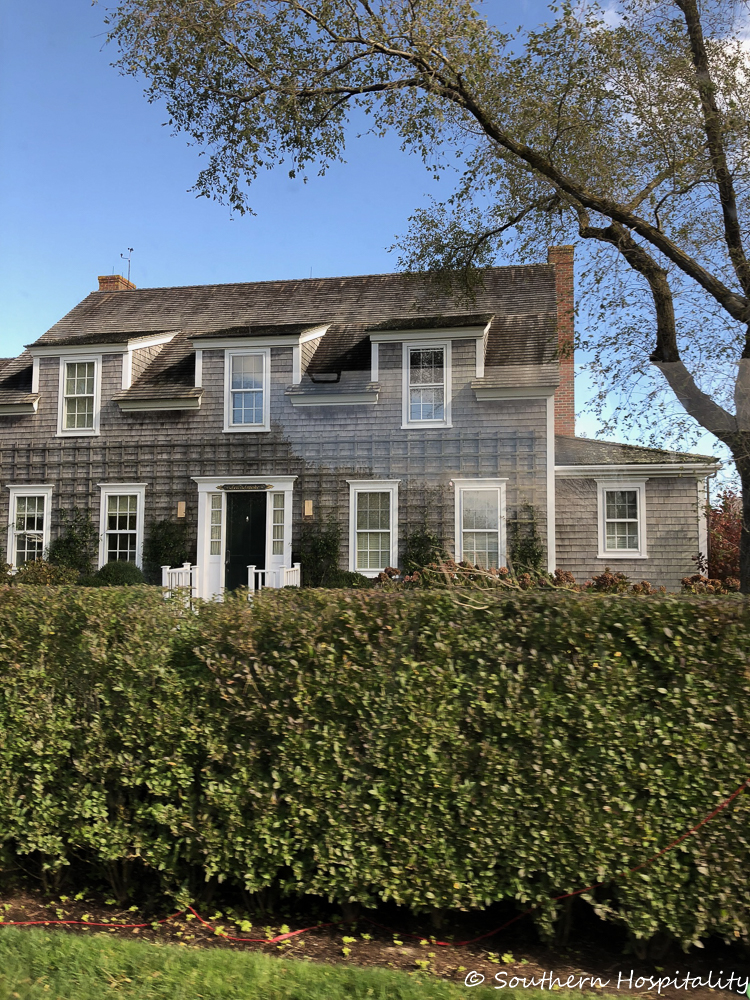 What a pretty lighthouse on Nantucket.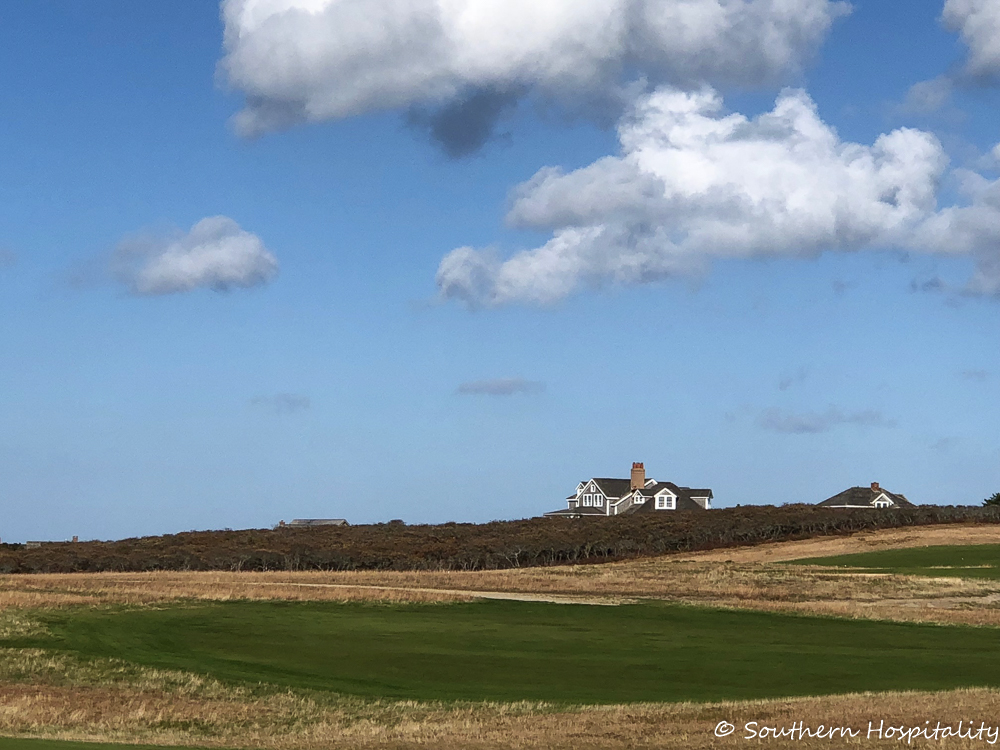 So as you can see, Nantucket is just as charming as you could imagine.  I just know the summer months would be so pleasant.
We walked the sidewalks and cobblestones streets of Nantucket, taking it all in.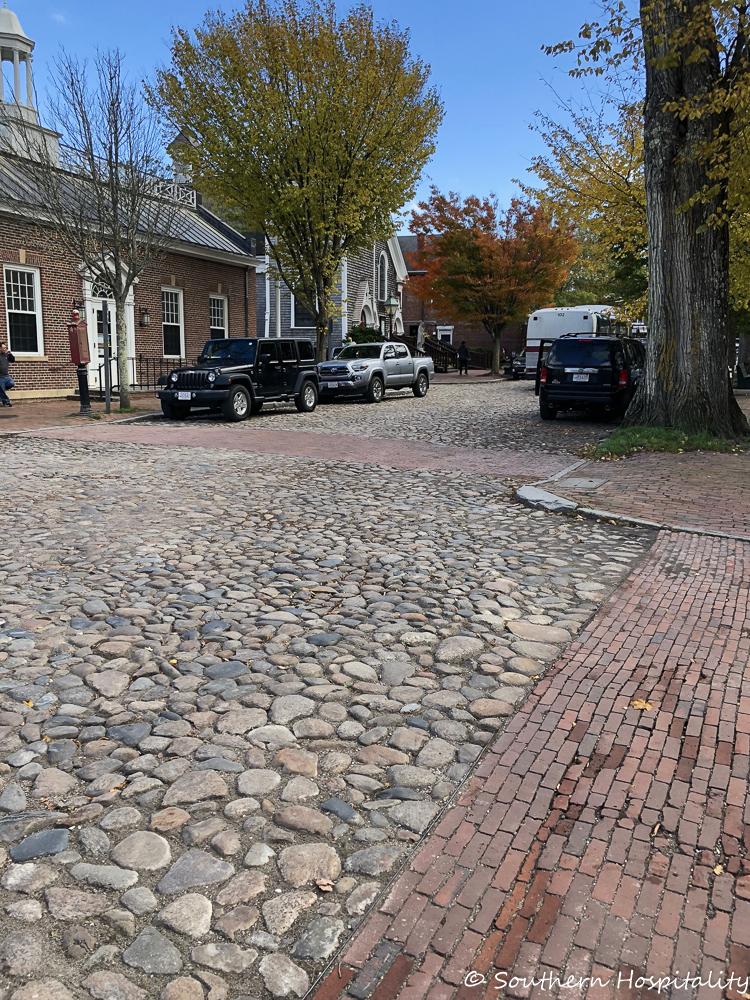 The downtown isn't huge, so we walked a few blocks in all directions to see the shops and also take in the neighborhood around downtown.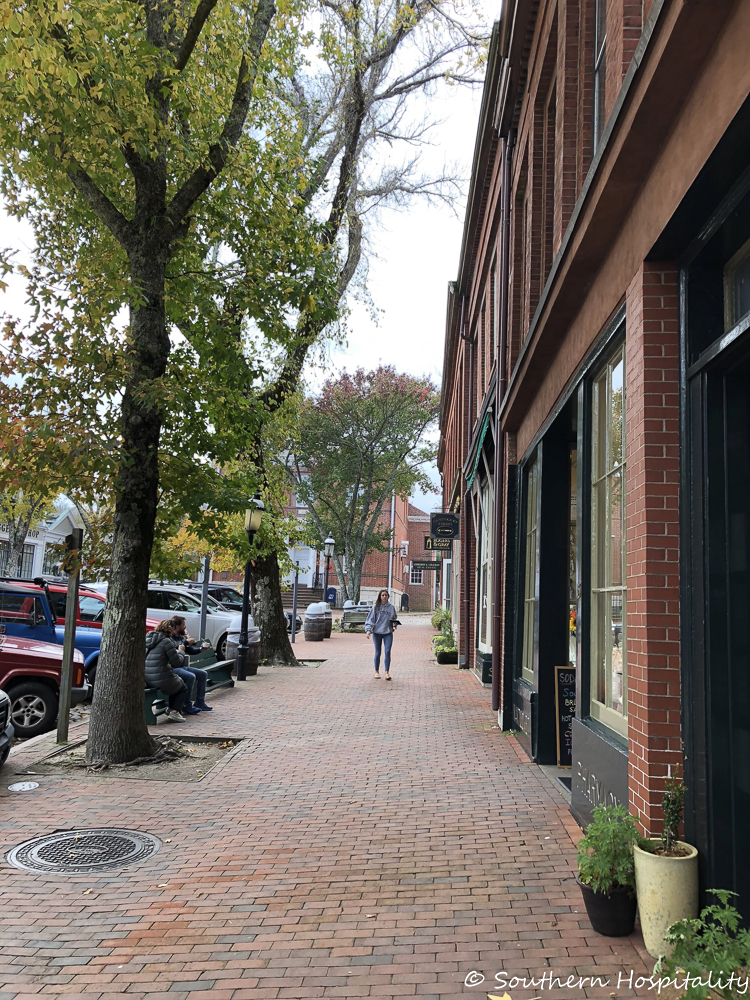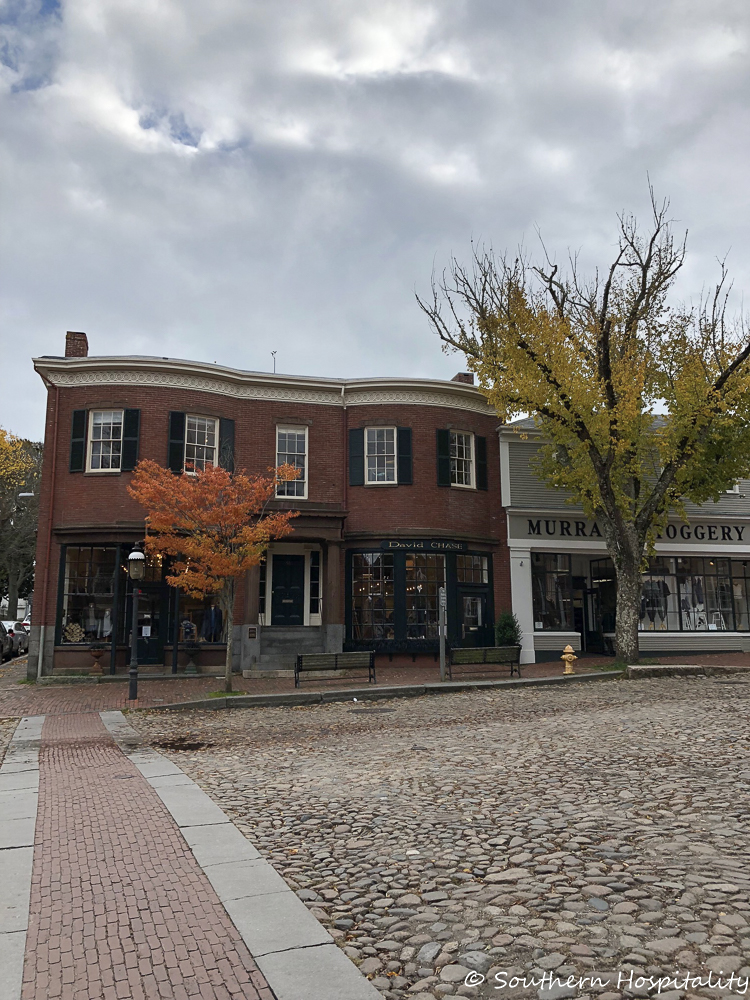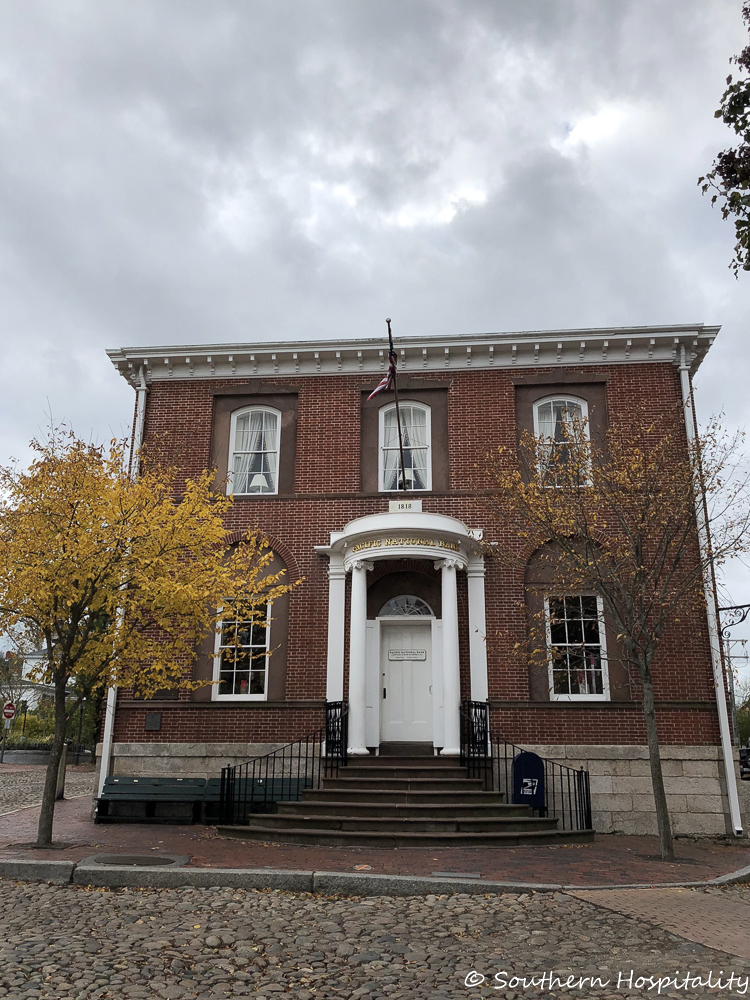 We were fascinated by the cobblestone and brick streets, so pretty.
Nantucket has a beautiful public library.
The Atheneum, the town library, started as a private organization and became the pubic library in 1900.  I had to go in here, since I love libraries and books.  Little known fact: my first job at 15 was in our local library near my house and I used to walk to work.  I've always loved reading and books.
They didn't allow pics inside, so we walked through and went upstairs to see what was up there and I saw this view from the window.  Such a pretty library, so if you go to Nantucket, definitely go in there.
I have no idea what's behind this statue, but it looks very interesting.  A man with a little man in his hand.
Nantucket looks like a Hallmark movie or a Dicken's Christmas village.
I think this is a church, such a stately building.
And then there are the charming houses of Nantucket.  We had breakfast after our night's stay and since we didn't have too much longer in the town, we headed out on a walking tour that morning, walking up and down the streets, me taking pics all along the way of all the quaint houses.
They were everywhere as you can imagine.  How many times can I say charming and quaint?  That's all I can think of to describe the beauty.
Loved this church too!
Cute side yards and sidewalks everywhere.
Even though we missed the big hydrangea show of summer, we got the Fall version and it was pretty amazing. Someone told me some of these are Snowball bushes, but I don't know how to tell the difference. They all had this pretty amber color.
Here's an example of new cedar shakes.  As it starts to weather, it gets grayer an grayer.
And then it looks like this as it ages. I sort of knew this, but really hadn't seen it in action, but these cedar shingled homes were just so cute. I'd love a mix of cedar shakes, stone and siding. What a great combo that would be. There aren't a shortage of cute white picket fences either.
This red brick stood out from the rest.
And occasionally another color would be there, like this yellow.
Many houses have siding too. I loved this Sweet Autumn Clematis vine still growing strong. I've heard these are hardy growing vines for years now and may have to try one in our backyard. We want to make our backyard charming and quaint too!
Here's one with a lot of age, with a deeper gray, but I still love this. It was fascinating to see how they all use the gray and white and mix in shutter colors and front doors to make their homes stand out from the other gray shingled homes.
We loved this brick driveway with cobblestones inside.  Isn't that a great idea for a drive?
More of those fading hydrangeas or Snowball plants. Anyone know for sure which this is? I just assumed they were hydrangeas but maybe I'm wrong.
This deep teal sure looks nice with the gray, doesn't it?
Oh, and this blue house with red door really stood out, so cute!
There was plenty of Fall leaf color while we were on Nantucket.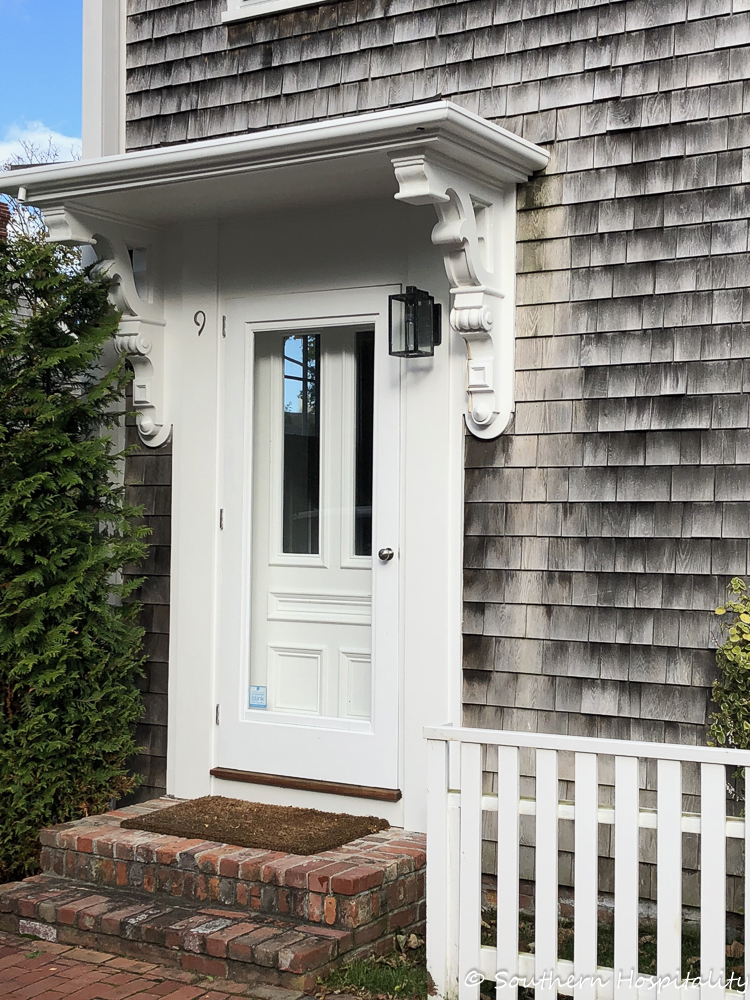 I just loved the door overhang on this door.  Those corbels were something!
Steamship Authority, ready to catch the ferry back to Hyannis after being on Nantucket for 24 hours.  We did eat out there that night, but didn't really love the restaurant that much, so I'm not going to share it. It was just a block or so from our bed and breakfast. I'm sure there are fabulous restaurants on Nantucket, but we weren't sure what we wanted and so took a chance on one nearby.  Luckily, that was the only disappointing meal of the whole trip.
After getting back to Hyannis and getting our car, we headed out to the Cape Cod potato chip factory.  This colorful tree was in their parking lot.  Gorgeous!
We took a really quick tour through the Cape Cod potato chip factory. Actually, many of the machines weren't running when we were there, so we only got to see a little bit of the process. I love Cape Cod potato chips and it was fun to see where they come from.  We bought a bag of Russett potato chips from their shop on the way out and enjoyed them as a snack the rest of the trip.
After leaving Hyannis, we headed on to Falmouth, MA, another great stop.  We'll pick up there next time! Thanks for hanging in there with me with this trip. I warned you I took a lot of pics and I sure did, but I'm so glad to document it all. I'll be glad I did!
Don't Miss a Post, join my list!