I have visited Savannah several times over the past 20 years, but it's been since the late 90's since I've been back and I was way overdue for a trip to this iconic Southern coastal town.  Visiting Savannah is everything you'd imagine the South to be.  Historic old townhomes line the beautiful squares of Savannah and you can just imagine horse-drawn carriages clicking along the old streets.  It's such a lovely place and I definitely need to go back and spend more time there. It takes days to take it all in and then you could do it all over again.  We only had one day in Savannah this trip, but we managed to hit some vintage shops, a fabulous bakery, lunch at Lady and Sons, Paula Deen's well known Savannah restaurant, and we browsed a few of the squares.  The squares are a huge part of Savannah's charm and I can't get enough of them.
I took so many pics, I'm going to break this into 2 posts and hopefully give you a flavor of Savannah and what a great little Southern gem of a city it is.  If you've never been, I'd highly recommend it. And Tybee Island is just a hop over the bridge from Savannah, so you can get the best of both worlds by staying on Tybee for a long weekend (or week, take your pick!).  There truly is plenty to do in both of these towns, so today let's look around a bit at Savannah.
We started our day with a stop at Back in the Day Bakery and let me tell you, it didn't disappoint. It was filled with a crowd when 20+ of us showed up for breakfast and what a treat to see this place up close.
They have an assortment of baked goods, offer lunch and coffee treats that will knock your socks off.
This is Diane from Mermaid Cottages introducing us to the owners, Cheryl (with hubby Griff), who has written a best selling cookbook, The Back in the Day Bakery cookbook. It was so fun to take in this must see bakery in Savannah, which has gotten national press.
It's so warm and welcoming and you feel like you're stepping into your Grandma's house.
Tempting treats are behind those glass counters.
Our crew took up a lot of space and enjoyed the ambiance.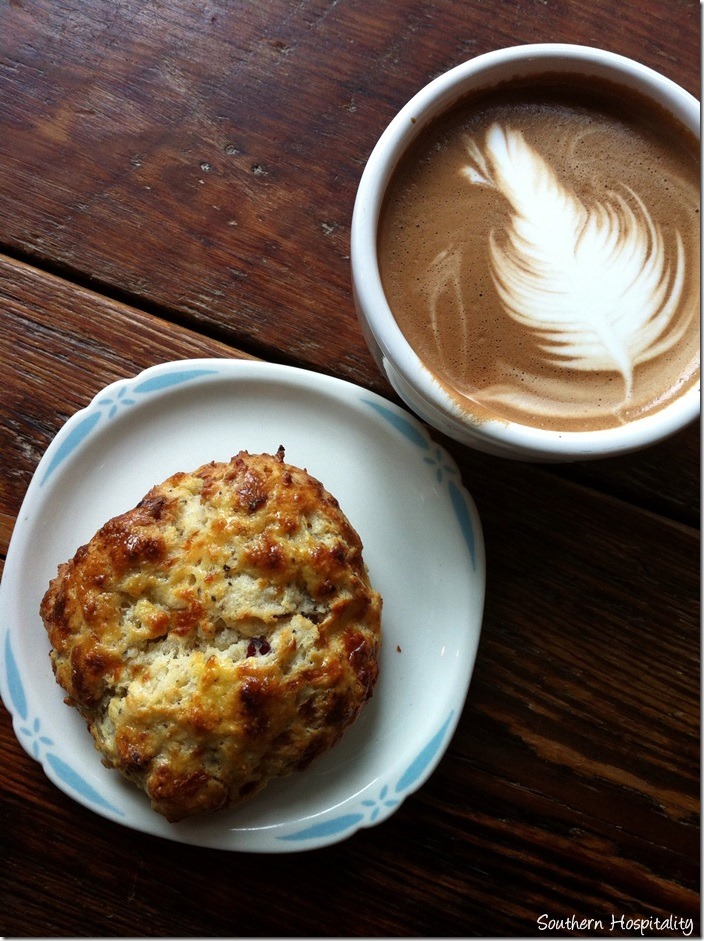 My choice of the day was this decadent Cheddar and Bacon Biscone, yes a mix of a biscuit and scone and oh, my gosh was this delicious.  It's one of the best things I've ever had for breakfast.  That and the latte was over the top good.
Next, we hit Two Women and a Warehouse, a fun vintage shop filled with lots of goodies that all of us home lovers enjoy browsing.
Plenty of painted furniture and lots of little treasures around.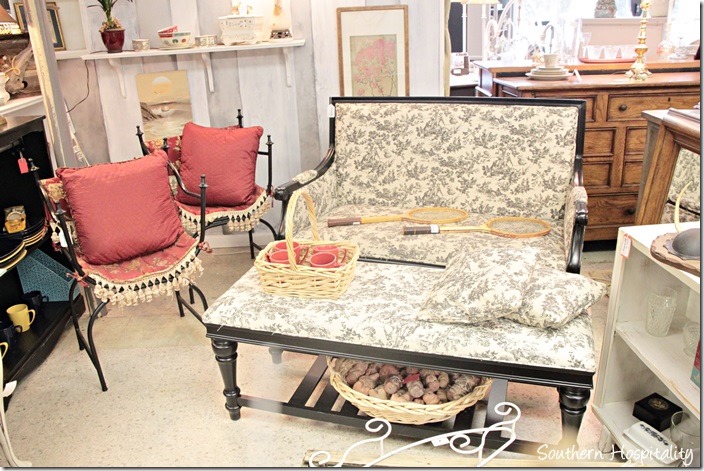 We all explored and browsed and some bought.
It's always fun to browse in shops like this.
Vintage jadite on one cabinet.
Lots of fun treasures.
I found one little thing in here that I took home with me, this vintage ruler.  This so reminds me of one my dad has and I picked it up for the nostalgia factor.  I'm going to ask him if he still has his old one and I bet he does.
Our next stop was Habersham Antiques, another fun antiques store.  I did find one treasure to bring home, this vintage wool houndstooth coat from the 50's in a pretty camel and cream.  It's it perfect condition and fits me perfectly so I just fell in love with it. At $75, it wasn't a steal, but not too bad either.  This isn't a great pic, but snapped on my iphone.
When we came outside in Savannah, there was a huge fire at a rubber plant near the water front, we found out later.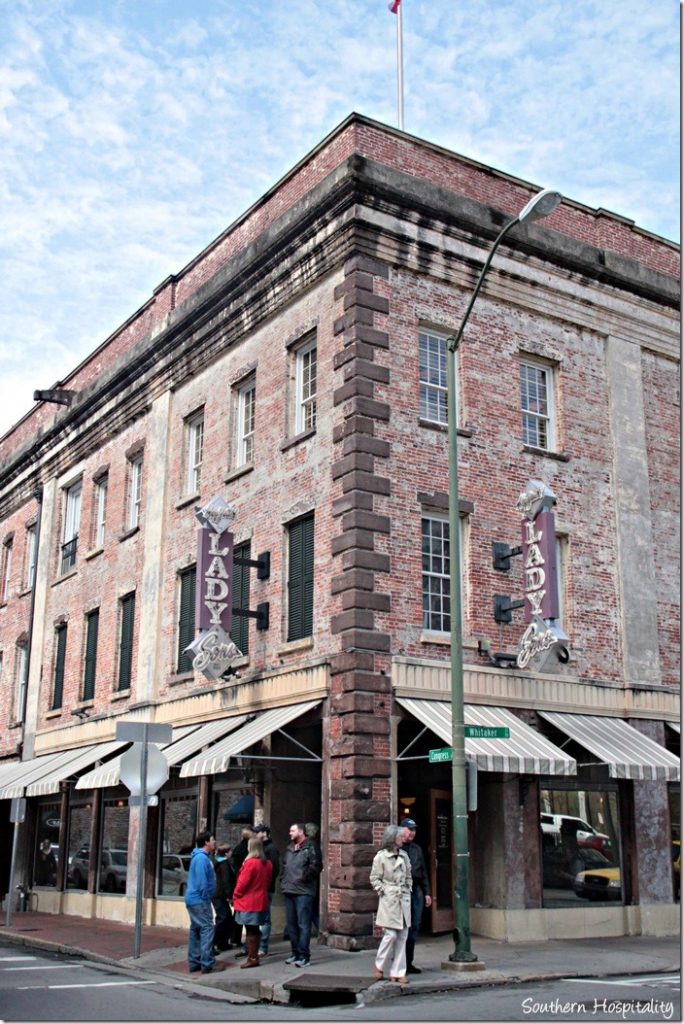 Lady and Sons takes up a huge block near downtown Savannah.
We had lunch reservations in this cute space just down from the main Lady and Sons restaurant.  There was a nice buffet set up in here for us.
Here's the group pic of all of us, but I won't even attempt to name names.  This is the mix of bloggers, restaurant staff, and a few friends who joined from Tybee.
Lunch was just as delish as you would imagine, fresh veggies Southern Syle and plenty of meat to choose from.  It reminded me of my mama's cooking, of course!
A few blog friends I got to hang out with for the weekend, Kim, Holly, Brittany, and me.
Fun and sassy, Laura, from Finding Home.  She's so fun!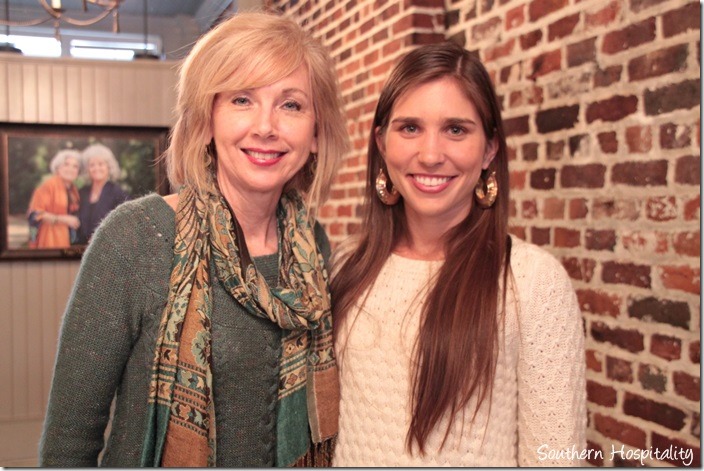 We got to meet and chat with Claudia Deen, wife of Bobby Deen. They have just been married 7 mos. and she's a new food blogger at Chicaloverde. It was so fun to meet her, she's very friendly and energetic.
Of course, there was delicious Southern desserts, like peach cobbler and banana pudding.
I opted for this decadent chocolate dessert, which was heavenly.
Next, we hit the streets of Savannah and did some shopping and strolling.  The Paris Market has been covered on so many blogs and since it wasn't there when I was last in Savannah, I had to check it out too.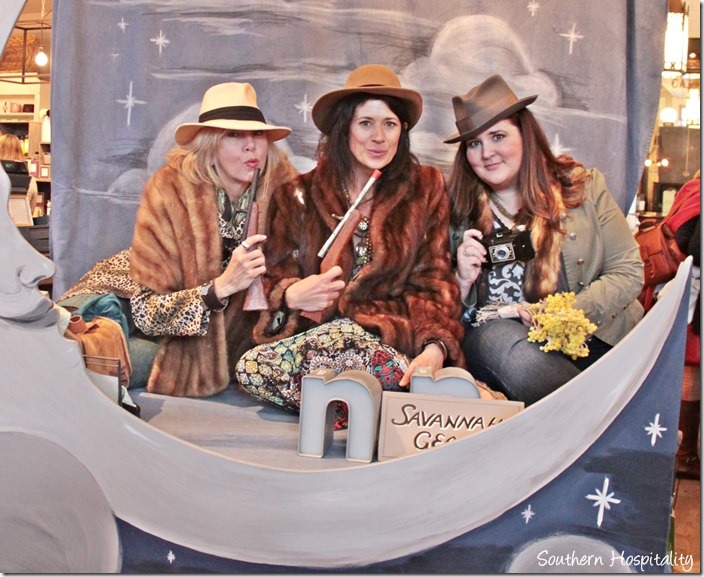 Just inside the door is this big paper moon display with all sorts of things to dress up in for photo ops, so me, Lucy and Beth had to try it out.  What do you think?  Nostalgic gangster girls, perhaps?  It was fun!
Lots to see in the Paris market.
Sweet treats and coffee too.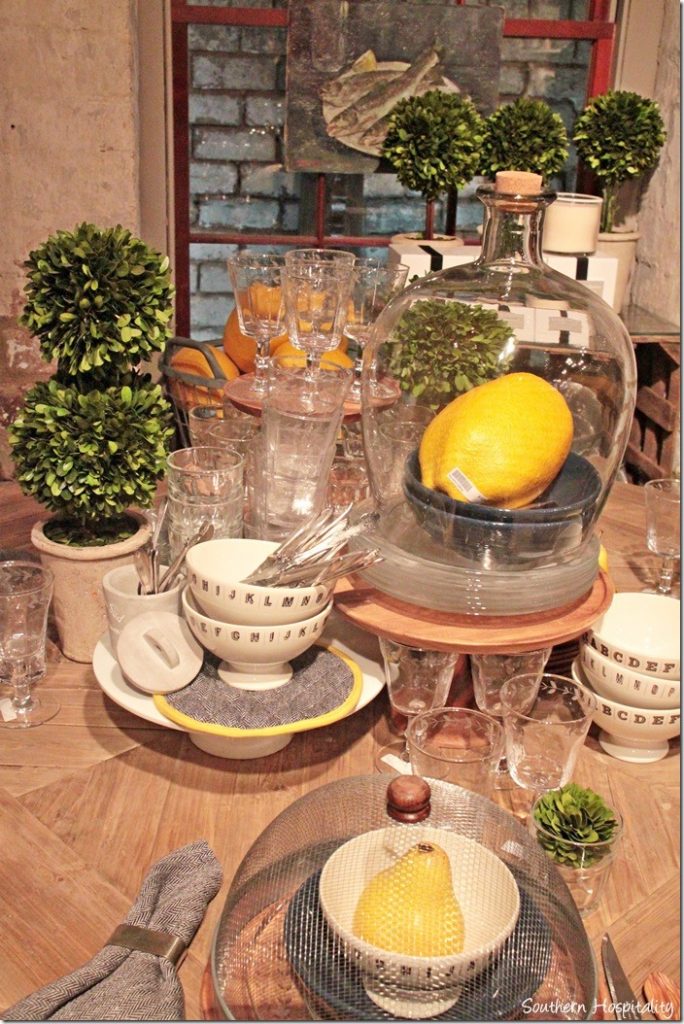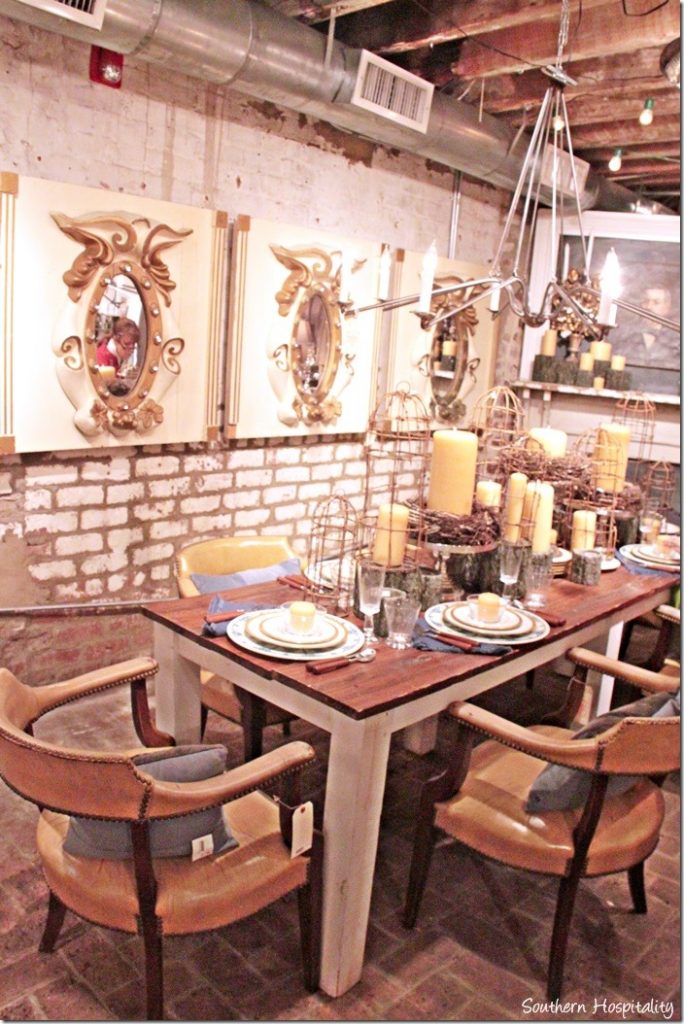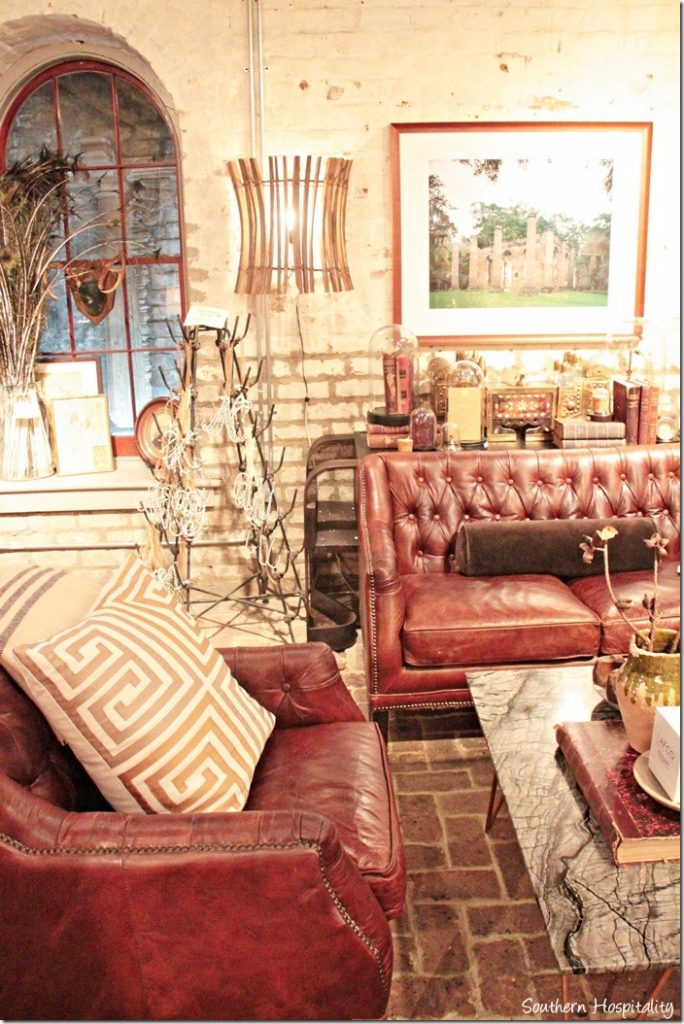 So, that's part of my tour of Savannah! I've got lots more photos to share of some of the squares and beautiful scenery outside.  I love, love the squares of Savannah and all the ambiance that this historic and charming Southern city possesses.
Don't Miss a Post, join my list!