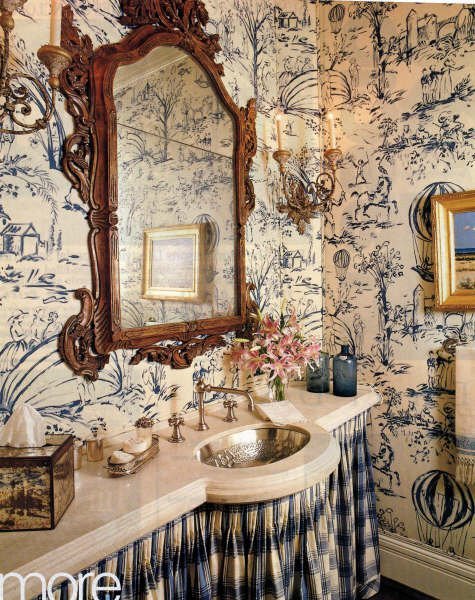 Everything that I'm reading indicates that wallpaper is back.  What do YOU think?  I know most of us have spent hours ripping down some ugly wallpaper that we got stuck with or got tired of after putting it up ourselves.  Raising my hand, I sure have! And it's no fun scraping, peeling, spraying hot water to get off those last tidbits of remaining paste and paper from those walls.  And after all that hard work of scraping, I've vowed Never.To. Do. It. Again.
That is, until I see some beautiful  pics like I'm about to show you.  See if any of these change your mind.  I'm on the fence.  I could be tempted to do an accent wall OR a small bathroom, but that might be it, if I fell in love with just the right one.  I'm still a big toile lover and this bathroom above is just so yummy to me in so many ways.  I had toile wallpaper  in my old bathroom in Georgia and loved it.  I've learned when it comes to decor, never say never.  Everything old is new again. 
(Dallas News Photos by Natalie Caudill, Styling Katie Kieffer)
I really love the graphic lime green and black of this one.  This one could tempt me.  Maybe my office space?
(from Domino)
Another toile print and just on one wall.  Very pretty.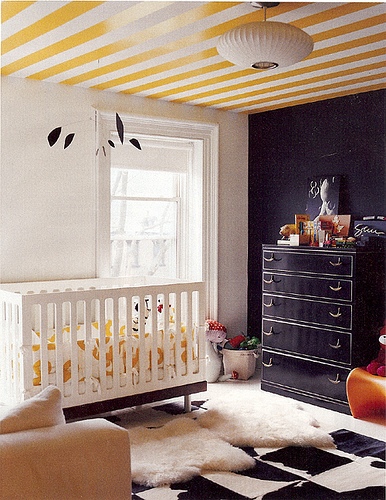 (from Domino)
How about a bold stripe on the ceiling.  Now, that's eye-catching!
(Evan Sklar via Southern Accents)
Another pretty blue and white toile, always a classic.
(Michel Arnaud via Southern Accents)
A restful and classic bedroom with a beautiful damask paper.
(Ophelia from Graham Brown)
Something about this pic just makes me smile.  I love the happy green chest in front of the golden floral wallpaper.  It's just fun to look at.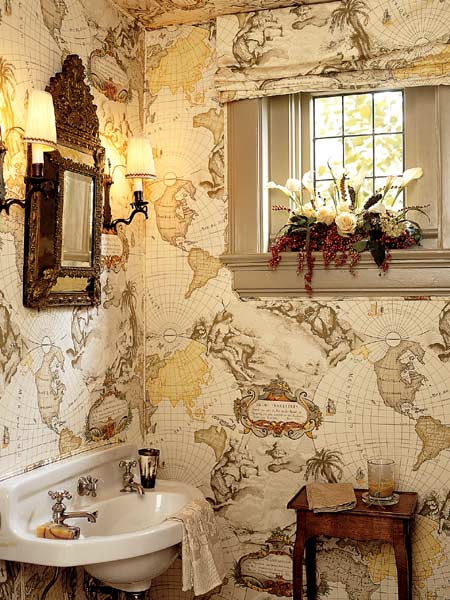 Oh, how I love this little bathroom with the map on the walls and even the valance is in the same print.  So pretty and cozy, this space speaks to my Traditional side.   (don't know the source on the above pic)
(The World of Interiors Dec. 06)
More toile, this one in a luscious green.
(Tria Giovan via Southern Accents)
And how about this funky lime green paper in the foyer of a Traditional home. Love this! Probably wouldn't have the nerve to actually do it, but I like the way it looks.
(From Graham Brown)
Love this fun turquoise and brown pattern.  It would take a brave soul to do that one though.
(From Ideal Home Magazine)
A great way to add some impact is by putting wallpaper on the back of built-ins. I've used scrapbook paper for that, but actually matching the pattern of wallpaper would be a great look too, since it's bigger than scrapbook paper.  Lot of visual interest here!  You could even add it to a thin piece of luan if you didn't want add it permanently to a built-in.
(From Ideal Home Magazine)
Love this idea of adding this jolt of color with wallpaper behind the sofa table. You could also add some small molding on either side to really dress it up.  Are your thinking caps on yet?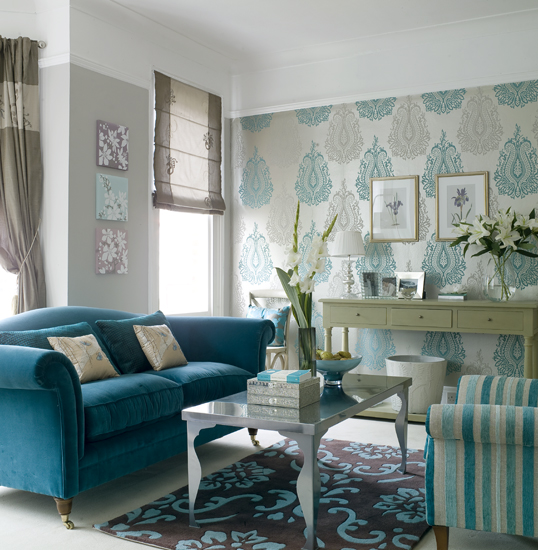 (via sugarblushstuff.blogspot.com)
This turquoise paper is so pretty and the whole room just has a nice and serene feel, even though the paper is a little busy.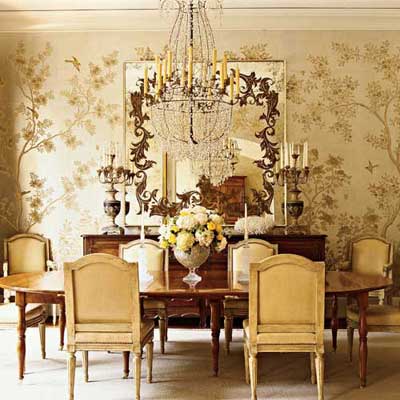 (From Southern Accents)
This traditional dining room really feels warm and inviting with what looks to be metallic botanical wallpaper added to dress up the walls. Such an elegant space.
(from CanadianHouseandHome.com)
Even though this is a bold pattern, it totally works in this bathroom with the traditional vanity and simple sconces and mirror.  I adore this!
(from CanadianHouseandHome.com)
One more beautiful blue and white toile print, another gorgeous diningroom.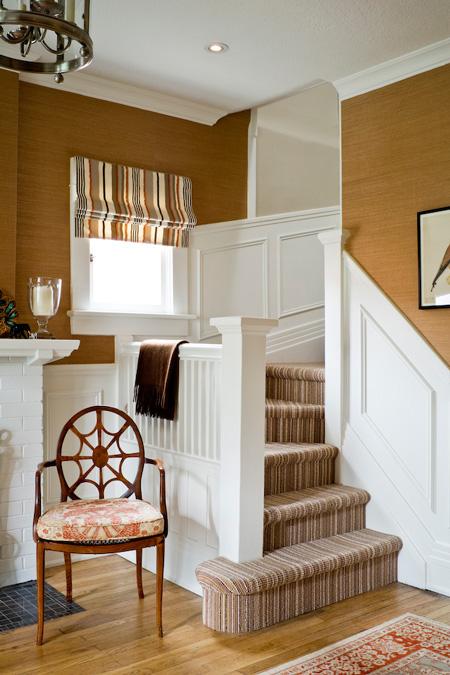 (from CanadianHouseandHome.com)
And there's always grasscloth for added texture, which itself is making a comeback. I remember this was really hot in office spaces back in the 70's and 80's and it has a fresh appeal here in 2010.
So, are you ready to buy some wallpaper yet?  or are you scarred for life from long ago or recent removal woes?  (been there, done that!)

I'm not sure I am either, but I'm really getting excited about the new possibilities that I'm seeing out there.  I think in small doses, wallpaper is so fun.  I just have to get the nerve to actually do something with it now.
I'll be thinking on this subject too and will let you know if I come up with a space and a plan!
Don't Miss a Post, join my list!