This is another crazy busy week for me, but you know what….I love it like that!  My life is so full and fun and I'm loving every minute of it. The busy weeks and the calm ones. I'm taking off today for another blogger event in NC with LazyBoy and yes, you'll be hearing all about it too once I get back. It's sure to be a blast, because again, it involves some sweet blog friends too.  As soon as I get back Friday night, I'll be heading to the Country Living fair at Stone Mountain, so I hope to see some of you there too!  I'll be the bleary-eyed one, with too little sleep, trying to keep going. 🙂
I knew that Kevin and Layla had moved to an idyllic setting with a lake, beautiful nostalgic homes and plenty of eye candy.  A true neighborhood feel with a feel of old timey goodness of sidewalks and neighborly attitudes and I can tell you that it certainly didn't disappoint.  They live in a wonderful community of folks and they treated all of us like family too. What a treat to enjoy that Southern hospitality first hand.  Southern roots grow deep in Alabama too.
At the end of our set-up day, we were all invited over to have dinner with these amazing ladies who have befriended Layla. They were all so welcoming and nice to us and the food was just delicious, a pasta casserole that had us drooling, along with a beautiful green salad and dessert that made me lose my breath, it was that good.  Those ladies were so wonderful, stepping up and helping Layla get this event organized and by the time we left, we were friendly with all of them.  Sweet ladies, they are!
So on the way to the house for dinner that night, here's what we saw. Such gorgeous surroundings, who wouldn't want to live here?
I can see why this was on the list of places to live for sure.
Rolling AL hills and beautiful scenery all around.  It truly was like a movie set.
I had also forgotten that moss grows on the trees here in Montgomery. I was thinking it had to be closer to the coast, but here it is, dripping from the trees.
Our hosts' home. We were warned we were in for a treat and I was taking in every single bit of it.  Not only was the food outstanding, the atmosphere was too. Here's Cathy and Eddie's house from the front.
And a side view.  Gorgeous, isn't it?  Look at those double porches, so Southern!
Not to mention this beautiful courtyard that leads to the garage.  This is one spectacular place!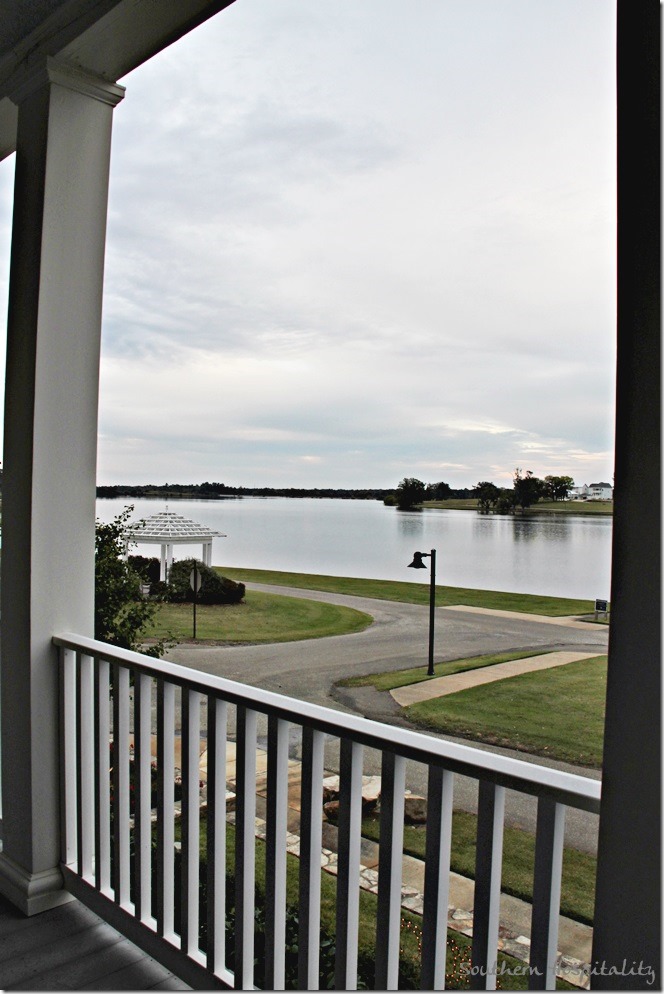 The sun was just going down over the lake.
And how about this Southern front porch.
Let's go inside, shall we?
I snapped as many pics as I could, but remember these are at night with low light, so I did the best I could. But, isn't this house just gorgeous?
We were all chatting and getting to know each other.
And oohing and ahhing over the beauty of the house too.
Cathy and Eddie were our gracious hosts (Cathy is in the green) and they were super people.  What a blessing to meet them. Along with other ladies in the neighborhood, Jenny, Cindy, and Gayle. These ladies supported, were cheerleaders and we all felt like longtime friends by the end of the weekend.
Not to mention, they fed us SO well that night.  After a long day of helping set up, we were ready for a little relaxing and that's just what we did, with a big plate of food out on the porch.  That's my friend, Suzie, from Louisiana, who came for the weekend and it was great to get to spend time with her too.
Mary Kay Andrews and her hubby, Tom.  Fun to catch up with this Atlanta writer again.  I'll be doing a review on her latest book, Christmas Bliss very soon.
We enjoyed every minute of our visit and chatting with these lovely folks.
On the last evening, we drove around just as the sun was going down, just so I could get some amazing pics of this place at sunset.
Now, wasn't that lovely?  I know, amazing place, Pike Road, AL and the Waters.  I can definitely see why folks move there, it is so serene and beautiful.  Kevin and Layla are blessed folks for sure and I know they know it!
NOTE:  The winner of the Spunky Fluff Giveaway has been posted on the Rafflecopter widget and the winner emailed!
Don't Miss a Post, join my list!