OK, my lovelies, I'm so excited to finally share some pretty pics from my new house!  At last, I got the opportunity to get creative and photograph it as well.
A group of bloggers were compiled by Wayfair, that online shop with a zillion home décor products and we all were challenged to come up with a tablescape using 5 items that they sent us.  We had a list to choose from, dishes, glassware, serving pieces that could all be used in a tablescape, so even though I wasn't sure I'd have a dining room put together by now, it sounded like a fun challenge.
I chose my 5 items and they were shipped out to me.
The goblet vase,  Golden treasures flower ornaments, David Shaw silver bowl, white oval platter, and tiered white stand (not finding the link on the site now) were my picks. The leaf plate you see there was a yardsale find and I'm not using it with my tablescape this time, but it's one of my fave treasures.
It was so much fun creating again.  I have so missed having my own dishes and table and chairs to pull out those inspirational ideas with, so it was really fun to take time off from unpacking and put this together and shoot it.
Other than the 5 items I got from Wayfair, I used everything that's already in my stash of linens (just unpacked, of course!) and the first thing I did was go outside in the backyard and clip some pretty turning leaves branches from my trees.  I really wanted to highlight the deep red leaves whose colors are also found in my pretty bird plates, which were TJ Maxx finds a couple of years ago.  I love the colors in these plates and they work so well with the Fall season.
I used a layered look to the placemats, first putting down the traditional rectangular red placemat and then layering some texture on top with the round straw mats (found at a yardsale).  I love those round ones and they can mix with so many things.  I'm mixing metallics on my tablescape today, but it's not all neutral.  Fall colors of burnt red and gold add some color to the mix.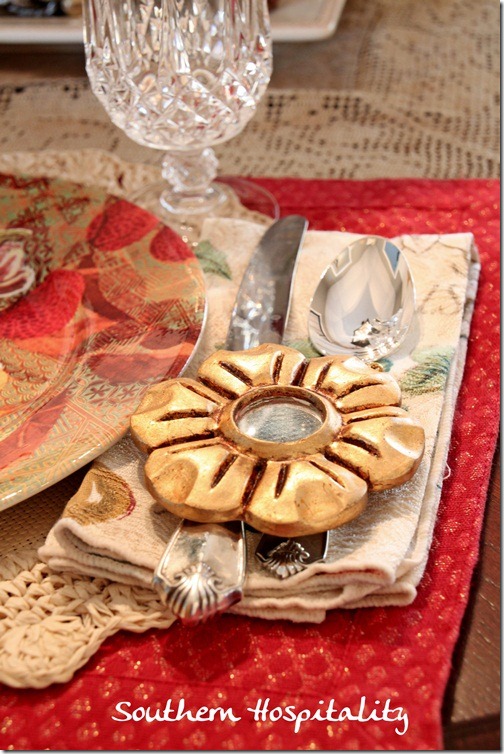 Those mirrored ornaments in gold are so pretty and I simply layered them on top of the silverware to the right.  Not all that creative, but they add sparkle to the table.  Those red placemats are shot with gold thread too. This silverware set was an estate sale find in Birmingham, twelve piece place settings in all and I love them.
The white platter is nice and large and will come in handy for all sorts of serving needs.  I love the raised edge around the rim, pretty and elegant.
The tiered white fleur de lis stand acts as my centerpiece and the hammered gold glass vase loosely holds my pretty fall leaves off to the side.
This hammered looking glass vase is so pretty and will be versatile for many tablescapes.
I chose to simply add some of my spray painted acorns with non-painted ones, and grapevine balls to set the mood for Fall.  Spray painting acorns was a project I did a few years ago and I keep them handy in a box to pull out every Fall and even into Christmas.  I layered the rest of the mirrored gold ornaments in the top tray for more sparkle.
The pretty pewter colored metal bowl would be great as a bread basket, so I added a pretty checkered Fall colored napkin inside.
I'm loving that tiered tray and can also see it filled with homemade desserts for Christmas.
So, that's my Wayfair tablescape blogger challenge.  I hope you gleaned some inspiration from this one for your own tablescapes to come and I totally see this table going from Thanksgiving right into Christmas, can't you?
This is my very first pretty project in my new house and it sure felt good!
I plan on using this table a lot and will be mixing it up in the future.  By the way, I pulled out my tripod to take these pics, so I could lower the shutter speed and get lots of light in.  Works like a charm!
Wayfair's Thanksgiving Pinterest contest is going on, click on the pic to check out all the details!
And if you'd like to get more Thanksgiving/Holiday tablescape inspiration, check out all the other bloggers at the Wayfair Pinterest board who participated in this fun event.
Note:  I did not get paid to write this post, but received 5 products from Wayfair for free.  Wayfair has a zillion home décor items to choose from, so if you haven't browsed there, go over and take a look.
Don't Miss a Post, join my list!