I've got some really exciting family news for you today! I think you all know that Lauren is pregnant and expecting baby girl #3 and we are so happy to welcome her to the family. She came over a week early on Sunday, August 23rd weighing in a 6.4 lbs. and now they are home. I've got a few pics to share with you today, so I hope you enjoy. Thank you for celebrating those special moments with our family! If you're on Facebook and Instagram, you've already seen most of these pics, but I have a couple of extra.
Lauren is Superwoman to me and gave birth to all 3 girls the natural childbirth way. This time, the baby arrived via water birth and I'm so proud of Lauren.
Meet Alexandra Rose.
We didn't know what her name would be until she was born, it took them awhile to decide, but she's named after her Uncle Alex who passed away in 2008. Alex is Lauren's step brother, son of Bruce and he and Lauren were only a year apart in age. Rose isn't a family name, they just liked it and Lauren always chooses a noun name for the girls so that she can find things to match them. Rose will be easy to find. Parker is Parker Fox and has all sorts of foxes around. Iris is a flower too and easy to find. So that's how she got her name!
The girls got to meet their new baby sister and Parker is smitten.
I think Iris is curious about this big sister stuff, but she was all smiles holding baby Alex. Lauren said she had a lot of questions as to why her mama's tummy is still big. That girl always has a lot to say and doesn't miss a thing!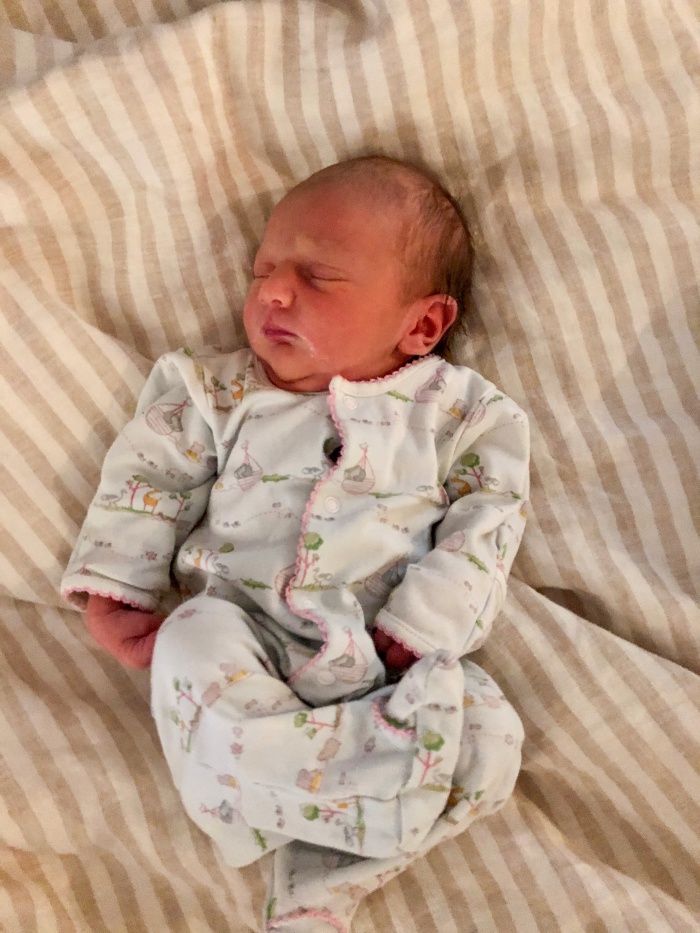 We are all smitten and can't wait to meet her. Renee is heading down this weekend to stay for a few weeks and help out.
Iris Day Two at home with the baby. Lauren says she is still very concerned with the size of Lauren's stomach, "It's smaller, but it's still big, mommy."
What do you do with that child? She cracks us up.
And Lauren says she is doing a lot of this. She's been home all summer and being very cautious at getting out and now has another excuse to stay home, so she'll be on maternity leave for 3 more months. She may get to come home in a few weeks to see us, so I hope she can.
I can't wait to meet this new little bundle of joy and kiss her sweet cheeks! We all think she favors Iris as a baby the most, so it will be interesting to see what she looks like as she grows. They are all cute girls no doubt about that!
Thank you all for being excited with me over our family addition, it's always fun to share with y'all!
Don't Miss a Post, join my list!