We're still not to the pretty parts yet, but we are getting there.  Amazing the amount of grunt work that goes into a whole house renovation.  Sweating is a big part of that during these dog days of summer.
This past week wasn't monumental, but we did start one more project that has to get done.  The stair treads.  I think we figured out a way to replace those stair treads without costing a fortune by adding pine treads and painting them.  All of you who have been reading awhile know that I painted my old stairs in Birmingham and they turned out fantastic. I did that project with a hand miter saw, but power makes this a lot easier.  Replacing treads with smooth pine and painting is the best solution for my current house and since we have all the power tools we need to do this one, it is not going to be a big problem at all.
We priced out pine stair treads at our local big box stores, but dad found a place up in North Georgia that had 12' lengths for less than the shorter lengths we found at the other stores.  He had it all figured out how to cut all the treads we needed out of 7 pieces and it worked out perfectly based on his calculations.  We have around 25 treads to add, so this was a great solution.
We drove up there and brought 'em back home with us a few weeks ago and now it was time to get started on them.
Dad began measuring each stair (since all measurements on things like this have to be accurate and houses are not all plumb and straight) for an accurate measurement for each one at a time and we cut them all.
The skill saw came in handy for these 1" treads.
We made sure every single one of them fit in well.  I will putty, sand, caulk, and paint each one and they will be beautiful.  I'm using the same Dark Brown that I used on my doors, Valspar's Fired Earth.
We dry fit them all before we start nailing them.  We will also be adding new risers too.
It took a lot of measuring and cutting, but we got them all cut in one day.
Using his square to draw a straight line for the skill saw.
These nasty garage steps will also get new treads and painted.
That will greatly help the garage to be better looking and I'm all for improving every spot I can.
We found that they were a bit too deep and needed to take off some from the backs of the stair treads to keep them from hanging over so far.  The fronts are bull nosed and rounded.
He set up the table saw for this job and we ripped them all through on the same measurement to trim them down.
I caught them on the other side.  Before long we had stacks of stair treads ready to paint and put in.  That's for a later day.
Another job we started was cleaning out the old flooring from the foyer floor.  Years of rain leaking under this door created a mess of rotten plywood right by the door, so that had to be cut out so we can add new sturdy wood.
Dad cut out the old.
Using his saw he got it all out and ready for new.
It was really dirty under there, but all looked good, so I cleaned out some of the mess.
We took off the front door to get around better in there.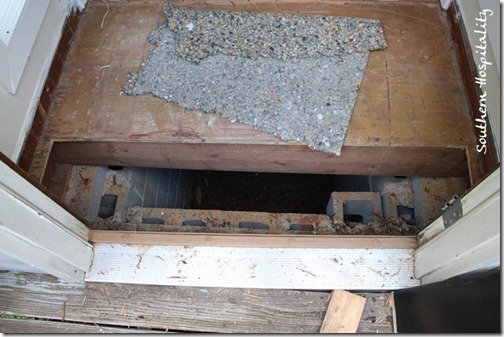 A peek at what's down there.  It's a deep hole with gravel in the bottom and it was all surprisingly clean.  A block wall is underneath, very sturdy.  Just this wood needs to be replaced for our new floors.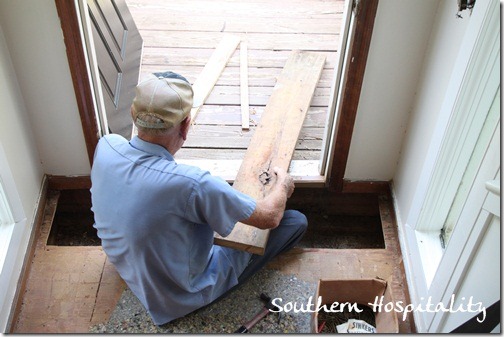 He added a little more support with 2×4's.
And he got a nice solid piece of plywood set back into the floor and it will be ready for new hardwoods now.  We found out how the floor rotted when rain came along after we tore out the old floor. We came back over and water had seeped in from the door on both sides wetting the plywood, so that is how those things happen.  Little by little over the years, that plywood will rot if any water is getting in.
Now that it's all replaced and dry, I'm going to get a storm door for the front door to keep it that way.
In the meantime, I am sanding plywood and getting it ready to paint for our new risers.  These should paint out smoothly with my trim paint.
Sheets of primed plywood.
My flooring arrived!  Yippee!! 
Confession time!  Even though I try to take it all on, I am not Super Woman. 
I have to tell y'all that even though I had great plans to try to do this ourselves and my dad was on board with trying it too, I threw in the towel and decided to hire this job out.  We both have bad backs and I could envision this job taking SO long to do and creating all sorts of stress on both of us, so it was easy to come to that conclusion after we tried out a flooring gun and realized that stapling this engineered flooring was not going to be an easy task.
You all know I'm all about DIY, but sometimes you have to know your limitations and this is one of them.  I did not want to kill both of us with this project, since we've got so many other things to complete.  I'm glad I'm getting it done by a pro and it will take a load off my mind on this big project.   I look pretty good on the outside, but I have a bad lower back, which translates into a hip that aches, and knees and joints that don't bend like they used to.  I don't like to hear people whine about how bad they feel at times, so I don't want to do it either.  But, the truth is, this middle-aged gal can't bend and move like she used to.  It makes me completely frustrated some days, but don't we all have to deal with getting older?!  Now, when I squat, bend, and kneel down, getting up is not an easy task anymore.  I took all that for granted when I was younger, but boy does time change all that flexibility. I'm not even kidding when I say I feel like an old lady many days.
I'm sure you thought we were crazy for taking it on and maybe I was a bit over zealous on this one.  Sometimes it pays to spend the money and pay a professional!
I've got an installer coming out next Monday to start the flooring.  I'm sure he'll get it done in just a few days, where it would take us WEEKS to even attempt to get this finished.  It's going to be stapled and glued down.  I was very blessed to get a nice discount on this beautiful flooring from Shaw Floors and it's 3/8" hand scraped engineered hardwoods, the same flooring used in the HGTV Green Home.  With 3 sizes of planks (3, 5, 7"),  I'm so excited to see this floor go down in my house!
So, stay tuned for some exciting things happening really soon!  If all goes well, I'll have some new floors installed by the end of next week.  And that will make me really jump up and down.  There will still be plenty of things to do. I have to get electrical work done, as well as a plumber in to change out faucets in the bathrooms and showers.  And I haven't even tackled the bathrooms yet as far as patching and painting the walls or doing something with the vanities.  I'm going to have to live with my vanities for awhile, but I will spruce them up.  We'll have to finish up those stairs, order the Ikea cabinets and get that whole kitchen installed, so I still won't be moving in for awhile.  I'm really hoping to be in by the end of September, but we will see how it goes.
YAY, it's getting closer to being a finished house!
We had a great time celebrating my dad's birthday over the weekend, so wanted to share a pic of my dad and mom.  I can't get them to pose too often, but this is a good shot of them.
My favorite newlyweds, Lauren and Philip, were home for the weekend.  We loved having them home for a couple of days from New Orleans.
That's my week, how was yours?
Don't Miss a Post, join my list!