Last week wasn't hugely exciting, but each and every thing that we accomplish gets me one day closer to moving in, so YAY for last week!  The dumpster was completely filled up, thanks to my neighbor cleaning out his garage.  I was happy to see it filled and ready to go.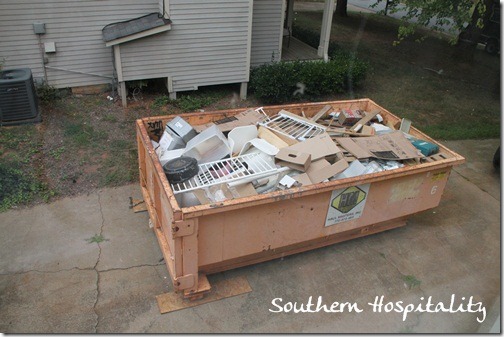 Buh-bye junk and trash!  A week later, they still haven't picked it up yet, so it's nice and full now.
In the hall bath, I've been working on the beadboard wallpaper on one wall and taped it up next to the tub so I could run a bead of caulk down the side.
After caulking, sorry for the bad pics, the lighting in there is not great.  I'll  paint this out with my white trim paint.
The vanity is all painted and I just put back on the old hardware on the doors.  I'm fine with them and didn't feel like hunting down new ones, so until I can gut this bathroom, these will do just fine.
I used some paint we already had too, Windsor Greige by Sherwin Williams is what we used last year in my bathroom at my parent's house.  It is a nice khaki beige color and looks nice and fresh.
This color is not accurate, it's not this gold at all.  You can see how I put up the wallpaper to one level and then my 1×6 trim board will go across the top of it.  This is an way easy to hang it, you don't have to worry about cutting it in at the top and the board sits right over the top.
This countertop will get painted with my Rustoleum Countertop Transformation kit in Onyx black this week. It has mauve and green tones in it now and it doesn't work for me at all.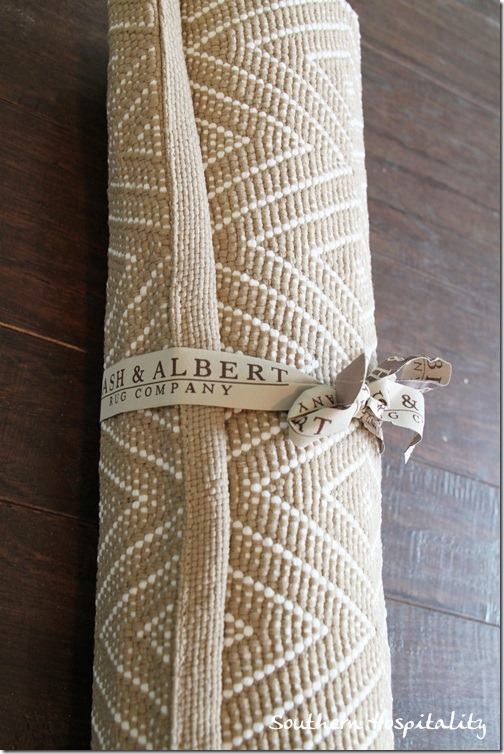 On another big highlight, the wonderful folks at Wayfair sent me 3 runners for my stairs, the Dash and Albert khaki and white diamond pattern.  I don't think I've ever told y'all that my dad's name is Albert, have I?
I couldn't help but try them out to see how they will look. I love them and I'm so blessed to get things for my house from companies that I love and believe me, I know it!  Blogging certainly has its perks and this is one of them.
Foyer stairs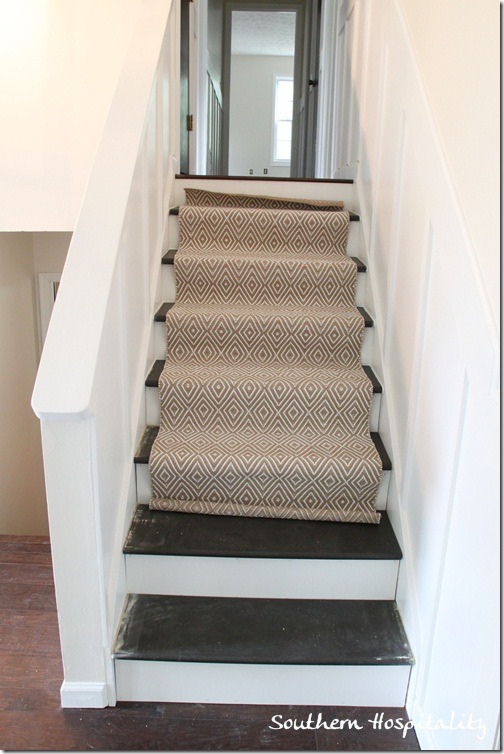 Going up to the bedrooms.  I need to decide if this one is a little too wide and I might need to have it cut down a bit and rebound on one side to show the stairs a little more.  What do you think?  I'd like to show the stairs a little more.
The foyer has wide stairs, so I'm putting it right in the middle.  This one going upstairs is the least wide of all the stairs, so I might need to cut this one down just a bit.  Maybe just 3 or 4 inches.   I couldn't be happier with them and of course, I'll show you when I put them down.  I'm going to wait until all my furniture gets moved in before I try to finish the stair runners.  I know they will take a beating with furniture movers going in and out.
I have been busy with caulking all the seams and small nail holes from the nail gun.  That was a big job too, so glad it's done.
You can see here some of the caulking and sanding I did and all those white spots are nail holes filled with caulk.  I'll give the white risers and the stairs another quick coat of paint and touch them all up, using tape on the sides to get a crisp line.  That shouldn't take too long to finish.  Then, the runners will go in after I move in.  You can also see that dark stairs are not easy to keep clean, so I'm glad I'm putting down those runners.  In all the dust around here, every step taken on these stairs leaves a footprint for now.  One day, all the dust will be cleaned up and that will be a  happy day for sure!  It's impossible to keep everything clean now.
I've got an electrician working on getting all my lighting finished.  He did get my under cabinet lights in, LED's from  Lowes and got them switched on the wall, so that makes me happy.
We are hiding the wires behind the kitchen window molding on this side.
My new Moen Annabelle faucet went in last week too.  Thank you, Moen for sending me new faucets for my house!  I can't say enough good things about them.  I had this same faucet in my old house and loved it.
My dad patched the old plumbing hole, where the plumber took out the old sink plumbing in my master vanity area. My plumber was out last week and got all my plumbing needs finished, from the kitchen faucet, hooking up the ice maker, dishwasher, disposal, putting in a new toilet in my bathroom, taking out those pipes, and running a new gas line for my gas dryer.
Oh, and I bought a used washer and dryer on Craigslist too, $125 for both of them! I wasn't looking forward to spending a bunch of money on a washer and dryer so I found a used set that I think will serve me well for quite a while. And finding a gas dryer was great!  One is a Whirlpool and one Kenmore, so they should be just fine.
I painted both bathrooms, the master bath is pained Sherwin Williams Quietude.  This is another color I had left over from my parent's bath makeover earlier this year and it works with my colors I'm using in my bedroom.   That's the old toilet that is now gone and the paint is still wet in this pic.
Soft and pretty blue green.  I think this bathroom will be nice once I'm finished with it.  Just painting the walls, vanities, and scrubbing the floors and tubs down will make the bathrooms almost new again.
I've decided that the master countertop, I can live with as is.  It's not in bad shape and once I painted the walls and vanity, I actually kind of like the gold/sand color that it is now, so I'll leave this one as is.  I will paint the mirror frame a color and get it looking better. As you can see, this is one small bathroom.
It's not so bad now that everything is painted.
I went to Lowes and bought a brand spankin' new toilet. The old one was really nasty and probably original to the house.  My sweet mama said to me one day,  I sure wish you could afford to get a new toilet in your bathroom.  I said to her, mom, I can afford a new toilet and for sure that is happening.  This one was recommended in the Consumer Reports magazine.  My dad has always read that magazine and taken product advice from it, so when this one was listed as a Good Buy for $100, that was all I needed to hear.  SOLD!
The plumber got it all installed and it's working great.  And, it's 2" higher than most and that I love.
   So, there you go, if you need a new toilet, this is a good recommendation for Lowes Aquasource toilet.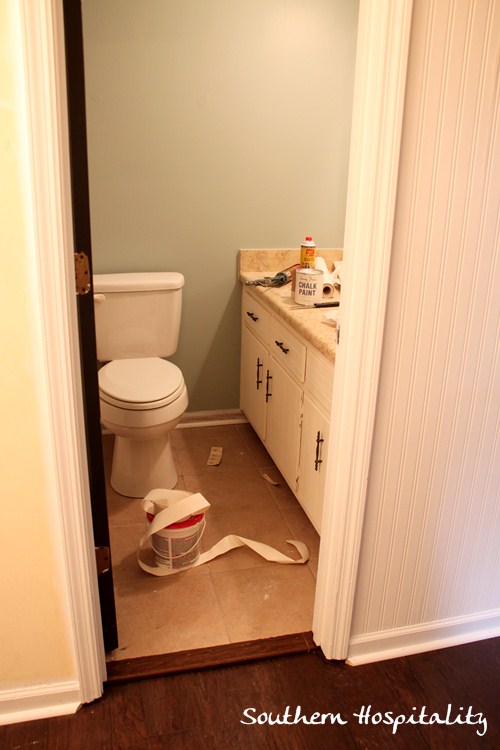 And here's the new Lowes toilet in place and ready to go.  And a peek at what we're doing this week, working on installing the quarter round trim on the baseboards.
We also picked up new quarter round for all the baseboards, already primed from Appalachian Supply in Blue Ridge, GA.  They were cheaper than the big box stores.
Dad took a couple of days and painted 2 coats of trim paint on all of them and that's what we'll be tackling this week.  We'll get out the miter saw and cut our quarter round to fit all the baseboards, covering up all the open seams of the hardwoods next to the baseboards.  This will really finish off the floors.  Some like to stain their quarter round, but I'm one who loves it white like the trim.  I'll show you all that when we get it down.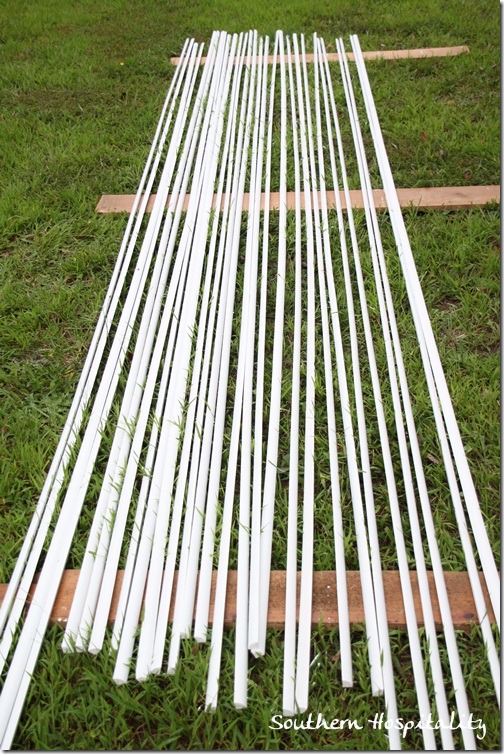 All painted and ready to go.
So, this week we've got quarter round to put up and also the trim boards on my beadboard wallpaper and a little more trim work in a few other areas of the house.  Then that job will be done and  it will be time to move on to the kitchen backsplash.  That is the last big job we have, so I can't wait to get to that one.  I'll pick up subway tile from Floor and Décor this week and get ready for that one.
I still have closet shelves to prime and paint as well as my bifold closet doors and a few more air vents that need painting and installing. But, we sure are getting close to count down.  Oh, and I want to paint the ceiling of my laundryroom black, but I'm calling my painter friend back out for that.  He can get that done quick as a flash with his spray gun.  I'm going to paint the concrete floor in there too with some sort of pattern, so stay tuned for that.
I'm so ready to get moved in, but I know I'll be happy I'm getting all the details done before I move in furniture.  That will make it so much easier when I get in there, not having to work around furniture and stuff.
Another week down and a few more to go and we'll get to the goal!  I can't wait! I'm still hoping for mid-October to get moved in. We'll see how close I am to that date.
Thank you ALL as always for following along on this crazy house renovation journey!  5 months and counting!
Don't forget, today is the kickoff for It's Fall Y'all, and Layla begins with Tablescapes.  You're sure to be inspired!
Don't Miss a Post, join my list!