Over the weekend, I had the chance to get together with 5 of my college friends up in North Georgia, Dalton.  One of my long time friends, Susan, is from Dalton and invited the rest of us to visit for a long weekend.  We had so much fun and it was great to catch up again.  We had a larger reunion earlier this summer here in Atlanta and that further opened the door for us to stay in touch again and this mini-reunion was planned.
Susan and I grew up in Georgia and are both preacher's kids.  We met at summer church camp when we were teens, so we go WAY back together.
With 2 married couples and 3 of us single, we managed to pack in plenty of fun and just hanging out together.  The girls went shopping one day and then we did a day of all of us browsing in Blue Ridge, GA.  The weather couldn't have been more perfect.  From a Friday night football game at the local high school, to browsing some shops and lunch out with the girls, it was a memorable time together.  I'm so grateful for my long time friends.  We haven't all been in touch over the years, but I think that will change going forward and we will do a better job of staying in touch.  Old friends are the kind you can pick right up where you left off, even if it's been a few years.
Cindy, me, Chris and Susan.   We all think Cindy looks like Paula Deen and she says she gets told that ALL the time.
We hit a few spots around Dalton on Friday, Handsel's is a cute shop to check out, so do that if you are in the area.
Lots of Christmas inspiration already in place at Handsel's.
See how pretty these ornaments.
Ribbon galore.
Pretty ornaments, I love these!
We hit the Meander shoppe for a look-see at antiques.
Painted furniture.
Cindy is going to be a new grandmother in the spring, so she picked up this little adorable.outfit.
More painted furniture.
Rolling pins.
Vintage suitcase, I always love these.
Mirror browsing.
We stopped in another shop and Susan brought home this "The South" plaque, which is a perfect sentiment for growing up and living in the South.  No truer words were said!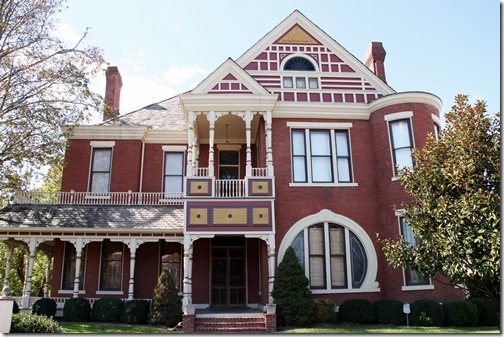 Saw some pretty architecture.  This beautiful old house is now a dentist office.
This log house is 175 years old!  Loved it.
We stopped and had a photo op in the backyard with the girls.
Later that day, it was time for a parade for the high school homecoming game that night.  Now, I have to tell you that my friend, Susan, is a middle school teacher and has lived in Dalton all her life.  I've visited her many times up there and gone to several games over the years.  We called her Miss Dalton, because everyone in town knows Susan.  I am sure if any of her students are reading this right now, they will agree.  The girl gets around and is hilarious to hang out with.  Everyone loves Susan!  She has been teaching school long enough that now her first students have children in middle school that she is now teaching.  That's pretty funny!
Dalton is like Mayberry, small enough that everyone knows each other. I love that!  The homecoming parade was a fun look back at how small town America used to be.  High school football is king in Dalton and they have had 52 winning seasons.
It is a big deal to ride in the homecoming parade.
Look how cute they all look.
This is Susan's hubby, Ron, who is Asst. Principal and Athletic Director at Dalton High School, so everyone knows him too.  He's driving Susan's pride and joy convertible.
Here we all are at the football game that night. It was chilly in the 30's, but not bad at all.  Of course, they won!  It was an exciting time to be there.
The next day, we all took off to Blue Ridge, GA for the afternoon.  It was a splendid Fall day of browsing the shops and having lunch out.  We couldn't pass up a photo op like this one at the apple barn.
Fun times!
Lots of apples to choose from.
Being silly at the Harley shop.
This is as close as I'll get to being a Harley girl. 🙂
We ended the day with this beautiful scene, Fall in the mountains is a gorgeous event.
Friends: Susan and her hubby Ron, Chris, Cindy and hubby, LaRell, Mike, Me.
Friends from college are forever in our hearts.  Those bonds made during our early years are hard to break and I'm so glad we all have connected again.  I don't think we'll wait another 30 years to keep the friendships going.
The giveaway winner for the Royal Designs stencil is Judy from Shear Judy!  Congrats, Judy, hope you enjoy it!
Don't Miss a Post, join my list!