As usual in August, I'm losing my yardsale mo-jo for the year, but did find a couple of sales near my house to check out on Saturday a.m.  I always go through this every year.  In Spring, I'm rarin' to go and by August, my enthusiasm is waning.  I didn't find much this week, but a couple of notables.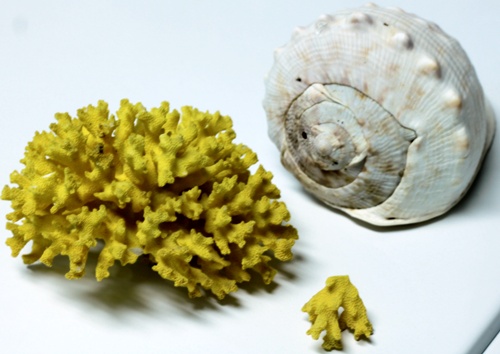 These 2 seashells were $1 for both.  Have you ever seen yellow coral?  I haven't either, so I suspect it has been dyed.  I've already tried soaking it in bleach and it turned a nice shade of brown, so I'll spray paint it with flat white paint.  I love coral and it is very pricey in the stores.
Pretty turquoise and silver bracelet was $1.  Love this, especially since I really like turquoise.
And last, a little vintage dessert plate with a pretty scalloped edge was only 10 cents.
That's my haul for the week.  Not too exciting!
***************************************
The 2 giveaway winners for the Rusty Cricket art prints are:
Kristin Y with Addison's Abode and Mary L (no blog).  I've contacted both winners.   Ladies, please email me and I'll put you in touch to claim your prizes!
***************************************
My friend, Kelee, at the Katillac Shack is hosting a big party this week, starting on August 27th and doing a reveal of her miracle makeover space for a cancer patient that was recently featured in Guideposts.  If you'd like to see more about that and also blog about it, click on over and visit Kellee for all the details. She would love to get a lot of folks participating in this big event.

***************************************

Now it's YOUR turn!  What have YOU found lately? Add your link to the Linky list and remember our guidelines for the party:
Add your permalink to the link list, which is the actual post that you did for this party, NOT your general blog url. To get the actual post, after you publish the post, just click on the title and THAT will be your party post url.  PLEASE try to get the correct url in the first time! 🙂
Please add my button to your post or blog OR at least link back to this post in your post. That's all I ask. It's common courtesy to link back to the person having the party, so that all of your readers can find it too.
Please do NOT link to an Etsy shop or something similar (even if you think it's a fabulous deal) or I will delete the link. This party is for sharing thrifty finds from yardsales, thriftstores, or something along those lines. If I see that your post is not really on track with this theme AND you don't link back, I'll delete your link. Sorry, but I'd like to keep the party consistent! IF YOU SEE THAT YOUR LINK HAS BEEN DELETED, IT IS PROBABLY BECAUSE IT IS NOT IN LINE WITH THIS PARTY THEME.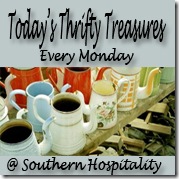 Don't Miss a Post, join my list!