Hey there friends!
It's been such a joy to get our back deck all spruced up and ready for summer!  I mentioned on the stairs post that we've decided to screen in underneath and not try to do that with this deck, so since it's open and up in the trees, might as well make the best of it, so that's what I did!
This is a quick shot of before we moved in.  It has stayed like this the whole time and since there were no stairs, it really wasn't a space we planned on using that much, until now.  The stairs change everything!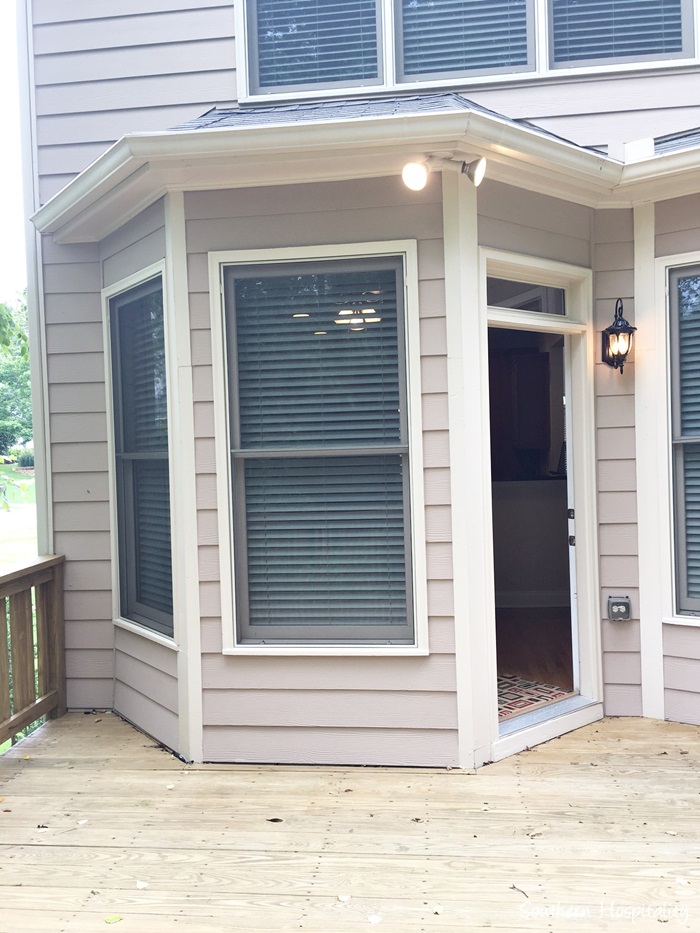 This is before we moved in.  This deck is about 13 years old so has a few pieces of wood that needs to be replaced. We'll be working on that soon too as well as getting the whole thing restained.  We are doing all of this ourselves.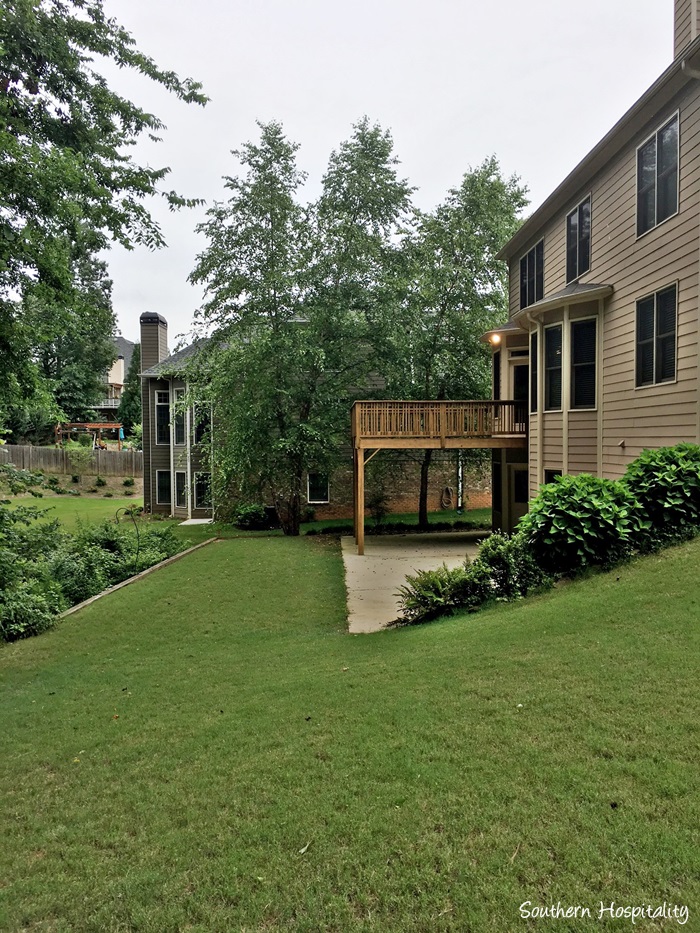 Here's a look at the deck before we moved in.  No stairs, just a floating deck space up there!  Are you ready to see it all furnished?
A note about how this all came together right now.  
I had the faux wicker settee and 2 chairs on my old screened porch.  This Big Lots set started life in Birmingham with me so has been around for several years now and still going strong. It was definitely time for new cushions and pillows.  I've been working with At Home stores recently and had some giftcards to spend, so I guess you could say this is sponsored by them, but they didn't require for me to do a blog post.  Of course, I wanted to share it with all of you!
The rugs, umbrella and stand, as well as the cushions and pillows, the clay planters, and a few accessories came from At Home.  It sure was fun shopping for this space!
Welcome to the Treehouse!  It does feel like a tree house up here with all the trees surrounding the deck.  I went with bright colors of blues and a little green to accent the brown furniture.  There is a seating area and also a dining area.  I'll tell you about the table and chairs too.
For the seating area, the new cushions and pillows came from At Home and it was so fun choosing new things from there. They really do have a great selection of cushions and pillows, more than any store I've ever seen.  I love using bright colors outdoors, so I'm all about the color! These striped cushions called out to me in my fave colors and I fell in love with the hooked outdoor rug from At Home too. So much so that I got 2 of them!
Those are birch trees right outside the deck space and they make a great buffer with our neighbors as well as add to the Treehouse feel.  More about those in a minute. We found out they are messy trees. We sure have a nice view of the woods, don't we?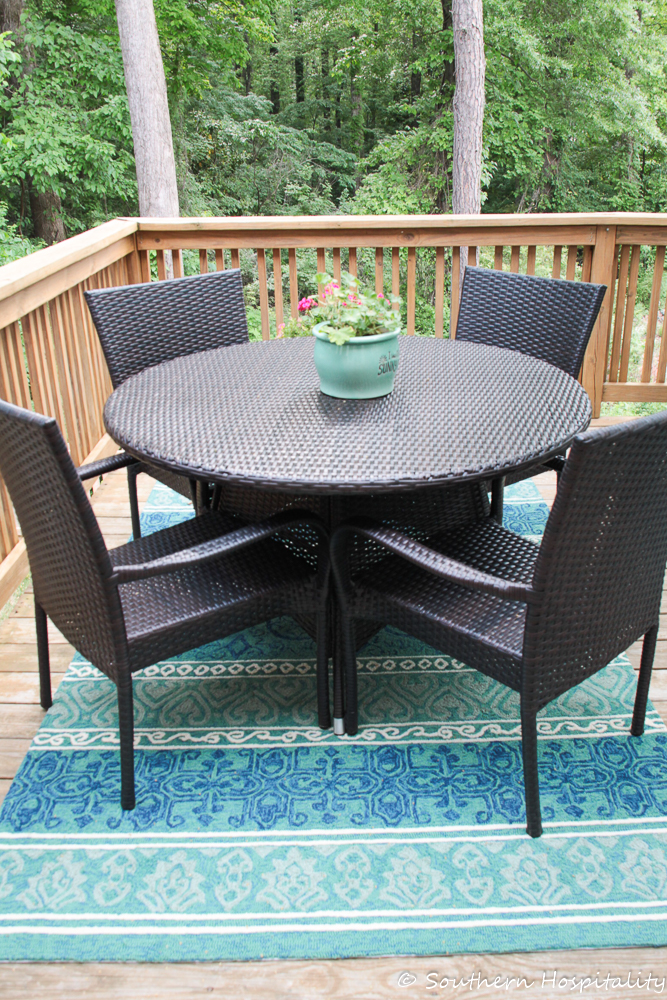 The dining table and chairs are from Wayfair and I had a chance to work with them recently too and shopped online for the table and chair set.  Since I already had the brown faux wicker, I went with something that blends with the seating area.  I like the mix of brown wicker and these bright colors. The chairs are very comfortable and the table has an umbrella hole, in case I want to move the umbrella over there.
More of the seating area.  I also got this aqua metal side table from At Home, they have lots of outdoor furniture pieces to choose from.
That vintage iron bakers rack has been with me since Birmingham days too and I gave it a fresh coat of spray paint in a pretty aqua shade. Nice to have somewhere to put some plants and some accessories that can take the weather.  Those brass lovebirds are a long ago thrifted find from Birmingham. I still love them and they remind me of Mark and I!
I chose this pretty melamine platter from At Home for the coffee table.  Great thing to use for drink placement since the wicker isn't super firm and glasses can tip over. I love melamine for outdoor use! This Waverly pattern is so fresh and pretty!
We are really going to enjoy this deck space this year, I'm certain.  It went from an empty space to one full of color and lounging possibilities.
Miss Holly thinks the deck space is the best thing ever and now she stays up here all the time.  Adding the stairs was such a great thing to do and it's made it totally accessible for her now.  I think she thinks that this deck was decorated just for her!  We will definitely let her use it as much as she wants to!
So I'm sure you'll be seeing lots more of Holly pictures now.  She adores being up here in the Treehouse where she can survey her kingdom.  It only gets about 4 hours of direct sun each day and a lot of shade, so that's a really good thing.
I added another little Waverly melamine tray on the bakers rack and added a few pretty pieces.
I also added some herbs in a planter on the bakers rack too and looking forward to fresh basil, oregano, and cilantro during the summer months.
This vintage piece adds a fun look and doesn't take up much room.
I also picked up this trio of pretty ceramic pots from At Home to add some colorful summer annuals.  It's going to be fun watching them grow and get bigger.  My favorite flowers in summer are pink ones, so I usually add those to my pots.
These are coleus in one planter alone and the smaller one has Creeping Jenny, coleus, and a New Guinea Impatiens.  We get only about 4 hours of direct sun on the deck, so lots of shade morning and later afternoon.
The larger planter has petunias, asparagus fern, and a pretty pink coleus. They are already growing bigger since I've planted them.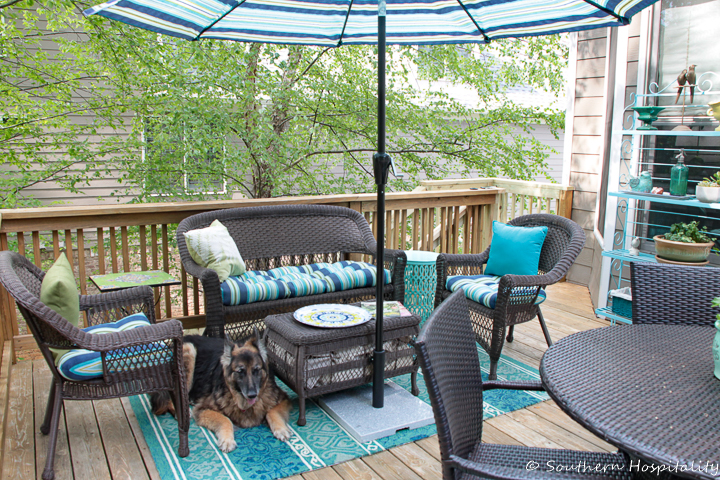 There's Holly again!  She loves it when we are out there with her which I know we will be a lot this summer, weather permitting.  When I know rain is coming, I cover up everything with outdoor covers.  Each seating piece has a cover and so does the table and chairs. That will help protect everything for years to come.
Holly says hey!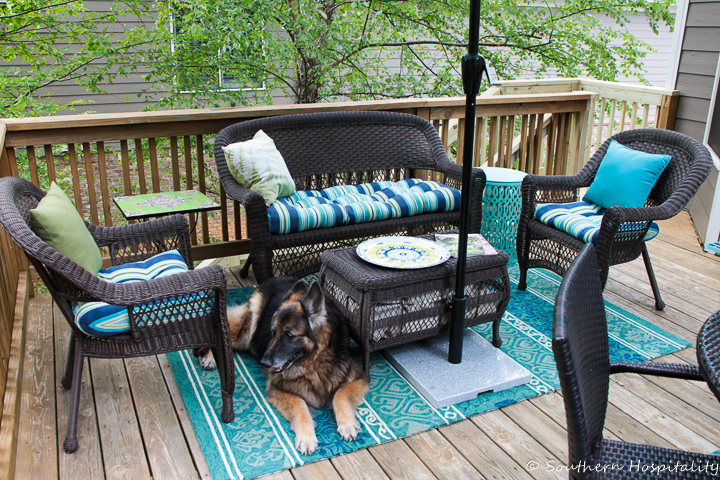 I love the umbrella stand with a granite base, nice and sturdy and the umbrella is 9′ round, which gives plenty of shade up here.
I wanted to keep this space simple, pretty, and colorful so there's not an over abundance of things here.  It's easier that way to keep it orderly and I don't have to worry too much about the weather.
Those trees between us and the neighbors are River Birch trees and they are so pretty, but we discovered how messy they are during spring/summer this year. They drop seed pods and when the wind blows everything gets covered. You can see a few on the table. I've heard they stop dropping these after a week or so, so I'm hoping after all the rain we've had, these pesky things will stop falling. I have used the blower to get them off everything up here and they would just come back again in a short time.
I do have furniture covers for every piece of furniture out here, so that helps during rainy weather. I can cover the chairs, loveseat and the dining table and chairs. The rugs are outdoor, so even if they get wet, they will dry out and should hold up fine. I will take up the rugs when summer is over and store them in our basement until next spring and put them out again after the mess of those trees is over for the year.
So, here's to Summer on our deck in the Treehouse! I think we are really going to enjoy this space to the max and I know Holly will!  It's already a go to place for relaxing and eating outdoors.  When we have larger groups over, we'll use the patio seating area below for a crowd, but I'm pretty sure Mark and I will spend a lot of time up here this summer!  Next year, we'll will probably go for the screened porch project under the deck too. That will be fun to plan!
Thanks for stopping by and taking a look at all we've done! It feels so good to get this crossed off the list for the year.  We have done a lot this first year and I'm loving every bit of it.
Here's the table and chairs I got from Wayfair as well as the table cover I got (affiliate links)
Don't Miss a Post, join my list!