It's been an exciting week around here. I officially signed a contract for us to put in a pool and we are moving forward as fast as we can. It looks like it will take 120 days at least, but I know it could definitely take longer, so we're prepared for that. I can hardly believe I'm even typing that, but it's definitely happening. Come along and let's see how this will work!
Mark and I have thrown around the idea of a pool since we moved in, but I never really took it that seriously until last year when I began to think, why not? Why not put in a pool? It's now or never for us. We are not spring chickens and life is short, so I started thinking about that. Plus, it's an expensive proposition to put in a pool. I've/we've never really been in a position to do something like this until now. I've had some great years with my blog, I've saved my money, plus selling my previous house last year gave us the extra money to budget something like this.
Believe me, it's a big scary step! We have such a pretty backyard that's very private and adding a pool will be the cherry on top.
I had a pool company come out last June to give an estimate. I got it back and it was a sticker shock even then. I had heard that pools were really popular now, that prices had gone way up and that so many people were putting them in after 2020 with all of us staying home more. I can believe that! People love their homes and want to make the most of them, especially outdoor spaces.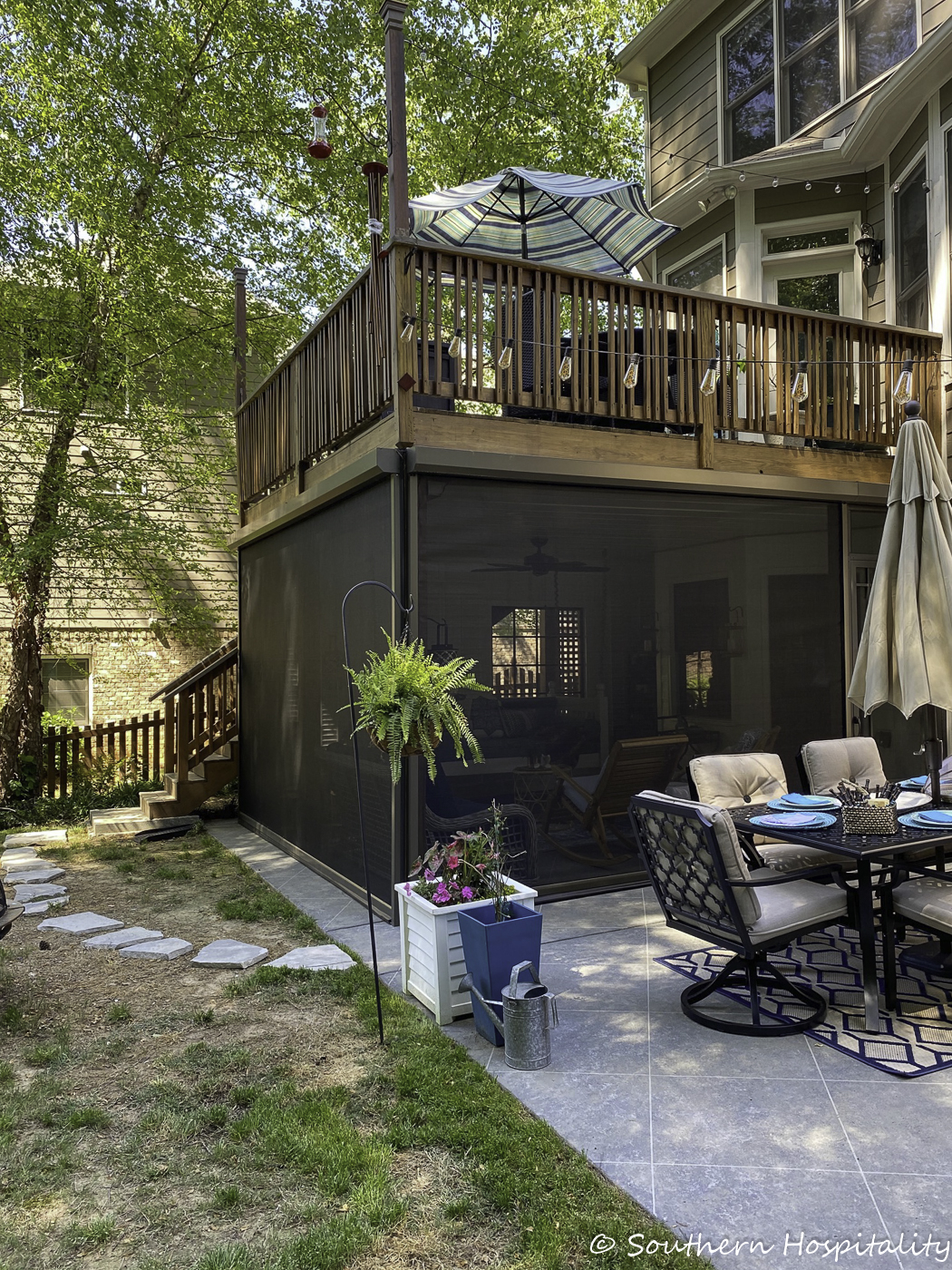 After that initial estimate and all that was going on with me at the time, we put off the decision and didn't jump into anything. I was just selling my previous house and was about to close on that. Mom and dad needed me more and we were just starting to talk about moving them to assisted living, so I didn't have time to really think about a pool at that point.
After we got mom and dad moved, I began to revisit the pool idea. I had another estimate from a company that did concrete (gunite) and vinyl liner pools. I had always heard that concrete pools seem to be the most desirable, but also the most expensive, but I wanted to get a vinyl liner quote too.
The vinyl liner pool quote came in at $80K. I was not going to pay that for a vinyl pool, even though I think vinyl pools are great and we would have done one if the quote had been lower than gunite.
The concrete pool that I got the quote in June originally came in at $60K. The $60K number gave me sticker shock back then, but I guess I was being unrealistic, although I've seen that some have done pools cheaper than that, namely in FL. But around here, that seems to be the going rate, plus way more depending on the scope.
Once we decided to move forward, I called another company that one of my friends recommended. Her pool company was so backed up with business that they weren't even giving quotes until the end of this year. Another friend had a pool company that put in several in her neighborhood. I called them and talked to someone on the phone. I told her what we wanted and that we were looking for quotes. They were booked up for a few months and when I asked about their concrete pool prices, she said they start at $75K.
OK, then, so that's where we are. The original company I got a quote from last year is Georgia Classic Pools out of Milton, GA. They have great reviews online and I feel good about hiring them. Obviously, this is the most expensive time to put in a pool, but unfortunately this is the time we want to do it. So I had them redo the quote, since it was no longer valid anymore (only good for 30 days). She told me that pool materials went up 5 times last year! So, of course the materials were a bit more expensive 6 months later. With adding a wall to keep water from flowing in the pool and adding substantial pool decking & a few other things, the pool came in higher.
Our new quote is just over $77K.
It's definitely a lot of money, but we are going for it and we are so excited. So now comes choosing the products and materials and we'll be finalizing that this month.
The quote covers the following: 
Custom built Shot Crete pool with Pebble Tec or Pebble Sheen finish
Permits & Site plan
Travertine coping and pavers (pool deck)
Hardscape: Stacked stone low wall to connect to our current wall, to keep water from flowing downhill into the pool.
Jandy LED lights, Pro Series Aqualink RS4 Automation System, AquaLinkTM 2.0 – Smart Device, Jandy® AquaPure® Electronic Salt Water Chlorine Generator
Jandy® Pro Series JXI400NTM 400K BTU Natural Gas Pool Heater
Grading, drainage, and cleanup
There will be more costs added, like gas line installation, plus moving the dirt and I'm sure once we are done, there will be more things to buy, so I'm prepared for that too.
Renderings were done, which really help with visualizing.
Renderings I got from Georgia Classic Pools and it really helps to visualize what our backyard will look like. I'm definitely a visual person. You can see our existing patio with the faux tile. Everything looks white in this picture, but we're going to use materials that will blend with the gray of our patio.
We've thought about adding a firepit on the right side of the sidewalk above, but we will figure that out later. It might be too much, we'll see.
I'm sure people will ask why we aren't doing a hot tub too. For one, it adds substantially to the cost. Second, I just don't think we would use it that much. The pool will be heated and I think that will be so nice. I can't stand cold water!
We back up to Corp of Engineer lake property behind us, so we have to keep a pool 5′ from our fenceline. There is only 15′ from the edge of our patio to the fence, so that doesn't leave room for a big pool. Code is a pool has to be 5′ from a property line. The pool will be about 8′ wide by 23′ long. We'll have wider steps on the shallow end that graduate down. The deep end will only be about 5′ deep, but it will be plenty big enough for us to enjoy and float in with seating around too.
I think we'll put in artificial turf on the area left of the pool all the way to the back stairs going up to the deck. I love how clean that looks and will look into doing that here. It will keep everything nice and clean. We will also have to add fencing to code, so I think we are going to do a black metal fence on the end near the stairs as well as from the wall that sticks out over to the existing wooden fence. We have to meet code, so we will do it however it works best with a black metal fence. We don't want to have to redo all our fencing.
We'll keep the real grass on the slope that goes up to our gate coming in. During the dig, we are going to have to remove 2 sections of our fence so that they can bring equipment in, so it will probably wreck the grass that's there and we may have to resod that when finished. It's always something!
There will be a drain put in (you can see it right between the patio and pool) to help water that drains off the patio not go into the pool. I'm glad that will be in place. As you can see we have tall trees right over the fence, so we are going to get leaves and some debris in the pool, but we're hoping it won't be too bad. We decided to take out the planter space she had drawn in by the screened porch and have it be all travertine tile. That way it will be a solid surface with no dirt getting tracked in that area. We will not want to have permanent plants there since the screens open on the patio right there, we need it to be clear and open.
So we'll plan the rest of the landscaping after everything is completed.
A shot at night, so pretty! We are super excited about this project. I never dreamed I'd actually have a pool in the backyard.
Silver Travertine coping and pool deck 
We plan on using silver travertine on the pool coping and deck. I love the color of this and it should blend in well with our existing patio. We'll be choosing a waterline tile as well as stacked stone for the little wall. I'll share more of the choices later.
Silver Travertine via Stoneworks Wholesaling
A lot of people use the ivory travertine which is really pretty too, but we need to blend with what we have. I love the silver!
Silver Travertine via Legacy Custom Pavers
Another shot of silver travertine with what looks like artificial turf. I had thought about doing the pavers and artificial turf like you see above, but it might be too busy, so we will look at that after the pool is finished. I just want it to be clean lined and pretty. I'll have to dig up a few of my hydrangeas that are back there and hopefully find a place to put them after the pool is done. I don't want to lose them if I can help it.
The company I'm going with uses this PebbleTec and PebbleSheen product for the pool interior. These are small multi-colored pebbles and the colors determine the water color you end up with. We're looking at white or gray and will decide after we see samples in person. We definitely want a lighter color instead of a dark interior. I've been pouring over pool pictures trying to figure it all out, but I know it will all come together in the end. Our backyard will be like an oasis with a pool added and I know it will help those long hot summers we have here in GA.
So, that's the plan for the pool! It's a lot to take in, but we are so excited. It really is a dream come true for both of us and I know we'll enjoy it so much. I figure we've got a good 15 years to enjoy this house before we even think about downsizing and moving. We really love our home so much and it's been such an ideal place to live. We love our community of Acworth too, such a great town to be a part of.
I've been looking at everything I can about pools, so feel free to chime in on your pool experience too. I follow several blogs who put in pools recently or are putting in a pool. It sure helps to see other pools and read about their pool installation process. If you're interested in finding out more, you might want to visit these blogs:
Chris Loves Julia is in the process of putting in their pool and backyard landscaping. She asked people to share their pool costs and where they are in the comments, so that was a good read. I felt much better about our cost after reading all of those comments. Some were way more than our quote. They shared their costs too, which is helpful.
Young House Love put in a pool last year and it's beautiful in their backyard. I loved all the choices they made. Their pool is way less $$ than ours will be and I guess FL has a lot of competition so their prices must be less, not sure of that. They share their pool cost on this post.
Dixie Delights here in my area put in a pool over a year ago and it's beautiful They did a cabana and hot tub and it turned out so nice. Such a dreamy backyard!
It's so helpful to see other people who have put in pools too. You don't realize how much there is to decide on when you put in a pool, but I can't wait to dive in (har-har) and do it!
Don't Miss a Post, join my list!