My Christmas bins have all been pulled out this week and I'm busy decorating for the Holidays right now.  Before we get all the way into Christmas, I thought y'all might like to see the main level of our new house and where we are now. I haven't really shared all that much since we first moved in, but we've come a long way from where we were those first few weeks, especially with the changes in the dining room and living room.
These are all phone pics and later on I'll do a real photoshoot with my big camera, but for now I wanted to share where we are in the house.  And to make it really fun, I'm adding in some Before pics of when we first bought the house, so you can really appreciate the After shots!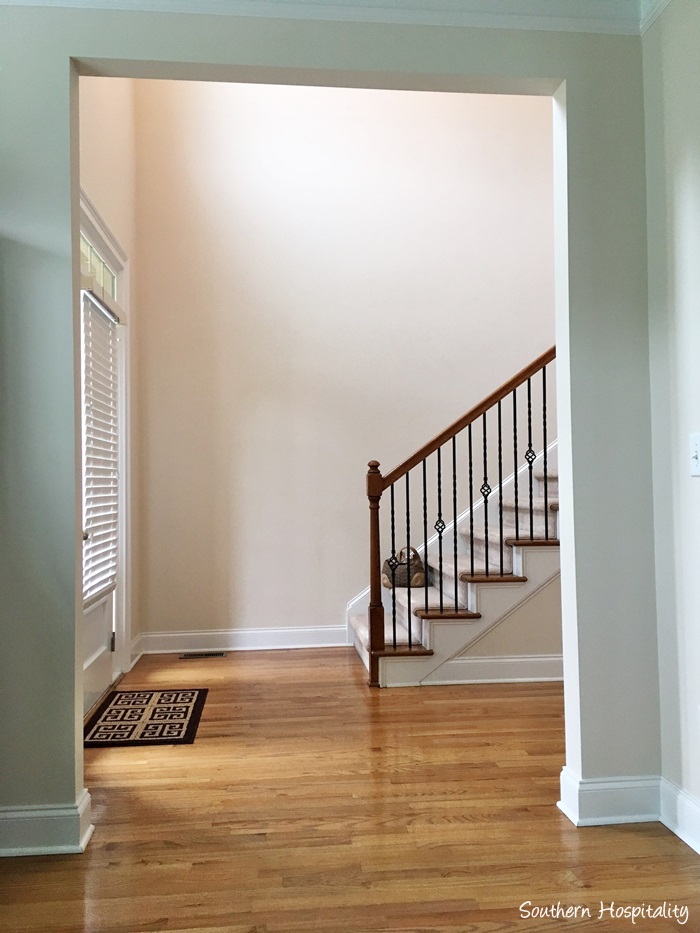 Here's the entry before.
Coming in the front door, I've added a few things to that area to make it a little interesting and Mark painted the front door the same color as our kitchen bar, Ben Moore Knoxville Gray, which we really love. That natural jute rug is from Target and it's in my Shop my Home page if you're interested.  I recently added this to my top tab, so you can check out my home finds (and similar things to what I have and love) on there and I'll be adding to it along the way.
Just a reminder of what this room looked like when we bought the house!
And After!
This cabinet was Mark's and we finally got it in the living room space.  We love this room and it's so cozy in here with light coming in the windows and how open it is to the foyer and living room.  Notice Mark's antique lamps in the corners.  Those are Art Deco style and he puts them together himself to make one of a kind lamps. I'll share a few pics of them close up, but that's one of his hobbies. He buys the parts off Ebay and then makes the lamps.
Loving those brown leather chairs that I dyed so much more in this deep brown color. And there's a peek of the new light fixture from Lamps Plus.  Looks so good in here!
It might be small, but it feels like a little jewel box when you're in here. That's my grandma's old vintage table with a lamp on it that I've had for many years.
Still planning to get the sofa recovered soon.  That glass table I've had awhile, from Pier One.  Some thought it was too big in here too, but it's really just fine.  There's no problem getting around the table and room to set things on it.  And since it's glass, it visually takes up less space.  I may change some things out here later, but for now, we are quite happy with this space.
Here's what I did with those black and white shells I found in Panama City while shopping down there.  I found this brass bowl at Goodwill recently.
I had some comments on Facebook that the cabinet is too large for the room, but we don't think so.  It just adds a cozy feeling to the room and it's the focal point now.  I love the color against the navy walls and white trim. He's had this piece for awhile and it came from Haverty's several years ago. I can get into those lower cabinets just fine even though the sofa is partially in front of it.  Mark is going to add lights to the cabinet and that will add even more ambience when we add things to it behind the glass.
This is the view from the sofa to the dining room and on into the kitchen.
Here's a closer look at Mark's lamps.  He hunts down and find parts on Ebay and then puts them all together for a one of a kind Art Deco lamp, so they are all different.   He's got a special place he buys those glass shades too.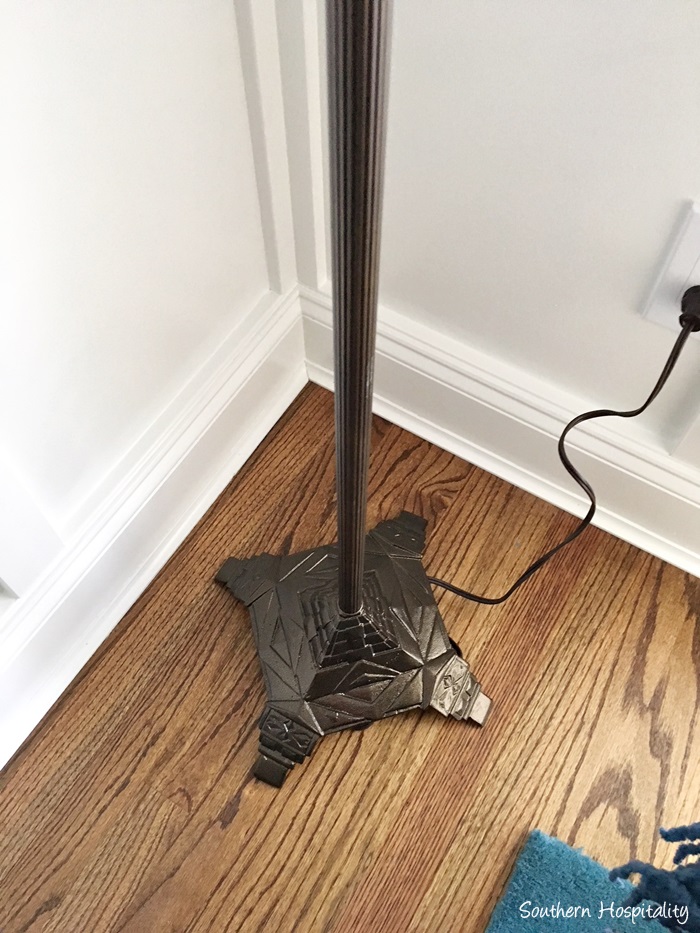 Each base is unique and he rewires them all too. He has a guy here locally who does the powder coated paint finish for him in a bronze color.
Aren't they pretty?
I think he could get into the lamp making business and start selling these, although they wouldn't be really inexpensive with all the time he puts into them.
They really are original works of art though and I think they look great in the corners of the living room.
Another view to the dining room and on into the family room beyond.   We do love how open it all feels on the main level of our house.
Dining room view next door.  We didn't leave a pathway open from the living room to the dining room, because it's so easy just to walk around the little wall into the dining room.
Here's the way it looks from the dining room side looking to the living room. It all flows together and we really like how it all came together.  You can see how tall the cabinet is in the living room, but it really anchors the room since the ceilings are tall.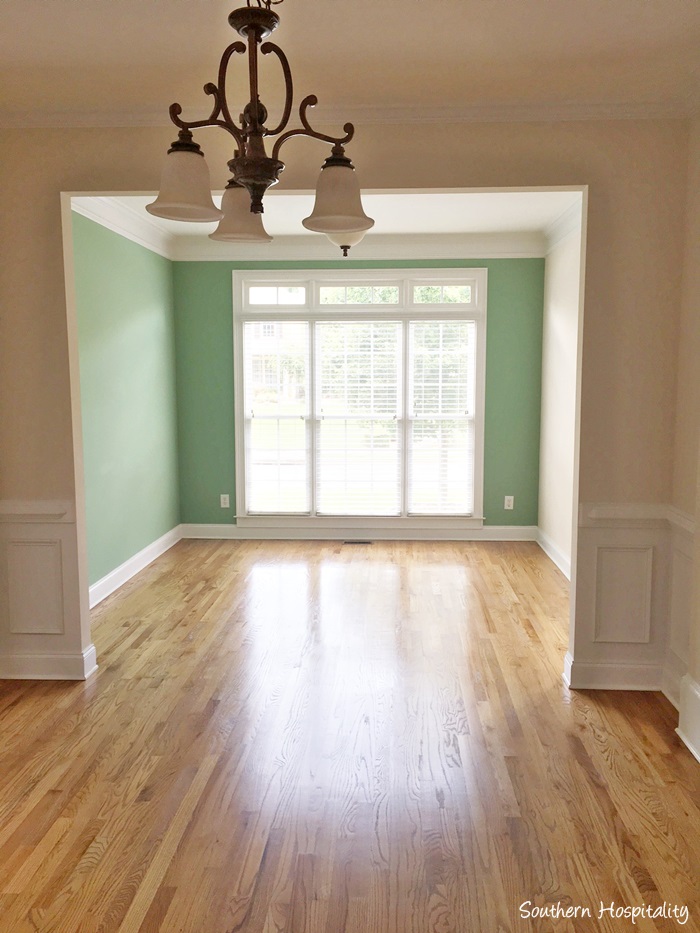 View when we moved in!
And now! Another view to see how it works together. Notice that Mark added all that chunky molding around the door opening. It wasn't there originally and it adds SO much to both spaces.
Dining room before
And after. You've see the dining room all finished and decorated for Thanksgiving. I linked those lamps on my Shop my Home page if you're interested.  But note, I got them at Homegoods for $60 each, not knowing that they are designer lamps and cost much more than that from other sources.  I linked the best price I found! That was one of my great shopping moments when I found those. I seem to stumble on great deals when I least expect it!
Stairs before.
A look at the stairs and foyer After.
And here's a good shot of the new foyer lantern fixture and top of the stairs lighting (by Quoizel)  from Lamps Plus.  We just love the new fixtures and how much they change the house! Lighting changes everything, in my opinion!
This Larkin foyer fixture from  Lamps Plus is huge at 4′ tall!  When we got it out of the box and put it together it looked SO huge, but once installed it looks fantastic hanging up there. We did have to hire an eletrician to hang this big boy!
Lamps Plus sponsored several fixtures in our house and I'll share them as I take pics along the way.
Nice long hallway to the family room with the living and dining rooms off to the right.
I wanted a long and skinny console table and found this one from Joss and Main from Hooker.  I really love it here and I brought in one of my Queen Anne chairs that I had in my old living room to anchor this wall.
I found this glass and brass lamp for $5 at a designer sale a few weeks ago. It was a warehouse sale that I got in on here in my area.  I added in my blue and white that I've been collecting for awhile, along with a few other things for a pretty vignette. This will change out with the seasons, I'm sure.
Family room before.
Looking into the family room.  We switched rugs and added the teal zebra rug in here. This one is from Shaw rugs and not available anymore (darn it!).  This space is still evolving, but I don't think we will do much more in here as far as furniture goes. I do want to get a nice ottoman for in front of the sofa and still trying to decide shape and color on that.  I don't think we will add any sort of coffee table, as we like the openness of the room.  I'll change out the mantel seasonally too.  And I've got bamboo blinds going on these windows soon as well.
It's a cozy space and we enjoy how open it is to the kitchen.
Kitchen before.
I added a small garden stool in between the chairs for our party we had.
View of the windows. I brought all my plants in for the winter and put them behind the sofa for light.
And the TV cabinet on this wall along with Mark's original watercolors he's been collecting that we hung on the wall gallery style.  We both love these water colors and the softness they bring to the room.
They are all winter scenes and we added these 3 on the opposite wall next to the bar.
Here's a reminder of the kitchen Before!  We just love the changes in the kitchen.
I did make this a little sitting area, as you can see.  It just made sense to leave this comfy chair in here and I added a small side table that I got from the same designer sale. That cute table is a Hekman piece and was $100.   You can see I ordered barstools too. These are from World Market and I ordered them when they had their furniture for 40% off.  I'll add them to my shop page. I had to put them together, but really like them.
Chair is from Birch Lane, I worked with them a couple of years ago and this is the Shephard chair from them. They have decent furniture for the price. I'm happy with this space and glad I just went with a chair and side table in here with my antique French buffet.  With the addition of the bar stools, it would have been way too cluttered to try to put a table and chairs in here, which we wouldn't use anyway.
I got a 5′ rug to go under the chair and I love how it anchors everything.  Rug is from Rugs USA.
Looking back to the family room.
Kitchen before.
And into the kitchen through the dining room to living room.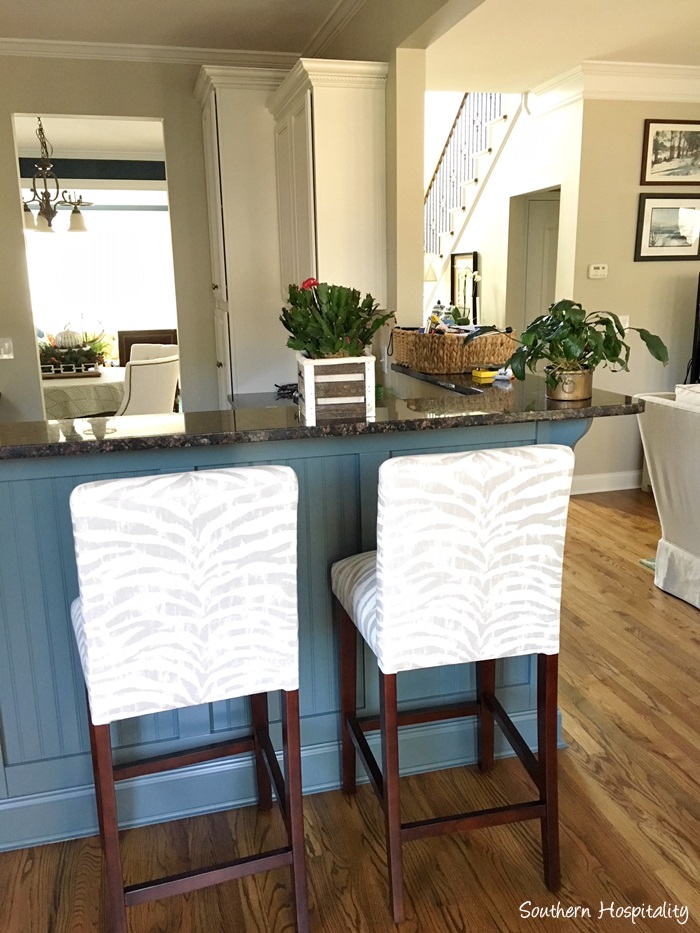 Gray and white zebra fabric on the barstools. These are all wood and look really good.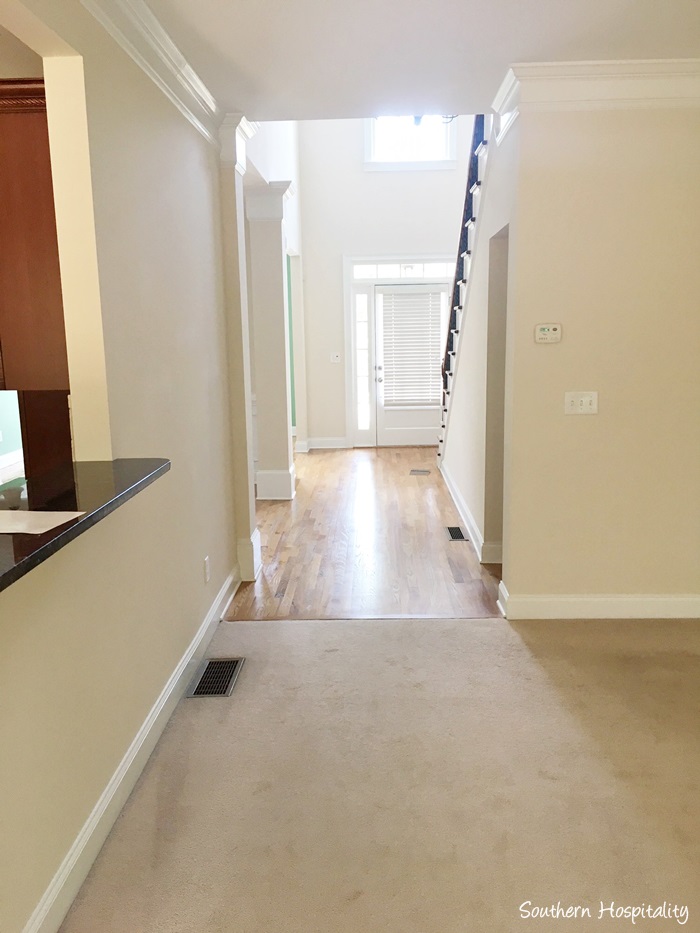 Hallway from entry before.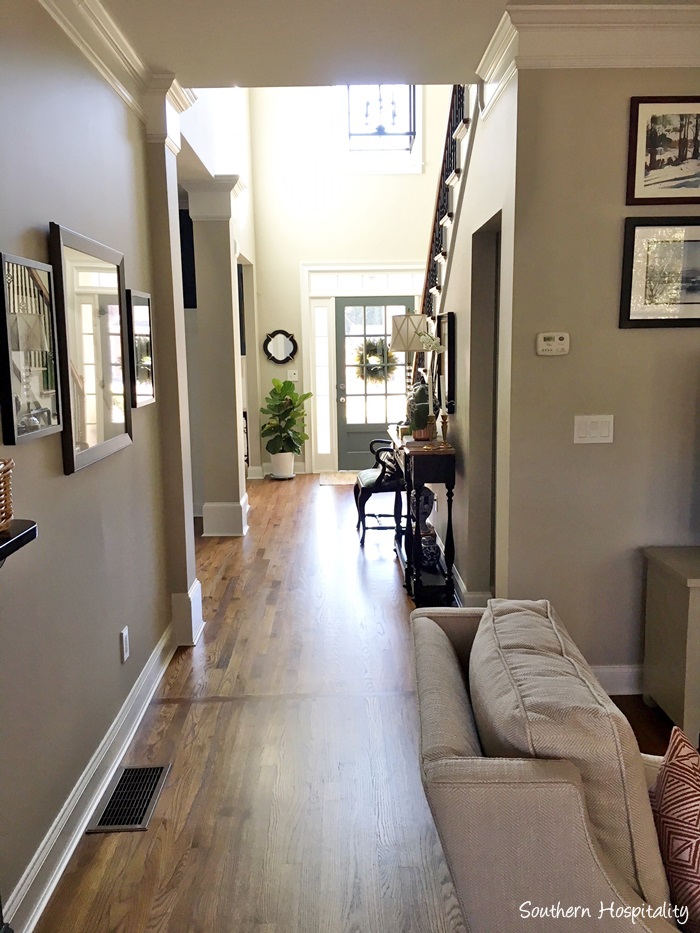 And after, looking back down the hallway towards the front door.
Peeking down the stairs at the living room and dining room.  We love this view every time we walk down the stairs.
You can see how it all flows together now and we are really loving how our home is turning out. We have lots more plans for updating things during the next year, so you'll see lots more changes, big and small. We've done nothing in the bathrooms yet.  I only have plastic shower curtains up in the 2 other bathrooms until I get a plan together to make them pretty.
Lots of changes, right?  And all that in 3 months!  We really love how much we've accomplished in such a short time.  So far, we are really loving our new house, very happy with our decision and we are enjoying living in Acworth too!
SaveSave
SaveSave
SaveSave
SaveSave
SaveSave
SaveSave
SaveSaveSaveSave
SaveSave
SaveSave
SaveSave
SaveSave
SaveSave
Don't Miss a Post, join my list!