Happy Sunday to you all!  Today is our 1st anniversary, Mark and I!  We celebrated with a delicous brunch at a local place here in Acworth, Dogwood Terrace. If you haven't been they really do have a great brunch selection and everything is so tasty.  Warning, you'll eat too much. The berry blitzes are out of this world delish!  Thank you for following our journey in life, we have so much more we want to do and can't wait for the next adventure.  If you miss our Love Story and our wedding last year, catch up on those links.  It's a good read! We have been so blessed to have found each other at this late stage in life.
Today, I'm back sharing another pretty glimpse of Charleston life.  I snapped so many pics of window boxes, doors and gates while I was there and couldn't possibly put them all in one post, so I'm breaking it down and I'll have one more sharing the houses of Charleston.  Charleston is so charming and quaint and it's a picture opportunity at every turn in the road.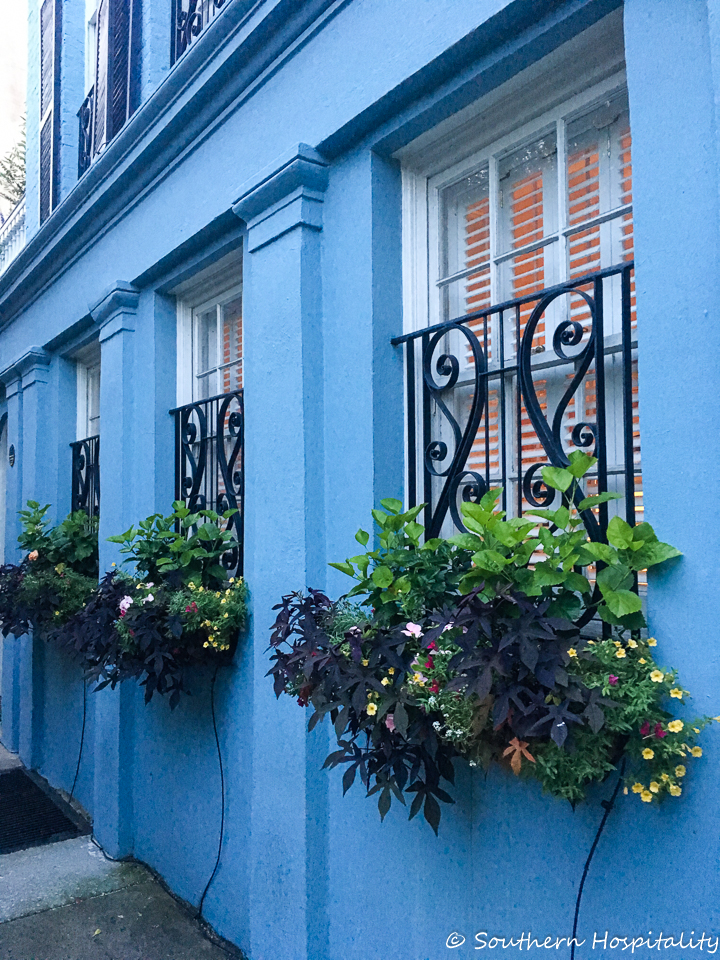 I shared a few of these in my earlier post, but it's worth sharing again. This vivid blue house on rainbow row takes full advantage of their window boxes and ironwork in the windows.  Could this be any more Charleston?
I also love the gates and entry ways of the houses, so snapped many of those too.  Ironwork is prolific in Charleston and they do it better than any place I've been except Savannah.
The old Charleston red brick sure creates a wonderful backdrop for window boxes.
Doorway after doorway of beautiful entries and charming stairs.
Of course, I love the color of these aqua shutters and that window box is spilling over with pretty flowers.
There must be window box competitions in Charleston, because they are everywhere.  I wonder if they are all hand watered or if there is irrigation in them, because they have to have a lot of water.
I also loved how the porches had their own doors with beautiful steps leading up.
Blue shutters and ochre walls make a pleasing window box display.
Even the restaurants are all fancied up with window boxes, like Magnolias, where we had dinner one night.
Here's that same doorway above at dusk one night.
Another one with blue shutters and window box.
Black shutters and window box filled with plants.
So many pretty ones to see all over Charleston.
Here's another gated entry that caught my eye. So majestic and stately, you wonder what's beyond.
The gated courtyards with ironwork is so magnificent.  Can't get enough of this beauty. That's a manicured yard.
Another gate with brick pillars.
And one last charming house with black window boxes and shutters.
Charleston truly is one of the most charming historic areas I've ever visited and you can get lost on all the pretty downtown streets, walking and strolling along taking it all in.  I'll be back again with many houses that I took pics of as well. There was so much beauty to see and take in and that kind of pretty never gets old!  Historic houses are the keepers of memories and I'm glad we get to treasure them in our country.
Don't Miss a Post, join my list!