When the holiday decorations are put away, we all need a pick me up this time of year in our homes, to get us through the in between months of winter. Here are a few winter decor ideas to add some vignettes around the house. 
January is my hardest month for motivation and inspiration. By the time February rolls around, I'm pretty much back to normal, but the dreariness of after the holidays is real for many of us. The last thing I usually want to do is try to come up with decorating ideas, but I do have plenty of things around the house that worked for adding some winter cheer to my house.
My foyer table is pretty easy to change out and I got all the Christmas cleared away and added back some pretty mercury glass candle holders I love. Those tall ones are so pretty and mixed with the Pottery Barn set as well as others I have, it's a great way to add some sparkle and shine to the table. Adding greenery is another way to perk up your spaces, spring is coming!
I left those winter deer on the bottom along with the big hurricane candle, since that eases right into winter too.
I'm loving burnished brass all over again and this thrift store bowl I found is perfect for holding preserved boxwood which came in a stone holder, but looks so much better in the brass. Neutrals work so well for winter decor.
This set of Pottery Barn mercury glass candleholders are so pretty and can be used year round. I got these for Christmas last year.
I found these pretty brass deer at the thriftstore too. You just never know what you'll find in there! Winter vignettes make the season easier to live with.
On my dining room table for a quick centerpiece, I used another thrifted brass bowl and added winter faux greens with a battery candle in the middle.
These are stems that I use during the holidays, but perfect for winter as well. I just layered 4 in the bowl and make sure you have them spilling over so they look like they belong to the bowl.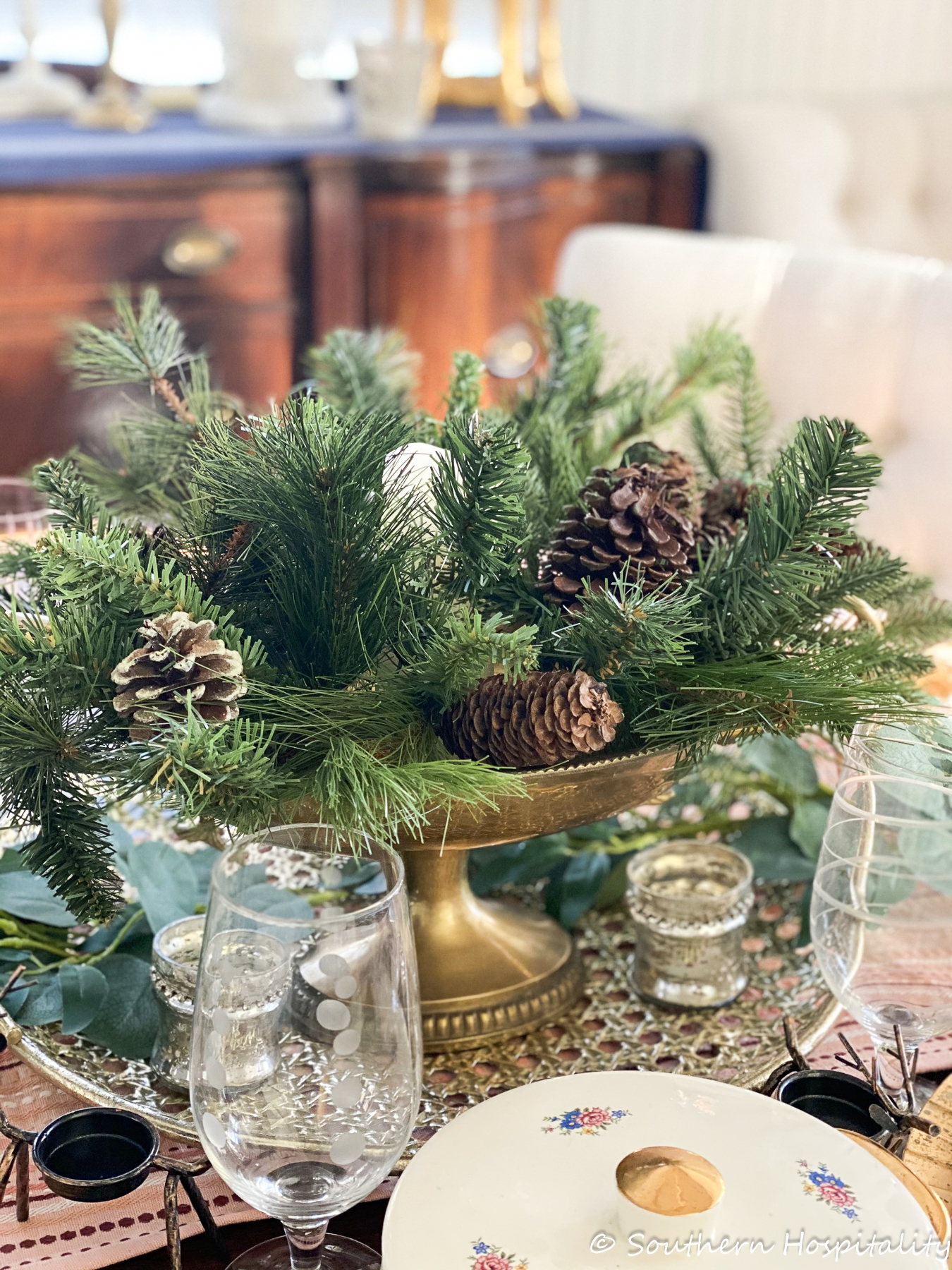 I added that faux candle in the middle and it's pretty all lit up. This will get me by until spring when I redo this table again.
Candlelight makes everything look pretty!
For my coffee table in the living room, I pulled out some berry stems that I've had for years and never really found a place to use them. They are perfect for winter months! The red berries with their faded leaves along with another winter cedar stem and some drapey eucalyptus adds just the right touch. Those huge pinecones came off of a wreath and I saved them since they are perfect too for adding some winter interest. Natural elements are always a winner.
Those are my cozy winter ideas this week on adding some winter decorating to your home. I hope these ideas got you thinking on what you might do around your house. Again, my mojo is sorely lacking in January, but I know I'll get it back again soon. I always do!
Don't Miss a Post, join my list!