Today is the final day in the Tree Classics Housewalk and I hope you got some inspiration from all the other bloggers as well. I'll list them again at the end of this post so that you can go back and visit them all.
My beautiful white Alpine tree is gorgeous and it really does glow.  An all white tree is magnificent and I think I might be hooked now.  Doing something different for Christmas is fun!
I opted for black and white striped ribbon (from Nashville Wraps, great stuff!) and used my gold ornaments that I've had in my stash for years.
Gold and white paper makes gifts shine under a white tree.  Oh, those gifts?  They're not real.  Just empty pretty wrapped boxes.  This is what blogging will do to you.  The pressure is on to make a tree as pretty as possible.
I love this mix of papers, bags and bows (from Target).
I wrapped the top of the tree in a gold mesh sort of crown and then used picks, fronds, and feathers for a glitzy topper.
I love the mix of these ornaments in old gold, shiny gold and lots of sparkle and shine.
Those shiny round larger balls are the ones from Tree Classics and they are just gorgeous.
Another look at the top with berries and feathers.
Closer look with the gold mesh crown.
It's hard to completely capture the tree at night, but this is my best attempt.
It really glows at night and lights up the whole room!  This is overexposed, but very glowy!
I've got the tree in my living room window and everyone can see it from the street.
I love a Christmas tree all lit up and nothing is better this time of year to get me in the Christmas spirit.
So, let's look around at the rest of the living room. I added my brass bells to the front door and they have a nice tinkling sound when the door is opened.
Looking back towards the foyer table, I've got Christmas cheer sprinkled around the room.
Living room decorated for Christmas.
The new foyer table got a new look this year and I love it.
I pulled  my boxwood topiary off my bookshelves and decided to use it on the foyer table, layered on my brass tray and books.  Brass candlesticks add glimmer and sheen to the table.  I added those cute little gold balls to the boxwood and it's ready for Christmas!
Glory to God sign from Scripted Simplicity and my cute little Santa votive holder fits right in.
Merry Christmas!
Boxwood wreath is adorned with more black and white ribbon.
It's very welcoming and warm.
The fireplace got a simple treatment this year of garland from Tree Classics.  I'll talk more about this later, but it's 2 lengths of faux Classic Fraser Fir Festive garland and lighted wreath.  It's hard to capture them all lit up, but they are really pretty and battery operated.  Bonus points for that!
Fireplace and mantel.
I kept it all pretty simple this year.
Garland and wreath all lit up!   Love that it's battery operated, no cords to hide.
The wreath on top of the gold mirror adds a nice touch for the Holidays.  I added in my blue and white ginger jars and candle holders with bronze mercury glass balls.  A sparkly garland adds a little more shine to the garland.
I love this garland with  it's different textures and colors.  It looks very real, with pinecones and berries and little bits of eucalyptus woven in.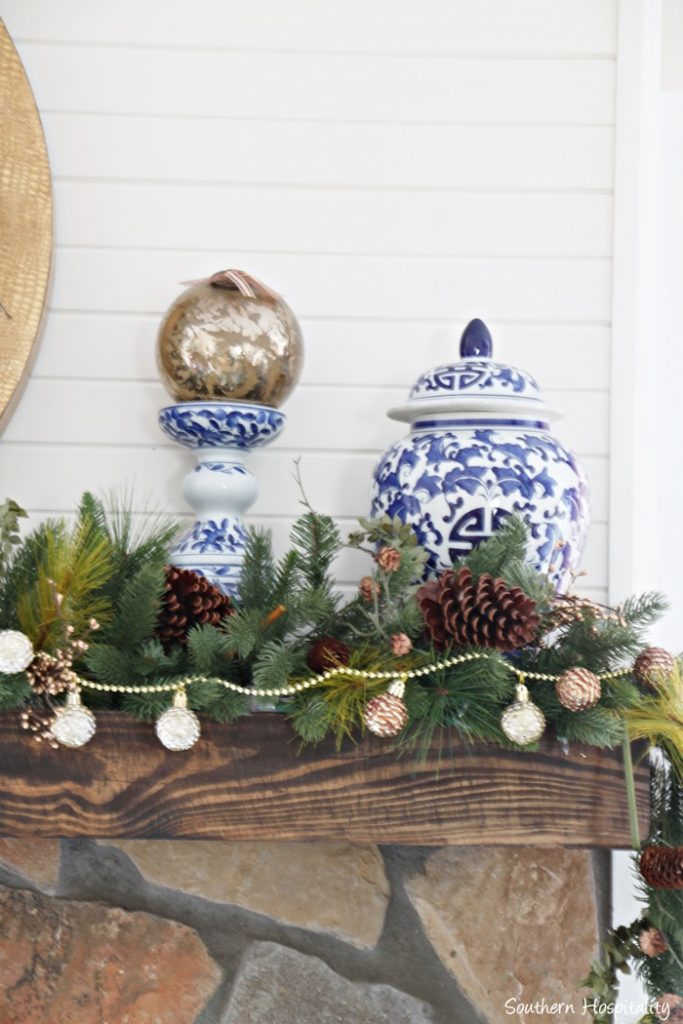 I really like the blue and white added as a colorful touch.
Looking back towards the front door.
I added gold balls in my green lantern and a sprig of fir.
Simple touches like this add so much during the Christmas season and I love to add festiveness to things already in place.
On the coffee table, I added a green and white runner and a simple cloche of glass over a brass tray, filled with little people.
Winter wonderlands make me happy!
The vintage gold tree I picked up last year at a thriftstore in Nashville is still one of my faves.
It adds just the right touch of sparkle in the corner of my living room.
On the side table, a cute little deer head ornament was added to my brass tray.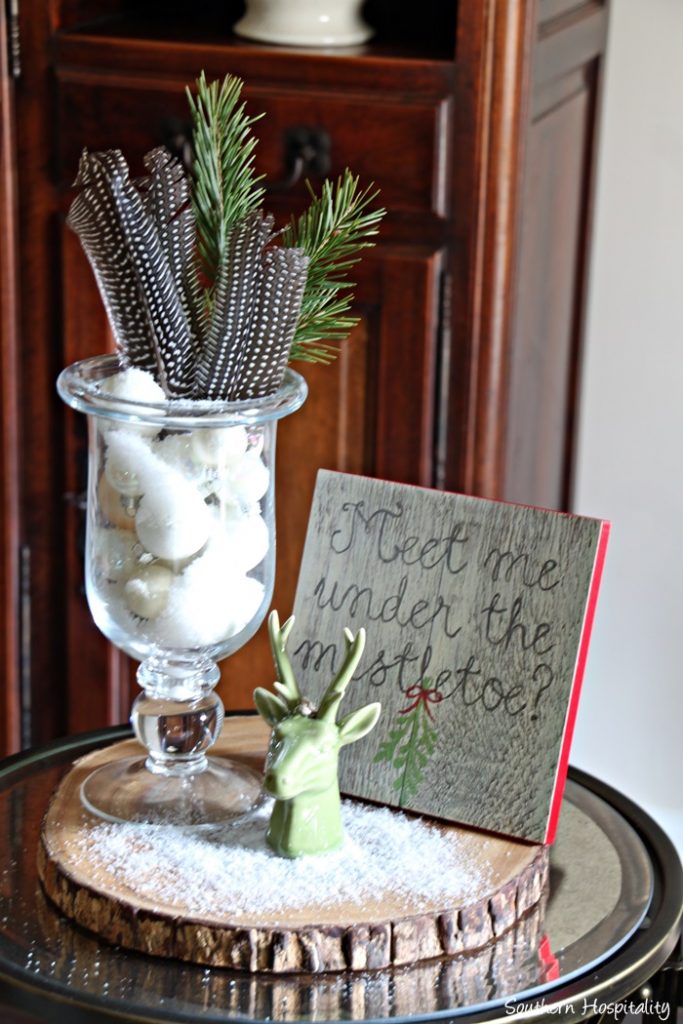 On the other side table, a slice of wood, deer head ornament, a cute Holiday sign, and clear vase piled with ornaments and feathers say, Christmas is here.  A little faux snow doesn't hurt either.
My buffet is holding the beautiful O Come Let Us Adore Him sign from Scripted Simplicity.  Love it here too.
Check out those cute real live trees!  Those were sent to me by Costa Farms this year, along with some other plants I'll be sharing.  You can't go wrong with real live plants and these are so pretty in my gold planters.  I've had my gold and white deer for so many years and still love him.
Gallery wall in the living room.  Love my colors in here.
On the other side table, Costa Farms sent me these cute little cactus, the Desert Gems, in white planters.  They add a nice festive touch to my side table, along with those white deer head ornaments I got last year.  Simple is good!
That's a look at my entire living room, so I hope you enjoyed it this year.  It's always hard to figure out what to do different sometimes and many of my looks don't change from year to year.  But, that's OK with me, it feels peaceful and calm around here and that's the feel I want in my house.
I'll be back next week to share all the other sparkly spots in my house and have a few more house tours to take part in.  Lots of festivities going on in blogland  right now, so I hope you all enjoy it too!  Take the time to slow down and really enjoy the season, that's what I'm going to do.
While we are at it, I'll show you the 9′ tree from Tree Classics that we put up at my sister's house.  This is the Noble Fir Snap Tree.  Bruce, my BIL, helped us put it up.   She decorated the top first and Bruce put it up.
The top snaps in place and the lights automatically attach.  To see how easy it is to put up a Snap Tree, check this out.
Renee added her signature bows and picks to the top.  Lauren, looking on.
Lauren and I got busy and decorated the tree with my sister's Santa collection and ornaments.  It's so pretty!
Just the right tree for her tall space.
Bows and sparkly picks finish off the top.
This old fashioned tree skirt is beautiful from Tree Classics too.
Pretty stockings hung from the mantel are Tree Classics.
Wrapping up the Tree Classics Housewalk this week, stop by and see all of their Christmas cheer too!
Tree Classics is also offering a giveaway of a tree on their blog this week.  It's a 7.5′ Noble  Fir Snap tree and I would love for one of you to win!  Stop on over to Tree Classics and sign up to win!  
Today's Housewalk bloggers:
Wednesday, 12/2:
Thursday, 12/3:
Joining me on Friday, 12/4:
Note:  This post is sponsored by Tree Classics.
Don't Miss a Post, join my list!