Did you enjoy that peek at the Woodstock Market yesterday?  I know many of you in this area will love it if you haven't already been, so check it out when you get a chance. Great place to browse for treasures, consignments, and one of a kind uniques.
I'm going to highlight more of the shops I saw today in this post.  It's a BIG place!
I met JannYvette at my Open House, when she stopped by to see my house and introduce herself. She told me she had a booth space and now I got to check it out. What a great job she has done with it.
I <3 Purdy Things is her store, so check it out when you stop by there.  It's such a cute space!
Love the cow print.
I love the fact that there are so  many unique shops in here, this one is set up like an old store, with so many cool old props in  here.  Another is going to be old hardware.
There's something for all collectors here.
Like this old fan!
I met Laura with Rethunk Junk, who has done a great business with repurposed furniture. I had heard of her blog and she buys and sells painted furniture all the time.  If you're in the market for already painted pieces, Laura is your source.
There's even a shop selling remnants of fabric.
More reclaimed wood walls.
This shop owner told me she reads my blog and I loved how she took this old tab top curtain and made an awning out of it.  Adding the sticks to the tabs really adds so much to the look.
This space looks like an old barn.
These ladies have metal monograms that are really cute.
The store front even has a real leaded glass window.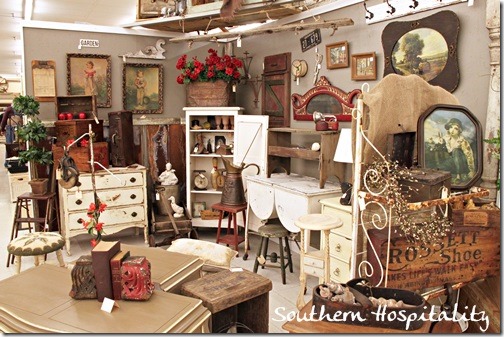 This newly built barn door was already sold.  So cute!
Loved this shop with original rustic art.  The names of God are on that piece to the left.
Loved this space too!
One of the coolest pieces we saw was this old rustic farm table, that was probably 12 feet long for $500.  Such a neat piece!  I'm sure someone will snatch this up.  Wouldn't it be great on a large screened porch to hold everyone at mealtime?
So, that's the end of The Woodstock Market tour! What did you think, are you going to take a peek at it for yourself?  I know you'll love it!
Don't Miss a Post, join my list!