It's been about a 100 years since I went to the zoo here in Atlanta.  I'm not sure it was called Zoo Atlanta the last time I went, but Grant Park zoo was what we called it growing up.  It's changed. A lot.  I'm one of those not-born-here Atlantans, who considers myself a native by the fact that I've been here since I was 6 years old.  That's a long time.  Anyone that's lived here since the 60's will know what I'm talking about.  The Atlanta of our childhood no longer exists and we are probably the folks who complain the loudest about the traffic. That darn traffic is killing us!  Because…..see, we remember when it was different and better. There was a time when we were NOT all strangled with the traffic situation around here.
I digress.  This is supposed to be a post about Zoo Atlanta, so let's get back to that.  The Zoo has definitely come a long ways since my childhood days of visiting Grant Park.  When Lauren and the babies were home, we all went down there for the day. It was hot, but not as hot as it it is now and luckily there is a lot of shade to walk in so that helped too.  We took the baby in her stroller and she did fine.  Parker, of course, loved it all so I took lots of pics to share!
We arrived pretty early and bought our tickets.  I was a little disgruntled at first of the price of $26 for adults, but after we went in and saw everything, I can see it was a decent price for all they offer.  There is so much to do with kids and lots of learning opportunities, so if you have kids or grandkids and live in the area, definitely go to Zoo Atlanta.  It hasn't been on my radar in many years, but it is a great thing to do if you have guests in town for something different.
Parker had fun pointing out all the animals that she has only seen in her little books.
There's a bird aviary with lots of colorful parakeets flying all around.
A warthog
And Meerkat.
There were animals across the way here, those might have been zebras.
The giraffe area was very fascinating to see these majestic animals in person.
They are graceful and large!
For a fee, kids can also feed the giraffes, so we happen to hit the timing on that just right and Parker got to feed one.  They feed them lettuce, holding it up and that big giraffe tongue comes out and grabs it.
Parker loved that part!
Lauren was with her to help.
A family picture to document our trip.  Parker was in and out of her stroller. She likes to see things up close and being in the stroller hindered that.
The lion exhibit.
And a whole building just for snakes!  I do not like snakes, so didn't stay in here that long.
Parker wasn't scared of them a bit!
Lots of good information and learning areas all throughout the zoo.
This was a big open atrium area with exhibits off of it.
Next we headed to the gorilla open enclosure. This is probably the most popular exhibit at any zoo.
Willie B. is the famous inhabitant of the Atlanta Zoo over the years and he died in 2000.  I did see Willie B. at one time.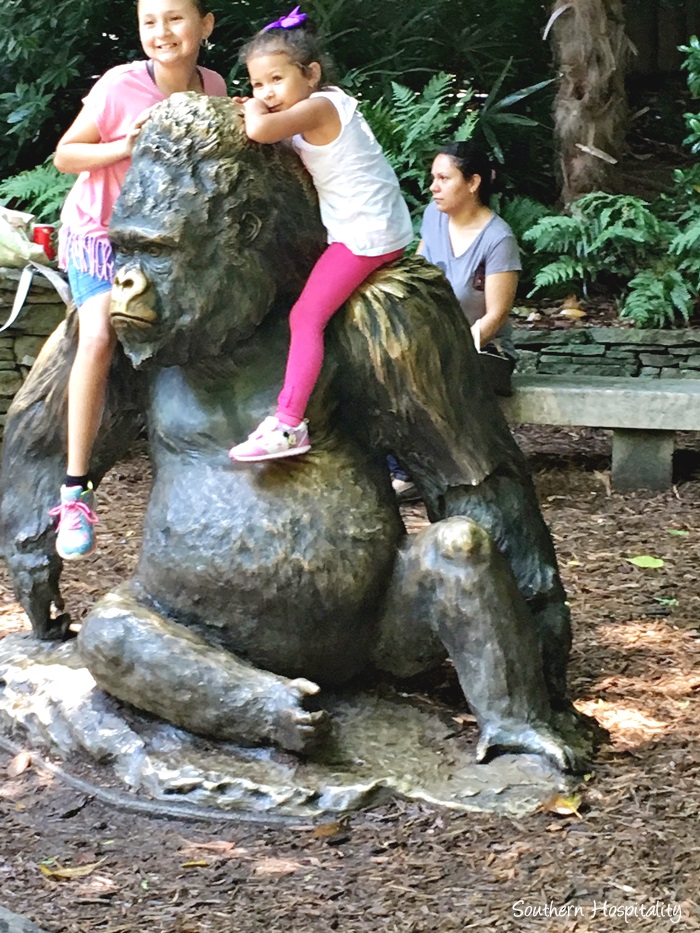 And a statue to commemorate his life. These little girls were having a photo moment.
It was fascinating to watch them walk about in their large open air enclosure.
This tree house was cute with a hammock for lounging.
Parker rode on her Papa Bruce's shoulder part of the time to see better and she loved seeing the gorillas. She kept pointing and exclaiming "Wow…wow!".  It was so cute to experience it through her little eyes.
There's a black bear at the zoo.
And orangutans, large and small.
Perched up at the top of this fake tree.
Several species of monkeys are represented at the zoo.

And another very popular exhibit is the cute panda bears. There are twins, Lon Lon and Yang Yang.
Let me tell you, they were cute, wrestling with each other all over the place.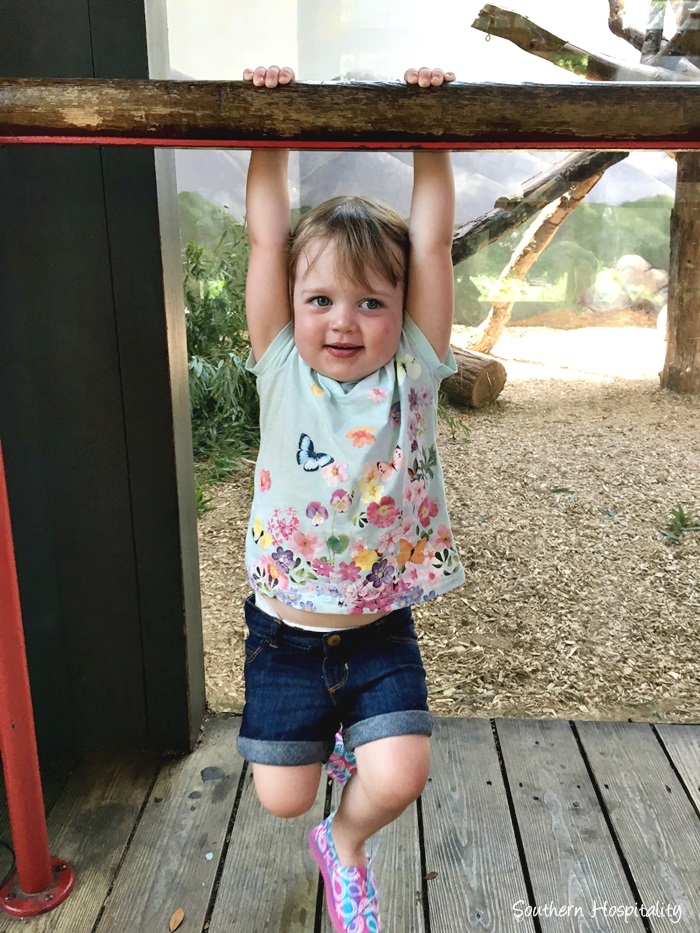 Parker had fun watching them and tried out some gymnastics moves of her own. She's been taking gymnastics at home and loves to climb and swing on things.
They have a neat petting zoo where the kids can get up close and personal with the goats.
Parker loved petting them.
The train was going by the petting zoo.  We rode the train too.
Parker went over on her own and found the brushes to brush the goats with. She's a smart girlie!
There are a lot of extras you can pay for too, like rock climbing wall and carousel.
And there's neat playground for the kids to play on.
Lauren and Parker rode the carousel and it was cute.
Statues around the park.
We all got on the train for a ride around and back.
My sister was holding the baby.
There's a water feature with water spouts popping up so the kids can cool off.  We didn't do that, although Parker would probably have loved it.
A fun fun time was had at the zoo by all!  Parker was in her element.
The Georgia Cyclorama is no longer open in this location, but I read it's being moved to the site of the Atlanta History center. This is one thing that I so remember from childhood, the large circular oil painting depicting the Civil war.  I'm glad they are keeping it and moving it to be viewed by folks in the future and it's scheduled to reopen next year, 2017.
This was one tired little Parker at the end of the day. The adults were pretty pooped too, but we are glad we went and enjoyed the zoo again. It's been so long, but was a very fun day with the family!  We went during the week, so it wasn't as crowded as weekends would be.  I'd highly recommend it for a family outing here in Atlanta!
Don't Miss a Post, join my list!