If you haven't figured it out yet, I love green.  Green makes me happy. I just can't help it.  It's found outside in the grass, trees, and flowers.  It bursts forth with Spring and so, bringing green in my house makes sense for me.
Green. makes. me. HAPPY!
I got a can of Annie Sloan Antibes Green and had plans to use it in my bedroom on a piece of furniture, but when I tried it out in there, it just didn't work with my other greens.  Another creative thought came into my head and I thought, why not add that color to the inside laundry room door.  That door goes to the outside and it's white, so why not make that a happy door.  It would flow well with my gray and white stripes in the space and I planned to add color in there anyway once I get moving on more plans to beautify that space.
It's certainly not done yet, although it's a lot better than it was.
Why not take an out of the way door and make it happy? That's what I say!  White is plain and not very inspiring on a door, so I decided to kick it up a notch.
First, I taped off the doorknob and hinges with my trusty FrogTape.  Love that stuff!
Protect the hinges from paint.
I used a small foam roller and rolled on the Annie Sloan Antibes Green.  Worked out great. It goes on nice and smooth.  You don't have to prime with Annie Sloan paint.  I will probably go back and wax both of the doors that I've painted and that will help protect the finish even more, but from what I hear you don't have to prime. This is a metal door too.  This is after one coat.
I did three coats to make it nice and well covered and now it's HAPPY and I love it!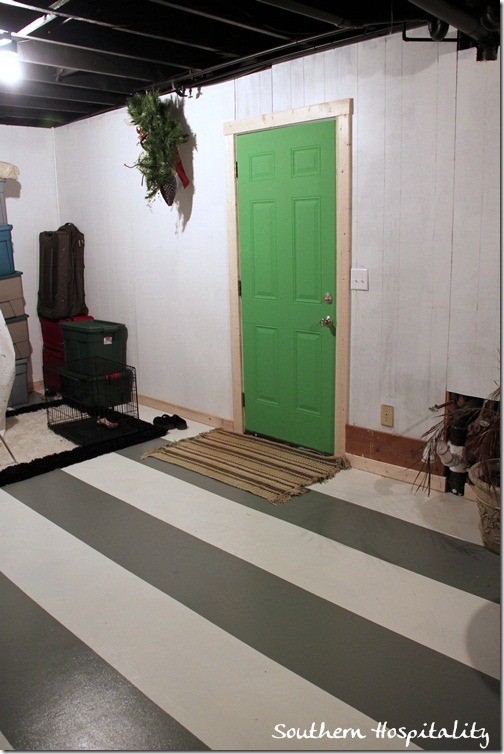 Looks fantastic with my gray and white striped concrete floors that I did awhile back.  This room will eventually come together and will look even better once I finish all the painting and get things organized in here.  I'm so thankful to have this space, an all purpose laundry room, mudroom, and storage room.  And eventually potting shed too, once I get a sink installed.
In the meantime, this cheerful green door makes ME happy.  Rhonda's dog, Cody likes it too.
Isn't he a cutie?  It's fun to have a dog around again. It's been awhile for me.  He greets me every morning outside my door and if that doesn't make your day go better, nothing will. 
Loving my green door!
Do you have an interior door you'd like to paint a happy cheerful color? 
What are you waiting for?!  Back door, side door, or even front door.
What's to stop you from adding a punch of color on that door?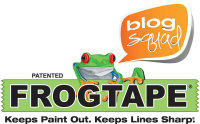 Note:  This is a sponsored post from FrogTape.  I'm a brand ambassador for them and they compensate me for sharing my projects that I do with Frogtape.  All opinions and ideas are my own. 
I'm heading up to Charlotte today for a 2 day meeting with Rustoleum, along with several of my blog friends.  It's sure to be a fun time and I'll be taking pics and reporting in.  Can't wait to see some  new products from them!
Don't Miss a Post, join my list!