It was certainly a process of a few month's work, but my brother-in-law, Bruce, finished up their master bath renovation and it looks fabulous!  I can't wait to share it with you all.  Did you know that kitchens and master baths are right at the top of the list for spaces to renovate in a home that will add the most value?  It's true.  I hear it all the time.  Most folks when they are looking at a resale home really love it when it has an up to date kitchen and renovated master bath, so hopefully these master bath renovation ideas will give you some things to ponder.
So, not only will they get to enjoy the beauty and newness of their master bath, it will add value to their home too, when they sell it down the road.  That's a win-win for sure.  And also the fact that Bruce did the work himself saved them a TON of money.  Bruce shared with me that he spent about $8,500 on the whole bathroom project, including the new Closet Maid closet system that he bought and installed too.  That's quite a lot of bang for your buck for a brand spanking new bathroom.
I shared the Before pics in this post, so go and have a look at what they started with.  This house was built in 1998, so back then it was cutting edge, but fast forward a few years and it was in need of a refresher.  They had never utilized that big tub and all it did was take up valuable space, so their idea to take out the tub and make that space a larger shower was a brilliant one. Why not renovate for your own needs?  They still have a tub in the upstairs guestroom.  No, not a huge tub, but everyone doesn't use a large tub.  I love a big shower myself, that would be the same thing I would do.  And the old shower became part of the closet, so that's another win in this remodel.  They completely redid their master bedroom in 2011 that I helped her with and it turned out fabulous too.  Check out the master bedroom here and here.  Now the bathroom is completely up to date with the beautiful master bedroom suite.
Are you ready to see the final bathroom?
It is beautiful and I love all the details. It's been so dreary around here with lots of cloudy days, so this day was not a great one for taking pics.  So keep that in mind as you look at the colors.  It's really much brighter in here and the wall color is a soft blue/green/gray, Comfort Gray by Sherwin Williams (same color as in my downstairs den). Not nearly as gray as it looks in these pics.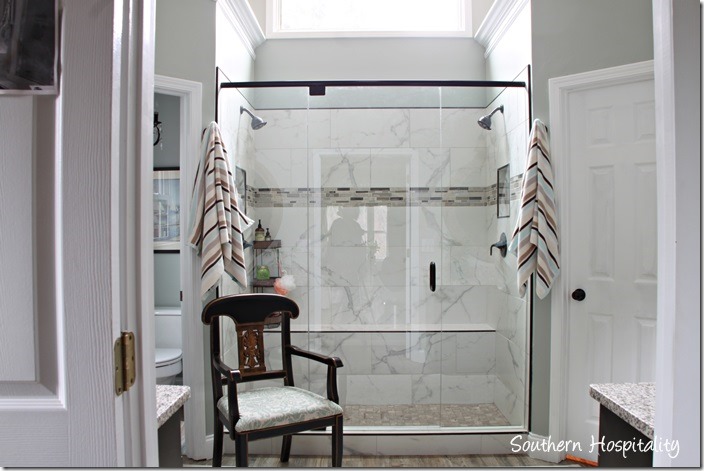 After gutting the old bathroom and taking out the old tub and tile, Bruce worked hard on this space since the first of September to get it finished right before Christmas.  I know he's proud of his work and he should be, it's beautiful.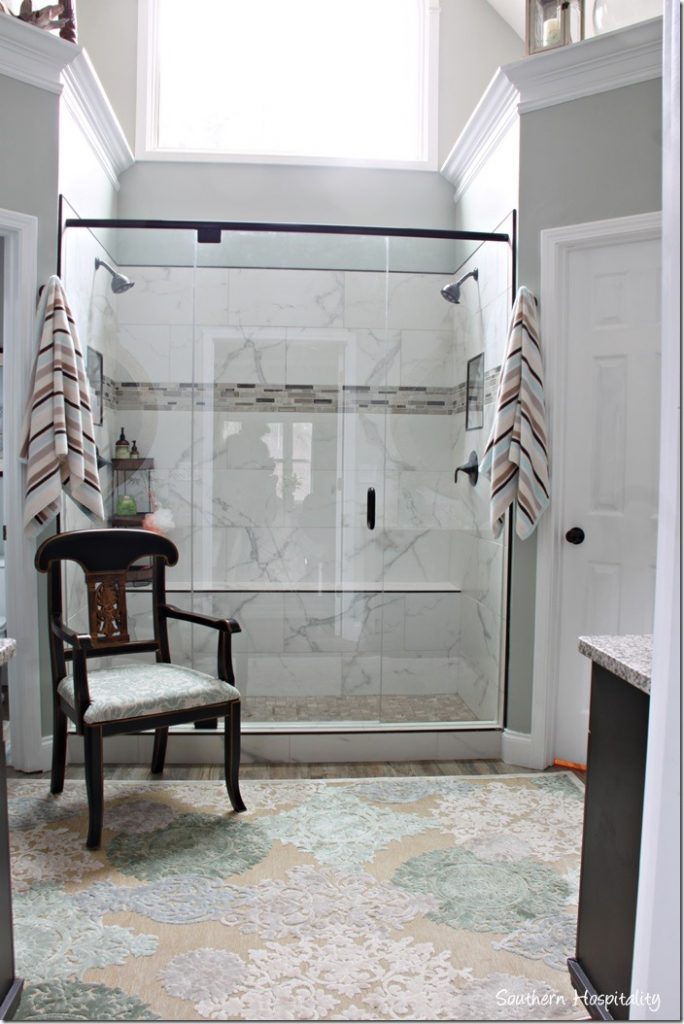 The new seamless shower door is so open and airy now.
I love these large rectangular porcelain tiles in a look-alike marble.  They got all the tile from Floor and Décor.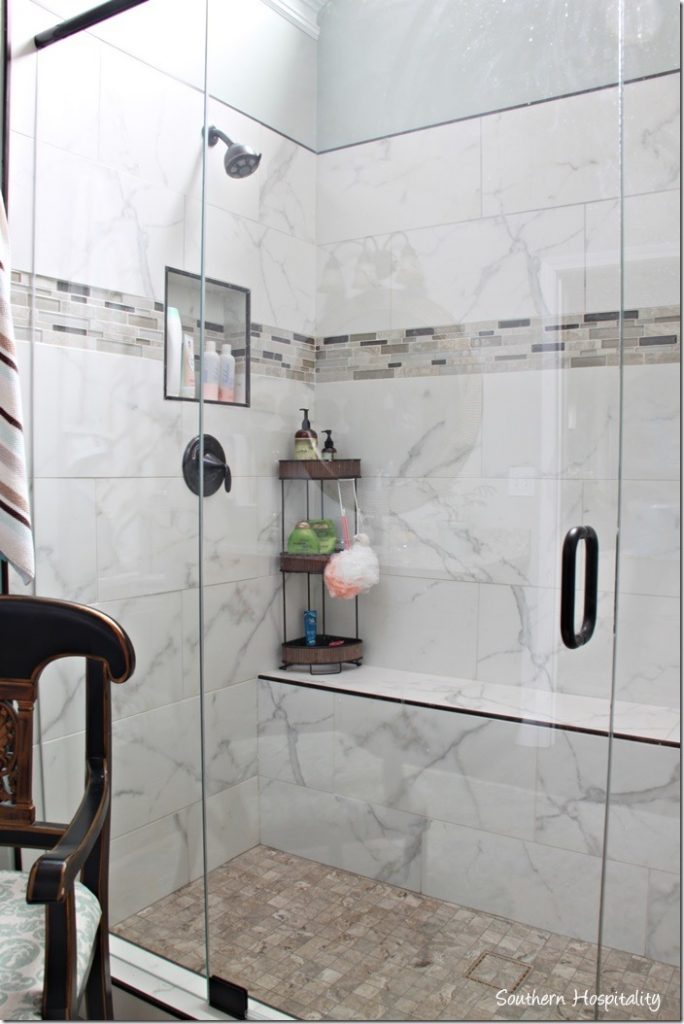 A border tile was used to accent the floor tiles and some darker tones in the room.  Smaller tile was used on the floor of the shower with gray/brown tones to pick up the shower walls and the floor tiles. Notice that square drain in the shower.  Bruce was pretty happy about the way it turned out, by using 4 squares of the tile inside the drain, it almost disappears.
It's a beautiful shower with a nice bench seat too.
With shower heads on each side, it's a great shower now.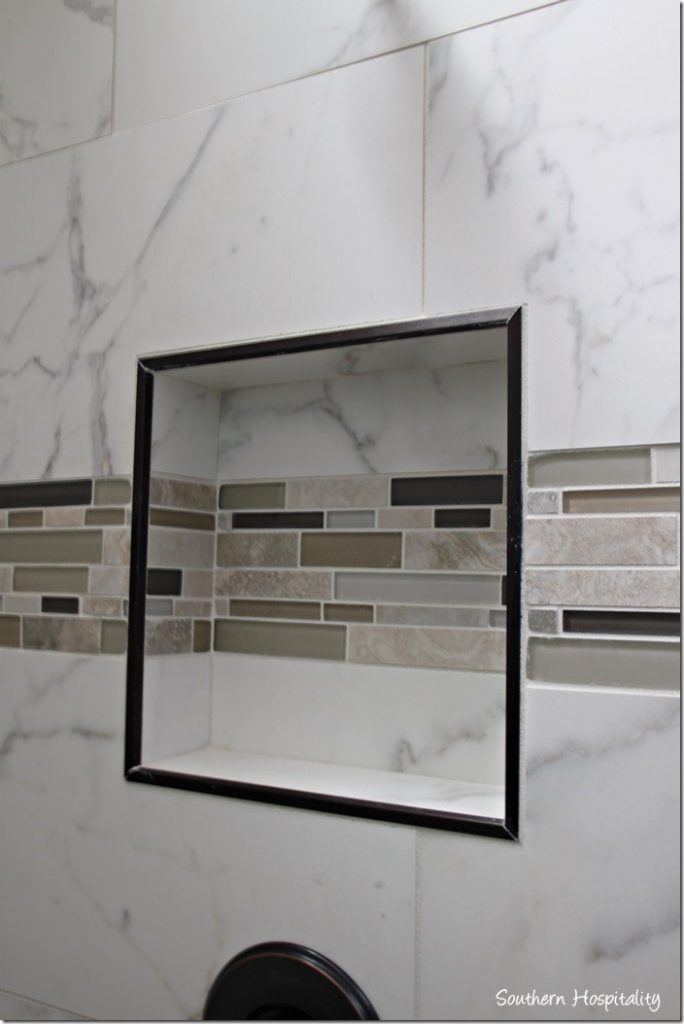 Little niches built into the shower are great too for holding things.  The accent tile border just adds to the charm.
The toilet room, with a yardsale chandelier my sister found while we were out last spring.
This is a vaulted ceiling space with a large window above the shower.  Lots of light comes in here.  She got a new rug from Wayfair to add to the cozy factor too.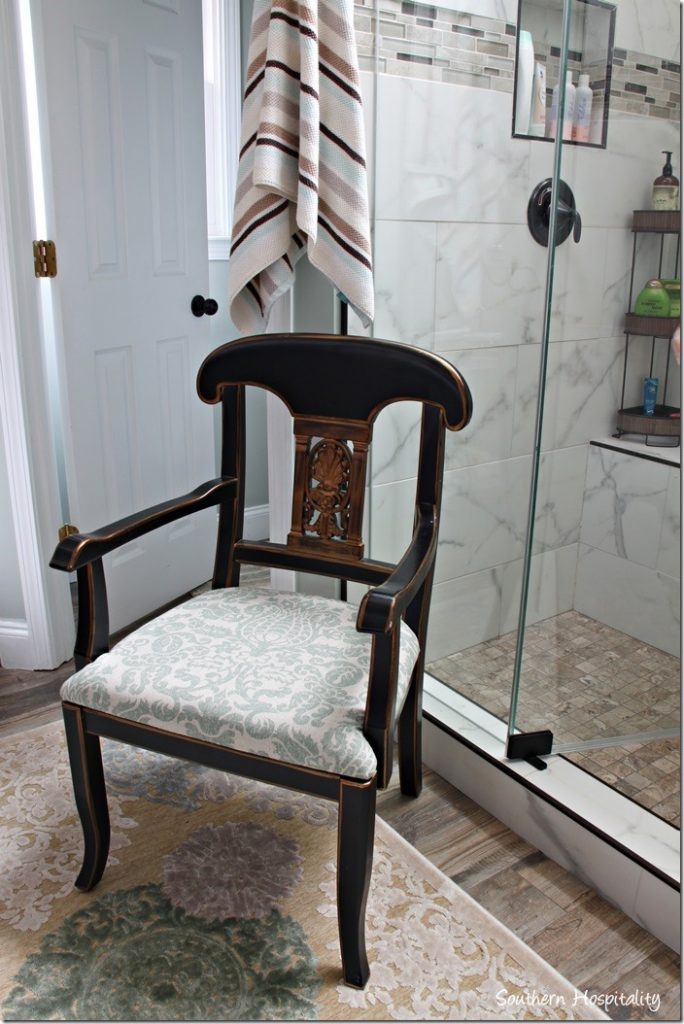 And this chair that was in there got a new fabric too.
The leaning mirror that was in the master bedroom got moved in here, now that there is no longer a door to the closet right here.  Great mirror to get dressed in front of to check all sides.  They kept the old vanities and added molding and feet, using my friend, Kate's directions.  Great way to keep an old piece and make it look like furniture.  Adding those feet kicks it up a notch for sure.  And with new granite countertops with an undermount sink, this vanity looks nothing like the old one.
The vanities were painted with my paint choice, Valspar Fired Earth, the same paint I used on my stairs and doors in my house.  Beautiful deep espresso color.  The flooring in here is porcelain tile planks, a look alike wood product that is so popular now.  With variegated colors of browns and grays, it's a beautiful tile choice on the floors.
The granite tile countertops were fabricated and installed by my favorite granite folks, Legacy Granite, in Alpharetta.
We went there and picked out the granite (White Fantasy) and sinks and they measured, fabricated and installed their new granite countertops in one day.  They turned out beautiful.  Another wonderful job by Legacy Granite! I love the rectangular sinks, which were included in the job.
I tried to get a shot of the feet that were added, but this pic is not so great.  They are turned wood chunky feet and you can find these at the home improvement stores or online.  Great addition to a plain cabinet to elevate it off the floor.
Here's a closer look at the porcelain tile planks.
Round mirrors were also added over each vanity and these are from Wayfair.
Here's a look at the transition between the bedroom and bathroom.  Amazing how real these porcelain tile planks look like wood, isn't it?  All the colors from the master bedroom flow right in here.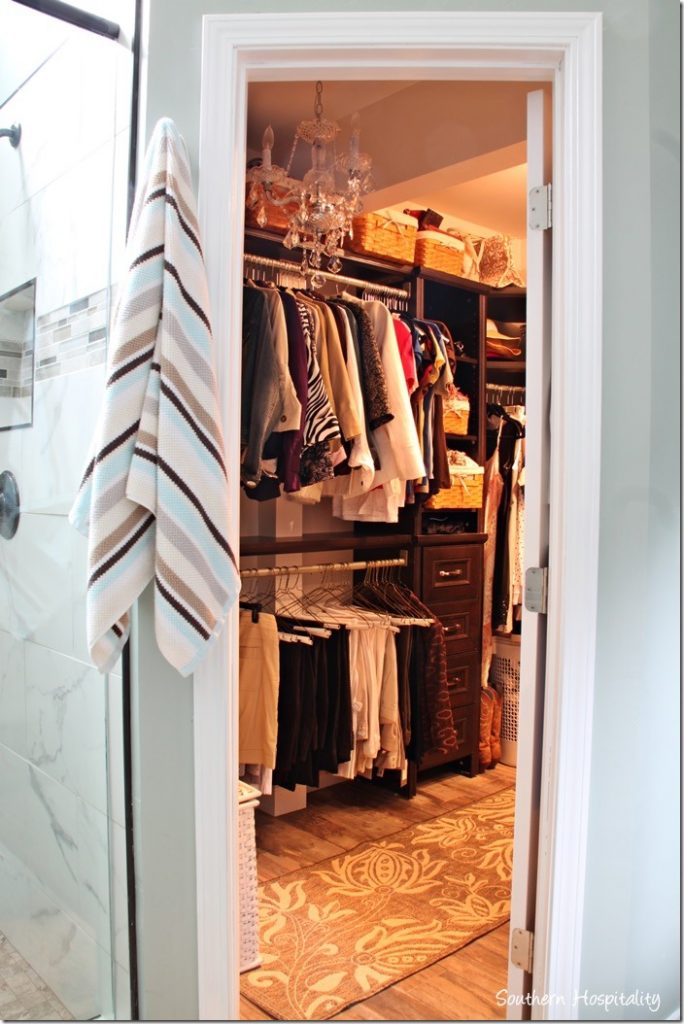 Now, let's take a look at the newly revamped master closet!  It's a masterpiece too.  They used Closet Maid from Home Depot and Bruce installed all the pieces In here. What a difference that made too! This door was the former shower door in the old bathroom, so he opened up the wall there to make the closet bigger and moved the door to the closet here instead of by the vanity as it used to be.  That gave them wall space for the leaning mirror in the bathroom.
Right inside the door is my sister's hanging jewelry cabinet.  The cute crystal chandelier came from Home Depot.
Take a look at all the storage and hanging options in this space now.  It's fully utilized to the max, including the overhead tops of the shelves.
Lots of drawers, cubbies, and baskets to keep things organized now.
As usual, my sister has more than 1/2 the closet, but I think they make it work.
Bruce has this end of the closet and they have joint shoe racks that hold all the shoes up and out of the way.
From Bruce's end of the closet looking back, you can see this is a long narrow space and it is utilized to the max now.  She added rugs for softness underfoot on the tile. The closet is sort of an L-shape now.
Peeking back out to the master bath.
A few detail shots around the room, pretty plants in aqua planters are a nice addition in adding life and color.
Another closer look at the chair with new fabric.
Plants on the vanity.
And a look at the tall ceiling with shelves above the shower and the big chandelier hanging above.  She added some larger pieces up here on the shelves.
I hope you enjoyed this peek at my sister's new master bathroom.  It was fun watching it come to life and even though they were inconvenienced for a few months getting it completed, I know they are happy they did it now that it's over and looking so beautiful.  It's a great space, so functional and pretty too.
I'm partnering with Allstate today on this post and I've got some great questions and answers from their information team about taking on a bathroom remodel yourself. Take a look at these questions and they may help you decide on doing a bathroom remodel and if you want to tackle it yourself.
How much does doing a bathroom remodel save yourself save you?
A lot of the time the biggest cost of doing a bathroom remodel is the cost of labor, so doing a remodel yourself could save you more than three quarters of the cost of hiring someone to do the job. Bathroom remodels require many stages to complete the job and can be very labor intensive. A contractor may not only charge you for the labor, but also can mark up the cost for mistakes, add extra workers, change orders, etc. When deciding to do a remodel, set aside a budget that would be about 5 to 10 percent of your home's value.
What are the dangers of tackling a bathroom remodel yourself?
The most common danger of doing a bathroom remodel would be the plumbing and how to replace it. There are many how-to books and videos online to assist with simple plumbing needs. However, when in doubt, contact a licensed plumber. You wouldn't want to do something incorrectly and end up costing you more to fix. You will also want to check that everything you are doing is up to code and that the changes you are making are approved.
What are the benefits?
The benefits of doing a bath or a kitchen remodel yourself are the savings that you will receive on labor and that you have total control of the outcome. Another benefit is that there are many rebates and energy incentives available. Replacing an outdated toilet to a low flow model can save you money on water use and your local County Cooperative Extension may also reward you for saving energy. Check with your local office to see what your available incentives are.
Which is the most important remodel, bathroom or kitchen?
Both are important if you are going to sell your home and would like a return on your investment. These updates will generally pay for themselves. You can do a quick facelift of your existing kitchen cabinets with paint and hardware and/or update your appliances without doing a full remodel and still get a return on your investment.
There are also small things you can do to update your home. Door hardware is an easy change. Update any outdated door handles on your doors throughout the home, these can easily be replaced and this can make a big difference in the overall look and feel of a room. Another simple update would be to update your receptacles and light switches. If you have almond color, round receptacles, you can replace them with bright white, new square style plugs and switches. These are cheap and easy changes that will not break your budget.
Disclosure:
This post was written as part of the Allstate Influencer Program and sponsored by Allstate. All opinions are mine. As the nation's largest publicly held insurance company, Allstate is dedicated not only to protecting what matters most–but to guiding people to live the Good Life, every day. For more tips like this, visit the Allstate Good to Know community. I happen to be an Allstate customer for my home and car.  This post is shared in collaboration with their ideas on DIY and kitchen/bath remodels.
Don't Miss a Post, join my list!