Wow, has my sister, Renee's bedroom changed!  You can't imagine how much a room can evolve unless you see it with your own eyes, but I think you are going to be amazed at this one.  I shared her Before bedroom pics earlier and I will add in a couple of those now, so you can see just how BIG a change has taken place in their master suite.  Amazing, I'll tell you!!
If you don't get the power of paint, fabrics and accessories, this Before and After should definitely grab your attention.
In case you missed it, this is the BEFORE of the bedroom.   Prepare to be WOWed!   Yes, it was definitely time for a change from its circa 1999 state of being.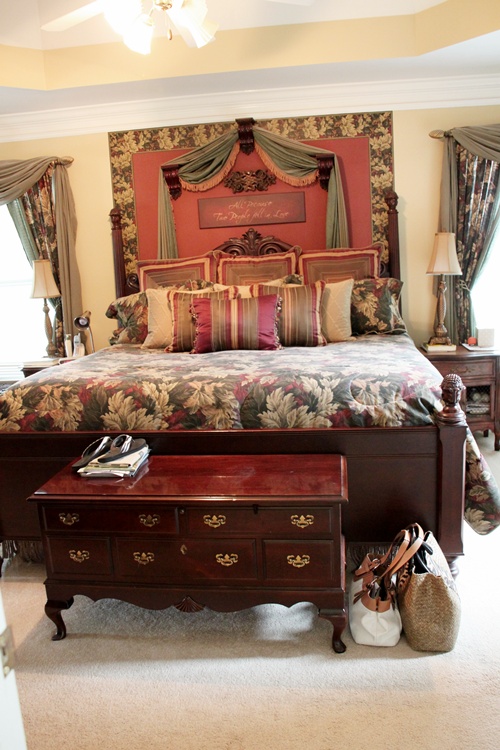 Other side of the sitting room.  You will want to scroll back and forth a couple of times to get the complete awe at the changes.
My sister and brother-in-law are in love with their space all over again now!   I hope you like LOTS of pics, because I just couldn't stop at a few.  You will get to see every little detail in this room redo.  And, I'll come back with another post later and give you a breakdown on where everything came from and how we put it all together.
I give you the AFTER's!  Oh, how I'm in love with this room now.
Here's the tutorial on that fab stenciled wall!
Here's the new view walking into the room now.  Isn't it gorgeous?  That stenciled wall just makes it, I think!  My sister has great taste and had already decided on colors she wanted for the room, as well as the start to the fabrics.  She needed me for guidance and I helped pick out the rest of the fabrics, rugs, artwork, accessories, lamps and drapes.  She asked for my opinion all along the way and this is what we came up with.  We shopped at several different stores to come up with all of this and I'll share all of that in a later post.
Looking to the left is the view of the sitting area.  They have one of the nicest master bedroom suites I have ever seen and they really do use this sitting area all the time.  It's cozy with a gas fireplace and a TV in the big armoire.  We took out the dog crates for the pics, but they live in here too.  The new hardwoods make a huge difference in here too.
It's very hard to get the wall color right in these pics.  It is NOT gold as shown above, but a gray-beige shade.  More Cafe au lait-like.
Sitting area.  We spent several days shopping for all of the fabrics, lamps, pictures and accessories and I will do a complete breakdown on all of that for you.
Renee's vanity area. You can see that we also added beadboard wallpaper in the sitting area to give it some architectural interest.  Love it in here!  You can read all about how easy it is to install, since I've used it so many times now.  And you can find this fabulous beadboard wallpaper in my online shop.  Thanks to ALL of you who have supported my shop this summer, I so appreciate it.
Vanity area
Those columns are the dividers in the space and that was a good spot to stop the beadboard wallpaper.  She already had these nice wingbacks, so instead of buying new, opted to have them recovered with a local upholsterer and he did a great job. They look like new!  I'll give a shout-out on all of that in a later post too.
Sitting area looking towards bathroom.
One of the wingback chairs recovered in a chevron fabric.
This is my pillow.  Actually you will see a few of my things around the room, since I let her borrow some of my accessories.
We added some real plants from their back deck, which needed to come in anyway.  Recognize that vintage plant stand?
Fireplace with gas logs.  I spotted that contemporary print at Homegoods and knew it would look great in here.
Fireplace wall.
Accessories on top.  This is a true representation of the paint color on my monitor.  Definitely not gold as it appears in many of these pics, but hard to capture with sunlight coming in.
I'll tell you where we got everything and a breakdown on cost too later on.  This room was definitely done on a budget, even if it doesn't look like it.  Shopping wisely helps on that.
Top of entertainment center.
Dresser she found several years ago at an antique shop and bought the whole set.  She decided to take off the mirror that came with it and added a print instead.
That modernizes it quite a bit too, don't you think?  That lamp is mine too, from my old den.
Pretty accessories on the dresser.
She did have the duvet, pillow shams and body pillow custom made, but it wasn't extravagantly priced.  I'll tell you all about that in my later post too. A local fabric shop did it all.
We shopped for the fabric and took it to the fabric shop to have it all made.  I think it turned out beautifully.  The only thing left to do is an upholstered headboard.  She has her heart set on one of those, so we are DIYing it.  Of course, I'll share the how-to's on that!
Body pillow.  Love how our stencilled wall turned out too. It really makes a statement walking into the room.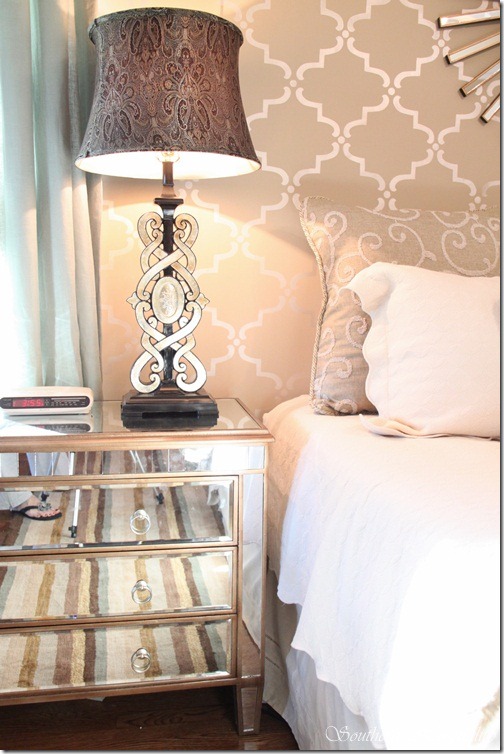 Lamps and mirrored side tables.  I found the lamps and thought they worked out nicely with everything in here.
Chest of drawers that she already had.
Large floor mirror on one side of the room.  Love this!
Body pillow up close with detailing.
The duvet is reversible, with the scrolly fabric on one side and the contrast on the other.
Shot of the rug, which I think really makes the room too.  Spotted this at a local rug shop and ordered it online for less $$.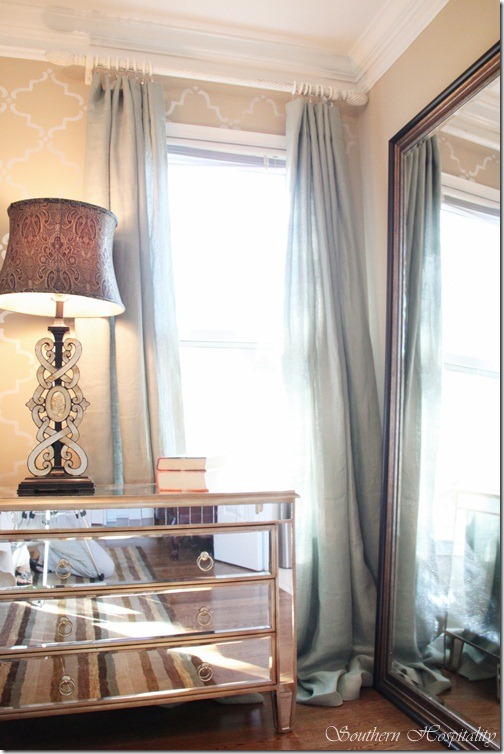 Drapes, night stands and floor mirror.
Close up of the side tables.  These add an elegant touch in the room.
Going into the master bath.  She found this zebra rug online.
Her vanity side.  They added molding to the mirrors a few years ago and painted their vanities too.
Bakers rack in the bathroom.  We are going to paint this bakers rack a champagne color eventually.
They have these tall ledges in the bathroom and we added some of my large accessories up there.  The lady and armillary are mine. That's a piece of driftwood that my mom has had forever.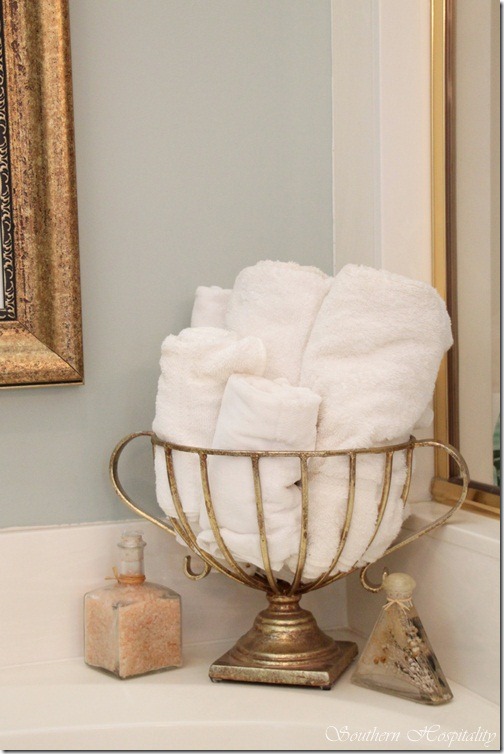 Towels by the tub.
This large wine bottle is mine too, I'll tell you about that in a later post.  It's HUGE,although it looks sort of dwarf up on that big ledge.
Lantern light fixture and large wine bottle.
His side of the bathroom.
Looking back out to the bedroom.
New colorful towels.
Accessories on top.
Another real plant.  You can see I was serious about the fake plant intervention!
Welcome to the 21st century, bedroom!
Close up of the lamp.
Starburst mirror over the bed.
Bench at the end of the bed.
Bedding, with bedskirt and rug.
So, that is the grand tour of the new bedroom.  We had so much fun putting this room together and I hope you love it as much as we do.  My sister feels like she's in a brand new place now.
As I mentioned, I will be putting together a detailed post of all the elements that went into this room makeover. While not extremely cheap, it was definitely done on a budget (compared to those design shows we see!).  The custom bedding wasn't dirt cheap either, but it really adds a lot to the room and sometimes it is worth it to spend a few hundred dollars on something that you are going to keep for many years.  I have a feeling that this room will remain like this for at least 10 years, so she will get her money's worth out of it all.
By shopping wisely, you can definitely put together a room on a budget without breaking the bank.  That's exactly what we did here.  I would love to do more of this type of makeover, so if you are in the Atlanta area and need help with putting a room together, I'm available for a reasonable fee.  I'd love to help you shop and put your room together too!
Paint Colors:
Bedroom:  Sherwin Williams Windsor Greige
Bathroom: Sherwin Williams Comfort Gray
You can see the entire source list for the space here!
Don't Miss a Post, join my list!