This post could actually be titled, "How a small plastic water hose bursting in a powder room can create an avalanche of renovations in one house".
Or Updating a 90's bedroom.  Take your pick! 🙂
Here's how things went down.
My sister and her hubby, Bruce, were out of the house one Saturday a few weeks ago for the whole day.   Little did they know, that as they were off having some fun, a small plastic water hose in their main level bathroom decided to give it up and split, creating a major water leak and flood that flowed all day long.  When they returned it was too late to salvage the stuff that had been ruined by sitting in water all day.
On the main level, hardwoods in that bathroom and the nearby den area were completely soaked and buckled.  The nearby bedroom, which is Lauren's room when she comes home, had carpet in there that was soaked.  All of that had to be ripped out, as well as some baseboards that were ruined.  Are you still with me?
All that water that ran flowed down the walls into the basement below, soaking laminate flooring that had been installed just 6 mos. previously.  All of that flooring was ruined and had to be ripped out.
So, the end result was the the main level and basement were completely turned upside down and the insurance company came in with estimates on getting it all repaired and back to normal.
You know what that means, right?
While we are at it, let's  change some things that we've always wanted to do.  How about we add hardwoods to the master bedroom, which is on the upstairs level?  Yeah, since the house is going to be a dusty mess anyway, let's go ahead and get that carpet out of the master and have site finished hardwoods put down.  Since it all has to be sanded down anyway and restained, let's stain all the wood downstairs and up in the master the same color.   She's always wanted to go darker anyway.  And while we are at it, let's paint the stair railings black.  Never liked that blonde wood anyway!  The stairs had to be resanded and stained darker too, so might as well go all the way with the reno.
And since Lauren's bedroom lost the carpet, let's take the hardwood on in there too!  Baseboards had to be removed and some of the drywall was damaged, so that means the room needs to be repainted.  So, how about a new paint color in there, as well as getting rid of the dark red that was in the fateful bathroom.  Might as well change that paint too, right!!
So, you see where this is going?!   
For the insurance settlement, they were able to get most everything done that they wanted to get done.  Even those things on their wish list, so why not go for it?  How often is a house torn up from top to bottom, from the basement, main level and top floor?  Hopefully, never again so they are going to to it all this time around!  As you can imagine they have been in a tizzy at their house, even having to take the 2 dogs and move into a hotel for about 5 days while the floors were being finished.
When my sister, Renee, married her husband Bruce almost 12 years ago, she brought in bedding that she already had.  She has never changed it out in all these years and so it is time to update and refresh their master bedroom suite.  With those new hardwood floors, it was time to go ahead and update it all.
And when I say suite, I mean HUGE suite.  Bedroom, sitting room, and master bath.  They spend a lot of time in this space and they even installed a gas fireplace to cozy it up for winter months.  They watch TV, read, and relax in their room and I have always been envious of how big it is.
Back then, the darker jewel tones were all the rage and these colors were on everyone's radar.  Fast forward to 2011 and these colors are not the height of fashion.  Not that there's anything wrong with them, but after almost 12 years, it's time for an update.  If you still have these colors and love them, well that is fine too.  I know I enjoy the lighter and airier look that is more trendy now and my sister is ready for a change too.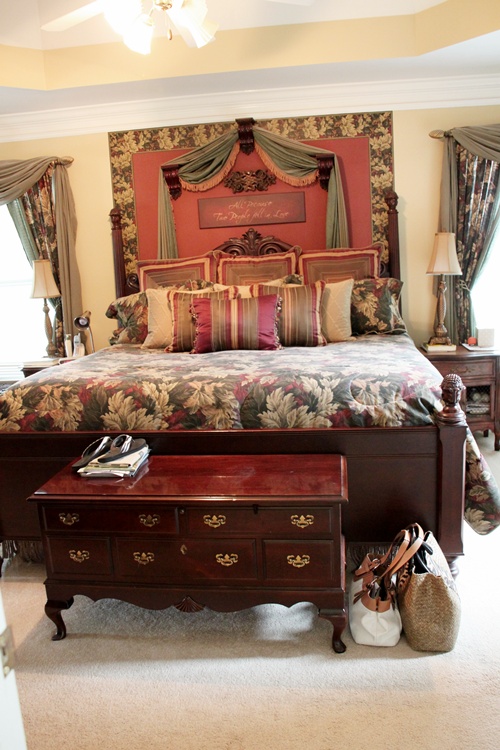 Renee's ready to lighten things up in this space now and you can see how heavy the colors look currently.  This space is going to totally change in the next few weeks.
Swags and opulence were definitely more in back then, but she is leaning towards the more simple and elegant instead of fussy.
Here's the sitting room on the other side of the columns.  It's a spacious area with plenty of room for their TV, her makeup vanity and a couple of chairs for relaxing.  Their 2 dogs live here too in their crates.   It's going to look so great with the new hardwoods!
The sitting area has a nice vaulted ceiling so that makes it even more spacious feeling.
So, it's time for an update and guess who gets to help?!!  Yep, I'll be helping along the way.  She has great taste and has already decided on her color palette of creams, beige/taupe, and a little gray/blue thrown into the mix.  Everything is getting painted and this sitting area is getting the beadboard wall treatment.
She trusts my opinions and let's me guide her decisions along the way, so it is fun for both of us.  I have a lot of ideas for this space, including a stenciled wall behind the headboard wall.
Ventless fireplace.  Their sitting area is so cozy with this in there.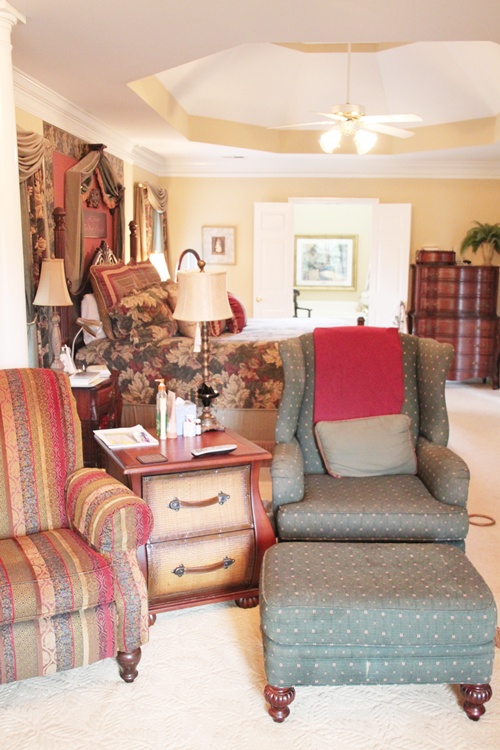 Looking back towards the bathroom.  Bruce had shoulder surgery recently and moved my striped recliner up to their room to use (they are keeping some of my furniture for me) and has been liking it, I hear.  She is going to recover her 2 wing chairs she already has, one of them you see here, the green one.
She is keeping her pretty cherry dresser and plans to do an upholstered headboard.  I'm having a fake plant intervention too. 🙂  I've already told her most all of these will have to go!  I got rid of most of my fakes a couple of years ago and haven't regretted it for a minute.  We'll find something to bring in the warmth of plants, if not real, at least some that are natural and woodsy.
Chest of drawers that is part of her set of furniture.  She found these pieces at an antiques store several years ago.  They will be lovely with the lighter feel of the linens and paint.
Another view of the bed.
Here's the master bath.  It's getting a new coat of paint too, Comfort Gray, off the famous Sherwin Williams color strip that is oh, so popular now.  Beautiful gray blues on that strip if you are looking for the perfect color.   Other colors on there are Sea Salt and Oyster Bay.
Her vanity.  They framed out the mirror using my instructions a couple of years ago.
We might paint that bakers rack another color.
She already has a pretty lantern hanging in here.
That valance will be replaced too.
Overview of the bedroom.
So, you can see that a LOT of work is in progress and I can't wait to show you the end result when we are finished.  They are knee-deep in a mess a the moment and had to move to a hotel for a few days.  But, I know in the end they are going to love their new space and all the improvements.
Here's a sneak peek at some of the progress so far.
Here's a peek at the empty room with new hardwoods.  That's the new wall color too. We used the same one I used in the bathroom reno, Sherwin Williams Windsor Greige.  Lovely color!
I spied this pretty striped wool rug at a local rug store and she got the manufacturer #'s and color and found it online for over $200 less.  It's SO beautiful and will be the perfect rug accessory on those gorge new floors.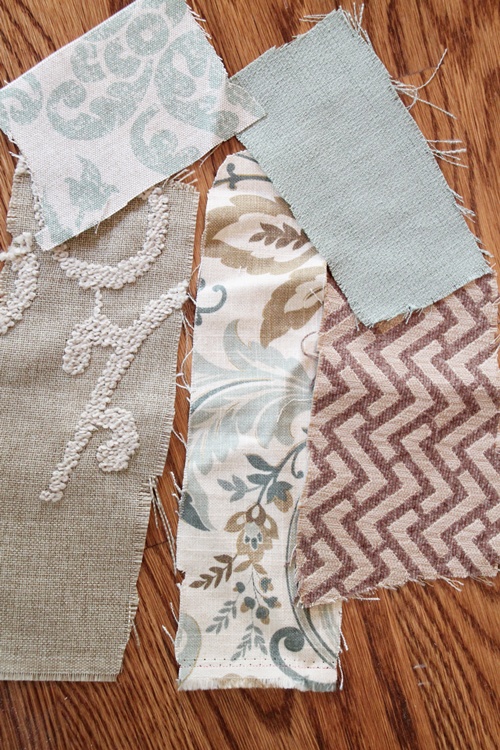 Here are most of the fabrics we are using in here.  She found that scrolly print one at a local store and that started the color palette.  I went fabric shopping with her and we found some things at our local Fabric and Fringe Warehouse, one of my fave fabric stores near my house.  Love them!   I'll tell you more about the process of choosing all the elements for this room and how we put them all together in coming posts.
I'll show you all the details when we are finished!  It's going to be gorgeous!
Here's a peek at the stencil I'm using.  I got this last year and have been dying to use it.  This wall was the perfect wall to accent.  I'll show you all the details in a later post.
Have you ever had a flood or disaster that caused you to do major changes because of it? 
How did it turn out?
Thanks for your prayers about my divorce hearing last week.  You know, I don't really enjoy talking about all the mess, but it is a part of my life and since I've talked about this whole sordid ordeal, it just seems fitting to share it with my friends.  The hearing went as well as could be expected and my divorce should be final in about 30 days.  There is nothing in life that could possibly prepare me for seeing a man I once cared about so much be escorted into a courtroom in an orange jumpsuit and shackles.  That is not a world (thank God!) I have ever been a part of.  I'm not a hard-hearted person and it made me very sad to see someone ruin their life as he has done to himself by making some very bad choices that affected me and so many other people.  But, justice will be served in a future trial and I will be better off with all of this behind me.  There is nothing I can do to change any of it, but I can keep my focus positive and uplifting and that is where I choose to live my life in the future.
I've got plenty of positive things to keep me busy! 🙂
Don't Miss a Post, join my list!