Let there be light is what the title of this post really should be!
It really is amazing how bringing light into a house can change the mood of a room.  What was once a dungeon like experience now is filled with natural light.  I finally got windows installed in my downstairs den and I am just thrilled with the outcome.  It's more dramatic than you can imagine and it's another project that has been on my wish list since moving in this house over 2 years ago.  Little by little, this house has been transformed into the cutest little cottage ever.
And truly adding windows is one of the BEST things I could have done to improve the den space and the exterior view is also improved.  Curb appeal to the max!
I have to give a huge shout-out to Lowes and Pella for helping me on this project.  Through my relationship with Lowes, I was able to work directly with Pella and order these windows from them. I chose the same type vinyl windows I already have in the house and these fit in just fine with the existing windows.  I got them in and hired my own installers, the same father/son team who built my front porch (Name and Phone # in the link)  last year.  Mike and Dave did another fabulous job for me and even though I have to wait on them to get to my smaller projects, they are well worth the wait. They do great work and are reasonable too.  So, I did pay for the installation of these windows, but Pella comped the windows for me and that is a HUGE blessing.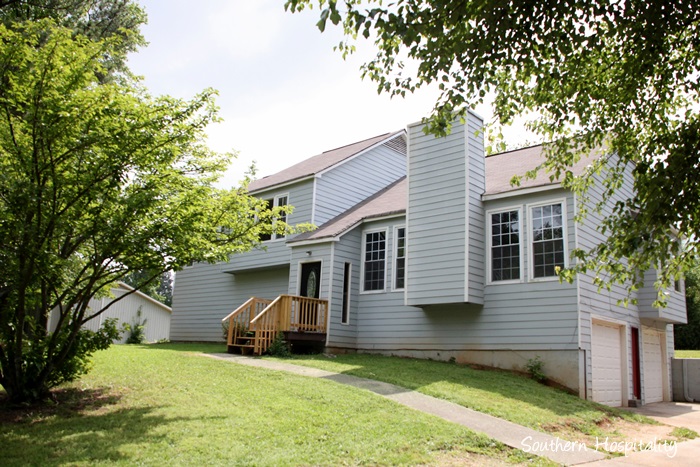 Just for fun, here's a shot of the original exterior of my house…..before I started any improvements outside.  Poor, sad little neglected house!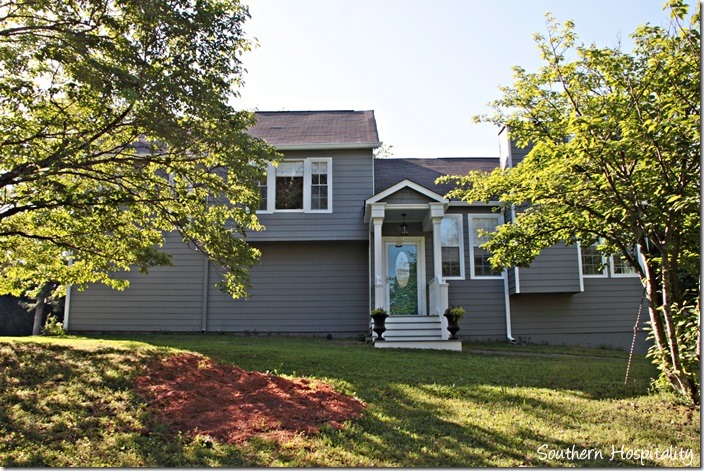 This pic was taken late spring last year before I had the landscaping put in, but after the front portico was added and the house was painted.  Notice the blank wall below the top floor to the left. That's my den space, no windows at all on this side of the house.
But now it does.  I copied the same windows from the top and ordered them in the right size to fit the space and I think it turned out fantastic.
Not only is my den now filled with natural light, the exterior of my house looks so much better balanced too. If you have a room that needs more light, I'd highly recommend adding new windows.  It's just a little inconvenience and mess, but well worth it!
Spring has sprung in Georgia and with all the rain we have gotten, along with warmer temps, my grass (and weeds) are really coming alive.  I have to get out there and start cutting the grass soon.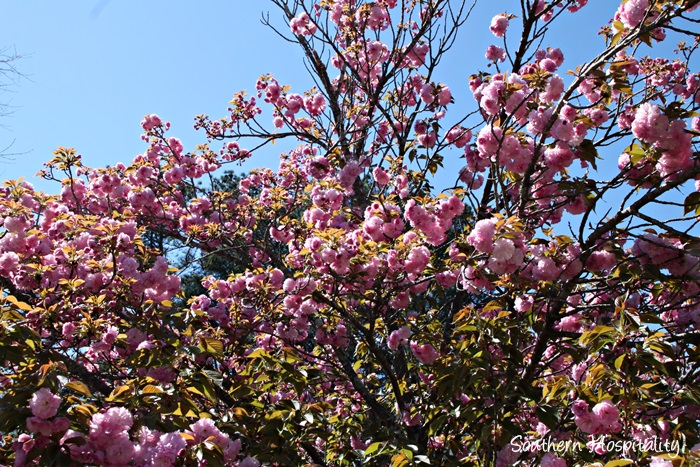 The Kwanzan cherry tree in my front yard is exploding in blooms now.  I know many of you are still experiencing winter and I'm so sorry you're still freezing.
We are fortunate in the south to have nice spring weather and we welcome it every year.  Nothing like spring to perk me up!
Longwood Gardens sent me some tulip and hyacinth bulbs last winter and I planted them before it got too cold.  It's been fun watching those come up and bloom!
Ok, so back inside, I'll show you some of the process of getting these windows installed.  They measured and lined up the new windows with the existing top windows on the outside.  I am so glad they know what they are doing, they line up perfectly.  If I had to measure something like that, it would be SO wonky!  They prepped the windows and added 2×4's for the framing and did all of that in one day, then came back another day to actually cut through the siding and add the new windows.
Prepped and ready from the inside.
Cutting through the siding to make way for the new windows.
This big window was a special order from Pella and the middle section is double paned glass to match the existing older window above, flanked with 2 single windows that open.  The light coming in here now is incredible!
Inside looking out.
Here's a reminder of where I started in this room. BEFORE
It was SO dark and dreary in here with only one small window.  Not anymore…….
So, I took some new shots down in the den just to show you the progress and how great it looks with the new windows in there.  Light makes me so happy and I'm just giddy over this! No more dungeon.
This space is not finished yet at all, but I cleaned up enough to show these pics.  I am doing some major decuttering in my living room, office, and this room, so I'm getting rid of several things.  Having a window behind this chair is just the best. I will definitely be using this chair more now.
That flowering cherry tree is right outside and what a view!
This room is not completely cleaned up, but you get the idea.  That picture leaning in the corner is going to have to go, I think, since I have no where to put it now.  Ruby is getting her table which is also in that back corner. The only thing I'll leave in the corner is the plant.
I added the coral console table between the windows.  And my plan is to get new bamboo shades for all these windows and new window treatments, simple panels.  I'm looking at fabric now.
I swear the room feels SO much bigger with the windows in. It's amazing how that happens!  I have been moving furniture around too and you can see that the china cabinet that was in the living room is now down here.  I moved my French buffet up in the living room and it was a great move.  Should have thought of it before, but getting these windows in made me rethink all my furniture in those rooms.  I like the switch so much better.
So this is a glimpse of how the windows look and how much light comes in here now.  I'll do another final look once I get the window treatments up in here, which might be a little while.
This is a big room and I sure am glad to have it.  It's a cozy and comfortable space.
So, back upstairs, the old sliding glass door also got replaced. This original to the 1979 house slider had seen better days.  The weather stripping was falling apart outside and it was hard to slide, not to mention it was speckled and cloudy too.  So happy to have a brand new Pella sliding door in here.
The guys took out the old and put in the new one.
And the new one is beautiful, the Architect series from Pella.  It slides so easy and is so nice and substantial, not to mention gorgeous.  It has the feel of French doors and the clear glass is so nice after looking out cloudy windows for 2 years.  Several people asked me why I didn't do French doors, but with the tight quarters of my dining space and screen porch, it just made sense to do sliders again.  Swinging French doors would be hitting something and I didn't want to deal with that.
This is a beautiful door and I love it!  The door is slightly darker white than my trim, so I may have to paint it to match my trim exactly.
View from the living room.  It's always hard to capture this pic, with light coming in the room.
The guys added a Craftsman type molding around the top and sides of the door and I love how that turned out too.
Sturdy bronze handle on the door.  The exterior of the door is black metal. You can choose what color combos you want with Pella, so I chose black.
Threshold with lock in place.
So, that's a peek at the new sliding glass door. It feels like Christmas around here!
And the last window to show you is in the laundry room.  I added a single window in here and it's amazing too how just this window adds so much to this room.  This space is a mess because I've been dumping extra stuff in here until I can declutter everything, but I'll be getting this space cleaned up again soon.  Saying goodbye to some extra stuff!  I think I'll put the fabric bench under the window and switch up this basket storage piece to the other wall. That can come later.
So, that's a look at how adding windows can dramatically improve spaces.  I'm such a light lover that adding light just gives me such a feeling of happiness….light just does that to me, how about you?
If you are in the market for new windows, I would highly recommend Pella.  Lowes carries Pella and you can check with your local stores for all the information on them.  I absolutely love my Pella windows, they fit right in with my existing windows and look great!
Note: This project was sponsored by Pella Windows and Lowes and Pella supplied my windows and sliding door.  I hired my own installers to do the job.  
Don't Miss a Post, join my list!