When in doubt, add a pop of color!
My den is the last spot in the house that I still had things to finish up and I've been working on it for the last few months.  I'm having my old recliner covered right now and should be getting that back very soon, but in the meantime, I've been figuring out what to do with the Billy bookcase corner.  It's so fun to see this corner finally come to life with my vision in place.  I've been very fortunate to develop some wonderful relationships with some companies and brands who have helped me with this project and I'll be giving them all a big shout-out today.  I know that as a blogger, we do get some perks of products for our homes and I'm still very grateful for all the help I do get, because I've had to shell out plenty of money on other large things like front porches, painting the exterior, and new AC unit.  Those will eat up the dollars fast.
So, I wanted to show you all where I am now in this den space.  Things will still be changing along the way, because my carpenter guys are coming back soon and we are going to add 2 big windows in this den which will bring in a lot more light and make it even nicer.  That means, that I will have to add new drapes and it will give me less wall space for furniture and artwork, but I think it will be such a great addition to get those windows in here, so I'm going for it.
I took a little bit of a risk in this corner and added a bold color that I had to really think about, but after it's all in place, I do love it!  This pretty coral velvet chair from Ballard Designs is the focal point in the corner now.
I wanted to bring an accent color in the den that I can spread around the room and this one will be so pretty, I think.  My next plan will be to add doses of this pretty coral on the other side of the den.  Since I'm moving out the darker fabrics in here, I can add back in some color with this coral and hopefully get a nice eclectic mix of textures and fabrics.  I'll be changing out most of my pillows over on the sofa side of the room and that's to be determined.
You can see Part 1 and Part 2 of building in the Billy bookcases and how my dad and I did that project.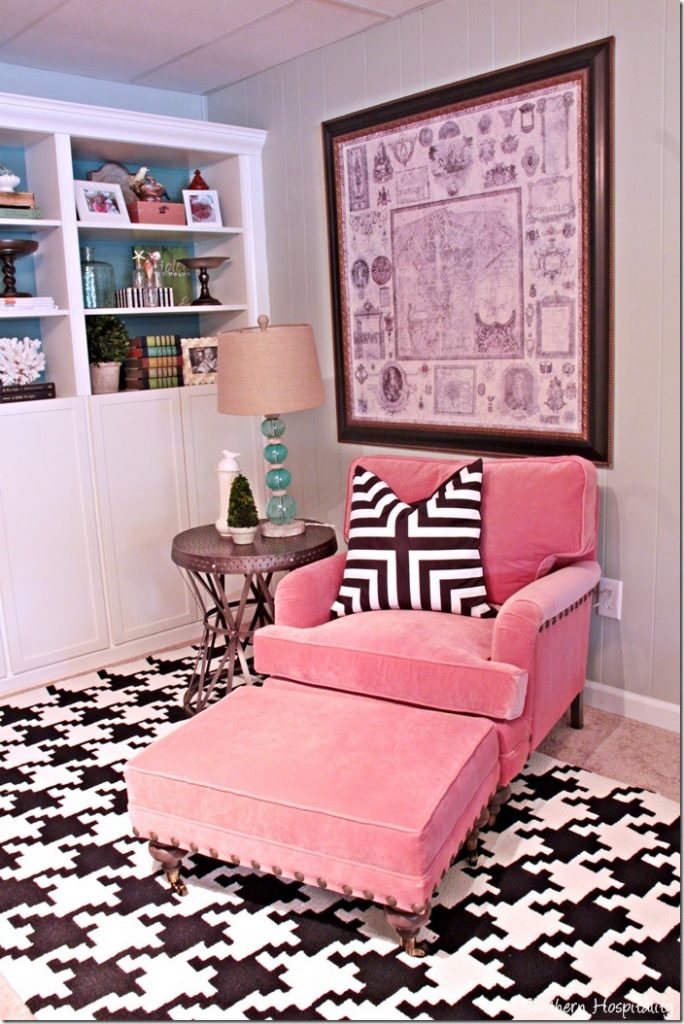 I couldn't wait to share this corner with y'all, since I knew you'd enjoy seeing the changes.  The big French map art piece is a long ago yardsale find that I got for $25 and have hung onto.  I like it here, but after the windows go in, it will probably have to move.
A HUGE thanks goes out to Ballard Designs for sending me this Travis chair and ottoman.  The fabric is Queens Velvet Coral and I really did a lot of thinking over this color before I committed to it, but now that it's all in place, I love it.  Hoping my vision can transport to the other part of the room in mixing this color in there too.  I think it will all come together!
This bold black and white houndstooth rug was a sale find from Rugs USA.  I love how black and white really grounds a space and have long loved the addition of black to a space.
This beautiful chair from Ballards is definitely a focal point all on its own.   The lamp is from Kirklands.  Metal side table is a Joss and Main find.  Cone boxwood is from Birch Lane.
So soft and luxurious and girly, this coral is all that!  The pillow is a Homegoods find.
I love, love the big antique brass nailhead trim that outlines the chair and ottoman.
And here's a new look at the Billy bookcases that we built in a few months ago.  I LOVE how this project turned out and transformed this bland corner of the room.  It certainly not boring anymore!
I've been working on styling the shelves, using some yardsale finds, mixed in with some items that were sent to me from Birch Lane.  You can also see I'm adding in family pics, especially that new baby girl of ours.  Scalloped Picture frames from Birch Lane,  aqua bottle from Birch Lane, coral box was a Joss and Main find. Those black and white dogs are a yardsale find from Birmingham that I have held onto.  So glad I did!  Blue vase on top was a yardsale find, as well as the white vintage vase below.  Those cute shell bottles are from Birch Lane and they come in a set of 6.  The driftwood piece was a Homegoods find.
Middle shelf holds more yardsale finds.  Most of these books are yardsale finds, as is the coral piece.
Blue bottle from Birch Lane, as well as the boxwood planter.  Coral box is part of the Joss and Main set.  Scalloped Picture frames were in a set from Birch Lane.  The Rejoice sign is from a local artist, Beyond the Mossy Tree.  Everything else is yardsale finds. I also got an ampersand from Birch Lane that I'll be showing in another post.
So, that's a recap of the corner in the den and how it's all coming together.  If I backed the camera up and you could still see the mess in here, you would have to  laugh.  But, as soon as that chair comes back in and I get myself in gear to finish up in here and clean up my final mess, I'll show you the whole room!  It's been so rewarding to take my time and get this room together with one thing at a time.  I'm loving how it's all coming together and I hope you  enjoyed seeing it too!
Think about adding a fresh bold color to a space to liven it up.  I think this coral color I chose will be a very fun addition in here.
Don't Miss a Post, join my list!