As I mentioned on the painting diamonds post, I've already moved on the porch and can't wait to show you.  The day before I got the furniture moved in, we finished up the screening, so I wanted to show you that process. Our screens are nothing fancy, but they will work just fine.  We didn't opt for pop in screens that are pre-made, but rather we bought rolls of screen and cut them to fit each section, 3 in all.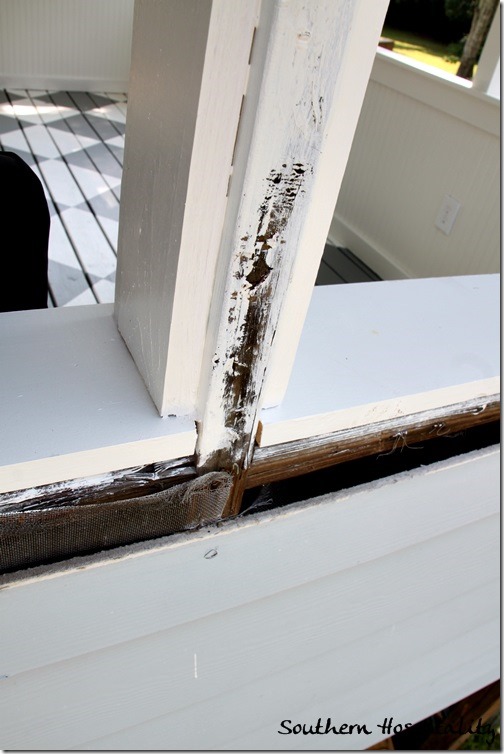 Outside the old boards were removed that held in the old screening, which had rotted and was all torn out when we started renovation.  We'll add new pieces of trim boards here.
From the outside, the new screening will get nailed up and then all trimmed out on top to hide the nails.  We were going to use my small nail gun with staples, but the staples ended up cutting through the screening altogether, so my dad used some small drywall nails with a head on top to tack down the screening. It worked fine!
We bought enough screening to wrap around all 3 sides of the open windows from Lowes. Each section was cut to fit each of the 3 sides of the porch.
We rolled it out on the grass and measured our first piece which would be tacked up first.  Luckily, my windows were the exact same height as this premade screening and we didn't have to cut that part, just the width.
I used a Sharpie to draw a line to follow for cutting the screen.
And we were ready to start putting up the first piece.  We both got up on the ladders, my dad on one side and me on the other, pulling the screen taut.  It covers that whole side and we stretched it taut and pulled top, bottom and sides, tacking it with the nails as we went along.
Finishing up in the corner, this end was complete.
We then moved to the long side and added screening on this side, working around to the far side which is the shortest side.
Here are the nails we used, pulling taut, and tacking it all down.  We tacked it on the top, bottom, sides and on the vertical pieces of wood in the middle.
Tacking the nails in.
One side done.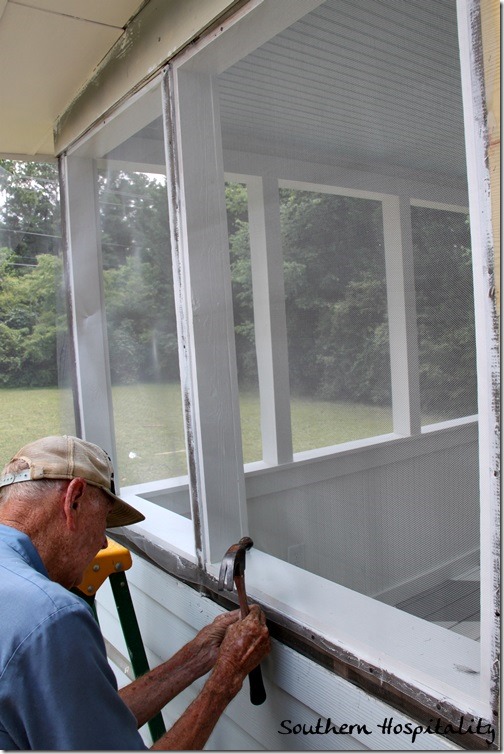 And all of it complete now!  We will go back and add the trim pieces outside as soon as we can.  Most of the stairs are finished and once the trim is done, then I'll paint things out.
I'm so happy to be on the porch finally and can't wait to show it all decorated!  I'm in LOVE with this porch, a cozy 10 x 14' space.  It's amazing how having an outdoor room like this adds to a home.  I'm so grateful to my dad for helping me with this project and hanging in there with me this spring, getting it done.  He's my hero and I appreciate his expertise so much.  He's ready to get his one done too so he can relax a bit the rest of this summer.  We were just thinking back on last year when we were going full speed ahead on renovating my house.  So glad it's all done and this is the last big job to be done!  I love my daddy!
If you want to come to my yardsale on Friday and Sat. a.m. (8-12 both days), please email me tonight and I'll give you the address.  We'll be setting up and ready to go by 8 a.m. on  Friday with some great stuff!
Don't Miss a Post, join my list!