Both bathrooms in this 1970's house have officially been updated.  Yippee!!  I can't wait to show you this one.  It really looks fabulous and we all worked hard to get it to this point.  My mom, dad, and I all stripped wallpaper.  I added the beadboard wallpaper, painted it, and my dad painted, as well as put in the vanity, countertop, faucet and light fixture.  He is still a handy guy!  My brother-in-law, Bruce, came over and helped install the glass shower doors.  I really think they are going to enjoy these shower doors.  The stripes on these Kohler sliders will help hide soap spots and the bottom tray is angled down for maximum water drainage, so mom doesn't think these will pose more problems for cleaning.
Let me remind you where we started.  This bathroom had not been updated since the mid-80's, at least.  It was a sad, sad state of affairs in this small bathroom and it was in dire need of being brought into the 21'st century. Good bye ugly dated pink wallpaper.  You will not be missed!
I'm breaking it down so you can see the dramatic and astonishing AFTER's!  Are you ready?  Oh yeah, I know you are!
Before, we had a dated 1970's/80's decor going on in here.  It was functional, but not very pretty.  I do have to tell you that my parents are completely function over form people.  Exactly the opposite of me.  I cannot live with UGLY.  Just can't do it!  But, I know my sweet mama is very happy to have a pretty new bathroom.  She will be so proud to show it off.
With just this shot alone, you can see the dramatic difference!  We are so proud of how it turned out.  The addition of the beadboard wallpaper is such a great way to add architectural interest at such a low cost.  One roll of my $25 Graham Brown beadboard wallpaper transformed this space!
The homemade vanity is gone, gone, gone and we sure don't miss it!  We found a beautiful 36" vanity from Lowes that just fits in this niche and with a stand alone furniture feel, it looks great.  Thanks to Lowes, we were able to purchase the vanity, countertop/sink, and faucet for our project.  We couldn't have done it without them and I know that this part would not have happened if not for my good fortune with being a Lowes Creative Ideas blogger.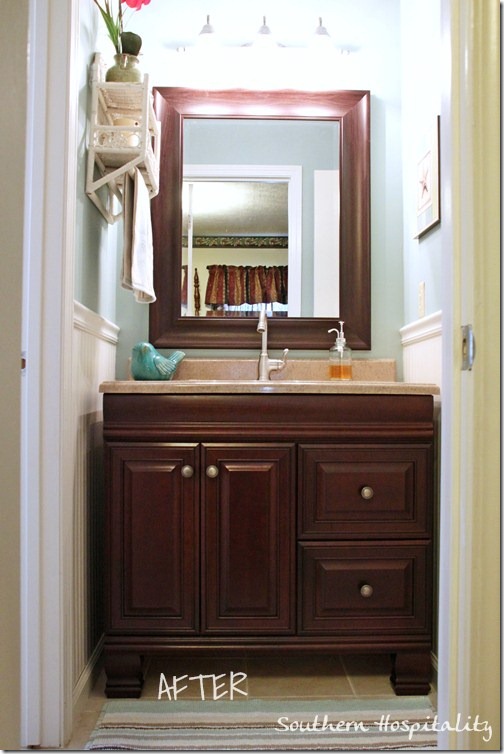 Here's our beautiful new vanity.  This one is by Estate and features doors and 2 drawers on either side.   The mirror came from Old Time Pottery for $39 and it works perfectly with our new vanity.
Before, we had a shower curtain in the shower area.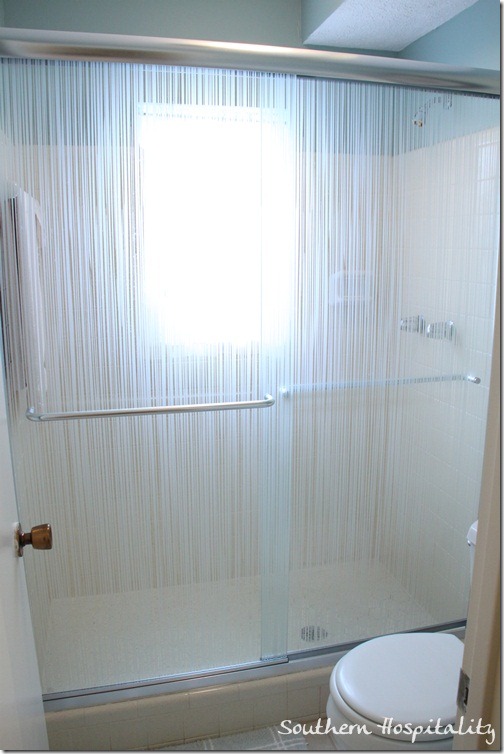 Now, we have these beautiful Kohler sliding glass doors.  You can see the stripes will help hide soap spots and the tray at the bottom slants down to the shower floor to help drain water out.  These are nice doors!  My sister decided to buy these for them for Christmas, so that is how they came to be during this project too.  It made sense to go ahead and do it all while we were in project mode.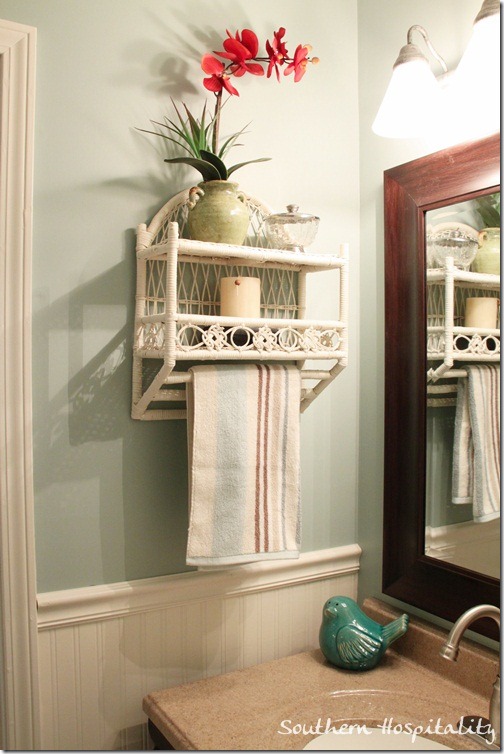 My mom already had this wicker shelf, so we just reused it for now.  I'd love to get a nicer shelf in here later, but we looked around at a few stores and didn't find anything, so that can come later. A few accessories on top add some fun.
The countertop from Lowes was sold separately from the vanity, so we chose this color, a pretty brownish fleck that is solid surface with an integrated sink.  This top cost was $165 and well worth it.  This was part of the $500 giftcard that I received from Lowes to do this project.  The faucet is by Moen and we found it on clearance when we were shopping for $75, in brushed chrome.  Soap dispenser is from Target.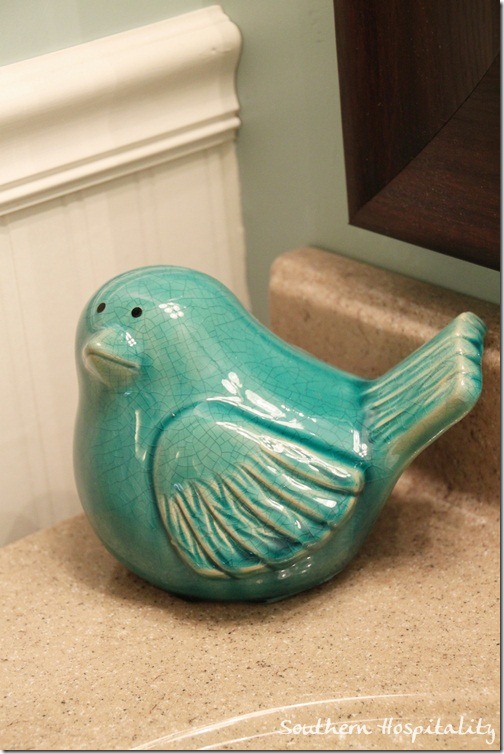 This little bird may not stay here, cause I'm sure he will drive my dad crazy and be in the way, so we may have to perch him somewhere less obvious, but isn't he cute?  We found him at Marshalls in the garden area.
Close up of the Moen faucet.
Looking into the shower area.  We got a couple of new rugs that look great with our colors.  The rug by the shower came from Old Time Pottery and the striped rug is from Target.
Here's the light fixture I picked up from Cherokee Closeouts for only $33. It's just what we needed without breaking the bank.
Another look at the solid surface countertop.  It's a beautiful piece!
Shelf with accessories and new hand towel, which came from Marshalls.
We found that pretty faux orchid at Kirklands and the little covered dish will be filled with cotton balls, also from Marshalls. The candle was passed along from my sister.
We loved the color of this orchid and it made a nice splash of color in here.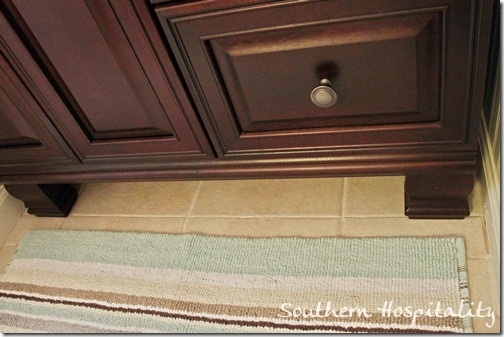 Pretty striped rug from Target.
Starfish print from Homegoods.  We had fun shopping around and pulling this space together.
Looking into the shower room.
We found this pretty floral print for only $20 at Kirklands.  It had some nice colors and looks great in here. Note the little silver inner liner too which picks up the brushed chrome on the towel bar.   We painted my mom's old laundry hamper the same color as the walls. Paint color in this space is Quietude, by Sherwin Williams. It's not quite as blue as this pic shows, more of a soft blue/green.
Here's the track up close on the shower doors.  You can see it doesn't have ridges, which should release water easily and hopefully these doors will not be a chore to keep clean.
They did a great job with installing the doors and they were in in no time.  They did have to add a small piece of wood up top, which will be painted to match the walls and they used a masonry bit to drill into the tile on the sides and bottom of the shower.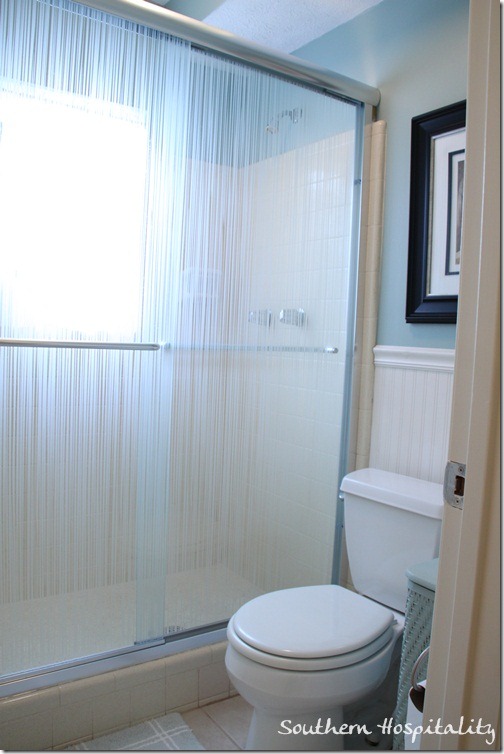 We think it looks fantastic and stylish.  I think they are really enjoying the doors already.
There you have it!
A beautiful, stylish and functional new and improved bathroom suite.  My parents are really happy with it and I'm so excited that I could give them such a gift.  Blogging certainly has perks and I am so grateful for all of them!  Hopefully, when I get my own house, more of these perks will come along and I'll be able to update and renovate more.  It sure is fun to watch a space being transformed and beautified before my eyes.  That's the most fun thing to me!  Making a space gorgeous.
I hope you enjoyed the process of watching this happen.  It took awhile, but we are so glad it's finished.  Now, we are moving on to the master bedroom.   We have to paint the walls, hang up the drapery panels that mom and Lauren made a few weeks ago, and get the new bedding and rug in place.  Coming soon!
Thanks so much for stopping by, so glad you did and I hope you got some inspiration on how you can update an old and dated space.  We did it without breaking the bank and it was nice to get some perks to help too.
Note: This project was sponsored by Lowes.  They provided a $500 giftcard for me to spend on a bathroom project.  We were already planning to do this bathroom space, so it really came in handy to replace the old vanity, countertop and faucet.  Thanks to Lowes Creative Ideas!  You can find them on Facebook.  Lowes Creative Ideas also has a blog that you can follow, they will be featuring blogger projects and lots of inspiration for updating your spaces too.
Don't Miss a Post, join my list!