It was a crisp, but sunny Saturday a.m., as Debbie and I, along with her daughter, Tiffany, hit the yardsales in Chelsea and found a couple of estate sales and a few yardsales.  This one was out in the country at this neat house and the lady had a huge barn filled with all sorts of collectibles and antiques.  We got excited just driving up and scoping out the scene. 
The barn was a treasure trove.  She has been an antiques collector for years and was in declutter mode.
Debbie spotted this set of shutters and got them for the fantastic deal of $5!  I was about to wrestle her for them, but really she can use them more than I can and they will be so cute down at her Gulf Shores condo.  I think this was the deal of the day though.  She was a happy girl.  I think I've created a monster now and Debbie finally "gets" the yardsale and thrifting thing.  'Bout time!! 🙂
I only found 2 things at that sale and these were my finds for the day.  A rickety old plant stand with a lot of character.
The top is 1/2 falling apart, but it will look cute with a nice plant on top, so I'll just have to find the right spot for it.  It was $10.
And this pretty old old painting was $20, more than I usually spend, but I loved it, so decided a splurge was OK for something like this.  I've got a fun project going with all my vintage artwork that I can wait to show you, so this will be joining them.
Today's Thrifty Treasures is brought to you by Crystal at Vintage Remixed.  She has a cute Etsy shop called Olive Rue and is offering up some cute giveaway items.  Click over to my giveaway page for all the details on this $50 prize, but don't forget to sign up!! Crystal was a regular at my Thrifty parties last year and you might remember her blog, Olive Rue.  Now she's back with a new blog,  called Vintage Remixed, so go on over and say hello.

So, now it's YOUR turn! What have YOU found lately. Add your link to the Linky list and remember our guidelines for the party:
Add your permalink to the link list, which is the actual post that you did for this party, NOT your general blog url. To get the actual post, after you publish the post, just click on the title and THAT will be your party post url. Last year, I can't tell you how many links I had to fix. This year I might get mean & delete them, so PLEASE try to get the correct url in the first time! 🙂
Please add my button to your post or blog OR at least link back to this post in your post. That's all I ask. It's common courtesy to link back to the person having the party, so that all of your readers can find it too.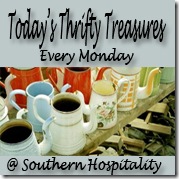 Thanks and let's have some fun this week with Today's Thrifty Treasures party!

Don't Miss a Post, join my list!