While we were at the Madison, GA spring tour of homes a couple of weekends ago, we had lunch there at Ricardo's, which was very good by the way and then walked in a local antique market, Madison Market and had so much fun browsing this beautiful market.
It is set up very nice inside, with a garden area in one spot and then lots of beautiful antiques and collectibles all through the market.
Loved the garden shop with fresh flowers and lots of pretty containers.
We saw lots of beautiful pieces there and several antiques that we loved, but didn't bring anything home.  I spotted lots of neat bamboo pieces too, but wasn't ready to buy yet, so just checked prices and moved on.
These were vintage bamboo chairs that were gorgeous.  I can't remember the name brand, but maybe Henredon or something and I think they were $1400 for 6, if I remember right. Not a steal, but these are really popular now.
Lots of painted pieces for sale.
Loved this cupboard/china cabinet, don't remember the price on it, but thought it was really pretty.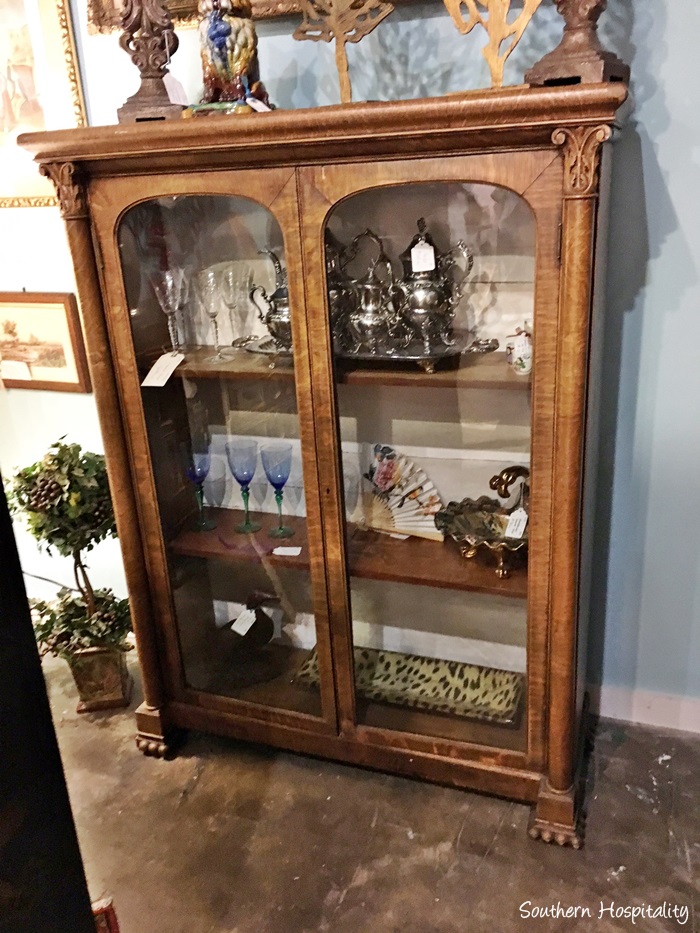 This was a neat glass bookcase that was pretty well priced at I think $400.  It's Tiger oak, which I do like a lot and it did have a bit of veneer missing, but not too bad shape at all.
Not many people are going this formal anymore, but this Baker china cabinet was priced at $2400, probably a steal considering the brand.  I'd love to have a Baker piece one day.
This drop leaf secretary was really pretty too and I don't remember the price on it.  We sure enjoyed browsing in Madison, GA at the market and if you're in the area, be sure and get in there. I imagine there are lots of great places to browse there and we only stopped in this one while we were there for the day, but Madison charmed us so much and I'm sure we'll go back again one day.  Such a neat little town to visit!
Don't Miss a Post, join my list!