Last weekend, I was invited up to Franklin, TN (a beautiful suburb of Nashville) for a luncheon with a group of talented folks who are going to be involved with Carbine and Associates charity project this fall. Called House for Hope, Carbine is building a beautiful modern farmhouse and tastemakers, bloggers, and designers are going to decorate the whole house.  I've seen the work of Carbine in the past, when they built and I got to visit the HGTV Smart Home in Nashville a couple of years ago.  It was one gorgeous home!
They took a group photo and you can see all the designers/bloggers involved if you click on that link above and read all about it.  In a nutshell, House for Hope is a charity project for Carbine and they are hoping to raise $100K for children's charities in the area.  They've been doing this since 1993 and what a wonderful cause for this  group to take on.  The house will be open to the public in October of this year and you are all invited to tour if you're in the area or want to drive and see it in person.
I was slightly intimidated when I looked around and heard all the introductions of these talented people, feeling a bit like "what in the world am I doing here?", but I've had those feelings before and will jump in with both feet and tackle this adventure just like I do everything else in life.  Dana and Nancy, the dynamic duo behind Forest Home Media, who will be doing all the PR for this project, invited me to be part of it and I'm happy they did.  My space will be the mudroom.  I purposely asked for a small space, since Nashville/Franklin is about 4 hours from home and I wanted to be sure I could handle this task.  It will be so much fun to join these other designers and make this modern farmhouse beautiful.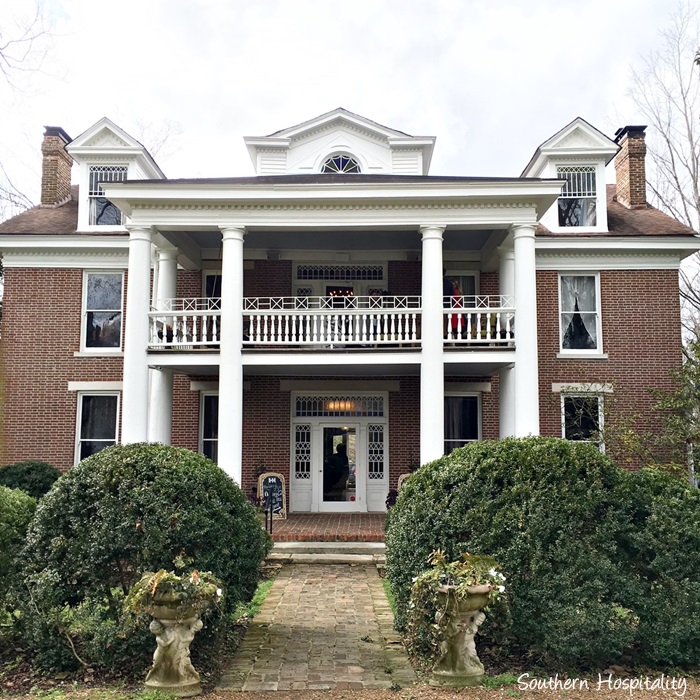 We had lunch at the gorgeous 1800's Homestead Manor house near Franklin and wow, was that a treat!
In the meantime, since I was in Nashville anyway, I took the opportunity to do some antiques browsing.  Franklin, TN is such a great little town, with rolling hills and horse farms surrounding it.  There are some fabulous antiques shops up there too and I've been in a few of them before, but found some new stores to browse this time around, so I'm sharing with all of you.
The historic Franklin Presbyterian Church is always a joy to see and it was looking so pretty.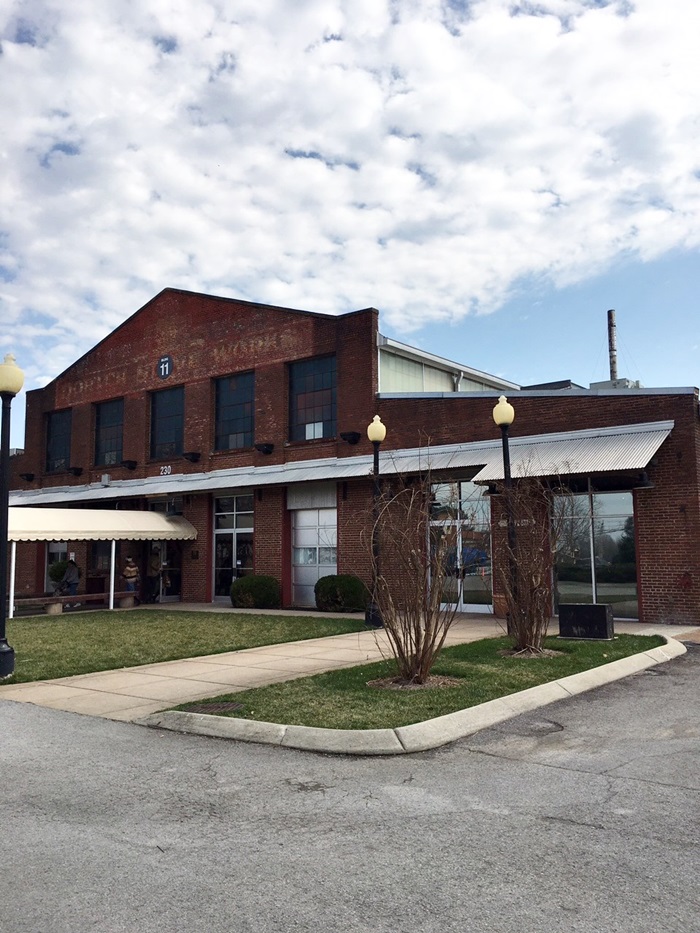 The weather was beautiful, with blue sunny skies so that was nice too.  First stop, the Factory, which I had just heard about, but didn't really know what it was. I was looking for City Farmhouse, which I had been in before and they moved and my GPS took me here.  When I went inside, I found them.  Kim, the owner, is one of the folks who will be designing the Hope House too.
The Factory is truly an old factory, now converted to shops and restaurants, so if you get a chance, definitely visit this fun place.  It reminds me of the renovated Ponce City Market here in Atlanta.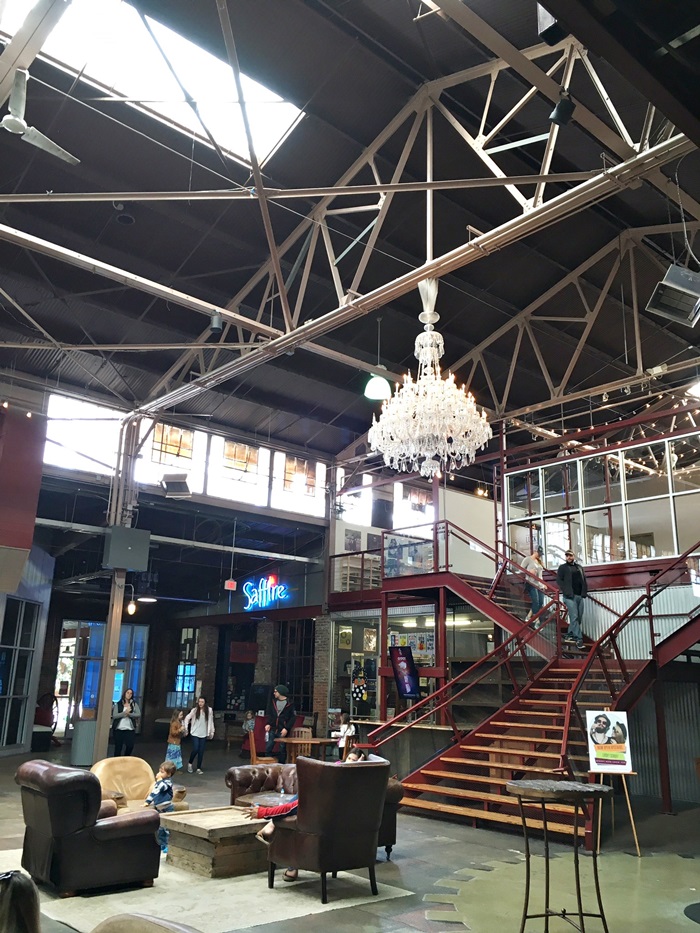 You can see and feel the history of the building just walking through and taking in the old brick and concrete floors.
You know you're in Nashville when you see a store full of guitars.
Wide walkways have shops on either side.
An open space has seating and plenty of places to take a break and have a drink or snack.  With soaring ceilings and industrial feel, it was a wonderful place to browse.
I found City Farmhouse and had a great time looking at all she has to offer.
Fun to see the displays and chippy rustic pieces for sale.
I really liked this bunny runner and maybe I should have bought it.  So cute, but I really don't have a table to use it on.  It would look great on a long table.
Not sure what CR-71 means, but this shop was packed full of vintage goodies.
Upcycling and renovations are in the mainstream these days.
I smile when I see old church signs like this one.  Reminds me of growing up, we had attendance signs in our small church.
Some very neat architectural salvage pieces in here.
Next, I passed by House of Belonging and thought, I know her from Instagram!  That's right, she's in Franklin, TN and has an Etsy shop. Her name is Tiffani and I had never met her or didn't know if she would know my blog or not, but I stopped by and introduced myself.  She did know my blog and story and we shared a nice conversation about life and faith and getting to a better place.  She seems like a sweet lady and I wish her the best.  She has a shop in here and paints signs and has done very well with her business.  I'm so happy for her!
Check out her Etsy shop for inspirational and faith-based signs.
On down the way, I spotted this 70's looking get-up.  Hello 70's bell bottoms!
You've gotta love a space with a clingy crystal chandelier hanging in the middle.
This rocking chair reminded me of Edith Ann (tell me you remember her?), so of course I had to climb up there and take a picture.
In another corner of the Factory is a pretty large antiques space, with vendor booths and that was fun to browse too.  There was a lot of beautiful antiques in there, some pricey English pieces that were a few thousand dollars, but it was nice to look at.
Now this is a rustic bench.  Looks like you'd have to watch your heiny on this one to be sure you didn't get splinters!
I love to see good brands of furniture and what happens to them when they are out of vogue. This beautiful dining set from Baker Furniture was a pretty good buy.  Even though cherry traditional sets like this are not longer popular, they are still classic.
You can see from this sign the original price it sold for and what they are asking now. It looked to be in great shape too, so $2,950 for this a pretty good bargain.  I forgot to take a closeup of the tag for the chairs, but the armless chairs are selling for $650 each.
Blue and white and spring make a good mix!
Mossy bunnies always get my attention too.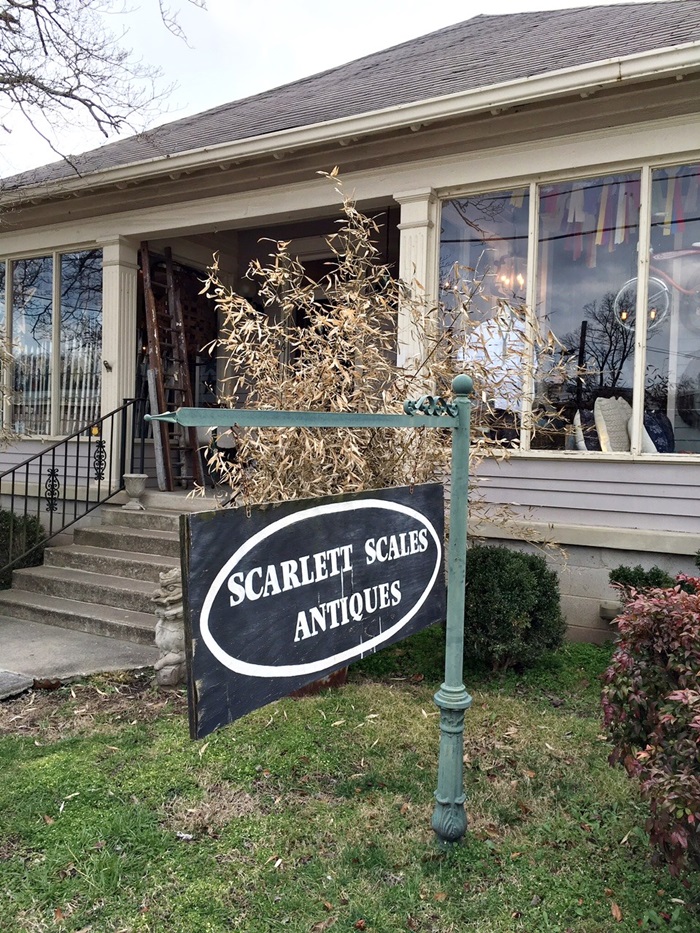 Next stop, Scarlett Scales antiques, which I've visited before.  Always a fun place!
More bunnies! Funny how these little guys come out this time of year.
More blue and white.
Some fantastic lighting.
A rustic chippy armoire in the corner.
I ran into a sweet blog reader in Scarlett Scales who recognized me and it was so nice to chat with her.  If you ever see me out, please say hello, it makes my day!  I love to hear from all of you out there who read my blog.  She told me to check out Winchester Antiques mall too and she was right, it was another great place to browse.
That's a day of browsing in Franklin, so hope you enjoyed tagging along with me!  I still can't buy much, so had to leave it there and enjoy looking.
Don't Miss a Post, join my list!