This HGTV Smart Home was a fun tour back in 2014 and still has gorgeous decor for today, hope you enjoy it all again! I'm sharing some of my fave Feature Friday from years' past.
********************************************************************
HGTV has done it again and they are giving away another beautiful home, but this time it's the brand new HGTV Smart home, a stunning Tudor style home located in the heart of Nashville, TN.  What makes a smart Home?  Technology at its best makes this the smartest home ever featured on HGTV. I had the privilege to be invited to tour this fabulous home last week in Nashville, along with some other bloggers and we had so much fun checking out all the really cool features in the Smart Home.   Features that give homeowners control over climate, security, TV's, and more.  There were more televisions in the smart home than I've ever seen in a house, most of them tucked away and unobtrusive.
Most of us have heard about homes running on technology, but this ones has brains to spare, from a remote controlled shower app on your phone that turns on the shower and adjusts the temperature automatically for you before you jump out of bed in the morning, to raising and lowering the blinds in the master bedroom at the touch of an ipad.  Now, that's smart!  Like having your very own robot maid ready to do your every bidding.
Located in the exclusive Duncanwood Reserve neighborhood, this English cottage style home has 3 bedrooms 4 1/2 baths, features technology that controls climate, lighting, security and much more.  Built by Carbine & Associates, the home was a delight to tour.   And yes, some lucky person will win this home! The HGTV Smart Home is part of a grand prize package valued at over $1 million that will be awarded this summer. In addition to the home and all furnishings, the prize package includes a 2014 Lincoln MKZ Hybrid and $100,000 courtesy of Quicken Loans.  The HGTV Smart Home 2014 Giveaway opens for entries at 9 a.m. ET on April 15 and runs through June 9.
For more information on the home, see the HGTV press release.
Wouldn't you like to win?  Yeah, me too!  Come along for a tour, they let us take all the pics we wanted.  We met up with the charming Jack Thomasson, professional house planner who has planned and developed all the HGTV homes for many years.  Interior designer in this home was Linda Woodruff, who has also designed many of the HGTV homes.  She always does a fantastic job with design details.
The  very eye-catching English cottage Tudor exterior.
Dining room in red.
The living room was done in beautiful shades of blues and greens.  I loved the pop of green in the painting over the fireplace.
Unique chandelier in the living room.
Pillows for a pop.
Don't miss the nailhead trim on those pretty blue chests flanking the fireplace.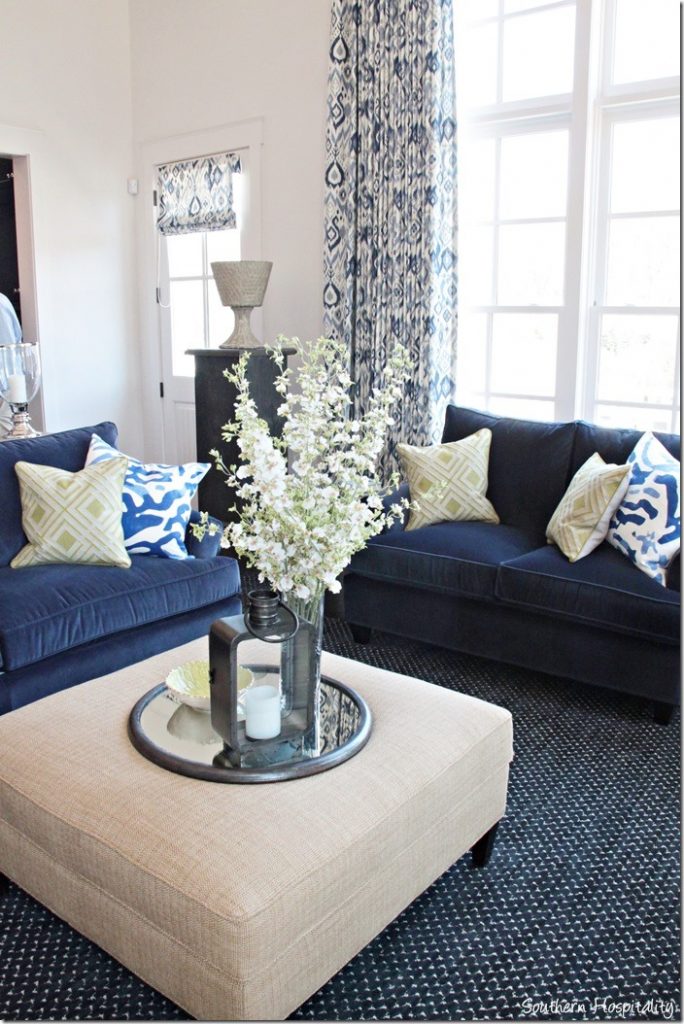 Soothing blues are always a good call.
Laundry room with pullout doggie feeding trays.
The master bedroom was awe-inspiring with the rug and graphic details on the Roman shades.
Serene bedding in the master.
Linen details and headboard details are very pretty.
Another smart feature is the remote controlled shades that raise and lower on a whim, blocking out the sun.
Master seating with another smart TV hanging on the wall.
Looking towards the master bath.
Lots of smart features in this space too, with an app that controls the shower temperature.
The master closet was impressive.

Downstairs in the basement, a rec room complete with music stage makes entertaining a breeze.
Loved the TUNE over this beverage console. Lots of picking and grinning going on in this room.
Beautiful rec space for entertaining.
Back upstairs and off the living room, the kitchen was painted in a beautiful shade of blue, Indigo Batik by Sherwin Williams.
It's hard to tell here, but the color isn't quite this dark navy.
Color is somewhere between the bottom shade and the top, it was hard to capture the true color, but we all really liked it. Very dramatic, the blue!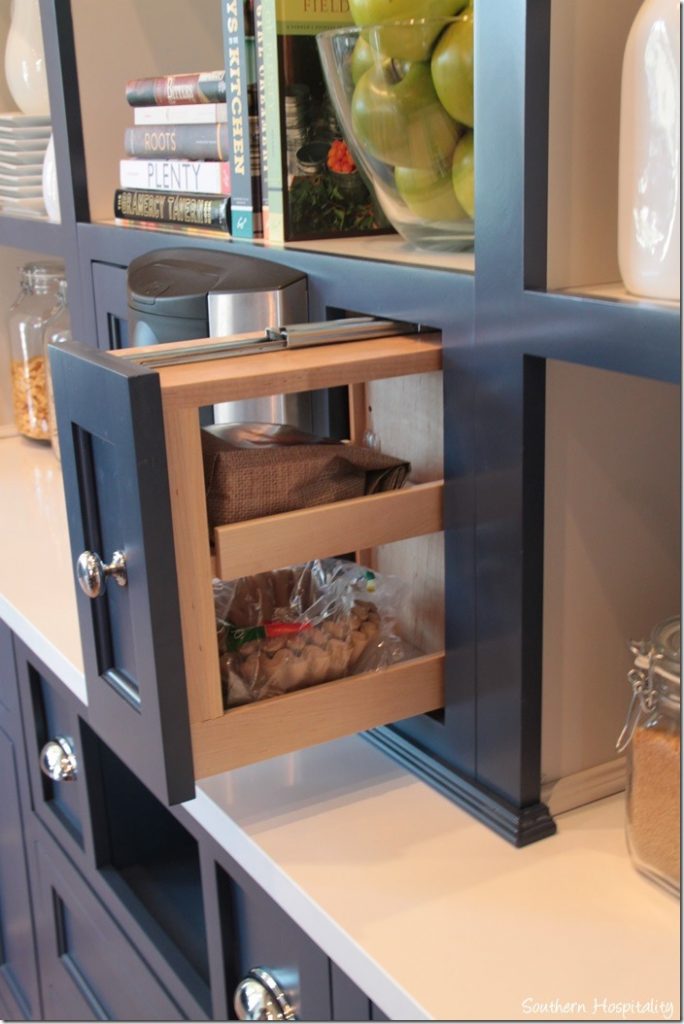 Pull out drawers in the coffee station.
Marble basketweave tile was beautiful on the backsplash and this high-end Jenn-Air range was the bomb.
Island accessories.
Upstairs, a TV seating area holds a comfy sofa and paneled walls also painted the same blue as the kitchen. We all loved this space, so striking!
Pretty pillows.
Side table in silver.
The kids room had a fun wall treatment, using boards and paint for a striped treatment that was 3D.
Instead of a window seat, how about an extra twin bed space for those overnight guests?  So cute with the built-ins on either end.
Pretty tiled bathroom in the kids area.
Guest room was soothing and serene.
And, the group shot of all of us who toured that day, from bloggers, to media folks, to the HGTV people who planned the house.  It was a very fun day getting a sneak peek of this gorgeous house in person and I loved how it turned out.
I hope you'll go over to HGTV and sign up to win, some lucky person will win this beauty! It was a pleasure to see it all in person.  For more details and lots more pics of each room, go to HGTV and click on each individual room.  It opens up with Product information for each room, including paint colors.
Don't Miss a Post, join my list!