I'mmmmm dreaming of a bluuuuue Christmas.
OK, not really that kind of blue.  I don't want to feel blue, but with bringing some aqua blue into the living room this year, it only seemed fitting that I should add some pretty blue to the mantel for Christmas as well.
And I kept it much simpler than year's past.  I found 2 aqua mercury glass balls and figured out a way to make them a focal point and they were a fun find.  Also picked up a $5 roll of blue and white ribbon from Old Time Pottery, so those were the only additions.  The rest of the blues were things I picked up last year in the after Christmas sales.  I love to open my bins and find stuff from the previous year that I promptly forgot about!
And here we have the aqua mantel.  I'm really diggin' it a lot.  I used a simple icey garland with pinecones that I found last year and reinvented the Target wreath that I found several years ago.  It has a really natural feel and I can use it anywhere.  Simple, but elegant.  That's what I was going for this year.
I hung up the old gold picture frame that gets a lot of use around here, added the Target wreath in the middle.  With the addition of a few small blue balls, it pops now.  I think I found those aqua beads at Target last year and they were perfect for what I had in mind.  I just draped them and added a few ornaments in strategic spots.
I thought the blue insulators would fit right into my scheme too and they look so pretty with the lights shining next to them.
I love these pretty blue mercury glass ornaments (from Hob Lob).  They were perfect for what I had in mind!  Did you know you can't take a pic of these without getting your own reflection?
The 2 wreaths that I made last year out of moss collected from our woods are hanging from the iron sconces (which were yardsale finds last year).  I looped the ribbon around them and that was it. 
These 2 clear glass candlesticks are from Pottery Barn, but you can bet I didn't buy them from the store.  Yep, yardsale finds for $1 each.  Perfect for showcasing my new glass orbs.
Simple. Pretty. Elegant. Blue.
Check!
Here you can see my homemade moss wreaths.  I love their natural green and brown hues and simply added a blue bell from each for some sparkle and shine.  The snowflake ribbon adds some glimmer too.
That aqua bowl was a yardsale find too and I loved bringing in all these pretty shades of blue for my mantel.  The white pattern in the middle reminds me of snowflakes.

Draped beads and a few ornaments keep it simple.
These are so shimmery and glimmery, love that!  As much as I love natural things for Christmas, I can never resist some sparkle and shine too.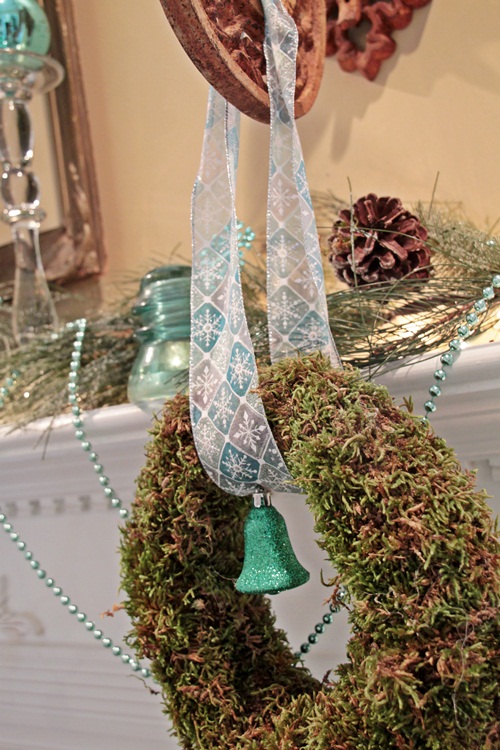 You can see the pretty snowflake ribbon here.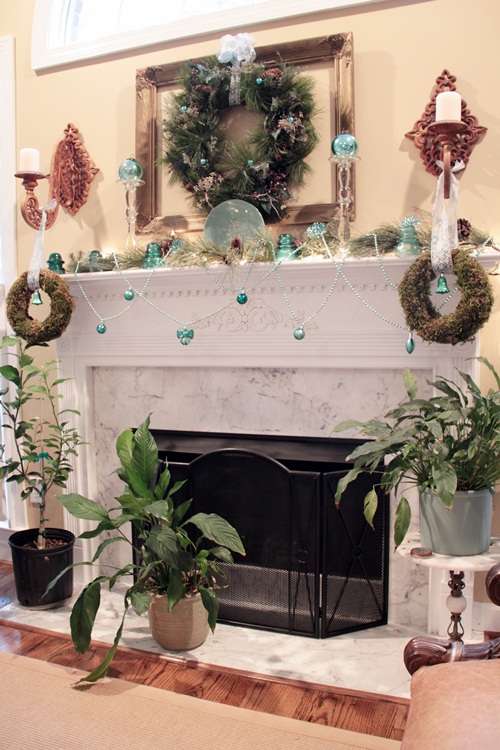 So, that's my mantel this year!  I really love the blue accents in here and how it adds some nice cheer.
Thanks so much for stopping by to see my mantel this year!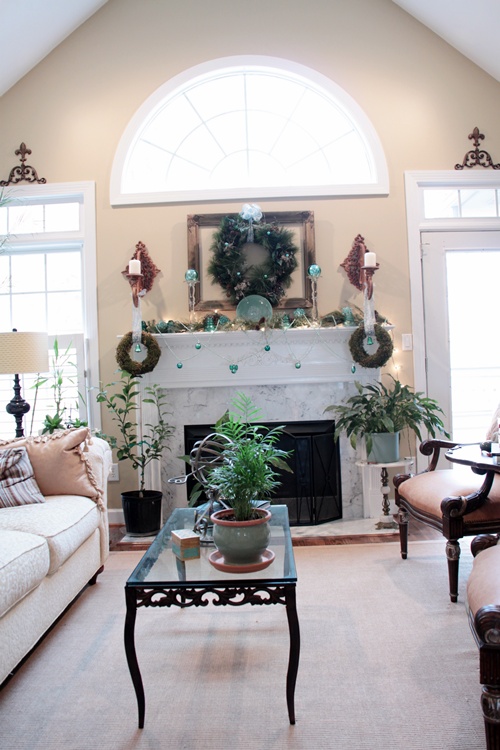 It's always fun to change things up and come up with new ideas.
A glass cloche from Willow House sits on top of my pottery bowl.
I love adding shiny baubles in bowls this time of year too.
Pile them in a bowl and cover with glass.  Instant elegance!
Are you doing anything different this year?
Don't forget to stop by Layla's Mantel party and link up your mantel too.
NOTE:  She's putting up her linky post at 12 Noon Central today.   It's so much fun to see what everyone does.  Lots of inspiration out there!  Just click the pic to go on over!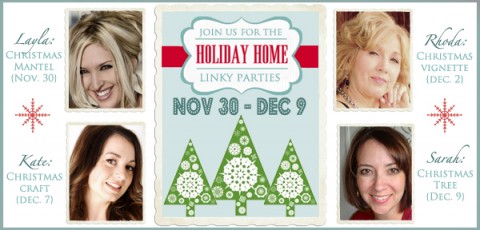 My vignette party will be coming up this Thursday, December 2nd, so I hope you're getting ready to join me and the Linky too.
A vignette can be anything:  table top, foyer, buffet, sofa table, coffee table, shelves, so many places to do fun vignettes, one of my favorite things to do.  I'll be sharing my kitchen!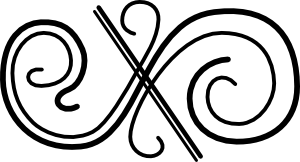 The winner of the $50 Chantelle Nicole jewelry giveaway is lucky #44, Sylvia, who said this:
Love the little gems necklace. It would be a perfect gift for a dear friend.
I've emailed Sylvia already, congrats!
Don't Miss a Post, join my list!