Last year, right after I moved back to Georgia, I went along with my sister and brother-in-law on their annual camping trip to Destin.  They camp at a beautiful camping spot (Topsail State Park) right on the Gulf and it's a gorgeous spot on the map.  We took our bikes and rode a few miles, relaxed on the beach and ate a lot of seafood.  Fun week, as you can imagine!  We did have quite a bit of rain this year, but on those days we just hit the stores and did a little shopping.
I'll show you a few of the highlights of our week.  We thrifted one day and hit the outlet mall another.
We did have 3 full days of sunshine and took advantage of that.  We rode our bikes to the beach and hauled all our stuff down there for a few hours and it's always heavenly to be on the beach with my feet in the sand.
The boardwalk going down to the beach is a long one, floating over the dunes.
And the water…that beautiful blue green water that this area of Florida is known for.  Hard to resist and again, the most beautiful beaches in the U.S. in my opinion.
I love the dunes and vegetation.
That sugar white sand is just amazing.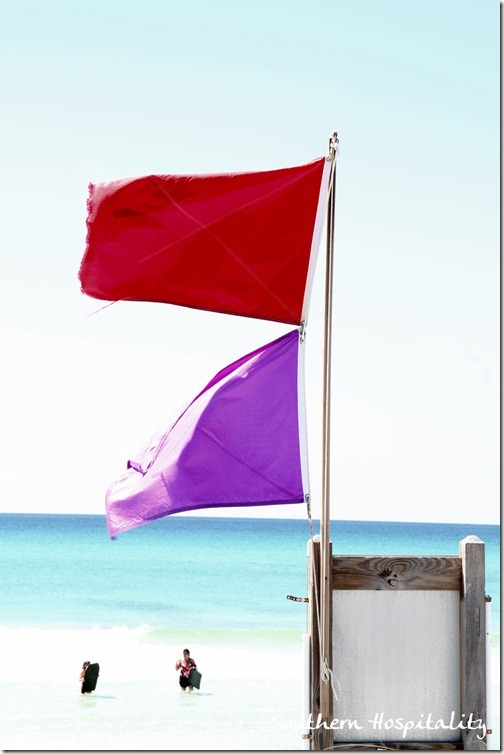 Flags flying to show wind speed.  We had a very nice breeze to enjoy.
These photos are not retouched with color, that is just how stunningly beautiful the water is here in Destin.
Natural beauty that doesn't get better than this.
The boardwalk makes it a nice hike to the beach.  So, on the days that we didn't do the beach, we thrifted and browsed the plentiful shops in Destin.  We hit one called The Shabby Chic shop that had some great painted furniture and upholstered pieces.
Loved this rustic mirror.  They build lots of their furniture and redo other pieces that they find along the way.
Fun painted pieces.
These slip covered swivel rockers were SO comfortable.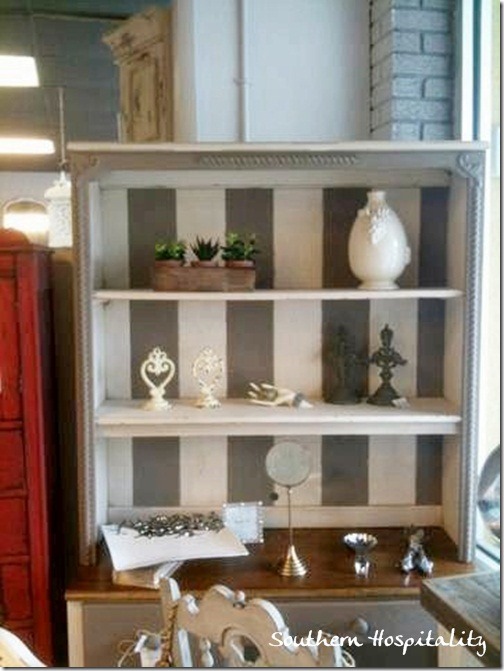 Loved the painted back on this bookcase.
I found a really cool burlap rectangular lampshade at the Goodwill store for $7.50 that I'll be showing you soon.  I have big plans for it in the house and I'm sure I can find a spot for it.
One morning, I got to meet my long time blog friend, Kat, for breakfast at the Donut Hole.  It's always great to catch up with Kat and she is one of my very first bloggy friends that I met in person.  We have been friends ever since and I think I've met up with her in Destin every year that I've been blogging.
Me, my sister, Renee and our friend, Susan after dinner one night.  The 2 couples have been camping together for about 5 years and enjoy it a lot.  I'm just glad that they asked me to tag along.  We have fun together.
Sunset on the beach.  This is one of my bargain tops that I found at the Ann Taylor Loft store.  $4.88 on clearance, you know I love my bargains!  I found several great looking tops this year, all from Ann Taylor Loft at Silver Sands outlet.  Just in case you are looking at this pic and wondering what in the world is up with my hair, I have some major bad hair at the beach in Florida.  I thought Georgia weather was bad on hair, but Florida is the worst for me.  I just give up on good hair while I'm down there. My hair, it wants to be big no matter what I do to it.
Bye from the beach!  It was a fun week down there and we will enjoy the memories.  I wanted to share a few snippets of our trip there.
I'll be back soon with more house updates.  I'm still so excited to get in there and get busy.  Waiting to hear a closing date.
Soon, I hope!
Don't Miss a Post, join my list!