Camping in Destin a couple of weeks ago was a lot of fun.  My sister and brother-in-law have had a camper for several years and this is the first time I've joined them on one of their trips.
They have a 5th wheel, which is a great way to camp.  Tents are not my idea of fun, but I can definitely camp like this.  With all the luxuries of home. 
My sister even decorates the campsite, nothing is left out. 
The dogs are kept in camp by this pretty black fence.  They love going camping too!  Lots of seating areas available for chilling out.
Lauren got them this light up palm tree a few years ago.  I told them it's like camping in Vegas. 🙂
This is my idea of roughing it.
Rocking chairs for sitting and reading.
Buster says, "come on in!".
That pull out sofa is where Lauren and I slept.   It was cozy and comfy.
Adequate cooking area, they eat well when they are camping.
Bruce and Holly relaxing. Some of you mentioned his shoes! Aren't they funny?  The girls called them gorilla shoes, cause they look like that.  Renee hates these shoes and he loves them . 
Small eating table.
Up 2 stairs is the master bedroom, fairly spacious too.
Cozy too.
Bathroom sink.
Small shower.
And the toilet.  Nice to have this handy during camping, that's for sure.
Me, chilling out too.  It was a nice little getaway.
They stay in the Topsail Hill Preserve State Park, a beautiful camping area that is very popular.  It was full when we were there. 
There's a tram available every hour that you can catch to go to the beach.  Or it's less than a mile to walk.
There's that beautiful beach again.  Never get tired of it.
Ahhhh!
Birds flying in formation.
This is one beautiful state park, if you are into camping too, check it out.
You'll never get tired of this beach either.
Susan, Renee, me
Fun in the sun with the sand between our toes.
One night, we had a shrimp boil and it was SO good.  Bruce, Steve (Susan's hubby), and one of Bruce's friends who stopped by, Shane. 
Susan and Lauren.
Me and Lauren. 
A pile of boiled shrimp.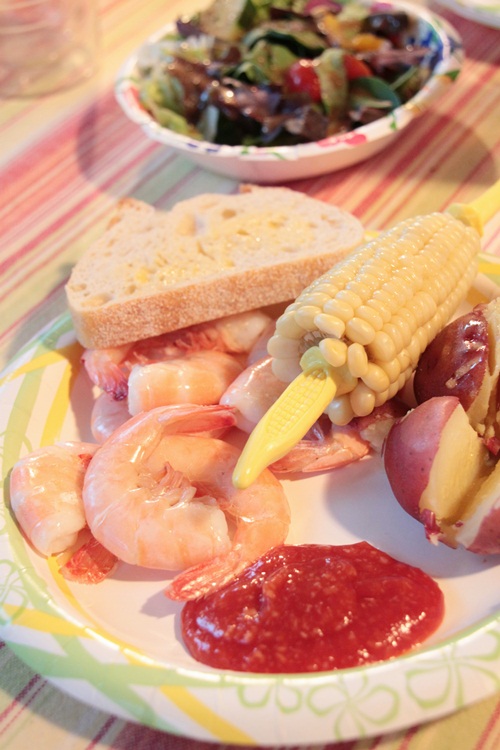 This was my plate and I savored every single bite!
Do you ever go camping?  What kind of camping do you enjoy? Are you like me and only like luxury camping like this or are you a tent dweller?
Tell me!
There's still time to sign up for the Seattle's Best $100 giveaway #2!  Just leave a comment for a chance to win.

Don't Miss a Post, join my list!