One of my recent excursions took me to historic and quaint Jekyll Island, Georgia and I couldn't believe I have never been here.  I've lived in the great state of Georgia since I was 6 years old, but somehow I never made it to this part of the Georgia coastline.  Savannah, yes and all points north, but not to Jekyll.  It's so quaint and special on this little plot of sandy soil and the Jekyll Island Club is amazing to see.
The Jekyll Island Club hotel is a Georgia National Landmark and after seeing it, I definitely see why. It's a throw back to the olden days of the wealthy coming South for the winter, where it flourished in the 1930's.
We didn't get a chance to go inside (not enough time), but I was happy to at least take some photos of this beautiful place.  You can imagine the ladies and gentlemen who have walked on this green lawn.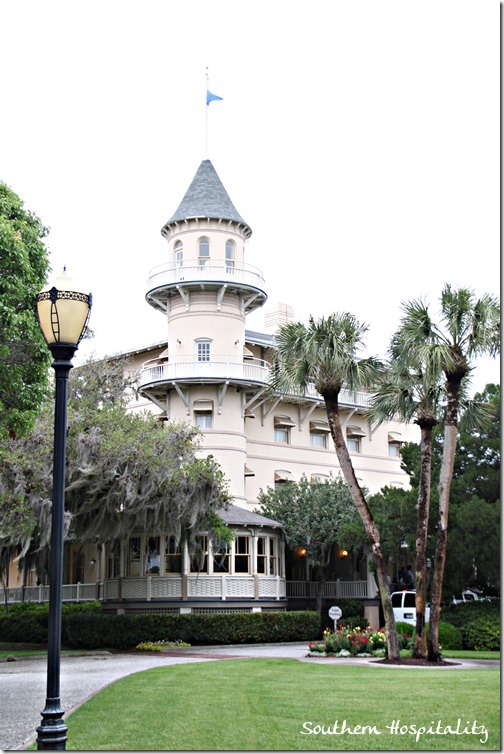 What a special resort it is and I can't believe I'm just now seeing this place.
What I love about coastal Georgia, South Carolina and Florida is the Spanish moss that drips from the trees.  Part of my childhood growing up, mossy trees are so pretty and unique to the Southern coastline.
There are several cottages along the drive to the Jekyll Island hotel and I can't imagine how beautiful these must be inside.
Moss Cottage, 1896, what a treat.  I didn't grow up in the wealthy class, so this would not have been part of my young years.
Goodyear cottage, from the Goodyear family.
Another pretty cottage along the driveway.
Those dripping oak trees get me every time.
Even though it was cloudy this day, it was still so serene and peaceful.
Yet another cottage.
These trees were like sculptures, with their bending limbs, touching the ground and moss hanging and blowing in the breeze.
I imagine that these trees are quite old.
And they are abundant on this little barrier island of Georgia.
See, I can't get enough of them, touching and rooting in the ground.
I'm not sure what this building is to the side of the Jekyll Island hotel, but it sure is pretty.
That mossy green color is right up my alley.
We also took time between rain drops to take the beach walk out to the beach behind our hotel, the Hampton Inn.  It's right on the beach, but you have to go along this pretty beach walk to get there.
I love boardwalks to the beach, don't you?!
That's my friend, Lucy, taking pics on the beach.
We took time to check out the beach and so glad we did.
The back of the Hampton Inn, looking at the pool.  I can imagine what a peaceful vacation could be had on Jekyll Island, a quaint and perfect little place in Georgia.  I hope to have the opportunity to go back one day.
Don't Miss a Post, join my list!