Happy Friday!  So glad it's the weekend and the first weekend of December and the Holiday season.  Mark and I have some special things planned.  We are celebrating 2 years together and 4 months married this weekend (along with my birthday next week!) and will be going to the Marietta Pilgrimage tour of homes on Saturday afternoon and evening for the Candlelight tour, so it's going to be a nice and festive weekend.
Today, I'm joining a fun blog hop with some of my blog friends and bHome app bloggers for the kick-off to the Christmas season. You'll find some great links for inspiration for Christmas decor and more, so be sure and visit all of these talented ladies who are linked below.  If you haven't discovered the bHome app yet, go and download it for free for lots of home decorating inspiration right on your phone!  You can download the app for free from your app store (just look up Bhome) and find the newsletter here.  All of us are on the app and it updates daily with all our new posts and social media feeds, so it's constant inspiration right at your fingertips.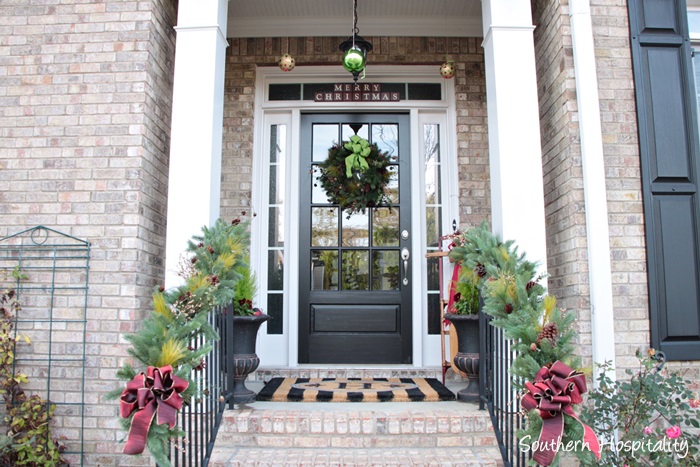 If you're new here, my husband and are newly married this summer and bought a new house together so this is the first Christmas in our new to us house.  I shared the front porch at our house earlier this week, so let's go inside and see the foyer table!
We both love Christmas and it's just such a special time of the year that we are so  excited to have our house all decorated for the season this year.
I couldn't resist adding this Better Not Pout sign to my front door wreath.  Tis the season!
Coming in the front door, we'll get to those garlands in a later post, but it's been really fun to have a staircase to decorate for Christmas. Come on in!
I love a festive entryway and giving guests something pretty to look at when they come in the door.
The new foyer table got decked out for the Holidays so let's take a peek.
I went a little old-fashioned with it and just used things I already had, making a pretty entry table. It's not all fancy and elegant, but rather cute and Christmas-y.
That's the vintage bamboo mirror I found while shopping in Panama City that was shipped to me and I just love it with this table. I knew it would be perfect to use with this table and my vignettes here.
I started those paperwhites around Thanksgiving and they are already shooting up and will be blooming before long. I love growing paperwhites at Christmas. They look so festive and pretty.
They are so easy to grow, by anchoring them in a bowl and adding pebbles.  I actually have a bulb holder that these are sitting in and then just add water and watch them go crazy.  I bought a bunch of fresh cedar branches at my local Home Depot for smell and texture.
I love my cloche that I've had for so many years and it fits perfectly on this Target marble and brass tray.  You can find that tray in my Shop my Home link above if you're interested.  I really love this tray.
I just added faux snow and some little people under glass to make it like a little snow scene Christmas village under glass.
These two things are Mark's Christmas collection, so I added them to the table too and I like it all together for something different.  He loves these fiber optic Chrismtas trees and has one in his man cave too. The colors are pretty!  And I think the Santa and baby Jesus figurine is just precious.
Here's a peek at the Christmas tree in the living room looking towards the dining room.  I'll be back Sunday to share the tree and will share more rooms next week too, so stay tuned for more. It's fun to break things up and not share it all at one time and I'll be in a couple more blog hops too.
I just love this gold vintage tree and I added it to the dining room this year with my blue and white porcelain pieces.
And here's a peek at the kitchen with my Traditional green and white I've used for a long time. I'll be back to share all of that space later too.  That's Mark's cookie jar and isn't he cute?  My friend, Andrea, gave me that cute Southern Christmas towel last year and it's adorable.
So, that's a peek of our foyer table and entryway and I'll have lots more to share later. Thank you so much for stopping by today and I hope you'll enjoy all the links below.  Please visit these ladies, there is so much talent out there!
Lidy with French Garden House is hosting a giveaway for our blog hop, so don't miss that if you love French antiques!  She has a gorgeous shop full of beautiful French goodies and she's giving away $250 shopping spree to her shop.
All you have to do to enter is visit FrenchGardenHouse.com and tell us what antique has captured your heart in the comments. You can get extra entries for following @FrenchGardenHouse on Instagram and FaceBook too. Just let us know you did along with your favorite FGH antique.
Just tell us in here on my blog in the comments, we trust you!  The give-away is open to readers in the USA and Canada. Good luck!  Each of us will choose one person from our blog comments to enter in the drawing and ONE person will win the final $250 giveaway!  Good luck to all!  Have a great wekend and enjoy all the beauty on these links!
W
inner randomly chosen on 12/
7
 and notified 
by 
email ) 
If you missed Wednesday's line up
If you missed Thursday's line up
 Friday's line up
SaveSave
SaveSave
SaveSaveSaveSave
SaveSave
Don't Miss a Post, join my list!