Spring is right around the corner!  Yippee, I'm ready, how about you?
Since I put in my new hardwood floors going on 3 years ago, keeping them clean and looking nice is something that is always on my mind.  I get asked all the time if my dark engineered hardwoods are easy to keep clean and I have to say, they really are!  My floors are hand scraped hickory in a matte finish and they look beautiful all the time, but especially when I clean them and make them shine.  By the way, they are Shaw Flooring, Broadmoor planks in Mocha and I still love them, going on 3 years later.  I was worried that my dark hardwood floors might show a lot of dust, but they do not, I'm happy to report.  I think because they are hand scraped and not an even surface, it helps a lot to disguise any dust.
I have always used Bona hardwood floor cleaner on them, so when I got the chance to share that in a post with all of you, it was an easy fit for me.  I've used Bona on them from day one and this cleaner does an excellent job with cleaning and making my floors gleam.  So, let's talk about some spring cleaning tips today.
What do you do in your home for spring cleaning?  
I remember when we were growing up, my mother was always a cleaning fanatic and we would take down the screens on the house, get outside and spray them all down with soap and water, clean the windows until they shined and the entire house was cleaned from top to bottom.  I don't do quite as much as my mother did growing up, but I do like to keep my house looking pretty and shiny clean.
Here are a few things to keep in mind with spring cleaning:
Clean and mop all the hardwood floors (with Bona, of course)
Use a dust mop under furniture, removing all the dust bunnies that seem to accumulate.  I have several pieces of furniture that are open underneath and these always have dust bunnies under them.
Wait until the pollen has stopped falling before you tackle outdoor spaces, like porches.  I did this last year and just waited until the yellow stopped falling and then got out there and cleaned it all, getting it ready for summer.
Take this time to declutter, move items to a "give away" bin and donate unwanted clothes and decor to a needy cause.  I'm in the process of doing this too.  Get rid of "stuff".
Use a pressure washer on concrete walkways to freshen them up. That's on my list this year.
Add spring decor around your house to get you ready for the new season of green.  That's always welcome around my house.
So back to cleaning your hardwood floors.  Bona products are non-toxic and GREENGUARD certified.  They have products for hardwood floors, wood furniture, and stone/tile/laminate floors as well, which make cleaning easy.  And, there's no residue left behind, I can attest to that.
I have a Bona floor mop with a head that holds cleaning pads and dusting pads.   You can buy these cleaning pads, which simply stick to the head and they are easily removed for washing.  I spray the blue cleaning pad with Bona cleaner and run it over my floors creating a nice shine and getting up any residue on the floor, after I vacuum.
I also picked up a Microfiber Dusting Pad from Bona, which also fits the mop head. It's great for picking up dust and dog hair in hard to reach places.  It really does pick up the dust and you can also wash this in the washing machine.  I took mine outside and knocked off the dust bunnies on the back porch and they went flying out the door.
Spraying down the mop head cleaning pad is easy and fast.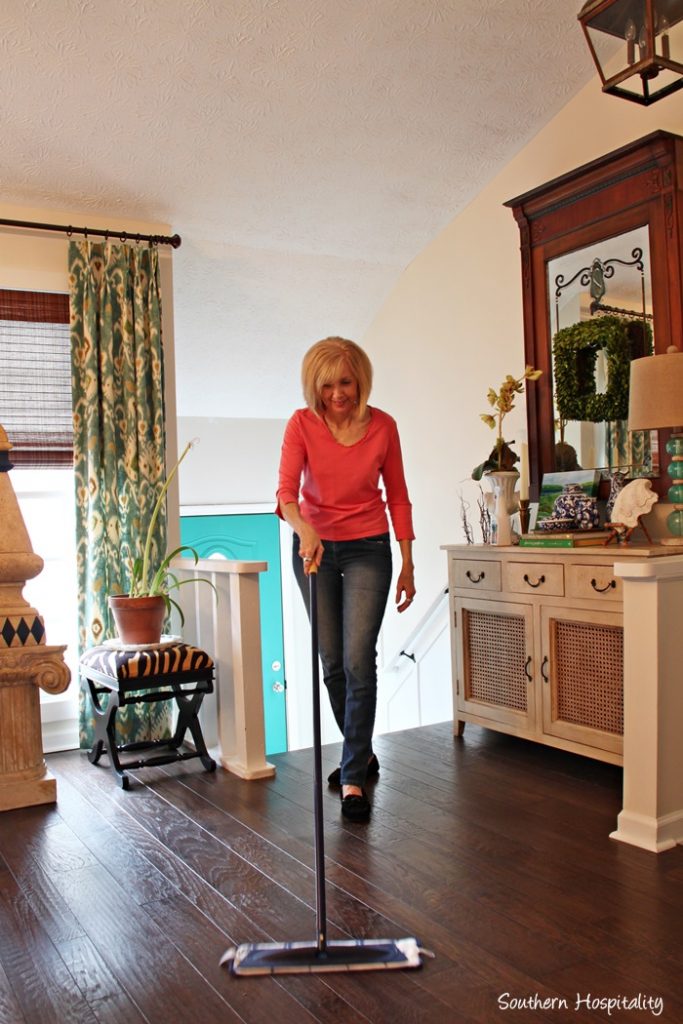 And it doesn't take long to cover your hardwood floors with the mop head cleaning pad.  It works fast and easy.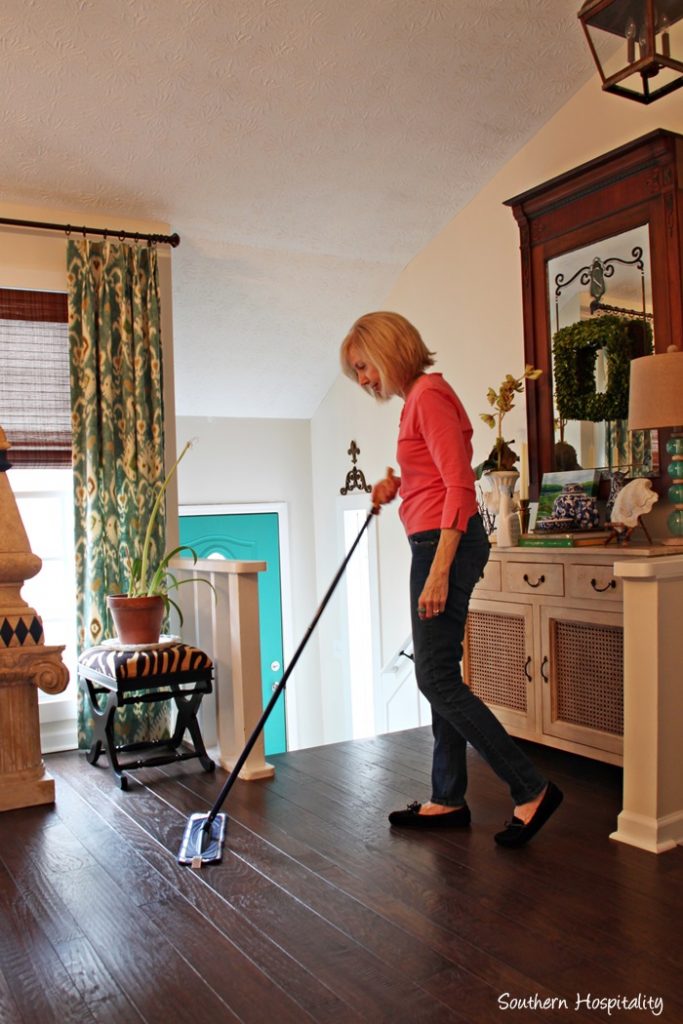 My floors look great after cleaning with Bona and they stay looking great.
I only use my Bona cleaning products about once a month and my floors stay looking so nice on a regular basis.  I have always used Bona and will continue to do so, so this is an easy share for me.  Get a $3 coupon  to try out Bona products.
Do you have spring cleaning tips to share too?  Feel free to leave a comment! 
Enter Bona's Keep It Clean Personality Quiz to play for a chance to win a Bona® Hardwood Floor Mop Express INSTANTLY! Registering will enter you for the chance to win a year of cleaning services for your home and the Grand Prize: a trip for 4 to Hawaii!
Also, you can sign up for the BonaFide Fanatics mailing lists to get a $3 coupon instantly!
Happy Spring Cleaning to all of you!
Don't Miss a Post, join my list!