We are still plugging away at the master bathroom makeover and today I thought I'd share some of the lighting I looked at while planning for this makeover. I spent hours on my computer looking at all sorts of lighting for the new space. We would need a chandelier, since the old fan was coming down. I tried to figure out a way to keep a fan in there, but I couldn't make it work. I didn't want a fan to ruin the look of the new bathroom, plus we only used the fan a few times in the summer. So a new chandelier it is!
I would also need sconces to flank the mirrors over the vanity. I knew the style I wanted and as I looked through all the options I would save them to a private Pinterest board so I could keep track of what I had looked at. Once Mark and I narrowed down the styles (he has opinions too!), I ordered them and got them in. I've already shared those on the mood board I shared earlier, but here it is again.
If you missed that planning post, read it here and it will explain everything going on in the bathroom with before pics too. 
The one with the chain will take the place of the fan and be the show stopper in the bathroom. The round one will go in the water closet and the sconces will flank the mirrors. Those sconces are bigger than they look, so we will have some bold lighting going on in here, but I think it will be pretty. Those faucets for the sink are very large and bold too and are so pretty.
Pin for later! 
Here are all the ones I saved and considered and most of these are budget friendly options (affiliate links used). Click the photos to go to each one:
So those are some of the lighting options I found and liked. There are so many out there, but I was looking at gold tones for our space and had my heart set on mostly using gold fixtures. I'm doing a mix of gold, brushed nickel and a little bit of black in there to mix things up.
I'm sharing a few in progress pics of the first week. It takes longer than you would think to get a bathroom finished and I think we have about a week or 2 more to go. The countertop got delayed and will be in this week, I hope and the guys will be tiling the vanity wall as well as getting the faucets installed after that happens. Lots to do! And Mark and I are working on things over the weekend that we need to get done in there, so it's going to be exciting to see it all come together.
Here's what it looked like after it was gutted and the new concrete backerboard went back in.
Backerboard in the shower too. Everything came out except the vanity which I'm painting and getting new countertops.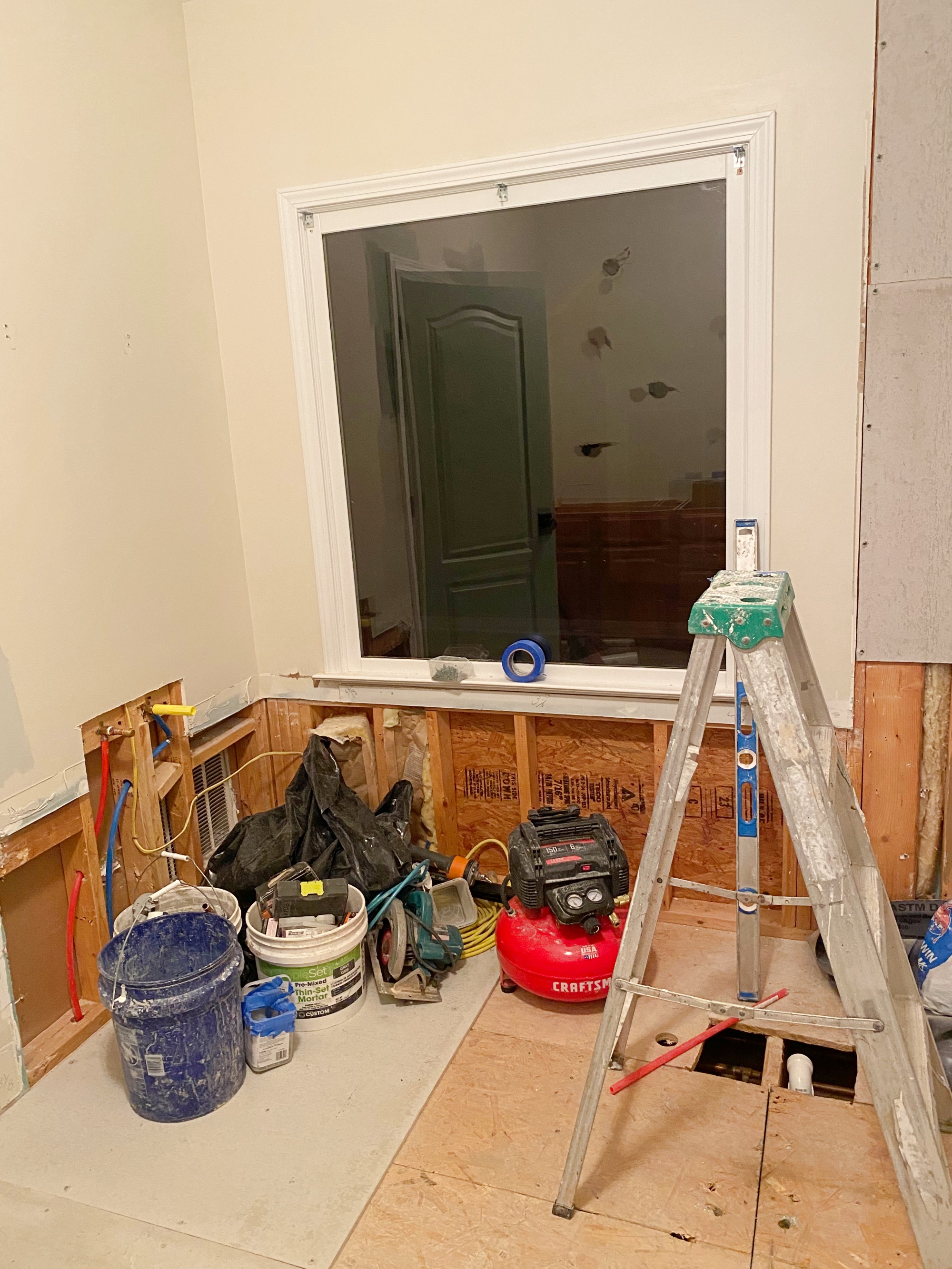 This big picture window is where the new tub will go. I don't think we will miss that giant jetted tub that was here. I only used it a couple of times. But a soaker tub will be nice, I think. We had Sunburst Shutters come out and measure for a new Plantation shutter in here. It will be white like the trim and ceiling and I think it's going to be so pretty. We love our other Sunburst Shutters and I'm happy to be working with them again. This way, I can open the top portion of the shutters to let in light and still have privacy below.
We had them close up this niche in the corner. It wasn't doing anything and sort of ruined the look of tile going all the way up the wall over the vanity so I needed a straight line up here.
I like it much better closed off and now it's all straight when the tile gets installed on the vanity wall. I love the look of a tiled wall!
Here's some progress in the shower. It's my own fault, but I didn't take into account that we might do a little bench in here, so we ran out of the large tiles to finish the shower. Those are on order now and being sent from Walker Zanger. I need 12 more pieces. Oh the details that go into a bathroom renovation! It's looking so good though, I'm really excited to get to the finish line.
One more shot of the niche in the shower with that pretty marble tile that will also go in the shower floor.
It's so fun to finally see the tiling happening and how pretty it's all looking. So excited!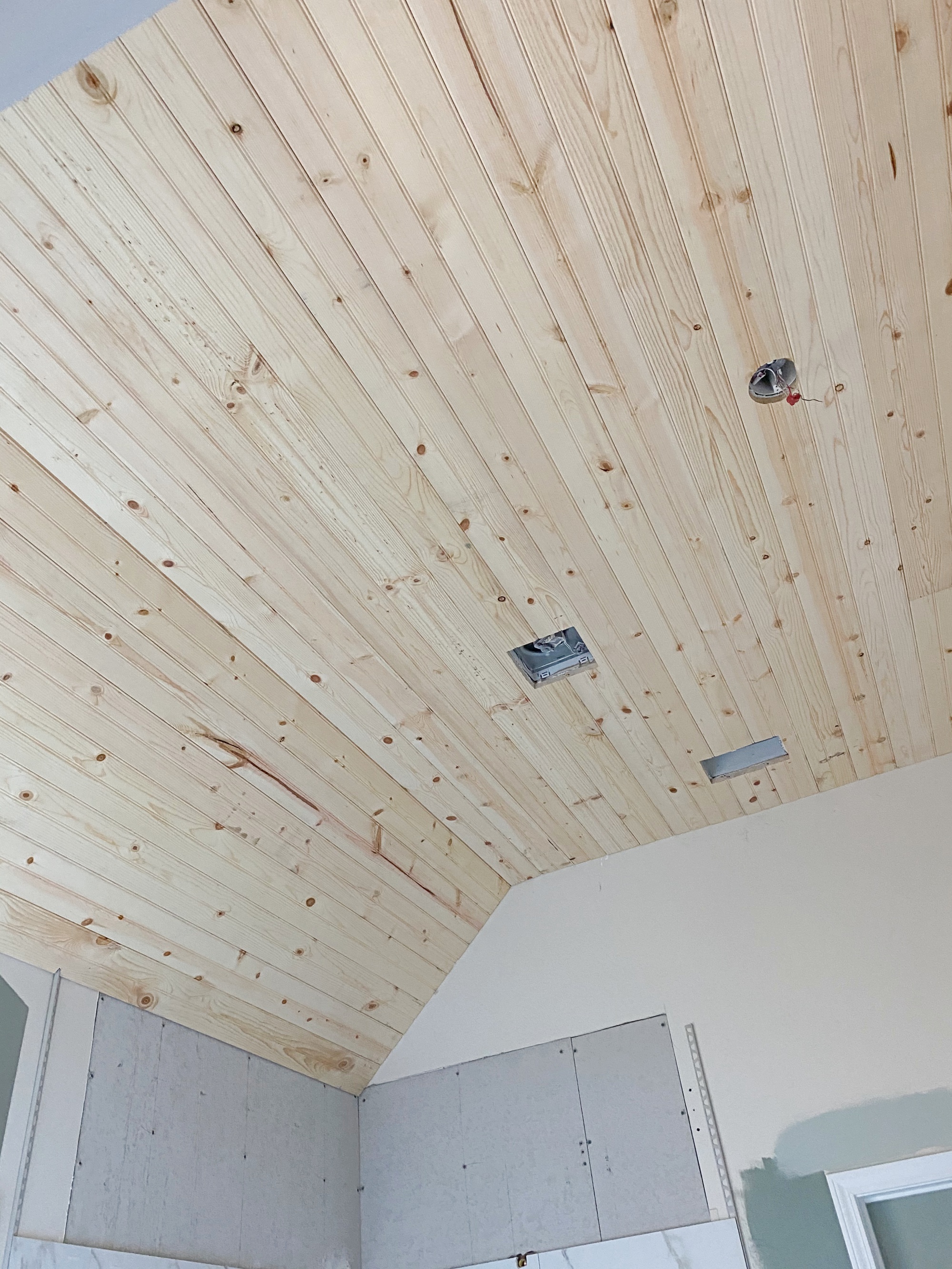 They did a great job putting up the tongue and groove ceiling. This will all get primed and painted.
Mark and I will be working around them on the weekend and adding some board and batten around the tub area and also in the water closet. I think this is going to add lots of extra detail. We're also planning to add chunkier moldings around the door frames to beef them up too. All those little things make a difference, don't they?
So that's it for the progress for the first 2 weeks. The first week was gutting and doing those things like plumbing and moving light fixtures. That all took awhile before they could get busy with the tiling. I also have a delay getting the countertops installed and hoping that happens this week. I'm going with a pretty marble look quartz. Hoping this all turns out as amazing as I see it in my head! I may not do another progress post, but we'll be working hard to get this finished in February. I think we have at least 2 more weeks, maybe more before it's all done and the final thing is checked off the list. I know it will be worth all the dust and mess, but I really can't wait to get to the finish on this one!
Don't Miss a Post, join my list!