A few weeks ago, one of my friends invited me and some of her neighborhood ladies over for a brunch at her house and I wanted to share some pics.  Tricia has a beautiful home and is a wonderful hostess.  I've shared some of our lunches with you before at Tricia's house and it is always a treat.
(L to R) Tricia, our gracious hostess, Maureen, Lisa, Renee, and me.  These ladies all have grown kids, so we have dubbed ourselves the empty-nesters.  They all live in Liberty Park, but me and I'm grateful to be included in their brunch plans.  All of us are Southern except for Lisa, but we've decided to adopt her into the sistahood. 🙂  We don't get together all that often, but it's always nice to catch up when we do.  Oh, and eat.  That's fun too.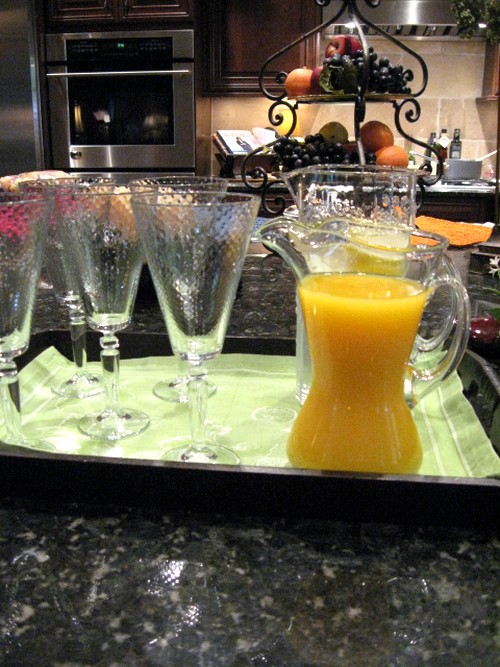 Tricia has this huge island that is perfect for entertaining.  These pics were all taken with my old camera.
She made smoothies for us that were yum.
And several of us brought something too.  Fresh fruit, perfect for this time of year.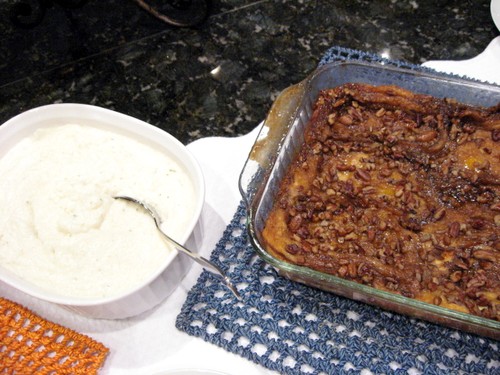 Tricia made shrimp and grits (on the left) I made my baked French toast, which is a treat too.
Sweet rolls on the left and the yummy shrimp dish on the right to go along with the grits.   Oh my, it was good!
Fresh fruit and orange juice rounded it out.
Now, I want to share Tricia's house with you this time.  Tricia has wonderful taste and a beautifully and elegantly decorated Southern home.  Doesn't this just scream Southern to you?   We all ate here in the dining room in front of the fireplace.  This is one big dining room.
So elegant and tasteful.
Fresh yellow roses on the table and beautiful place settings. 
Tricia's sideboard in the dining room.  Just gorgeous, Tricia's whole house is a treat for the eyes.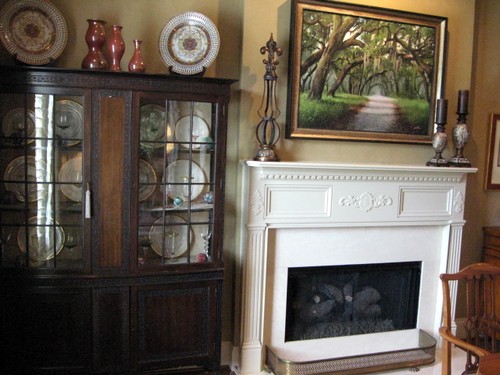 China cabinet and fireplace.
I'll show you a bit more of Tricia's house.  Here's the front door with a pretty glass table in the foyer. 
Those flowers are faux, but with flowers this pretty, it doesn't matter.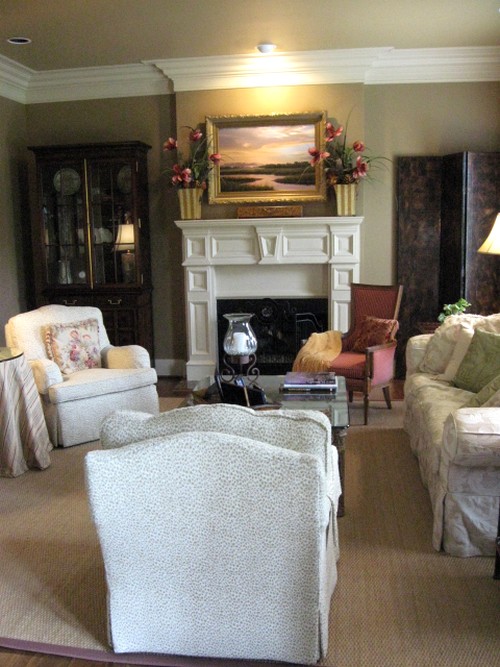 The elegant and tasteful living room.  
And the sitting room off the kitchen.  It's all a feast for the eyes, don't you agree?
Screened porch is so comfortable and pretty too.
They entertain out here during the summer.
Right outside is a beautiful flagstone patio. 
Intimate and small, it's such a pretty backyard.
Having a group of girls to hang out with and eat lunch together is always a treat and I'm so glad to have made friends with these gals.  They are all precious Christian women!   We all go to different churches, but share our faith and that is a wonderful thing.
Do you have a group of friends that you visit with on a regular or not-so-regular basis? It's good to have girlfriend time.

Don't Miss a Post, join my list!