My friend, Debbie, the one with the pretty pink, black and green porch, did a cute art project for her porch that I wanted to share with you.  She's an artsy girl and loves doing things like this and she used FrogTape, one of my fave products and a company that I represent, so this was a perfect project to highlight the versatile qualities of FrogTape.
Here's the finished project, so you can see what she's going for in the step by step.
Debbie bought a pretty butterfly poster at Hobby Lobby, along with various white canvases.  I think these are about 12×14" in size.  You can see she bought one long rectangular one for the background canvas on the left and 2 larger rectangular shapes for the ones on the right.
Getting ready to paint the background of all the base canvases. She did use white paint on all the base canvases first and then added the black details of polkadots and stripes.
She taped off the larger canvases with FrogTape, to make crisp even black stripes.
Using regular black craft paint for her stripes, she painted them on and then ripped off the Frogtape.
Taped and painted.
She used a round object to make circles on the larger rectangle.
Cutting out each butterfly she wanted to use, she then tore the edges, first wetting with water so that it would create a ragged effect.
Adding water to tear the edges.
Ragged edges, which she then distressed with watered down brown paint. She didn't get pics of the whole process, but she also used green craft paint to paint the fronts of each of the canvases that would hold a butterfly.  After the paint dried, then she decoupaged each butterfly to the middle, letting all that dry. Then, she went back with watered down brown craft paint and added an aging effect to the fronts of all the canvases, only the green ones. She left the black and white background ones alone.
Mod Podge is easy to work with, it's just a craft glue that goes on white and dries clear. You can get Matte or Glossy finish.
She didn't get a shot of the decoupage process, but it's done with Mod Podge, a basic decoupage medium.
Here are the finished prints hanging on Debbie's porch. She wanted something fun and whimsical for her porch and this does the trick.  She simply hot glued the smaller canvases on top of the larger ones.  Notice this one she has them overlapping and hanging off the top and bottom edge.

Aren't they cute?  Adds all of her colors to this space. She loves green, black and pink.
To finish off the edges, she added a small black and white ribbon detail to each edge.
Here's a reminder of what Debbie's porch looks like.  I featured her porch last year.  Debbie is a dear friend here in Atlanta and I love hanging out with them in the summer months, sitting on the porch and swimming in their backyard pool.
I love having creative friends who love to share too!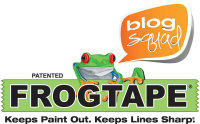 Note: This is a sponsored post from FrogTape.  I'm a Frogtape ambassador and I write about projects using Frogtape and am compensated for my time.  I love the product and it is useful to have around the house.
Don't Miss a Post, join my list!