I finally made a decision on the new camera.  After much research, reading, agonizing, and angst, here's what I'm getting, the Canon Rebel T1i.  If you missed the discussion a few weeks ago about cameras, you might want to read this. Lots of good advice and opinions were put in the comments.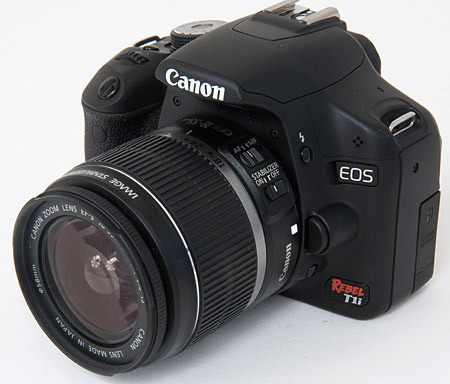 I could have gone either way, with a Nikon or Canon, but in the end, this one won me over and since I am already a Canon owner, it just made sense. I honestly don't think I could go wrong with either brand and I've heard really good things about this one, so I'm sure I'll have some fun with it.  So, when I get it in I'll be playing around taking a MILLION photos, so just be fore-warned about that.  🙂
I ordered it online from here, after getting a recommendation from blog friend, Chris, who just purchased this camera too.
Hope you all have a fabulous Memorial Day weekend.  I'll have Thrifty Treasures up in case some of you get  out to some sales. I have no idea what I'll find this weekend, if anything, but we'll have the party anyway!
If you have a subscription to Better Homes and Gardens, you've probably already seen the wonderful article on fabulous author, Mary Kay Andrews, adorable beach cottage on Tybee Island, GA, the Breeze Inn.  When I met Mary Kay in Atlanta at the Eddie shopping trip last year, she was still in the process of finding treasures for her beach cottage.  It was SO FUN to see it in print and to read the article about Mary Kay and her family, so if you haven't seen it yet, pick up a copy of the June BHG.
Here's a link to Mary Kay's blog, talking about the article and photo shoot.  You will love the pics!
*************************************************
Just because I can, I'm sharing these songs with you!
We caught a Brooklyn Tabernacle Choir special on the NRB station the other night and I am just lovin' these songs. We recorded it and I've been playing it over and over.   I WILL be ordering some of this music. I have loved this choir for years and this first song just keeps ringing in my ears and this was the performance we recorded.  If this doesn't bless your socks off, nothin' will!!  If and when I get back to NYC for a visit (I've only been once, very short), I WILL be going to church there.  This is about as close to heaven as it gets here on this earth.  Has anyone been to Brooklyn Tabernacle??  I'd love to hear about it.
This is the kind of  Gospel music I just LOVE, LOVE, LOVE!  If you have time, PLEASE listen to both.

Thou, Oh Lord:

Heaven on My Mind:
Don't Miss a Post, join my list!