First things first….in case you're bored already and need yet another project, I finished the glass ball wreath that Eddie Ross featured on his blog awhile back. These were after-Christmas purchases and it took a total of about 80 balls to make the wreath and cost just under $20. Of course, next year, I'll add a pretty ribbon and find the perfect spot to hang it. For instructions, go here. Mine is not as perfect as Eddie's, but I'm happy with it.
And now, on to vacuum cleaners…..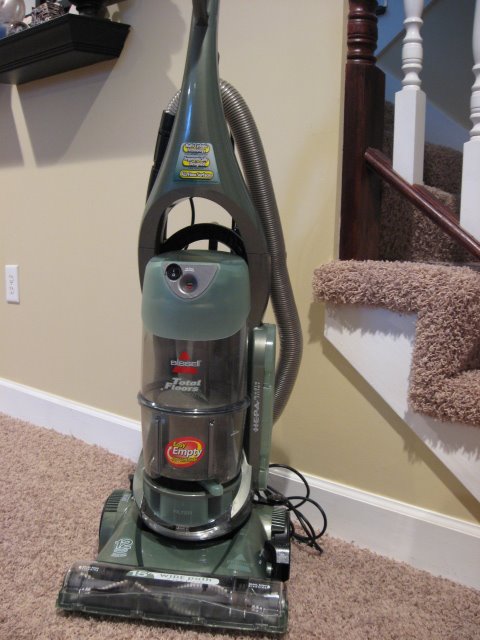 Can you love a vacuum cleaner? Well, if you can, then I love my new vacuum cleaner! After more than 15 years of service, my old upright Hoover pooped out on me a couple of weeks ago, so I was in the market for a new one. I decided this time around, I'd go for a bagless Hepa-filtered one and spotted an ad in Tuesday AM for a Bissell. Made sure to get there soon after they opened and they had plenty of them in stock for around $85. Deciding on a new vacuum cleaner is not an easy task as I quickly found out by doing a search online of cleaners with good ratings and decent prices. I didn't want to spend a lot, under $100 would be fine with me if I could get a decent one for that price.
And let me tell you, this one does the trick. It really sucks! In a very good way. 12 Amps worth. It almost feels self-propelled as the sucking power is so much better than my old one, it practically zooms along in front of me. It has adjustments for bare floor and carpet and I love how the hose wand can be popped out very easily to do stairs and furniture. There's even a stair attachment with its own moving beater bar. It's a little heavier than my old Hoover, but that tells me the sucking power is greater. Dumping out the canister after a whole-house vacuum is really an eye-opener, as it was FULL of dust and dirt. So, I think I'm gonna be happy with this one. It's a Bissell Total Floor, model 3990. After I brought it home, I looked it up online and found out it had mostly great reviews from everyone who has bought it and I got a great deal on it too.
Anyway, if you're in the market for a new vacuum, I'm in love with mine and wanted to share! And, no I'm not getting paid to say this. 🙂 I do love the hepa-filter bagless concept AND dumping out all the trash everytime you vacuum is a good thing.
Don't Miss a Post, join my list!