One of the things I've done several times on the blog and around my house is change out fabric on chair seats.  It's so easy to do and I've shared a tutorial a few times on how easy it it to take the old fabric off and staple on new fabric. Check out that link for all the pics and steps of how I recover my chair seats.  This set of chairs has been with me for over 10 years, they are solid wood and just keep going, so I'll keep recovering the seats to spruce things up. Fabric works wonders!
I've just freshened up the old fabric on my porch chair seats recently and it really added a new and summery look to my table and chairs.
Here's the yellow lattice fabric that had been on here for 5 years.  It looks pretty good in this pic, but it was beginning to get dingy from being out on the porch for 2 years.
The new fabric I think came from Online Fabricstore, but now I can't find it on their site.  It's lime green with black in a geometric pattern.  They were at Haven the last 2 years and gave out yards of fabrics in the swag bags and I think that is where this came from.  I had exactly one yard and it worked out great for my 4 chair seats.
This yellow fabric was the fabric I put on these chairs 5 years ago in my old kitchen.  I used them on the porch here for the last 2 years and they were getting really dingy looking and it was time for a fresh look.
I had added batting to these foam cushions originally when I bought the chairs unfinished.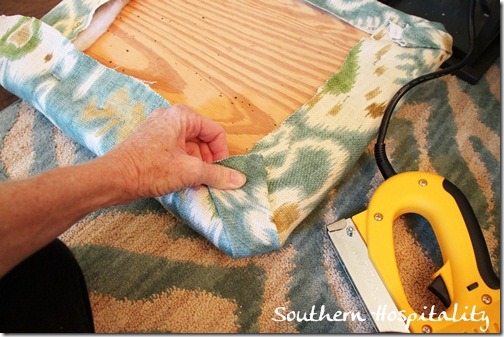 I used 4 chairs on my porch in the yellow geometric and the 2 black armchairs that are in my living room got new ikat fabric out of my drapery fabric in that room.  This all happened when I moved in over 2 years ago.  They are still looking good in this fabric.
Now, the porch chairs are looking so summery in their new fabric and I love how they turned out.  I had painted these chairs in a glossy gray last year and this glass topped table serves me well on the porch. We sit out here all the time.
I'll be sharing an update on the porch soon.  I took the rocking chair off the porch and out on the patio and it opened up the porch much more, which is nice.
In the meantime, I'm loving this fresh lime green and black, a favorite combo of mine!  So happy that one yard of free fabric got me a brand new look.  I also sprayed the chairs with Thompson's Water seal fabric spray  (they sent me some in the mail) which is supposed to protect the fabric from getting wet and from mildew, which can happen on the porch. Hoping this keeps my fabric looking good for a few years!  I'll let you know how it works.
Happy Summer!  I'm joining my blog friends again this month for 10 minute decorating ideas. This might take a bit more than 10 minutes, but it is certainly not a long project and how good it feels when you are done!
Don't Miss a Post, join my list!