It's been awhile since I shared any recipes and honestly I'm just not cooking a lot of big meals, if you know what I mean.  I cook very simply during the week and can make a meal off fresh guacamole and chips if I'm in the mood.  So, my cooking isn't happening every day and I haven't tried a lot of new recipes lately, but I'm always on the lookout when I'm browsing my magazines to see if something catches my eye and makes me want to cook.  I do cook for Mark about once a week and making a healthy meal is what I try to do.  This one isn't too bad, although it has cream in it.  I cook from scratch if I'm going to cook, so fresh veggies are a must and I don't really worry about fat that much.  A little cream won't hurt a thing!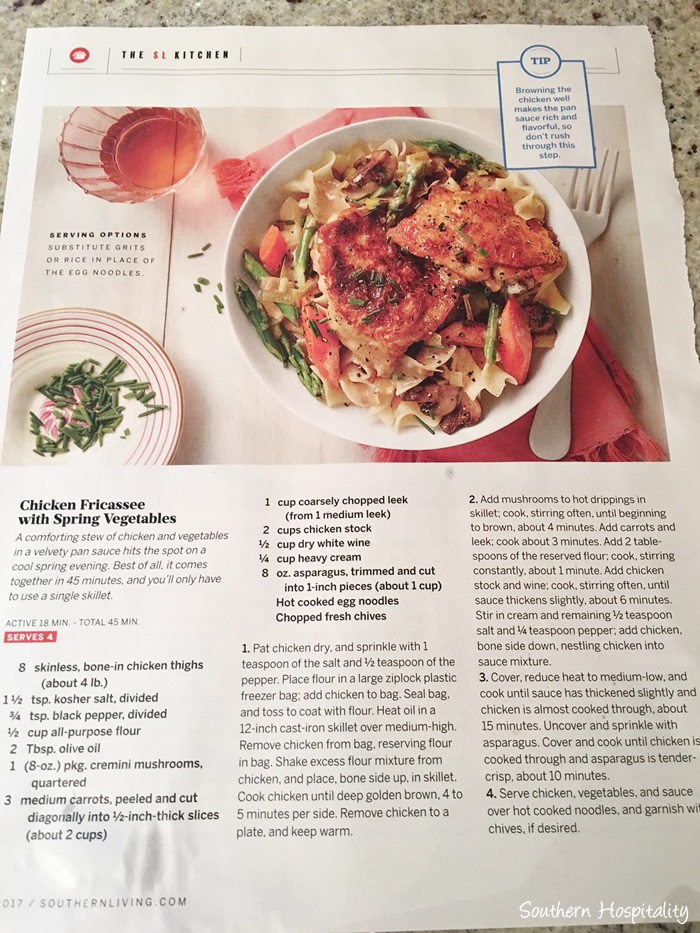 This is in this month's Southern Living.  Go over to Southern Living Chicken Fricassee and see the pic over there, it's much better than mine!  You can print the recipe from there if you'd like to try it.  I thought it was yummy!  I followed the recipe exactly, except I didn't get leeks, I got shallots, as you can see below. I couldn't remember exactly when I went to the store and had shallots on the brain.  I don't think I've ever cooked with leeks before, but they look similar to green onions or scallions.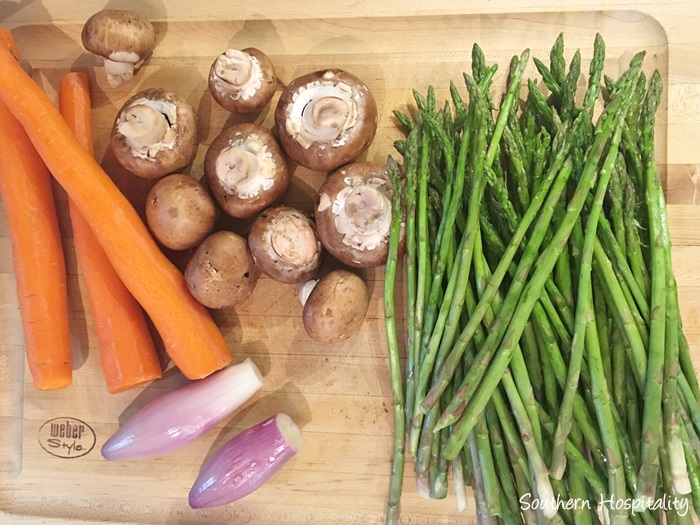 Simple veggies is how I like to cook. If I'm going to cook a big meal, I want real food and that's how I try to cook most of the time.  Carrots, fresh mushrooms, and asparagus are the main ingredients veggies for this meal.
Chopped and prepped.
Browning the chicken thighs.  This recipe calls for 8 chicken thighs, so feeds a lot of people.  I served mine with white rice instead of egg noodles, as it mentioned you could do either one.  Rice fits this dish just fine. Once the chicken thighs are browned and mostly cooked, you take them out and begin the veggies.
Here's a tip from Southern Living I saw over there: Browning the chicken well makes the pan sauce rich and flavorful, so don't rush through this step.
I think I rushed this step a bit so brown that chicken well!
Cooking the veggies in chicken broth, then you add the cream and asparagus. I didn't get a shot of all of it in the pot, but that pic over on Southern Living shows that really well.  Dish it out over rice or noodles and you have this……
The chicken thigh is there, you just can't see it very well and there was plenty of sauce here too, but it doesn't show up well.  I'm not one to style all my food pics to perfection, so this is just before I ate it.
Hope you'll try it and let me know what you think!  I thought it was very flavorful and good tasting and something different from the normal chicken dish.  Chicken is so versatile, isn't it?
Oh, almost forgot, I did make a pie, something I haven't done in awhile either.  This is a golden oldie I've posted before, Chocolate Pecan pie, you can get the recipe on that link. With ice cream on top, it's delicious and an easy pie to make.  Not a lot of ingredients and you can use walnuts or pecans.  I originally posted it using walnuts, but changed it later to pecans.
Don't Miss a Post, join my list!