This delicious 4 layer chocolate dessert is simple, but so yummy. With chocolate pudding, cream cheese, whipped topping and pecans, you can't go wrong with this dessert. It's a crowd pleaser! 
There are so many names for this delicious dessert that I grew up with, so you may have seen this one before, but it's one I forgot about until recently and brought it out again to make for a get together recently and it's as yummy as I remember. Mark knew about this one too, his mom used to make it (he calls it Chocolate Stuff) as well. It's in a lot of church cookbooks , I have no doubt, it's in our old church cookbook too and the author called it Chocolate Yum Yum so I will too. The versions online might have a little bit of variation, but they are all very similar. I'll share the recipe I used based on the church cookbook recipe and ones I found online.
It's a simple 4 layer chocolate dessert and it is pure yumminess on a plate! I didn't take a picture of the pecan shortbread first layer, but it's the start to this delicious dessert, with the cream cheese layer coming next (that's the layer you see above).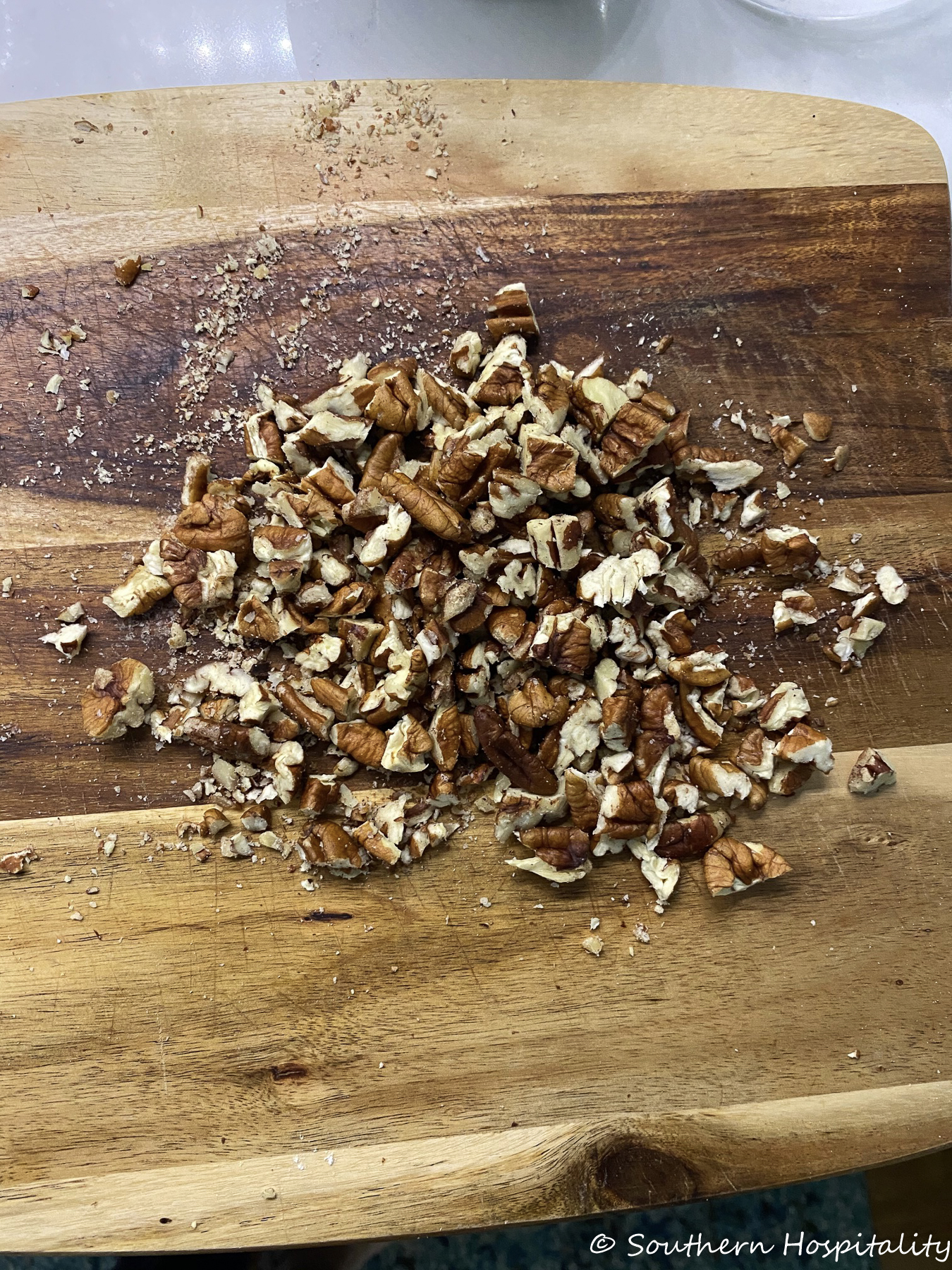 You'll need plenty of chopped pecans.
The chocolate pudding layer comes next, with whipped topping rounding it out. Some versions call for chopped pecans on top or shaved chocolate, but I used pecans on mine.
This is the finish to this yumminess and you'll want to chill it for a few hours before cutting into it (if you have the time!). It was a big hit when I took it to a gathering recently and Mark had asked me to make it before this and I did. We enjoyed it also and it's as yummy as we both remembered. He had remembered it from his mom making it and I said, I know just the dessert you're talking about. We made it too!
I didn't cut it into a perfectly beautiful square, but you can see how the layers look. It's so good! Mark absolutely loves this one and so do I. I can't believe I forgot about it, it was a staple growing up.
Here's the recipe I used modified from our church cookbook. Some versions call for one chocolate pudding and one vanilla pudding mixed together, but I just go for all chocolate. Try it both ways and see what you think!
Chocolate Layer Dessert
Delicious 4 layer dessert with shortbread pecan crust, cream cheese, chocolate pudding and whipped topping layers.
Ingredients
1

Cup

Flour

1

Stick

Butter (softened at room temp)

Pinch

of

Salt

1

Cup

Chopped Pecans

8

Oz

Cream Cheese

1

Cup

Powdered Sugar

8

Oz

Whipped Topping

2

Small

Instant Chocolate Pudding mix

3

Cups

Milk

8

Oz

Whipped Topping

1/2

Cup

Chopped Pecans or Chocolate shavings for top
Instructions
Bottom Layer:

Mix Flour, 1 Stick softened butter (pinch of salt) and 1 cup chopped nuts together into a soft paste, press into 9x13 baking dish. Bake at 325 Degrees until lightly browned, around 25 minutes. Let cool.

Middle Layer:

Beat cream cheese & powdered sugar until mixed and fold in whipped topping until all mixed together. Spread evenly across crust.

Top Layer:

Mix the 2 chocolate pudding mixes with 3 cups milk with electric mixer for 2 or 3 minutes until mixed completely.

After bottom layer cools, add the cream cheese layer, spreading evenly across crust. Then add chocolate pudding mixture, spreading evenly across cream cheese layer. Then add 8 oz. whipped topping for final layer and sprinkle chopped pecans or shaved chocolate on top of that. Chill and serve.
Recipe Notes
The hardest part for me is getting the pecan crust to smooth out properly in the baking dish. Your butter needs to be perfectly soft to mix with the flour just right and chopped pecans. It takes patience to press it all out on the bottom of the baking pan and you'll think there's not enough, but it needs to be pressed pretty thinly. Then getting the cream cheese layer across that can be tricky too, if you lift up your spatula too much it can pull up part of the pecan crust. I daub the cream cheese a dollop at a time all over the crust so that it can be smoothed out easily and all joined together. Those 2 things are the trickiest for me, but once you get it, it comes together pretty fast. Eat and enjoy! 
Don't Miss a Post, join my list!