As part of my partnership with Shaw Floors, they allowed us to get a new runner for our new house for the staircase. We had a certain amount of flooring given to us since I'm part of the Shaw Style Board this year and it is such a blessing to us that this gift of carpet on the stairs will enhance our house so much.
I'm a big fan of patterned carpets and Shaw has some gorgeous ones! We got lots of samples and decided on a beautiful herringbone pattern. We are both fans of classic patterns and herringbone is one of those that always catches our eye.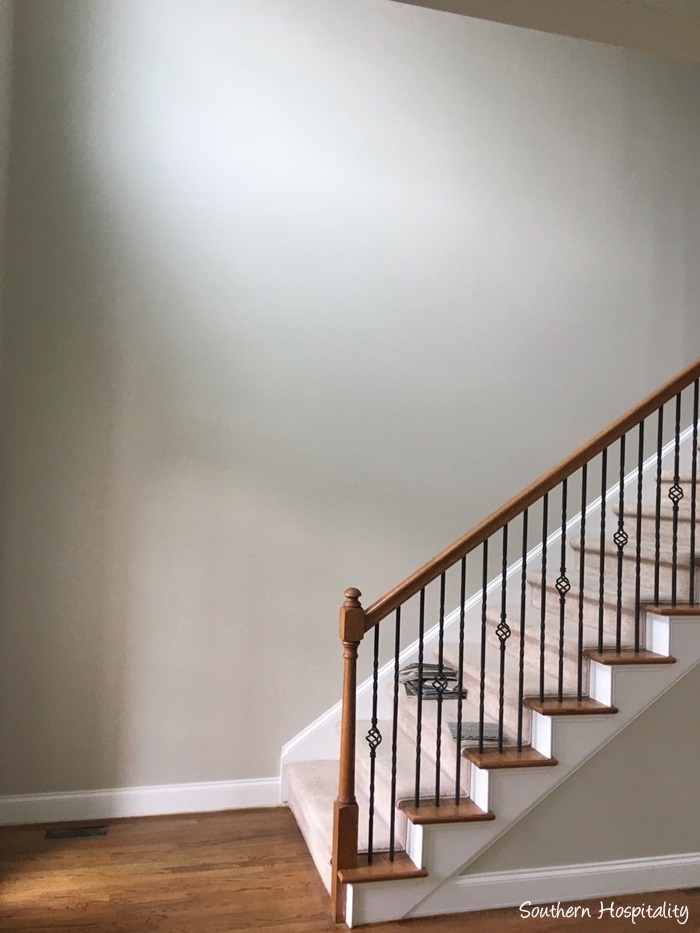 The carpet on the stairs was a beige blah-tone that was OK, but had seen better days. This house was so plain vanilla that it's been fun to start adding some personality to it.  We have lots of fun plans for this house!
We did determine pretty early on that the stairs were not finished all the way across, so we needed to keep the runner all the way to the wall. The stairs treads are part oak and part painted pine, so wouldn't have worked for revealing the whole stair tread, plus there were gaps on the wall side that we would have had to deal with. And since I would have put a runner down anyway, we just replaced it with the same footprint that was there for ease of installation.
One more look at the original carpet.  Boring and blah beige.
We narrowed our choice down to this beautiful pattern from Shaw carpets (their brand Anderson Tuftex), True Event II in the color Carbon.  It's the top right swatch above.  Even though we could have gone with a lighter color and been safe with a brown or beige tone, we thought the black would enhance the black iron railings in our staircase and black just adds a little drama. The lighter color was a great match to the greige wall paint we used, Gatherings by Magnolia Home paint, so it just felt like a good choice.  It's always nerve wracking to choose something this important from a small swatch, but we felt comfortable with the decision.  I told them to serge the edges in the lighter color.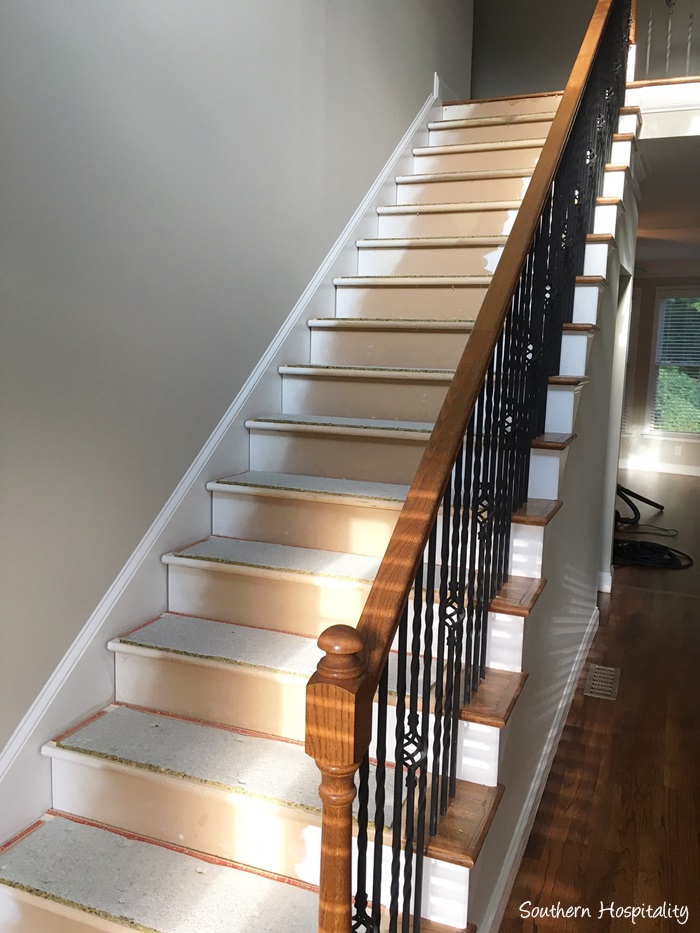 Install day came and the installer ripped off the old carpet and got ready to install the new one.
You can see that the builder never intended for the stairs to show.  The gap on the wall side isn't bad, but we would have had to deal with uneven staining if we had tried to stain the wall side of the stair treads and it just made sense to do it exactly like it was.
The same Shaw dealer who did our site finished and Shaw Epic hardwoods also installed our runner, Dalton Wholesale Floors and they did a fantastic job.  He was a pro and got the runner installed in about an hour, using a staple gun of some sort. The runner is perfect!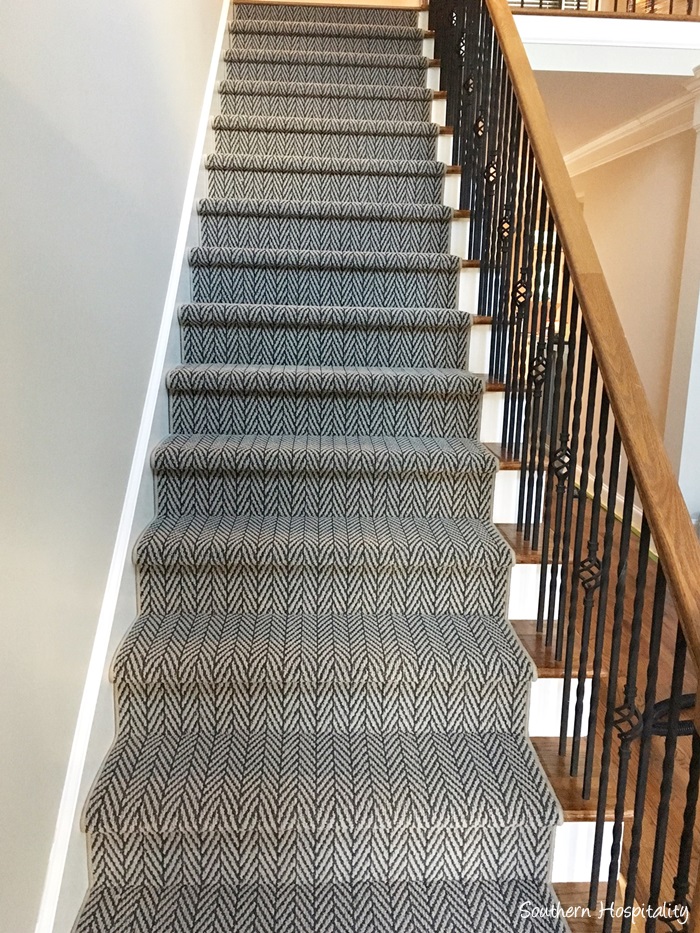 The installation is just gorgeous and our installer did a fabulous job lining it all up and making it beautiful.  I was oohing and ahhhing at this beautiful runner and could not stop staring at it.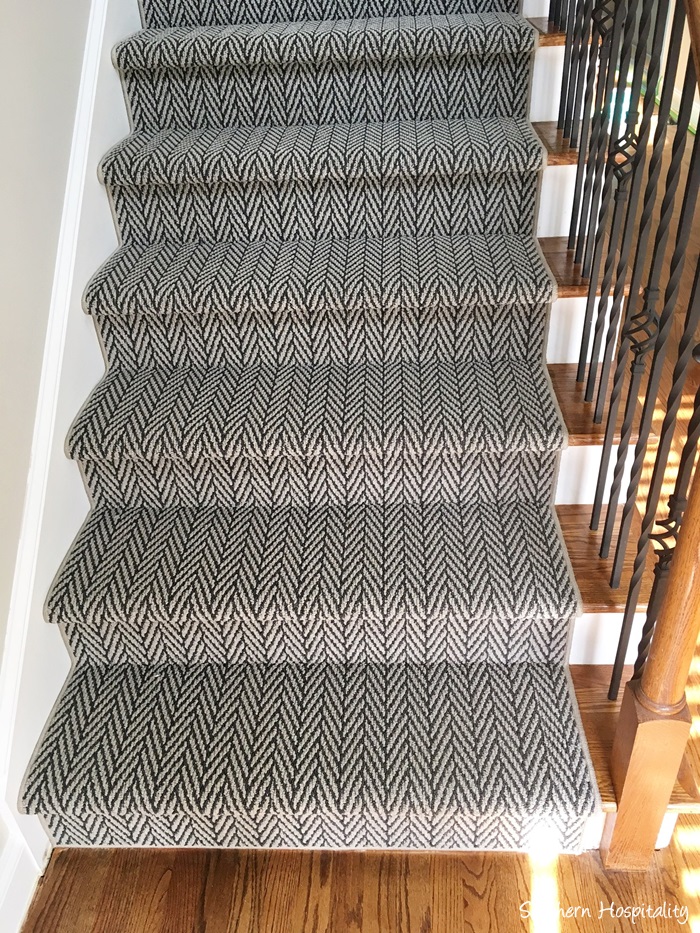 It makes such a statement and is so classic and elegant, I think we will be very happy with it. You can see it's serged on both sides, giving it a really finished look.
It's soft underfoot and feels great barefoot too.
From the top looking down, it's a gorgeous view and we could NOT be happier with how this runner turned out. If you are in the market for a stair runner, I'd highly recommend Shaw Floors carpets. This one is nylon, very soft and should hold up on stairs for years to come.  It has a nice pad underneath and is very cushioned to walk on. See how great it coordinates with the wall color we chose?
It's so much fun to see all these changes happening at the house and move-in is really soon. I can't wait to get in there and really start living and enjoying this place with Mark.  I've been moving in kitchen stuff this past week and figuring out what all I can fit in the cabinets.  Our new kitchen isn't as big on storage as my current house.  This house is shaped completely different from my old house and so things will definitely be moved around and it will be a process to get things just right.  I already know some pieces from my old house won't make it to the new house, since there is different wall spaces and all. This house has less walls to display furniture on and that makes a difference, but I'm sure it will be a fun challenge!
Note: This post is sponsored by Shaw Floors as part of the Style Board collaboration.  I received the runner and installation at no charge. 
SaveSaveSaveSave
SaveSave
SaveSave
SaveSave
SaveSave
Don't Miss a Post, join my list!