I'm so excited to share our final kitchen renovation with you, featuring blue and white kitchen cabinets, white quartz countertops and white crackled subway tile. It truly feels like a completely different kitchen now and truthfully, it is! It has come a long way from the kitchen we inherited in this new to us house going on 2 years ago.
I love that we were able to completely change this kitchen without gutting anything except the backsplash and replacing the countertops, sink and faucet. Everything else was done with paint and that is still one of my favorite ways to transform a room. The power of paint is amazing!
So, I hope this gives you some inspiration for updating a kitchen without gutting it completely or changing the footprint. I'm even including the cost breakdown, because I know you all want to know those details too. I don't see a lot of bloggers sharing costs on renovations, but I think that's the transparent thing to do, even with sponsored items. And besides, we all like to know how much things cost, so we can plan our own renovations!
This post is sponsored by HanStone quartz. All opinions are my own.
Blue and White Kitchen Renovation
Let's look back at the kitchen when we bought it. Mark and I talked over what we wanted to do when we got in here and the first thing we did was have our painters who painted the exterior and much of the lower level interior before we moved in, also painted our kitchen cabinets.
Painted Kitchen Cabinets
Phase I:  What a difference that was right away. We opted for two colors, white on the top and blue below. After Mark trimmed out the bar area with molding, beadboard and corbels, it was a completely different space.
Here's the post about our painted kitchen cabinets, so check that out for the painters we used here in Atlanta.
Quartz Countertops installation
And now with the new white HanStone quartz countertops in Montauk, it does feel like a brand new kitchen!
It's fun to go back and look at where we started so that you can really appreciate the huge transformation now. Cherry cabinets, black granite countertops and a tumbled marble backsplash became lighter and brighter with all the changes.
I now feel like I have the kitchen of my dreams! So get ready to see all the details, I took a lot of pics. And here's a disclaimer. I didn't remove everything from the kitchen just to take pics. I did take out my drying pad and a couple of things, but I tried to style it and leave things out that I use every day, to show that part too. Mark brought home the flowers to me to celebrate our big finish! They made the perfect compliment to my photo shoot!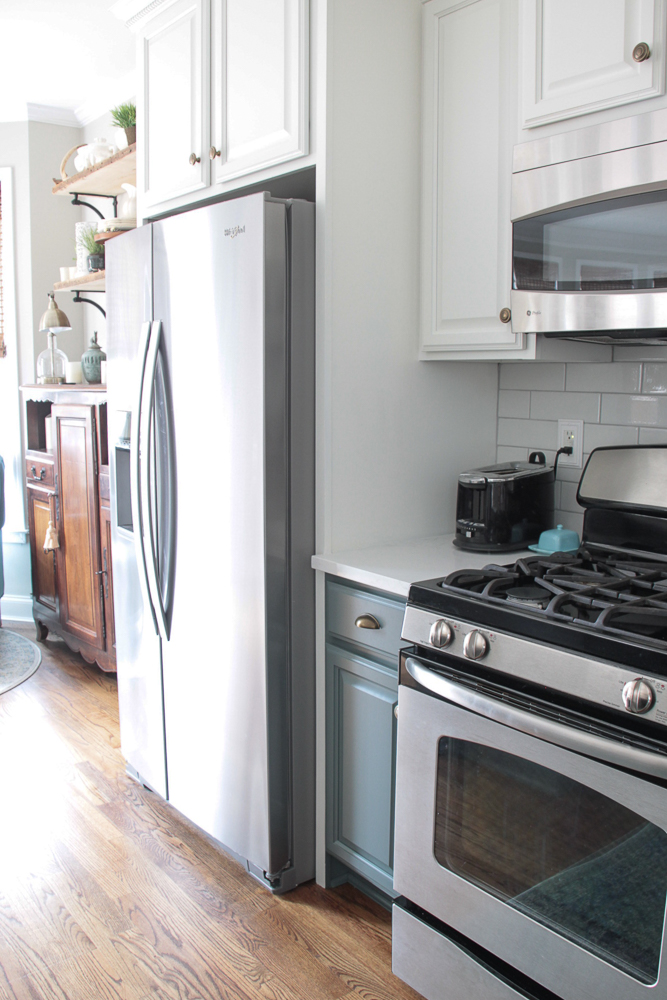 We purchased a new counterdepth refrigerator back in November and that made a difference in our kitchen too. This is a Whirlpool (affiliate link) 21 cubic ft. counterdepth fridge and we love it! It has made a real difference in the path going into the kitchen by giving us about 4 extra inches from the old one that stuck out really bad.
Pantry area has changed dramatically too.
With the new countertops, it feel so light and bright in here. I moved my coffee station to this side and I use this everyday, so left it out as it is. I have a cute little iron rack that I found years ago at a yardsale. It mades a great place to put my coffee cups and looks pretty too.
I am just thrilled with the difference it makes in our smallish kitchen that tends to be dark.
Sink space looking to the family room.
So much better! You can see what a difference the new sink and faucet makes too. I'll be sharing more details about both of those in a later post, but for now I'll add that the sink is Blanco Silgranit and the faucet is Delta Trinsic Touch 2o. Both of those were sponsored too, but I'll share separate posts on both of them. They are both my own picks and I went after the sponsorships because I loved the products and wanted them in my kitchen.
It's such a change from every angle!
The entire kitchen feels so good and so much better. I'm sure you can see that just from the pics, can't you?
Mark was so sweet and after I worked so hard on grouting the kitchen on a Sunday afternoon for about 4 hours, he brought me home my favorite tulips to brighten up the new kitchen. They were perfect for this photoshoot, both the yellow and white tulips.
I'm still pinching myself that this is now my kitchen and it's completely finished!
It now feels so much more like me!
New barstools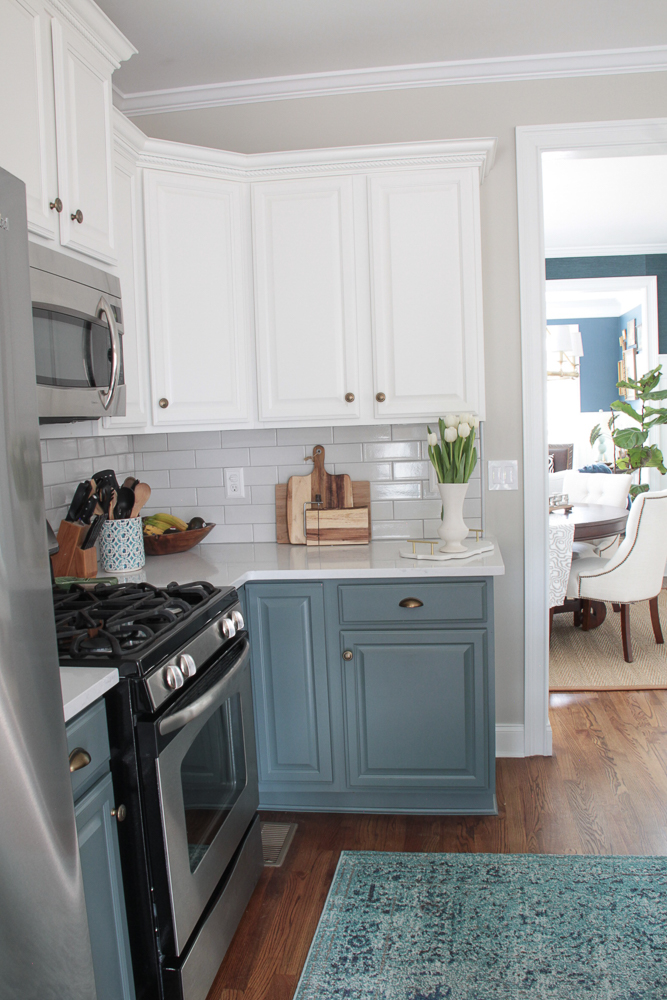 I took so many pics from all angles, so enjoy the details. I love how open and airy it feels now. We have under cabinet LED lighting, but I kept them off for these pics to better show the details. Normally I keep them on all the time and hardly ever use the overhead lights. Well worth the month to get strip lights installed under the cabinets. We hired an electrician for that part.
I had fun taking some artsy shots with the flowers and the kitchen as the background.
I picked up a few little things from antique stores to finish off the kitchen, like that wood bowl in the corner for fruit. It's actually a salad bowl, but such a nice organic shape.
The corner is a great spot to put a bowl like this, within reach but not in the way. I found that pottery piece for utensils at Homegoods last year and it was the perfect colors for my kitchen.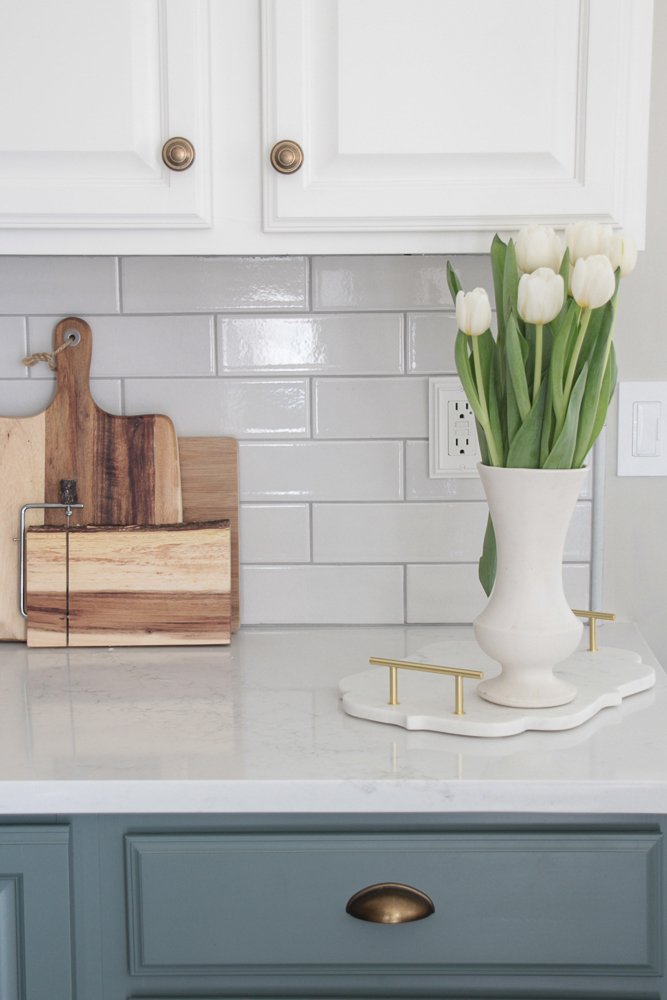 I use these cutting boards and cheese board cutter all the time, so these stay within reach. I found that pretty marble tray on clearance at Target around Christmas, but I think they aren't available anymore. I'm not sure where it will end up, but it's so pretty I couldn't resist at $12.
Cutting boards are handy for everyday use. I found that cute green and white ceramic trivet at an antique store when I was out shopping recently. Adds a little vintage charm to the kitchen.
I wanted to show you how we finished off the edges of our tile. There were no bullnose tile to match, so we opted for a gray toned marble pencil tile and I love how it turned out. I'll share all the tile details at the bottom of the post. You can also see the outlet covers we added for all the outlets on the backsplash.
The plain ones we had just weren't cutting it after doing the backsplash, so I found these Architectural Wood Hampton Bay (affiliate link) ones at Home Depot and love them! They have several configurations to choose from.
I can't help but share all the angles, it just looks so gorgeous.
I tried to take some good shots of the beautiful quartz so you can see the soft veining and movement that is in Montauk. It was the perfect choice for our kitchen, with a bit of gray undertone and the soft darker gray veining. I love how it plays off the antique brass pulls and knobs we added to the kitchen. The bit of brass bling is just the icing on the cake to me!
As I mentioned in my post last week Granite vs. Quartz, the only caution I have heard with quartz is to never put a hot pot directly on the quartz countertop. I can handle that and have plenty of trivets and cutting boards to use. Or I will put a pan directly on the stove top.
Stove side. We are going to replace this stove probably later this year with a slide in range which will look so much better. We added another row of tile behind the current stove to make sure nothing shows when we get the new stove.
Our kitchen is not huge and fancy, so we kept the microwave above the stove, even though fancy range hoods are so trendy now. We just don't have that kind of kitchen, so the small footprint is just perfect for us. I have definitely adjusted to the smaller kitchen we have and have made it work for me.
A look at the sitting area beyond the kitchen and the new refrigerator.
We love the new fridge, the Whirlpool counterdepth version.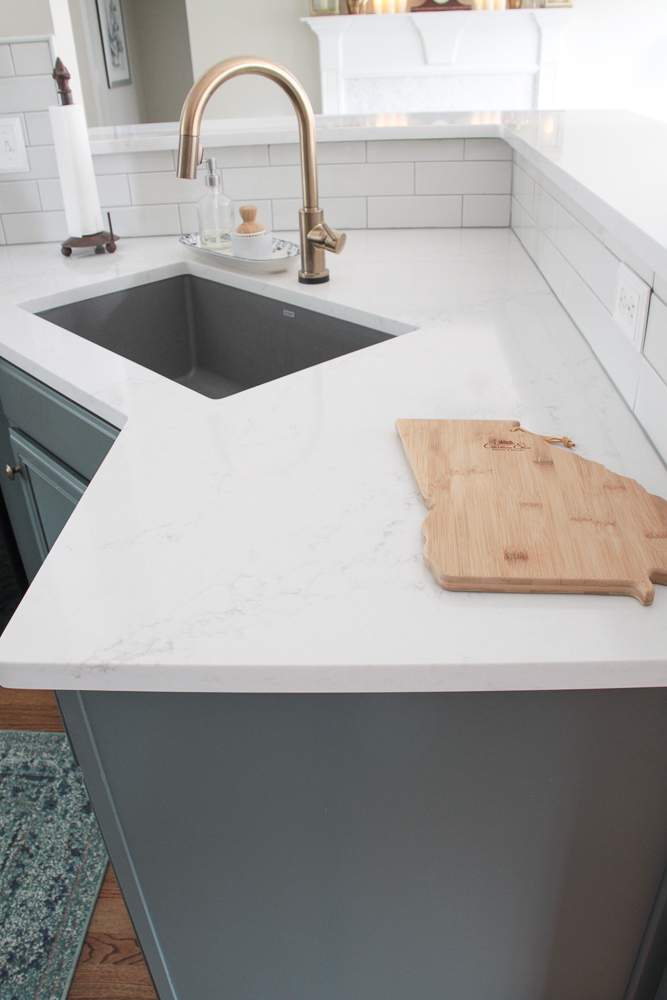 You can see how gorgeous the HanStone Montauk quartz is in this shot. I absolutely love how easy to clean it is. I can see that already after using it for just a week. Everything wipes up so easy and it's easy to get it streak free with just a little bit of wiping down. The old black granite we had always looked dirty and a rag just left wipe and water marks all over it. I love how clean and fresh the quartz looks and now I can actually see when it's dirty. I am so happy with the look and functionality of the quartz so far! I'm completely smitten with this countertop!
That area behind the faucet in the corner is where I place my drying pad. I have one of those that I place my cups and pans on when I wash them in the sink. I took it out for the pics, but that's where I put it. It's easy to move in and out as I need to and I would take it out for parties and when we have people over.
Here's a look at this side of the bar area by the fridge. The marble pencil tile was too large for this little space and stuck out too far in depth, so I found this small gray pencil tile at Floor and Decor to put here and I like the way it turned out. It hides the edge of the tile well. You can also see the depth of the bar quartz on this shot, nice and chunky.
Back to the Blanco sink and Delta faucet, I love them both. Again, I hand picked these two items for the kitchen because I knew that's what I wanted for our new space and I wrote the sponsors to get them on board and luckily, they came through and sponsored these items. I'll be sharing more details about them later on this week and next.
I added a new glass soap dispenser that I found in an Etsy shop. I'll link it here if anyone is interested, from Rail19. I love that it has a vintage feel and I bought it because of the antique brass top to goes with my new faucet. You'll see some photos with an old dispenser in the pics, I got this in after I did my photoshoot so you'll see the new one here.
I found that little ceramic tray at Homegoods, perfect colors for my kitchen and the perfect shape to hold essentials for the sink. That dish brush is from Grove.
Here's a look at the other side of the bar area with the marble pencil tile and how we finished it off with the subway tile. It's hard to see the crackle finish in these tiles, but I sure do love them. They are the perfect color to highlight the quartz and not too white.
I love every detail of this kitchen now! The rug is linked below if you're interested in it.
I moved my coffee station on this side of the kitchen and I think I'll like it better. I did have it on the other side, but now that side is freed up for meal prep with my cutting boards and this smaller side holds all my coffee essentials.
Right above the dish washer, it works for convenience.
Again, I left out my coffee station as it's real life and how the kitchen functions from day to day. I got that pretty pottery tray at a yardsale, as well as that iron rack with birds. I have had that piece for many years and I love it for coffee cups. You can see my Aerolatte coffee milk frother there too. I use it every day and I've linked it below too.
I have my Torani coffee syrup on the green tray, as well as that little blue and white cinnamon shaker. I just found that little shaker at an antique store. It says cinnamon in Swedish, how fun is that?
Our bar area hides any messes that are in the kitchen, so it's sort of nice to have this beautiful quartz on top now that's bright and clean. I'm going to really try to keep this area clutter free now that we have it all finished.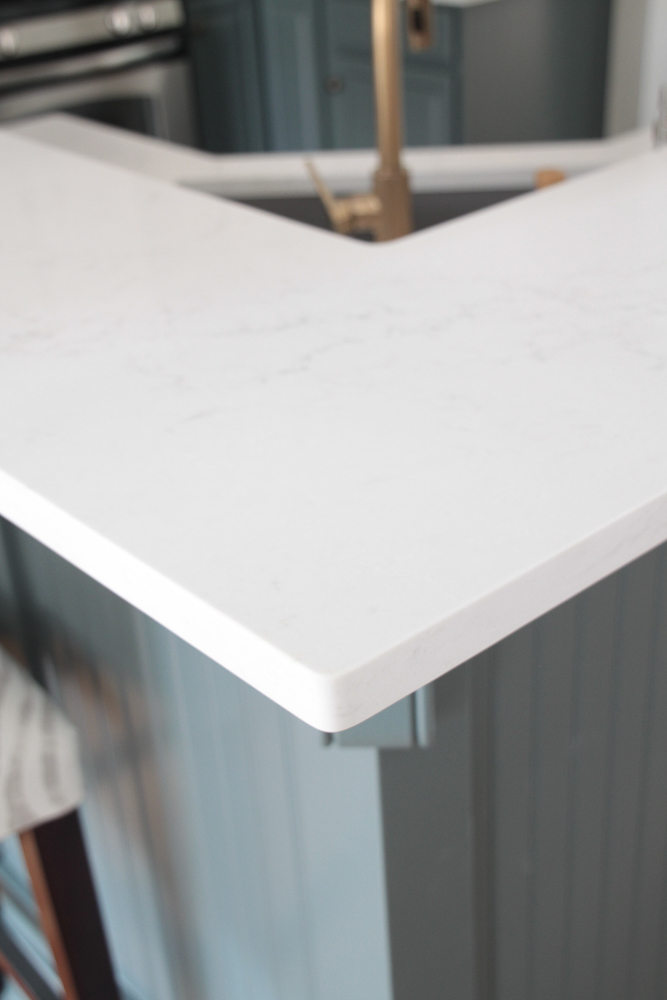 I opted for an Eased edge on our quartz, which I was told is currently what most people are choosing. He also did a different more pronounced rounded edge on the corners that was more rounded on our old granite, so I feel like this is a fresh modern version.
The bar quartz is slightly wider than what we had before too, which is nice. Again, I really want to keep this clutter free, hope I can stick to this!
I'm loving every view of the kitchen now.
We could not be more happy with the new kitchen and all the details that made it all come together and work for us. Below I'll share all the details of everything we did and the costs.
I hope you enjoyed seeing our kitchen renovation and how dramatic it is even though it's not a gut job at all. We are completely thrilled with the changes and feel like it's a really solid investment in our house for resale value down the road too, whenever that may be. The more we do to our house, the more we want to stay here forever, but we'll see where life leads us! For now, we adore our house and are so happy with every single renovation that we've done around here.
For more of our House Renovation, you can click that link to see everything we've done in our 2005 house, inside and outside. It was a blank slate just waiting for us and we have several more projects we want to accomplish around here!
Kitchen Details:
Countertop Material:  HanStone Quartz in Montauk color, part of their new Boutique collection. Check out all the beautiful colors in that collection.
I received the HanStone quartz slabs at no cost to me: 2 Jumbo slabs = $4,160
There are no seams in our quartz, which I'm so happy about.
Countertop Fabrication and Installation: Legacy Granite in Alpharetta
I trust these folks completely. They installed my old granite in my previous home and did a fantastic job both times I've used them.
Fabrication & Installation charge: Legacy did give me a little discount for being a previous customer and for sharing them because I love them. I paid $1458 total, which included template fee, removing old countertops and hauling away, sink cutout, installation of sink and the quartz installation.
You can see that the quartz slabs and installation & fabrication would come in at $5,618 for our size kitchen, which is 51 s.f.
Of course, I'm thrilled to be working with HanStone quartz on this kitchen, because it would have been a stretch to get quartz if not for the sponsored opportunity. To say I'm grateful is an understatement! This gives you an idea of how much quartz costs to get installed. I'm sure prices might be different depending on where you live in the country.
DIY Tile Backsplash, all from Floor and Decor (not sponsored):
Tile: Heirloom Linen subway tile (9″ x 3″) see above pic (9 boxes) = $250.00
Heirloom Linen crackled subway tile from Floor and Decor at $1.39 each.
Tile materials, including grout and silicone caulk, pencil tile from Floor & Decor: $85
Color: Mapei Silver, with Mapei Silicone Caulk in Silver
Tile materials: thinset and spacers from Home Depot: $50
We probably saved at least $400 by doing the backsplash tile ourselves. Not sure what that would cost from a tile guy, but that's a guestimate of what we saved.
Cabinet Colors: Top cabinets, White Dove by Benjamin Moore.
Bottom cabinets, Knoxville Gray by Benjamin Moore
Here's the post I did on our painted kitchen cabinets. 
Wall Paint in Kitchen and Family Room:  Magnolia Home Gatherings
Sink: Blanco One Bowl Silgranit sink in Metallic Gray (sponsored by Blanco)
Faucet: Delta Faucet, Trinsic Touch 2o (sponsored by Delta Faucets)
Here are a few items that are in my kitchen, affiliate links provided, including accessories and rug. Looks like my barstool fabric is no longer available:

Don't Miss a Post, join my list!