Hi friends!
I wanted to take the time to do a whole post on our new kitchen and let you know how much we love it. We decided after looking at our house the first time, that we definitely wanted to paint the kitchen cabinets.  The cabinets were not our favorite, in a cherry finish and they made the kitchen very dark, especially with the black countertops that are there now.  So, to lighten and brighten things up and to make them more interesting, we painted them 2 different colors.  I knew we wanted to do white above and we tried out a couple of blue gray shades for the bottom and landed on Knoxville Gray, which we both absolutely love.  It's a Benjamin Moore color.
Top Cabinets:  Benjamin Moore White Dove
Bottom Cabinets and Bar:  Benjamin Moore Knoxville Gray
Both were painted with Ben Moore Advance paint, a really tough finish recommended for kitchen and bath cabinets.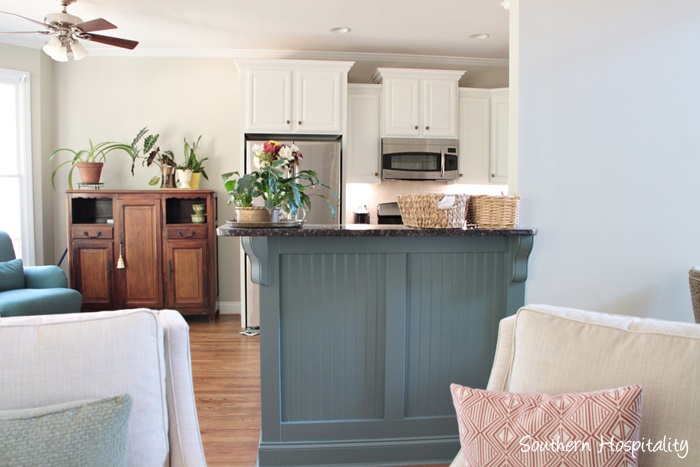 I mentioned that we had our painter spray the cabinets and bar area and they really turned out great. We are very happy we paid to have that done before we moved in.  One less mess that we had to deal with and it's hard to get cabinets painted well unless you use a sprayer.   That gives them such a nice finish. I have a sprayer, but there wasn't time for me to try to do it, but if you take your time at home you can get a decent finish using a sprayer.
Here's a reminder again of the Before kitchen.  Nice, but very plain. Mark added the bar molding and beadboard, you can check out Adding Beadboard to the Bar post for that.
The bar is really the star of the kitchen now and Mark did such a great job with it. It totally makes this view so much better.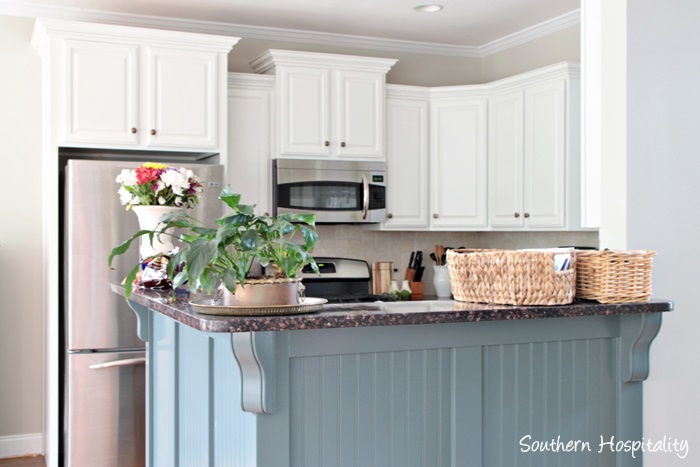 We still would like to do Phase II of the kitchen, probably next year, with new countertops, backsplash and sink.  That will really make it our taste, so one step at a time.  These aren't great pics, but I wanted to show you what all we did to get to this point.  There's still a lot to do though.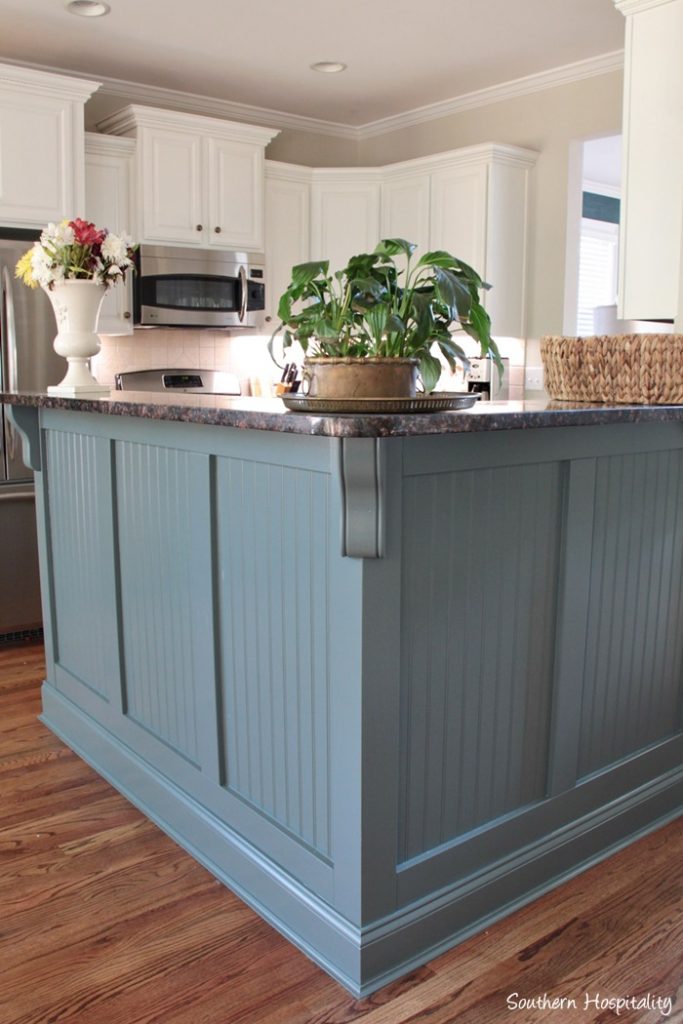 The beautiful bar with corbels.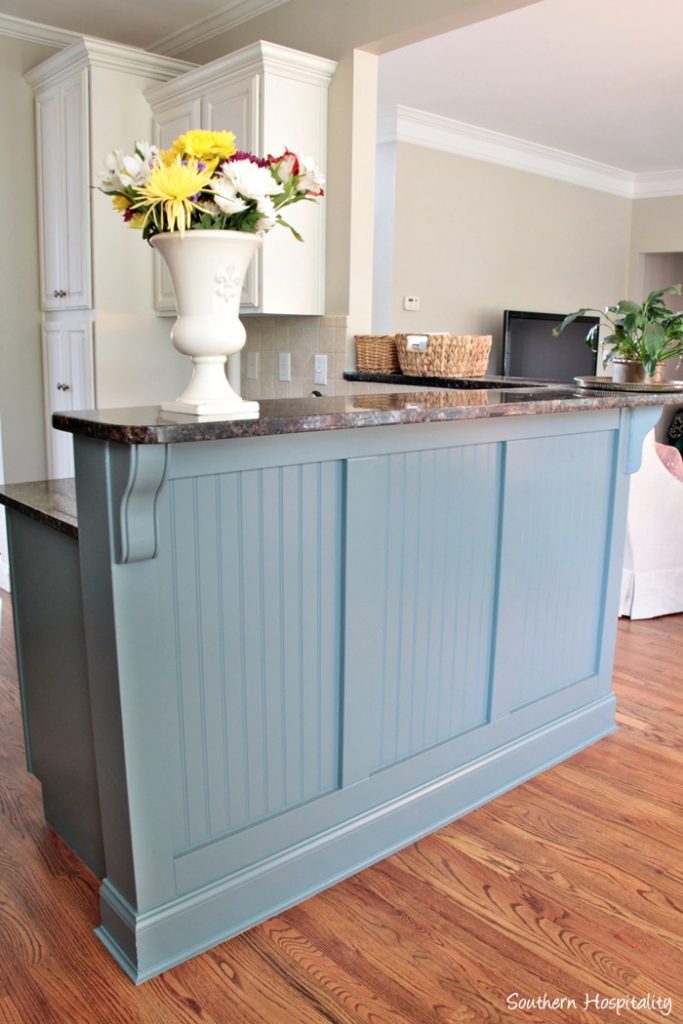 You can see how the kitchen flows into the family room. We are really enjoying the house a lot and settling in well.  I'm getting used to a smaller kitchen and it's actually less steps to take while cooking.  I'll get it all organized in time and any overflow things can go down to the basement.  It will just take time to figure all that out, but for now, I have everything I need in the cabinets.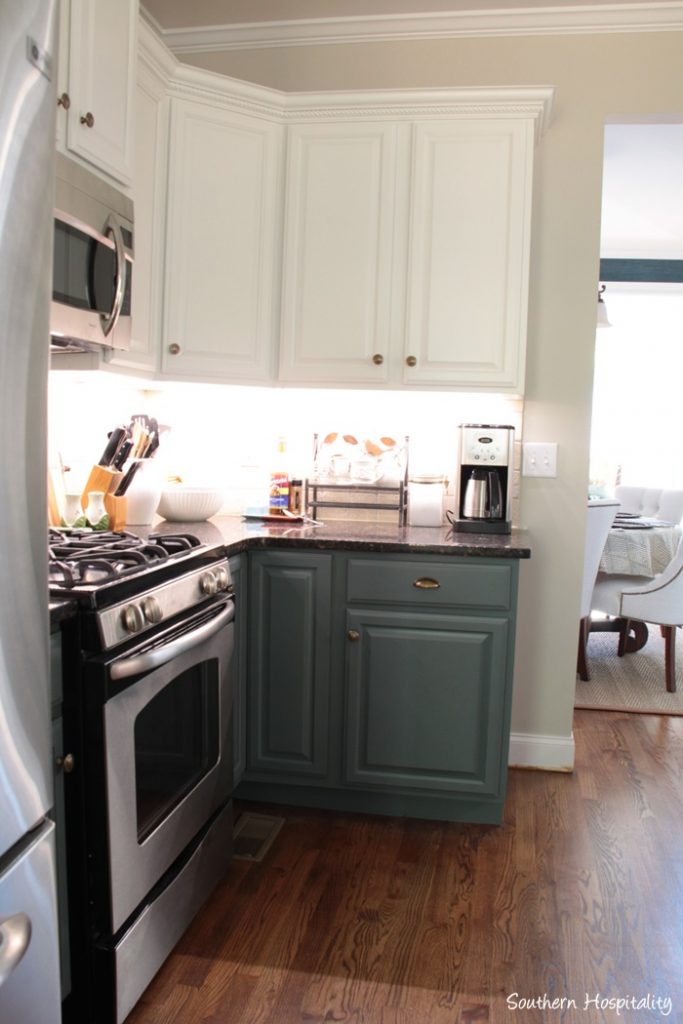 We hired an electrician to add under cabinet lights and those turned out great. He used LED strip lights and I love them.  They really light up the countertops and those are a must for me, I really enjoyed them in my last house.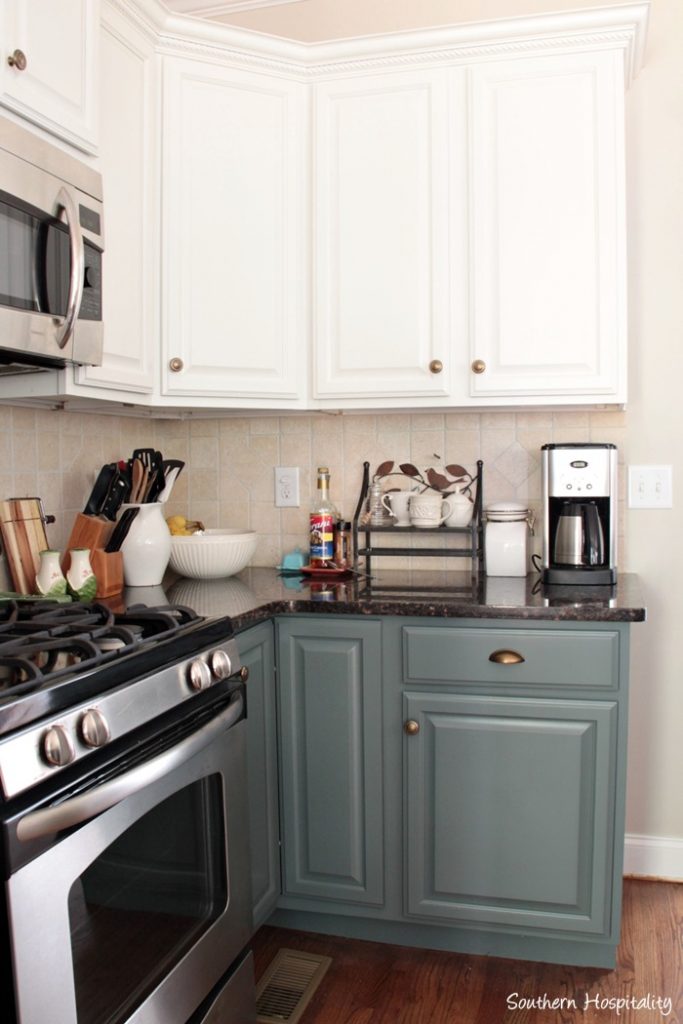 Here's a shot without the lights on.
Bar area looking towards cabinets.
I don't have a ton of countertop space, so I am leaving out my everyday things that I use. The painted cabinets are holding up very well. The only thing we had a problem with was early on before they cured for a few weeks, the drawers stuck in a couple of spots before I could get those rubber things put on and there were a couple of chip marks that I had to touch up. But nothing else since then, we think they will hold up well and Ben Moore Advance paint is very durable from what we've heard.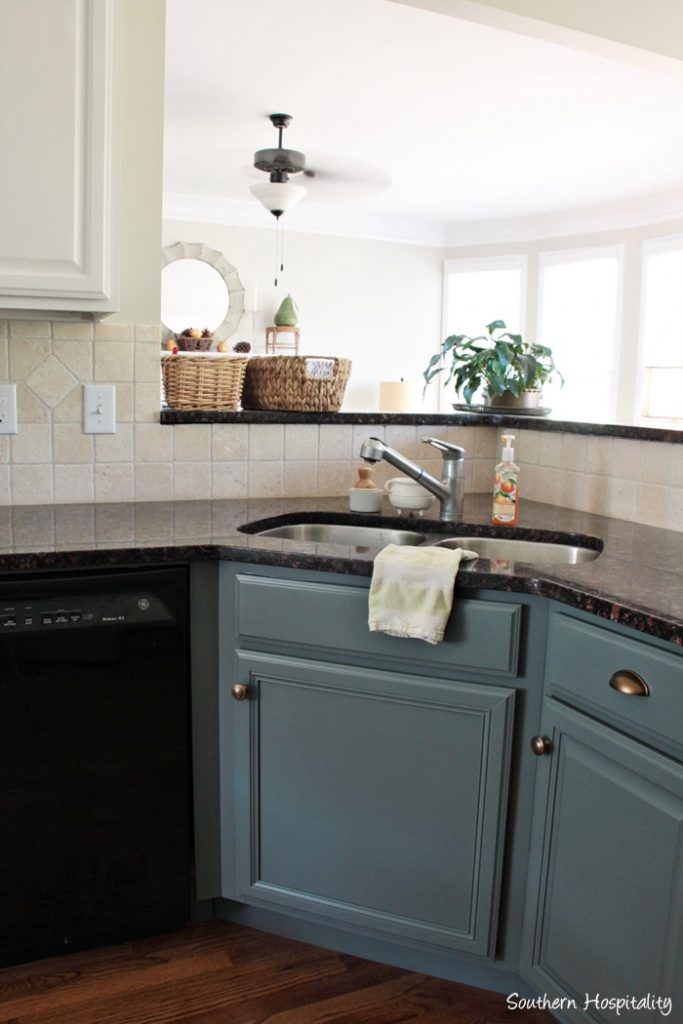 Sink area and a good shot at the cabinets and hardware.  Liberty Hardware was great and sent us the hardware for the cabinets and we love them in Antique Brass.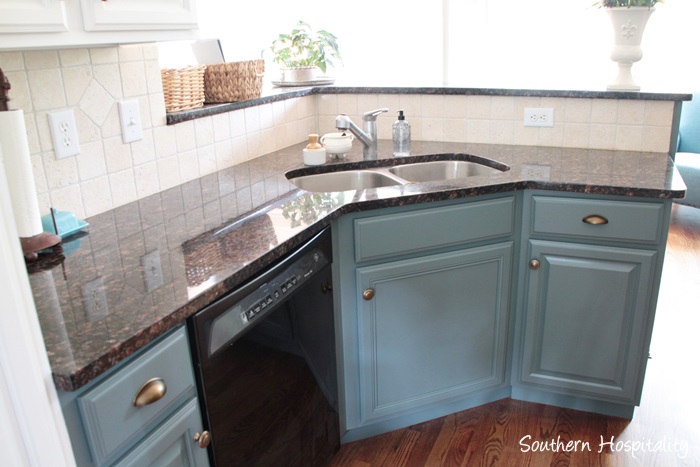 It's been nice to make these simple changes and get a new look in this kitchen that suits us both better.
You can see that one of my upholstered chairs landed in the breakfast area and I'm still figuring that out but I think it will stay for now. I already had it and don't want to buy anything else until we live with things awhile. It takes time to figure out what  house needs, doesn't it?  Some things we have figured out right away and others we will mull over for awhile and see where we land.
So that's a peek into the kitchen cabinets with all the details.  I know some of you might want to paint your cabinets too and have a pro do it is definitely the easiest.
Our painter here in the Atlanta area is Alberto with Nicholas Romero Painting and he was referred to me by a friend of mine, who I trust on these things.  He and his crew did a fantastic job for us inside and outside, as well as the kitchen cabinets.
He charged $1100 to spray the cabinets and we bought the paint from Benjamin Moore which was an additional $200.  You can reach Alberto at 770.900.6740 if you are in the Atlanta area and need a painter. I highly recommend him.
I'll include some in progress pics for you too, since that gives a good idea of how it was all done.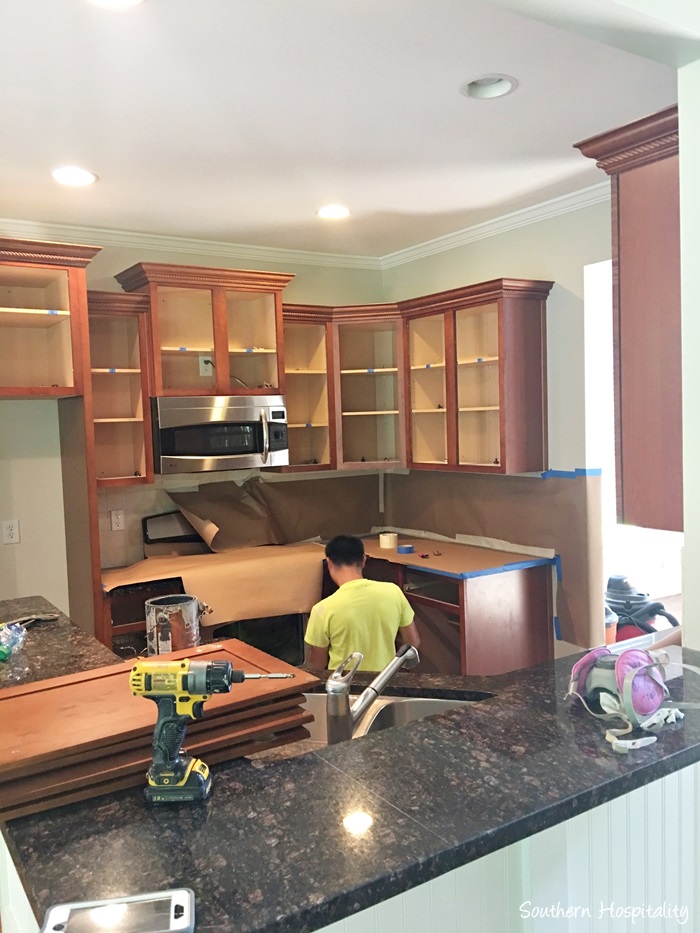 All doors removed and everything was taped with brown paper to prevent overspray.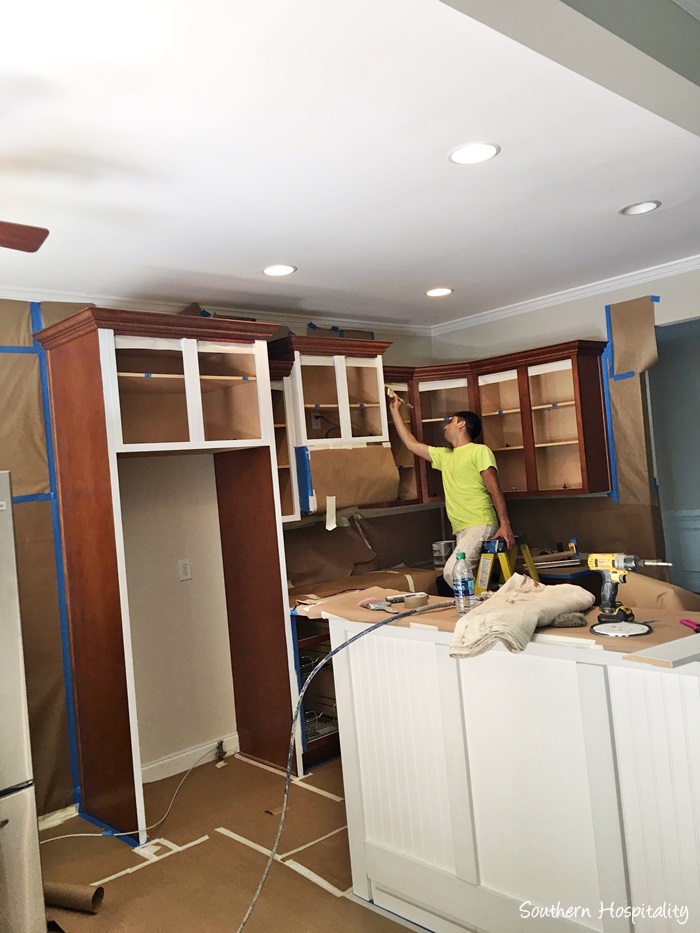 Fronts of cabinets were painted by hand and the sides and tops sprayed.  Doors were removed and primed and painted with 2 coats of paint outside.  Then he laid them inside to dry well, flipped over to spray the other side the next day.  He was very through in his painting technique.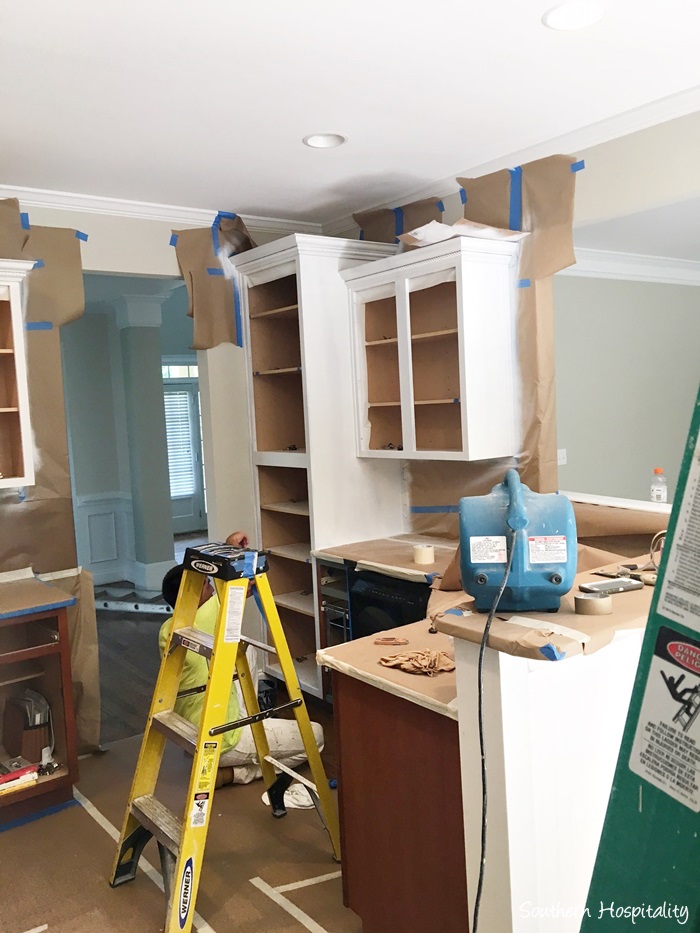 Since we didn't plan to gut the kitchen, this was money well spent to update on a budget and get a look that we both love. So proud of how it turned out and we will get to Phase II next year.
SaveSave
SaveSaveSaveSave
SaveSave
Don't Miss a Post, join my list!